Our History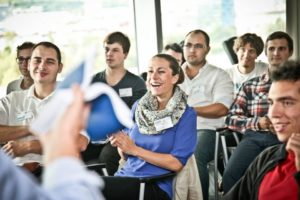 Social Impact Award (SIA) was founded in 2009 by Peter Vandor at the Institute for Entrepreneurship and Innovation at WU Vienna. It was set-up as competition to empower student social entrepreneurs in Austria – and by the means of the award finding out, whether there were any social entrepreneurs in the country (the idea of social entrepreneurship was still pretty new). Funding was provided in a rather unorthodox way: Joachim Hunold, the long-time CEO of Air Berlin, had won a prestigious entrepreneurship prize by the Austrian chamber of commerce. After hearing a speech of the Institute's head Prof. Franke he spontaneously decided at the award ceremony to donate the money to the institute to "do something impactful with it for students".  The investment of his prize money became seed funding of SIA. It was turned into prize money and event funding for three consecutive years, including the award for Social Impact Award's first winner, Project-E, a vocational school for orphan girls in Ethiopia.
In the years to come, we learned that the Austria stereotype of students being unpolitical and unentrepreneurial could not have been further from the truth. Hundreds of students developed and ventures and submitted their ideas, including Whatchado, The Connection, Footprint, Soulbottles and the predecessor of the Romanian social retail chain Somaro. Together with Nicole Traxler, Matthias Hofer, and many others, we made sure to support these students with a new type of program. Rather than awarding projects that were already up and running, we started to work with young entrepreneurs in their first steps: by offering workshops on start-up topics, online voting systems, seed funds, and by giving each project individual feedback.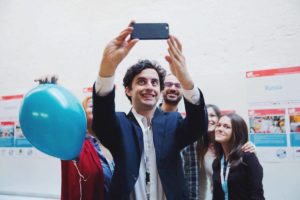 Over the years the project started growing. ERSTE Foundation started supporting this growth and became our biggest, long-term supporter and Impact Hub Vienna open its doors in Vienna and brought in space and expertise. In 2012, Impact Hub Prague and Ropot became partners and brought Social Impact Award to the Czech Republic and Romania. In 2013, Impact Hub Vienna and Cezar Neaga took over the operational lead in the project. It was hence implemented in partnership with the Social Entrepreneurship Center at WU Vienna and a growing number of international founders, who pioneered Social Impact Award in their own countries. By 2015, Social Impact Award had been further professionalized and was active in ten countries including Austria, the Czech Republic, Croatia, Greece, Macedonia Romania, Russia, Serbia, Slovakia, and Switzerland. The many inspiring finalists and winner projects included Czech homeless tour guides Pragulic, the Russian start-up Motorika, and a virtual blood-bank in Athens that reports to having saved over 2,000 lives by summer 2017.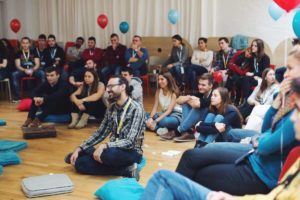 In 2015, former SIA-winner Jakob Detering joined as director of Social Impact Award. Together with SIA's community & scaling manager Bistra Kumbaroska, he further accelerated the development of SIA by putting a stronger emphasis on incubation, community building, codification and exchange of best practices and collaboration within the SIA organizer community. Many new organizations and entrepreneurs have joined Social Impact Award and decided to bring it to their countries, including Albania, Bosnia and Herzegovina, Georgia, Hungary, Kosovo, Montenegro, Tunisia, and Slovenia. This unprecedented scale allowed us to reach out to more young social entrepreneurs than ever: In 2017, Social Impact Award was able to reach out to over 6,000 students of which 791 developed and submitted social ventures ideas. 172 took part in incubation programs, of which 55 receive awards and take part in an international bootcamp in Belgrade.
Since 2018, Social Impact Award is internationally incorporated in an own charitable legal entity, SIA Social Impact Award gGmbH. It is dedicated to serving the teams implementing Social Impact Award in each country and to further grow Social Impact Award in scale and quality. In 2018, this included 20 countries from Europe, Africa and Asia. Another key milestone in 2018 was the successful implementation of a new incubation design, focusing more on one-on-mentoring and on validation and prototyping.