We want to have long term benefits and finding a way to support social entrepreneurship – Dragana Crvenica
"I would be happy if we show our SIA participants that it is a worth effort trying and learning, and that success is not about being lucky."
In this Interwiev we´re talking with Dragana Crvenica, Head of Communications Department of Erste Bank AD in Podgorica, Montenegro.
1. Erste bank is recognized as a responsible member of Montenegrin society. Do you see yourself and Erste bank as pioneers of bringing the idea of social entrepreneurship to Montenegro?
Erste bank is part of the regional Erste Group, institution with more than 190 years of tradition, with roots in the noble idea of economic empowerment of the poor by helping them save money and gain financial independence. Social responsibility was and is the core of its corporate philosophy. Erste is among the top banks in Montenegro and is very much aware of how its actions impact the society we all live and work in. I admit, one feels fulfilled as a person when sharing company's success with the community, but we also recognize it as the right way to achieve long term sustainable business growth, reduce costs and manage risks better. Corporate philanthropy is just one way of being socially responsible though. Another part also comprises of actions you undertake to empower people. Just like in the saying about the difference between giving a man a fish and teaching him how to fish. We want our actions to have long term benefits and finding a way to support social entrepreneurship is clearly one of them. But we cannot call ourselves pioneers in this field. Social entrepreneurship is a known term here. What we can say is that we are unique in efforts of establishing a framework for young future social entrepreneurs that will work for them and support them in every step of the way – providing education, financial support and when possible, becoming buyer of their products or services. That's what SIA is about.
2. In your opinion, are young People ready to stop searching employment within state administration and take the initiative and try to realize their ideas?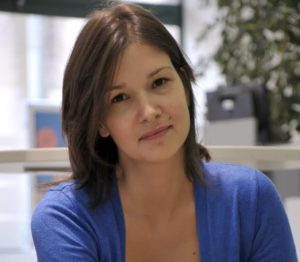 Unfortunately, we do not see evidence of this trend going down. Paradox is that even students of entrepreneurial studies often see themselves in state administration. This is not bad per se, on the condition they see their role as enablers of the change towards system more favorable for entrepreneurship, but I fear this is not the case. Our economy is open and import dependent, it is not so easy to find opportunities. However, we are not lacking ideas and we saw this during the application process for SIA Montenegro. Combining this fact with the very high rate of realized and still going strong social entrepreneurship projects in SIA in previous years, I am confident that we can and we will change something.
3. As a Head of Communications, but also as a successful former journalist, how do you see the role of SIA in the process of changing the mind-set of future generations of potential entrepreneurs?
Changing mind-set is the most ambitious goal one can imagine. Sometimes I am not sure I can change mind-set of my six year old kid. And he is not even the stubborn one in the family – she is smiling. On a more serious note, I would be happy if we show our SIA participants that it is a worth effort trying and learning, and that success is not about being lucky. Having even one SIA Montenegro project realized will then speak volumes, much better than any awareness campaign we could, as good as we are, organize and execute.
Thank you Dragana for your encourage thoughts.
Almost there
You need to register in order to submit your bulletin & vote.
We care about your privacy.
Read Privacy Policy .
× close