The Growing Trend of Doing Good – Social Entrepreneurship
Thanks to the hard work and the growing presence of social entrepreneurship in society, last year was a year of significant achievements. Social Entrepreneurship is shifting economy, while we are shifting our minds.
The highlight in our local Social Impact Award community last year was – "Iskra", a prestige corporate philanthropy award by Erste Bank Montenegro.
"By reducing the meaning of the term 'social responsibility' and labeling its actions 'philanthropic' and 'volunteer activities', unjustifiably excludes the dimension of the long term and sustainable development. SIA provides an opportunity for students in Montenegro to implement their ideas of social entrepreneurship, which will further improve the general environment. The final aim is to encourage the development of entrepreneurial awareness among students, encouraging and empowering them to step forward."- Dragana Crvenica, Head of Communications at Erste Bank Montenegro.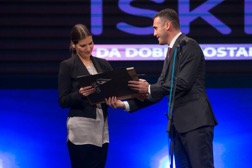 Both the Bank support and the award are great indicators that our society increasingly recognizes importance of corporate social responsibility on one end, and social businesses, on the other. We are living in a wildly exciting time which requires constant changes and new solutions to old problems. Therefore, it is no longer enough to just turn a good profit and be competitive in the market, new generations of customers require companies to benefit the whole society!
The New Purpose of Success – Giving Back to the Community 
What we are witnessing is a mind switch – one that brings out a whole new aspect of Business. But, the Business cannot change without the mindset of the people running them or buying/using their products.
To have a society where every individual is appreciated, we need to be individuals that appreciate themselves first.  The organic food trend is a good example how by caring about our own health we can strengthen small businesses and support local economy. Social entrepreneurship is for society what organic food is for the individual – it's the vitamin injection for society. We initiate social changes for ourselves, living by values which we believe in.
We've discussed the trend with Nikolaus Hutter, Co-Founder of the Investment Ready Program in Vienna and investor himself, which works with young social entrepreneurs who are driving the change. He connects the "economy shift" with the value system of new generations:
"The Millennials choose to have a different perspective of how they consume products, how they want to work or invest, and it's because of their experiences. Unlike their parents, they didn't experience global wars and hunger. So, for millennials this isn't a memory, it's history. The only economic reality they have experienced is having more than they need. That's why we see trends like sharing economy, sharing cars, flat sharing, couch surfing, etc."
This generation has a different perception: Access is fine; I don't need the ownership because it only comes with burden. Not being burdened by history, their attitude is different, and their consciousness comes naturally. They haven't been socialized in the toxic mindset of previous generations, so Millennials are reverting to natural state of how to do things, introducing new criteria: I don't want to work in a company that doesn't match with my conscience and I don't want to buy products if the way they are produced, packaged or what they are is against my values.
We asked Nikolaus, if social entrepreneurship is just a current trend.
"Yes, but I think there is more than what we call Social Entrepreneurship today. What we are facing is a broader mind shift, which consists of looking how to develop our economic system. How we produce, how we consume, how we invest, and it is more oriented in terms of purpose of WHY towards WHAT MATTERS. Also, the WHY is not just to make money under the assumption that money can buy you everything worthwhile in life. It is obviously not true. Then comes the new WHAT: Purpose driven business and collaborative work; and with that also comes a new HOW: Collaborative rather confrontational, network rather than hierarchical, sustainable rather than exploitative".
Creating Change Where and When It Matters
Social Impact Award has been supporting (student) social businesses in 58 cities, reaching 4.600+ participants with almost 200 workshops. The businesses of 500 students are supported, with data showing that 60% are being implemented and 35% are generating revenue. The program provides a way to pool the youth into social entrepreneurship, as a model of creating social change, and is constantly increasing.
Some examples across the spectrum of businesses initiated in the past couple of years are already creating impact in burning topics for the region: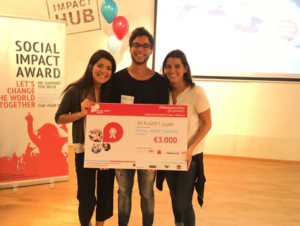 Refugeeswork.at. from Austria, SIA 2016 winners, is a charitable initiative which developed a model to connect refugees with employers in order to help refugees find legal working and education opportunities in line with their skills.
House for Everyone from Romania, SIA 2015 winners are creating housing prototypes for people in need of shelter, which can revolutionize the lives of refugees, homeless and other marginalized groups with low income.
And in Montenegro, we have a pioneering effort focused on lessening gap between the poor North of Montenegro and rest of the country, by creating a platform for presentation and purchase of natural agricultural products made in the North. The solution creates easier access of homemade, healthy, domestic products to consumers in the country and region, enabling a bigger income for farmers and directly supporting small businesses.
It can be done. So, who's next?
Author: Sanja Zrnic  / Chief-Editor: Tizian Müllritter
Almost there
You need to register in order to submit your bulletin & vote.
We care about your privacy.
Read Privacy Policy .
× close