"Social entrepreneurs are brave and passionate people, who are not afraid to fight the windmills." – Nikoleta Kosovac
Nikoleta Kosovac is a coordinator of the street papers Liceulice, as well as SIA Serbia 2016 Jury member. She joined us at the beginning of the year at the Belgrade Kick-off and followed the journey of SIA throughout the year. Thanks to her enthusiasm, we managed to create a strong partnership and help each other along the way. We talked about Liceulice, but also her view on the young social entrepreneurship scene. 
Nikoleta, street paper Liceulice (meaning Face to Face and Face of the Street – word play) has been active for 6 years now in Serbia. Tell us something about how the idea of starting this paper came about and how you got involved in it.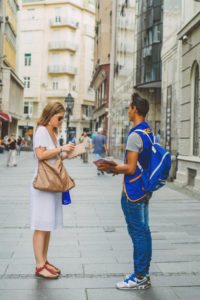 The idea of starting street papers in Serbia started 8 years ago, when our current president of Executive board – Branislav Trifunovic visited Sovakia and there, by accident, met sellers of their street papers. Upon returning home, he wanted to do something similar to help those with difficulties finding a job, who live at the sidelines of our society. As he had never done something like this before, he started gathering people interested in starting the paper in our country.  For those who don't know what street papers are, I will just mention briefly that those are the papers sold by the members of marginalized groups. Sellers earn half of each sold copy, and the other half goes into creation of the next issue.
Liceulice strives to present non-commercial topics in an interesting way. Street papers open up a space for new people and new topics – everything that is being pushed away from the commercial media or that hasn't been given enough attention. We try to draw attention to important social issues, but through examples of good practice, personal stories of our heroes and so on.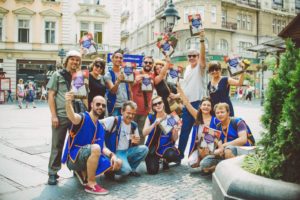 How I got into all that? At first I thought by accident, but now I am sure it was no coincidence. I worked in advertising for a couple of years, and was less and less fulfilled by it. A friend mentioned to me this project and thought I would fit in. I went to meet the people gathered around the idea, and as soon as we met each other, it was clear that we are going to work together. I wanted to believe in what I do and to feel better at the end of the day, and Liceulice brought so much more to me.
What is the change you noticed in your sellers in the past 6 years? 
In the last 6 years, we worked with a couple of hundreds of people, and we currently have about 60 people active in Belgrade daily. Liceulice is a side job to some, and the only job for the others. Sellers decide themselves when and how much they will work. They often say that communicating with people on the streets is more important to them than money. Some were shy at the beginning, quiet, introverts, and today they are among the most talkative, most resourceful and most successful ones.
The change is evident and shown in the level of their confidence. They feel Liceulice as something of their own and are not shy to share personal stories with the rest of the team. Some of the sellers got other jobs in the meantime, while some have improved their sales skills, and are now teaching others. Couple of sellers were homeless, and now, thanks to our help and the help of our partner organizations, they have a roof above their head.
It is also important to mention that street papers build a relationship between sellers and readers, because the sale is done face to face. This interaction build bridges between marginalized and wider public. This helps people understand the importance of social inclusion and brings to realization that we, as humans, are the same – we just don't have the same opportunities.
We, as humans, are the same – we just don't have the same opportunities.
What is the biggest success you had so far, and what the biggest defeat when it comes to Liceulice? 
Our biggest success is that we are still here and not giving up, despite many obstacles. Throughout the years, we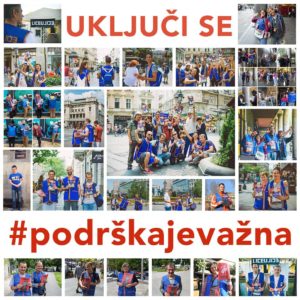 have worked on social and economic empowerment of couple of hundreds of people, published 33 issues of magazine, initiated similar movements in Macedonia and Kosovo, organized 2 street activism festivals, had 7 cycles of workshops on the topic of activist design for young artists, worked with dozens of volunteers, cooperated with many NGOs, individuals, professionals, activists and so on.
We are proud to say that Liceulice has become noted and influential member of International Network of Street Papers (INSP). At INSP conferences, we were nominated for 6 awards for our articles, photographs and design. We weren't really aware of the community we have created, until the biggest financial crisis hit us this summer.
Our biggest success are the people for whom this exists, people who believe in this story and people who work day and night to make this happen.
The biggest failure is the fact that Liceulice has not been recognized by the city government and relevant institutions. Not just financial support, but support in many other ways, is necessary for the street papers to function. We believe this will change one day. Maybe when we celebrate our 10th birthday. We will see.
Maybe it would be best if I just mention the words of Kruno Lokotar, editor and publisher: "Liceulice, along with the progress of medicine, is the only reason of optimism that comes to my mind."
How do you see the role of youth when it comes to solving social issues? 
The theme of our last issue is Serbian youth, their social and economic inclusion (or exclusion). When we talk about youth, hot topic is education to which we devoted the most of our attention. Our younger associates shed a light on other important aspects of youth lifestyle, from moving to a bigger city for studies, to omnipresent precarious work and return to the small city environment.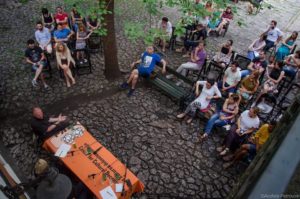 We must remember that youth is among the most vulnerable groups in Serbia. But also, that those who can, contribute to solving social problems in various ways. However, we should not expect too much from youth as it has a lot to carry on its backs. Even though everyone says that youth is our future, they cannot solve social problems without connecting with others who are in this fight.
The youth cannot solve social problems without connecting with others who are in this fight causing social injustice.
Why did you join SIA Serbia as a jury member? 
I've known members of the SIA team for quite some time and have followed closely what you have been doing, and I am very proud of the whole teams. When I was invited to take part in SIA Serbia as a jury member, there was only one possible answer!
Where do you see youth social entrepreneurs in 5 years? 
Social entrepreneurs are brave and passionate people, who are not afraid to fight the windmills.I would like to know where do they see themselves in 5 years. (laughs)
Non-formal community of social entrepreneurs is developing rapidly in Serbia and it is going (in my opinion) in the right direction. More and more great and successful ideas are developing, while international cooperation keeps improving. Social entrepreneurs are brave and passionate people, who are not afraid to fight the windmills.
I believe there are many young social entrepreneurs who you will be interviewing like this in 5 years.
Thank you Nikoleta for this amazing interview – and your support for SIA! 
Almost there
You need to register in order to submit your bulletin & vote.
We care about your privacy.
Read Privacy Policy .
× close