The incredible life of afterwaste: Upside Down!
Upside Down is an organization from Iaşi, that aims to help the environment and to determine costumers to take responsible decisions.
Our story and mission began once we won the Social Impact Award competition in 2012. We create eco-friendly accessories such as wallets, bags, book covers, iPad covers, and bumbags, made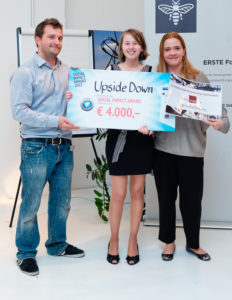 from banners and tire tubes. In this way, Upside Down uses waste in a creative manner in order to bring a solution for both customers and environment. This way of creating useful things from old, useless materials is called upcycling. The process is complex and different from what we call downcycling because we create accessories higher in quality than the initial ones. Our kind of upcycling consists of a four-step process: collecting, cleaning, cutting, and sewing.
Besides being eco-friendly, our products have the advantage of practicability. They are created to please our customers' needs. We even adapted the accessories for the Romanian market. The Slim Wallet, which is also the best-selling product of our range, is designed so people could fit in it the Romanian paper money, while the bags and covers have the perfect dimensions in order to fit the products they were created for.
Some of our objectives are to increase the awareness level regarding social responsibility and different ways to protect the environment and to create working places with reasonable conditions.
We are also very open with respect to the local arts industry. Over time, we have been collaborating with several artists, offering them different opportunities to display their work and promoting them nationally.
Upside Down's philosophy is centered on the principle of sustainability. Moreover, the company encourages the idea of responsible shopping and tries to have a constant conversation with the costumers, trying to inform them about the way we can solve environmental problems or about local or national actions which suit our values or ideas. Their feedback is very important for us, leading to improvements or even the appearance of new products. The best example is the bumbag, a product integrally born from our customers' needs of carrying their things in a more practical way, especially in the summer and in various social contexts.
We think of Upside Down not only as a small, but brave business, but also as a way of thinking and acting based on the outside the box philosophy. We save specific materials others couldn't even think they could. This is how we like to think that we make the difference on a market already full of other accessories or fashion-related brands.
"What we do is best described by the company's tagline "the incredible life of after waste" because all in one, that is what we do: we transform useless things from the urban environment in new, cooler and higher in value products and we try to determine people to adopt the same way of thinking and doing things."
Almost there
You need to register in order to submit your bulletin & vote.
We care about your privacy.
Read Privacy Policy .
× close