It is our vision to build more inclusive communities! – ZIAG
When in January 2015 for the first time 35 refugees came to the small village Berndorf bei Salzburg, hometown of Natalie Haas, initiator and project leader of ZIAG everything started by just doing it. What the community saw after some months was that a new inclusive community, together with the refugees, developed inside their village.
"When after a few months other villages contacted us, invited us to share our experiences and asked what it was what we did, that it worked, that we are able to live together in a positive way, we finally realized, that it was not a big plan in the beginning, but rather an organic way of little ideas evolving one after the other, where everyone participated with their interests, ideas and resources, that led us together. We realized, that strength lies in differences, not in similarities. Everyone can contribute with their own ideas."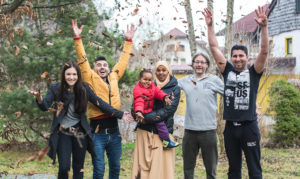 In 2015 some 90.000 people sought for asylum in Austria. The first step for refugees in Austria is living in a community and waiting for their positive paper. Some people in those communities have reached out to help and are full of successful ideas for positive co-residency with refugees inside the community while others are fearful, maybe want to do something but just don't know how and what. Regardless of ones opinions, refugees are here now and the only way to face the challenge is to include them into our communities.
Community is the answer!
ZIAG is the first platform with ideas for positive co-residency with refugees inside the community that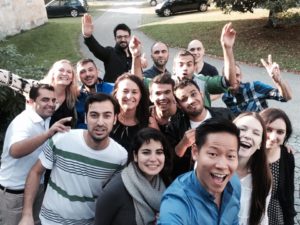 connects locals, refugees and mayors and gives them ideas, knowhow and support to participate actively in the community and the integration process. This happens online through the easy to use idea collection where everyone can contribute their ideas for positive co-residency with refugees inside the community and thus make it available for those who don't know how to start. Offline we visit the communities, build local integration teams, coach them and support all parts of the community through workshops from our experts for mayors, from already integrated refugees for asylum seekers and from experienced volunteer coordinators for volunteers.
Strength lies in differences, not in similarities!
We've entered the SIA program, because we wanted to realize our idea, we knew that it is the right thing to, but didn't know yet how we can achieve our goal and which steps we need to take to realize it.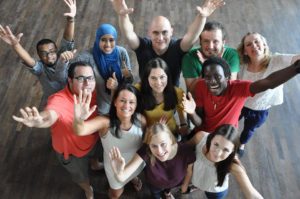 The SIA helped us to further develop our idea and the publicity we got through it helped us to build a strong team, a network of partners, supporters and advisors that is crucial for our sustainability. With the 3000€ we will fund our integration program in the first 5 villages. It makes us proud to see that our work is worth it and that people do believe in us and our project and to know more individuals and projects now that are giving their best for social good with the same passion that we do.
It is about the small ideas to reach great impact!
The great support we received from all around while the SIA incubation phase and to be within the winners now is a proof of our project and it helped us finalize our concept and starting to implement.
We want to encourage everyone to get involved in their communities as much or as little as one can. If you are wondering what difference you could possibly make, it is a huge one! Little by little, together we can all contribute to a big positive change. 
Everybody can contribute!
Contact: hallo@ziag.at 
Website: www.ziag.at
Facebook: https://www.facebook.com/ziag.at/
Almost there
You need to register in order to submit your bulletin & vote.
We care about your privacy.
Read Privacy Policy .
× close