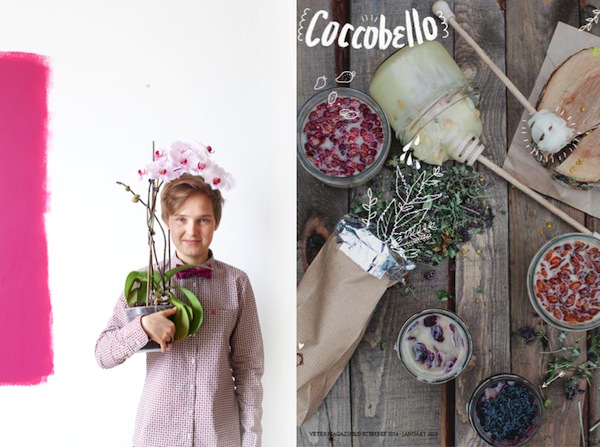 Guzel Sanzhapova is a 26-year-old girl who has decided to revive Maly Turysh, the semi-abandoned village of Tartar.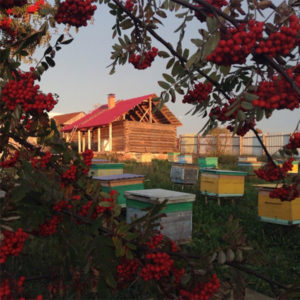 Maly Turysh is a little village. There were 50 houses in the Soviet period. Right now there are only 16. People don't have any job because there is nothing to do there. It is a typical scenario for Russia when villages die because of urbanization. Old people of these villages do have a pension but it is too small. They could buy only the most necessary things so as not to die because of hunger and cold.
 Guzel's father inherited an apiary from his mother in the Village of Maly Turysh. Guzel loves her parents very much that's why she bought her father a tractor. He used it in order to produce honey in the apiary, but it didn't help him to sell the honey successfully. Guzel doesn't like typical honey because it is too sweet and simple. Perhaps, the reason for this dislike is that her family overfed her with it, as Guzel said. After some time she decided to take over the honey production. She decided to produce cream honey by adding berries to make it less sweet and tenderer. She started a campaign on the Boomstarter platform to buy bee families and special equipment for the apiary. The focus in the story that Guzel has developed during the campaign was that this honey production would give jobs to the population of Maly Turysh and, thus, revive the village. People liked this story. The project got 454 000 rub instead of expected 150 000 rub on this crowd finding platform.
This is how Guzel Sanzhapova started her social business. She saw the employment problem in the village and decided to solve it. Coccobello company hires mostly old people. Now they have jobs. People are happy to understand that they do something that people want and are ready to pay for. In 2013 Coccobello hired 7 people, in 2015 Guzel hired 18 what is really good for a social startup of that kind. Of course, Coccobello's honey is more expensive comparing to regular jar of honey. The transportation of the product from Maly Turish and the making of the cream honey need much more expenses than a regular honey manufacturing. However, people buy Coccobello's products. Guzel thinks that the story is attractive and thus is what pulls people to do so.
Guzel's business is 3 years old. She wants to expand it. Her tender love to her parents (who work there) and this place make her to do more and more good things for the Village of Maly Turish. She built a playground for kids and has started to develop eco tourism there. Golden youth from Moscow and hipsters from St. Petersburg are interested in these unusual tours and are ready to be her first clients. 
All in all, Guzel revives the Village of Maly Turysh. Her actions prevent typical villages' fate and actually change the history of Russia.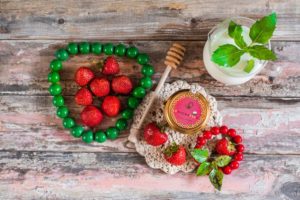 http://cocco-bello.com/
http://boomstarter.ru/
In 2012, a group of students in Prague won the Czech Social Impact Award with their idea to offer tourist tours run by homeless people. The idea turned into a great success story and Pragulic is today one of the strongest, most-known social businesses in the country. Inspired by this and a few other examples across Europe Perrine Schober from Vienna developed her own social business called SHADES TOURS with a slightly different approach. We now took part in a SHADES TOUR in Austria's capital and… hell, we loved it!!
Working with social entrepreneurs, one meets people with incredible ideas and businesses.
One such person is Perrine Schober of SHADES TOURS. For any person that has not met Perrine, or heard of SHADES TOURS, here is a bit of background. SHADES TOURS offers activities and tours that discuss homelessness in Vienna. Recently, the first tour given in English. The tour is a highly interactive experience led by one of Vienna's homeless (or houseless). The English tour stopped at three locations in the fourth and tenth districts of Vienna, the main station, outside Caritas Peace Haven, and a local park.
The tour started off at Vienna main station.
A group from Impact Hub were on the tour that beautiful, sunny day. Initially, the tour met in front of the train station but it was warm and sunny, so the group moved through the train station to the other side, where it was shady. While walking through the train station, a homeless man with all of his possessions attached to a bike passed by the tour group, it was a sharp contrast to the beautiful sunny day outside and the camaraderie of the tour guests. Standing in the shadow of the train station our guide asked questions about how people became homeless and what homelessness meant. The tour group and the guide discussed why the train station is a gathering place for the city's homeless population and the stories that unfold there daily.
At the train station the concept of the Street Management Teams was introduced. These teams comprise of dedicated social workers, who help those at risk access the social services available to them. These red jacketed social workers can be seen throughout the city. It seems that not only homelessness can appear invisible, if one does not know what to look for. Coming from Canada, the idea that there are social workers going out into the field to help people access social services is a most novel concept. In Canada, those at risk need to seek aid first, in order to receive assistance.
The second location was the Caritas Peace Haven. For a Canadian, this is, again, a very novel concept. There are homeless shelters in Canada that sometimes provide accommodations at night, and most especially during our harsh winters, but the idea that there was a day centre where people could access food, internet, showers, and laundry was something new. For a Canadian at risk, it is rare to find one place that offers all of these amenities under one roof. The guide explained that there were different types of day centres for women and children in the city as well, so that those especially vulnerable, would be less wary of accessing these safe havens.
The third location was a local park. The guide showed pictures of the parks during the refugee influx and what they looked like during the height of the crisis. Sitting on benches in the shade and the idea of a sense of security and peace that most people have in their daily lives but that the homeless lack entirely was discussed. The guide then switched gears, slightly, to share some stories about some of the individuals that he knew within the city. The stories were eye-opening and disheartening. From stories about theft and the acquisition of new addictions, to the role of mental illnesses and the length of time that homelessness persists for some individuals. Then the guide shared the uplifting success stories of those same individuals. Some are no longer homeless.
By accessing the support of social workers and mental health professionals, they slowly built the skills necessary to return to a more normal life.
Walking away at the end of the tour on that beautiful, sunny day, there were three take-aways. The first take-away is a new understanding of the complexity of homelessness. Many look over the person who sleeping in the park or sitting asking for change on the steps. Rarely does one think about the depths of a homeless person's anxiety over the safety of himself or herself and his or her belongings.
The second take-away is the knowledge that there are a large number of social institutions working together to create and maintain a social system for the homeless within Vienna. There is a large network of well funded charities and governmental social services that work in concert to address this issue. While this does not solve the deep seated problems of homelessness, it certainly makes a difference to the individual lives they touch.
The third take away was the difference between homelessness and houselessness. Houselessness being that someone has an address but for various reasons, like domestic violence, he or she is unable to access his or her residence. This is not a concept for Canadians, and so, while it is mundane for Austrians to make this distinction based on a variety of factors affecting someone's status it is not so for a Canadian.
Perrine Schober offered her thoughts on the issue of homelessness and her tour guides.
What is the most pressing issue with homelessness?
"In my opinion, the most dangerous thing about homelessness is time. The longer a person is homeless, the more difficult is becomes for the person to change their status quo. It takes unbelievable strength, motivation, and determination to get out of being homeless when you battle a lack of belief, hope, motivation, strength, and self esteem coupled with unbearable shame and the constant struggle to organize the most basic of needs."
What is the one thing that can make a difference in the lives of the homeless?
"Even with all of our social services assisting with the basic needs of the homeless there is one thing that makes a difference to a person who is homeless: employment. Employment is often the difference between homelessness and a fully integrated life. We all need tasks and work in order to feel useful, and to have a reason to wake up and shower everyday. This is not something that the social system can provide, or even is supposed to provide. I do not think that employment is a panacea to homelessness, but when they are ready and back on their feet, they should be able to find employment within the labour market."
What are you proud of with Shades Tours?
"I am super proud of the Shades Tours guides. They may be fighting the toughest fight of their lives and I am glad that SHADES TOURS is one employment outlet that can provide them with the strength and motivation that they need."
***********
If you haven't been on a SHADES TOUR yet, I encourage you to attend one.
Austrians have created an amazing social system, and it is important to see it in action. For the rest of the world, these ideas need to be taken elsewhere in the world and replicates. Check out the Shades Tours website, http://www.shades-tours.com, for information on tours and activities in English and German.
Aleksa Živković is a winner of Social Impact Award 2015 in Serbia, with an enormous passion for helping people in his local community. The Kind Transporter (formerly known as Youth for Elders), a social business he runs, is more than just a bike courier service: they deliver groceries, fast food, pay bills, deliver money, deliver construction materials and move furniture. They don't pollute air, as everything is done by bike, they help elderly people (all services are free of charge for residents older than 70) and create programs for youth. 
It all started in 2011 when Aleksa decided he wanted to do something during summer
after high school, before leaving to live in Malta. He bought a SIM card for 2€, opened a Facebook page and offered his bike courier services in his hometown Pirot. After plans for leaving the country changed, Aleksa decided to develop this idea further. He established an NGO Leka in 2013, and that's when more funding opportunities came. He established cooperation with the Red Cross Pirot, and got donations from several institutions and companies.
After that, Aleksa decided it was time to add another service
to his business and applied for Social Impact Award. The idea was to build a rickshaw and offer sightseeing tours, while providing free transportation to doctor's appointments for citizens older than 70 years of age. He won the SIA award and is currently building a rickshaw together with two experienced mechanical engineers. He has recieved a lot of support and media attention, and was even a part of Coca-cola's #ShareTheGood campaign.
His favorite part of the Social Impact Award experience was the SIA Vision Summit. "It was a rare opportunity to talk with young people about tackling some problems of 21st century that many people refuse to acknowledge. Not only talking, but tackling".
Aleksa has no problem talking about the failures he experienced on the way, but keeps figuring out new ways to increase his revenue and create a bigger impact. The Kind Transporter has, in the past 4 years, provided more than 500 free services and involved 8 volunteers. They currently have 7 service users.
Goals for the future include having 5 couriers before expanding to Belgrade, and 50 service users.  With 5 couriers they will be able to introduce a new service: distribution of locally produced food – milk, cheese, vegetables and fruits. This way they will not only reduce CO2 emission for food transport, but also promote local farmers and their products.
And even though Aleksa works about 14 hours a day he says that "legs don't feel tired when the heart knows what it is beating for".
We could not agree more.  
Montenegro – as one of our smallest and newest SIA countries – is getting more and more sensitive in the sphere of Social Business as markets change. The international travel industry i.e. shows a rise in social inclusions of regional projects. Enterprises connect with regional organizations to create "green" awareness, just like TourViaMe does. 
Like every good travel company in the world, Tour Via Me wants to foster responsible and sustainable travel. Foundations like Planeterra.org and Intrepid Foundation are leading the change as they create new opportunities through social enterprise in travel all around the world: from supporting Peru Women's Weaving Co-op, to giving jobs to street children in New Delhi, India. They aim to follow their example and help in developing travel social enterprises in Montenegro. "Together with SIA and other social entrepreneurship programs we are here to help, and we will always be more than happy to mentor you and help in bringing positive change to the community. " says Bojan Ćinćur, one of the founders of Tour Via Me which is recognized as one of the first startups in Montenegro.
Tour Via Me is a curated online marketplace for escorted tours. They sell escorted tours created and conducted by the world's top notch tour operators through innovative UX design. They aggregate the best tours on the market, collect all relevant data about those tours, and present information in a simple and visually appealing way. Tour Via Me's mission is to become a one-stop shop for group guided tours. They want the majority of the best group guided tours in the world to be found and bought on a single website, and to be the first thing that comes to people's minds when they start thinking about finding and booking a tour.
The guided tours market (multi-day guided group) is a 36 billion dollar market which is highly under-served in the online world. It has no good aggregators, or a marketplace that will help travelers in their quest to find their next tour. This market existed since the 1950's and has been growing steadily over the years.
At the moment, travelers are forced to search for these tours using Google and other search engines, only to find hundreds of tours scattered across many different websites (tour operators and smaller agencies) each of them providing a very different user experience, information density and service level. This makes the entire process very confusing and demanding time-wise, as people need to research every option not knowing if it will suit them and their needs.
Tour Via Me organizes and structures all tour information so that consuming this information is very easy and fast. As a result, they have a unique data system that enables them to build the most advanced searching capabilities and to create the richest comparison engine in the tour industry. In addition, this allows them to implement sophisticated personal suggestion engine and additional user-oriented features. Coupled with reliable reviews, interactive map and rich media content, this allows users to easily find exactly what they are looking for and make an informed decision before booking their perfect tour.
Nasha Dobra Zemja (Our Good Earth) is the first organic food cooperative of consumers in Macedonia. They started as an informal group of 20 families in search of organic, ecological local food from the cleanest regions of Macedonia. In two years (helped by donations) they got into the most hidden villages in Macedonia and visited more than 100 farmers to find the cleanest and best quality food for themselves and their families.
The interest grew, and soon they became 100 families-members. Then they discussed if they should and are willing to register an entity, so other people can enjoy the results of their search and work. Then in April 2015 they opened their shop in the neighborhood of Taftalidze.
The strongest initiator for our efforts is and was – increasing awareness about sustainability in general, and more precisely about local community development, sharing of resources, decreasing the pressure to mother Earth.
"Being exposed to what is going on in the world (the degradation of soils, natural preserves and habitat) it was simply unavoidable to not take action. Our Good Earth is our response to what is going on in the world today. And it is not only about food production, but the (ab)use of natural resources, the treatment of other living beings, polluting, dividing vs. joining…. We humans are the most egoistic and egocentric species!"
For the first time in Macedonia they formally introduced the concept of weekly organic basket for their members – delivered to your doorstep, a beautiful basket full of fresh chemical free fruits and vegetables. This is the start towards a community supported agriculture (CSA).
In 2015 they won the Social Impact Award in Macedonia, and we also won the regional contest of Green Ideas and Philanthropy. The awards launched them into contact with most relevant people from the social enterprise sphere in Macedonia. Participating in the discussions helped them define better what they feel about social impact they portray vs. green eco concept they also strongly believe in. They tend to feel that their positive impact on nature and changing people's habits of using plastic and bringing their own packaging when shopping has a crucially strong social impact (additional to the non use of pesticides in the food they procure and supply).
All our further activities will have an umbrella of sustainability in organics. Organic production has become such a business as usual, that its core of preserving nature, biodiversity and people has been lost along the way. Capitalism and free markets are the way they are – our decision and actually the only way to go forward – is to think and act holistically – not egocentrically. Such an approach has is price, that we are ready to pay.
Trees are one of the most vital natural resources in the world, with tremendous benefits for supporting life. It has an irreplaceable role in the world ecology, as forests are nature's lungs. There is not a species on the planet that does not owe its existence to trees.
People have benefited from forests for thousands of years, utilizing this amazing resource for shelter, fuel, tools and even medicine, with more than 25% of all medicines used originating from rainforests. Wood is a natural, living material, which has both strength and elasticity. A tree's species, origin and growth determine it's technical capabilities. In the hands of an experienced master-craftsman, wood's practical capability and aesthetic beauty is revealed.
Latest research has shown immense health benefits to people who utilize natural wood furniture. There are indications that wood has curative properties and help with the recovery from illness, compared with those who live surrounded by synthetic materials. Only 1% of forests has been studied for medical properties, and yet every second we are losing a football-pitch size of this amazing resource.
It is paramount that we all work towards sustaining this natural resource and ensure that future generations enjoy its vast benefits.
The company MS & WOOD today supplies its products to Sweden's IKEA and the example of furniture a high degree of added value. Its director Muhamed Pilav believes that the key to market success can be achieved by the quality of the product and that without it is not possible to go out into the world market.
MS & WOOD is in metallurgy redirected to wood processing. Its
products and furniture is present on all continents, and nearly 99% of production is exported to Japan, European and American market. Orientation is on production for export, because without rapid growth of production of goods and services for export, the recovery, which is considered Pilaf and vice president of the Association of the wood industry in BiH. Currently our neighbors give companies the empty halls free to use, and to purchase equipment grant in the amount of 50 – 60% of investment.
Croatian Bank for Reconstruction and Development in 2015 under favorable conditions lend to the real sector of about two billion marks. Turkey, Serbia, Macedonia, Romania intensely provide grants and tax credits real sector. Germany subsidizes exporters costs of transport, energy, interest, and so on. Can we follow the competition from these countries, concludes Pilav.
Masters and Wood (MS&WOOD) is a furniture manufacturer specializing in solid wood furniture, constructed out of a variety of species such as beech, ash, oak, and walnut.
MS&WOOD prides itself on its environmental and ecological credentials with its Chain of Custody certificate from the Forest Stewardship Council (FSC). MS&WOOD's manufacturing capability encompasses the entire production process from raw lumber processing, both traditional and modern machining capabilities to finishing, packaging and export. The capacity of MS&WOOD is vast with the ability to produce 500,000 chairs and 100,000 tables each year, with an aim of reaching an annual production of over 1 million units by 2020. A high profile partnership with the world-renowned company IKEA is a testament to MS&WOOD's manufacturing capability and level of professionalism. This is further supported by the fact that MS&WOOD is the exclusive manufacturer for certain products for the IKEA range. MS&WOOD exports to every continent reaching over 40 countries worldwide.
For some time now Prague has been flooded by pink bicycles thanks to Vitek Jezek and his bikesharing project called Rekola. The aim of the project is to revive and diversify public space and at the same time recycle old bicycles. For his project, Vitek has received several awards in local and international competitions and was also invited to Silicon Valley.

Vítek Ježek is a passionate programmer whose dream is that one day people will love their city as much as he does. They will enjoy taking the underground, listen to poetry in the streets or just help others selflessly. That is why he operates Rekola, a public bike rental, to make commuting easier to residents of Prague, Brno, Olomouc, Pardubice, Hradec Kralove and Budweis.
During his studies at the Faculty of Electrical Engineering at the Czech Technical University (CTU) he co-founded a web application development company called Clevis. In the summer of 2013 he created a bike sharing project which he further developed under the name Rekola. He rode his longest bike trip on a pink bike to Istanbul, the entire 2400 km from Prague.
University awakening
Vitek discovered his passion for technology at Jan Kepler High School, known for its alternative approach to students and teaching. During his studies he began  creating websites and managing the school IT network, which later led him to attend the Faculty of Electrical Engineering at the Czech Technical University in Prague.
Pink start
In 2013 Vitek met a few enthusiasts, who had already deployed a few bikes in northern Prague – Suchdol for free rental. He was excited about their idea and wanted to expand the project to the whole city. However the creators of the idea didn't have time to carry out the project so Vitek has started by himself. "The main problem was how to pass on lock codes effectively" he says. He requested the support from the Vodafone Foundation, which supported him through the Vodafone Foundation Laboratory, an acceleration program.
"I started to work with the Lean Startup methodology, which forced me first of all to undertake a detailed survey among the intended target group," he says. Students seemed to be the biggest users and the first test operation took place at the university campus.
He got his first bikes from volunteer donors who could name them and rent them for free the entire year. Some bikes he got from an NGO Bikes for Africa which were unsuitable for African conditions as they were road bikes. The initial cost he financed from a successful crowdfunding campaign and Vodafone Foundation's contribution. He also gained money as a winner of Social Impact Award.
In April 2014 he started full operation with more than a hundred bikes in five Prague districts. During the season 570 people had the opportunity to ride a pink bike and 12 000 bike rents took place.
Gaining recognition in Sillicon Valley
Thanks to the Vodafone Foundation Laboratory, Vitek attended one of the largest investor conferences for social entrepreneurship, Social Capital Markets (SOCAP) in California. Rekola was the most developed company compared to other bike sharing programs from around the world. "They were very surprised that we were able to bring the project to the operation stage so quickly."
"People tell me that thanks to Rekola they manage to arrive on time for their final university exams or important meetings and Rekola enable them to overtake cars stuck in long lines of traffic" replies Vitek when asked what motivates him most to continue Rekola's development.
Currently Rekola is operating bikesharing in six Czech cities and is in negotiation with two smaller towns. At the beginning of 2016 Rekola found a private investor who helps them to scale their business.
Today we are happy to share with our community that after thousands of sleepless nights and so much effort of our team, we can show you BLITAB Beta. BLITAB®'s CEO and Co-founder Kristina Tsvetanova comments: "Reaching this step was for our team a huge start-up challenge because we decided to do it without any equity investment and with the help of the community and many international awards we got during the last 10 months." 
Now, if you haven't heard of it before, BLITAB® Technology developed the first-ever tactile tablet, using a new liquid-based technology to create tactile relief that produces Braille, graphics, maps for the blind and partially sighted. From the very start, blind and visually impaired users were involved in the product development because BLITAB® is fully designed according to their needs, not adapted as many assistive devices are. We called it BLITAB® – the iPad for the blind, and for the first time it will make possible for children and students with sight loss to finally have access to the latest technology and thus to learn and study more efficiently.

More than 2500 blind and visually impaired users have already supported BLITAB® Technology approach to Innovation – with specific focus on BLITAB tablet for the Blind and Visually Impaired.
At Mobile World Congress Shanghai 2016 – Asia's biggest mobile industry event – where thousands of visionary leaders and tech-savvy consumers will gather to experience a connected life, for the first time BLITAB Beta will be demonstrated and tested live. Do you remember the smart liquid bubbles? Yes, you can experience them under your fingers and not only. The mobile tablet can be tested and pre-sold. Its founders will be there onside and answer all your questions.
And if so far BLITAB founders have not taken the chance to welcome investors on board, now they announce that the young innovative company is fundraising to set a production line for the first batches. BLITAB Technology with HQ in Vienna is an attractive investment opportunity not only because of BLITAB tablet with a quarter billion-dollar market potential, but also of the patented actuating technology that can be applied in various environments like body applications, consumer products, robotics.
Finally, Slavi Slavev, Head of Technology Development at BLITAB said: "BLITAB Technology's approach forms a basis of a new paradigm which will revolutionize the future of digital life-experience for blind and visually impaired people. We believe that BLITAB has the potential to transform Braille usage and delivery of tactile data at an affordable price and provide users with the needed tool for private and professional life."
The IT sector is on the rise in Serbia, as the emerging and creative startup scene has generated a lot of interest. However, the classroom is not following this trend. Kids in schools are learning about outdated programing languages and the use of technology in classrooms is minimal.
Miomir, the brain behind Kliker – Center for creative thinking has noticed this, and decided to use his knowledge and passion in order to create an impact. He was the finalist of Social Impact Award Serbia 2015, and even though he hasn't won the award, his perseverance and determination led him to start business on his own and change children's lives.
The concept is to offer commercial courses and part of that money is used to finance courses for underprivileged kids and social groups and to hire students and young engineers who want to teach kids and help with developing our programs.
The idea for Kliker – Center for creative thinking started as a combination of two things: a social entrepreneurship model that was suitable for applying on Social Impact Award 2015 and on the other hand the necessity to show kids in Serbia that everybody can learn at least basic concepts of computer programming and, more importantly, that everybody deserves a chance to learn.
Kno
wing that in developed countries kids as young as seven years old are learning how to code, and in Serbia they don't start until they are 13 years old, it was clear to us that we have to offer that kind of education here. We also want to include robotics, 3D printing and electronics in our curriculum, because we think that this kind of education is lacking in our school system and it's becoming more important in the 21st century. The concept is to offer commercial courses and part of that money is used to finance courses for underprivileged kids and social groups and to hire students and young engineers who want to teach kids and help with developing our programs.
Nearly six months since the first course started we now offer our program in one more city, teaching courses in one private company for kids of the employees, developing new courses and have seven motivated team members. Approximately 200 kids attended and still attend our programs and more than 150 kids attended our free workshops.
Our goal in the future is to start our programs in several cities in Serbia, to develop more courses and to make a web site that will provide material, tutorials and advices for parents and kids who are interested in IT and new technologies in general.
We think that our biggest achievement so far is getting scholarship from private IT high school for one of many underprivileged kids that we teach. It will set an example that everybody can learn coding and that hard work will pay off.
Going through SIA experience validated and improved our idea and gave us the chance to meet amazing people that inspired and motivated us. Thanks to that positive impulse we now collaborate on several projects with NGOs, private companies, Hubs and other individuals who want to support our mission.
Upside Down is an organization from Iaşi, that aims to help the environment and to determine costumers to take responsible decisions.
Our story and mission began once we won the Social Impact Award competition in 2012. We create eco-friendly accessories such as wallets, bags, book covers, iPad covers, and bumbags, made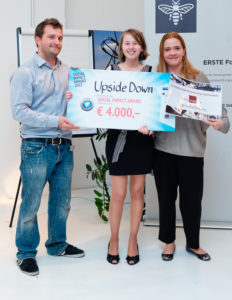 from banners and tire tubes. In this way, Upside Down uses waste in a creative manner in order to bring a solution for both customers and environment. This way of creating useful things from old, useless materials is called upcycling. The process is complex and different from what we call downcycling because we create accessories higher in quality than the initial ones. Our kind of upcycling consists of a four-step process: collecting, cleaning, cutting, and sewing.
Besides being eco-friendly, our products have the advantage of practicability. They are created to please our customers' needs. We even adapted the accessories for the Romanian market. The Slim Wallet, which is also the best-selling product of our range, is designed so people could fit in it the Romanian paper money, while the bags and covers have the perfect dimensions in order to fit the products they were created for.
Some of our objectives are to increase the awareness level regarding social responsibility and different ways to protect the environment and to create working places with reasonable conditions.
We are also very open with respect to the local arts industry. Over time, we have been collaborating with several artists, offering them different opportunities to display their work and promoting them nationally.
Upside Down's philosophy is centered on the principle of sustainability. Moreover, the company encourages the idea of responsible shopping and tries to have a constant conversation with the costumers, trying to inform them about the way we can solve environmental problems or about local or national actions which suit our values or ideas. Their feedback is very important for us, leading to improvements or even the appearance of new products. The best example is the bumbag, a product integrally born from our customers' needs of carrying their things in a more practical way, especially in the summer and in various social contexts.
We think of Upside Down not only as a small, but brave business, but also as a way of thinking and acting based on the outside the box philosophy. We save specific materials others couldn't even think they could. This is how we like to think that we make the difference on a market already full of other accessories or fashion-related brands.
"What we do is best described by the company's tagline "the incredible life of after waste" because all in one, that is what we do: we transform useless things from the urban environment in new, cooler and higher in value products and we try to determine people to adopt the same way of thinking and doing things."
Almost there
You need to register in order to submit your bulletin & vote.
We care about your privacy.
Read Privacy Policy .
× close