First mover in Bosnia and Herzegovina – global supply on ecological woodwork by MS&Wood
Trees are one of the most vital natural resources in the world, with tremendous benefits for supporting life. It has an irreplaceable role in the world ecology, as forests are nature's lungs. There is not a species on the planet that does not owe its existence to trees.
People have benefited from forests for thousands of years, utilizing this amazing resource for shelter, fuel, tools and even medicine, with more than 25% of all medicines used originating from rainforests. Wood is a natural, living material, which has both strength and elasticity. A tree's species, origin and growth determine it's technical capabilities. In the hands of an experienced master-craftsman, wood's practical capability and aesthetic beauty is revealed.
Latest research has shown immense health benefits to people who utilize natural wood furniture. There are indications that wood has curative properties and help with the recovery from illness, compared with those who live surrounded by synthetic materials. Only 1% of forests has been studied for medical properties, and yet every second we are losing a football-pitch size of this amazing resource.
It is paramount that we all work towards sustaining this natural resource and ensure that future generations enjoy its vast benefits.
The company MS & WOOD today supplies its products to Sweden's IKEA and the example of furniture a high degree of added value. Its director Muhamed Pilav believes that the key to market success can be achieved by the quality of the product and that without it is not possible to go out into the world market.
MS & WOOD is in metallurgy redirected to wood processing. Its
products and furniture is present on all continents, and nearly 99% of production is exported to Japan, European and American market. Orientation is on production for export, because without rapid growth of production of goods and services for export, the recovery, which is considered Pilaf and vice president of the Association of the wood industry in BiH. Currently our neighbors give companies the empty halls free to use, and to purchase equipment grant in the amount of 50 – 60% of investment.
Croatian Bank for Reconstruction and Development in 2015 under favorable conditions lend to the real sector of about two billion marks. Turkey, Serbia, Macedonia, Romania intensely provide grants and tax credits real sector. Germany subsidizes exporters costs of transport, energy, interest, and so on. Can we follow the competition from these countries, concludes Pilav.
Masters and Wood (MS&WOOD) is a furniture manufacturer specializing in solid wood furniture, constructed out of a variety of species such as beech, ash, oak, and walnut.
MS&WOOD prides itself on its environmental and ecological credentials with its Chain of Custody certificate from the Forest Stewardship Council (FSC). MS&WOOD's manufacturing capability encompasses the entire production process from raw lumber processing, both traditional and modern machining capabilities to finishing, packaging and export. The capacity of MS&WOOD is vast with the ability to produce 500,000 chairs and 100,000 tables each year, with an aim of reaching an annual production of over 1 million units by 2020. A high profile partnership with the world-renowned company IKEA is a testament to MS&WOOD's manufacturing capability and level of professionalism. This is further supported by the fact that MS&WOOD is the exclusive manufacturer for certain products for the IKEA range. MS&WOOD exports to every continent reaching over 40 countries worldwide.
Pink bikes for every town! The Rekola bikes teaches people to love public space
For some time now Prague has been flooded by pink bicycles thanks to Vitek Jezek and his bikesharing project called Rekola. The aim of the project is to revive and diversify public space and at the same time recycle old bicycles. For his project, Vitek has received several awards in local and international competitions and was also invited to Silicon Valley.

Vítek Ježek is a passionate programmer whose dream is that one day people will love their city as much as he does. They will enjoy taking the underground, listen to poetry in the streets or just help others selflessly. That is why he operates Rekola, a public bike rental, to make commuting easier to residents of Prague, Brno, Olomouc, Pardubice, Hradec Kralove and Budweis.
During his studies at the Faculty of Electrical Engineering at the Czech Technical University (CTU) he co-founded a web application development company called Clevis. In the summer of 2013 he created a bike sharing project which he further developed under the name Rekola. He rode his longest bike trip on a pink bike to Istanbul, the entire 2400 km from Prague.
University awakening
Vitek discovered his passion for technology at Jan Kepler High School, known for its alternative approach to students and teaching. During his studies he began  creating websites and managing the school IT network, which later led him to attend the Faculty of Electrical Engineering at the Czech Technical University in Prague.
Pink start
In 2013 Vitek met a few enthusiasts, who had already deployed a few bikes in northern Prague – Suchdol for free rental. He was excited about their idea and wanted to expand the project to the whole city. However the creators of the idea didn't have time to carry out the project so Vitek has started by himself. "The main problem was how to pass on lock codes effectively" he says. He requested the support from the Vodafone Foundation, which supported him through the Vodafone Foundation Laboratory, an acceleration program.
"I started to work with the Lean Startup methodology, which forced me first of all to undertake a detailed survey among the intended target group," he says. Students seemed to be the biggest users and the first test operation took place at the university campus.
He got his first bikes from volunteer donors who could name them and rent them for free the entire year. Some bikes he got from an NGO Bikes for Africa which were unsuitable for African conditions as they were road bikes. The initial cost he financed from a successful crowdfunding campaign and Vodafone Foundation's contribution. He also gained money as a winner of Social Impact Award.
In April 2014 he started full operation with more than a hundred bikes in five Prague districts. During the season 570 people had the opportunity to ride a pink bike and 12 000 bike rents took place.
Gaining recognition in Sillicon Valley
Thanks to the Vodafone Foundation Laboratory, Vitek attended one of the largest investor conferences for social entrepreneurship, Social Capital Markets (SOCAP) in California. Rekola was the most developed company compared to other bike sharing programs from around the world. "They were very surprised that we were able to bring the project to the operation stage so quickly."
"People tell me that thanks to Rekola they manage to arrive on time for their final university exams or important meetings and Rekola enable them to overtake cars stuck in long lines of traffic" replies Vitek when asked what motivates him most to continue Rekola's development.
Currently Rekola is operating bikesharing in six Czech cities and is in negotiation with two smaller towns. At the beginning of 2016 Rekola found a private investor who helps them to scale their business.
Former SIA winner BLITAB launches first-ever tactile tablet
Today we are happy to share with our community that after thousands of sleepless nights and so much effort of our team, we can show you BLITAB Beta. BLITAB®'s CEO and Co-founder Kristina Tsvetanova comments: "Reaching this step was for our team a huge start-up challenge because we decided to do it without any equity investment and with the help of the community and many international awards we got during the last 10 months." 
Now, if you haven't heard of it before, BLITAB® Technology developed the first-ever tactile tablet, using a new liquid-based technology to create tactile relief that produces Braille, graphics, maps for the blind and partially sighted. From the very start, blind and visually impaired users were involved in the product development because BLITAB® is fully designed according to their needs, not adapted as many assistive devices are. We called it BLITAB® – the iPad for the blind, and for the first time it will make possible for children and students with sight loss to finally have access to the latest technology and thus to learn and study more efficiently.

More than 2500 blind and visually impaired users have already supported BLITAB® Technology approach to Innovation – with specific focus on BLITAB tablet for the Blind and Visually Impaired.
At Mobile World Congress Shanghai 2016 – Asia's biggest mobile industry event – where thousands of visionary leaders and tech-savvy consumers will gather to experience a connected life, for the first time BLITAB Beta will be demonstrated and tested live. Do you remember the smart liquid bubbles? Yes, you can experience them under your fingers and not only. The mobile tablet can be tested and pre-sold. Its founders will be there onside and answer all your questions.
And if so far BLITAB founders have not taken the chance to welcome investors on board, now they announce that the young innovative company is fundraising to set a production line for the first batches. BLITAB Technology with HQ in Vienna is an attractive investment opportunity not only because of BLITAB tablet with a quarter billion-dollar market potential, but also of the patented actuating technology that can be applied in various environments like body applications, consumer products, robotics.
Finally, Slavi Slavev, Head of Technology Development at BLITAB said: "BLITAB Technology's approach forms a basis of a new paradigm which will revolutionize the future of digital life-experience for blind and visually impaired people. We believe that BLITAB has the potential to transform Braille usage and delivery of tactile data at an affordable price and provide users with the needed tool for private and professional life."
Commensurate education programs for the next generations in Serbia – Kliker
The IT sector is on the rise in Serbia, as the emerging and creative startup scene has generated a lot of interest. However, the classroom is not following this trend. Kids in schools are learning about outdated programing languages and the use of technology in classrooms is minimal.
Miomir, the brain behind Kliker – Center for creative thinking has noticed this, and decided to use his knowledge and passion in order to create an impact. He was the finalist of Social Impact Award Serbia 2015, and even though he hasn't won the award, his perseverance and determination led him to start business on his own and change children's lives.
The concept is to offer commercial courses and part of that money is used to finance courses for underprivileged kids and social groups and to hire students and young engineers who want to teach kids and help with developing our programs.
The idea for Kliker – Center for creative thinking started as a combination of two things: a social entrepreneurship model that was suitable for applying on Social Impact Award 2015 and on the other hand the necessity to show kids in Serbia that everybody can learn at least basic concepts of computer programming and, more importantly, that everybody deserves a chance to learn.
Kno
wing that in developed countries kids as young as seven years old are learning how to code, and in Serbia they don't start until they are 13 years old, it was clear to us that we have to offer that kind of education here. We also want to include robotics, 3D printing and electronics in our curriculum, because we think that this kind of education is lacking in our school system and it's becoming more important in the 21st century. The concept is to offer commercial courses and part of that money is used to finance courses for underprivileged kids and social groups and to hire students and young engineers who want to teach kids and help with developing our programs.
Nearly six months since the first course started we now offer our program in one more city, teaching courses in one private company for kids of the employees, developing new courses and have seven motivated team members. Approximately 200 kids attended and still attend our programs and more than 150 kids attended our free workshops.
Our goal in the future is to start our programs in several cities in Serbia, to develop more courses and to make a web site that will provide material, tutorials and advices for parents and kids who are interested in IT and new technologies in general.
We think that our biggest achievement so far is getting scholarship from private IT high school for one of many underprivileged kids that we teach. It will set an example that everybody can learn coding and that hard work will pay off.
Going through SIA experience validated and improved our idea and gave us the chance to meet amazing people that inspired and motivated us. Thanks to that positive impulse we now collaborate on several projects with NGOs, private companies, Hubs and other individuals who want to support our mission.
The incredible life of afterwaste: Upside Down!
Upside Down is an organization from Iaşi, that aims to help the environment and to determine costumers to take responsible decisions.
Our story and mission began once we won the Social Impact Award competition in 2012. We create eco-friendly accessories such as wallets, bags, book covers, iPad covers, and bumbags, made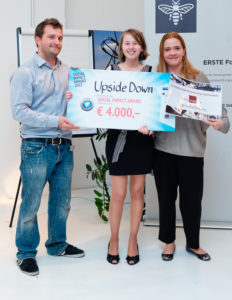 from banners and tire tubes. In this way, Upside Down uses waste in a creative manner in order to bring a solution for both customers and environment. This way of creating useful things from old, useless materials is called upcycling. The process is complex and different from what we call downcycling because we create accessories higher in quality than the initial ones. Our kind of upcycling consists of a four-step process: collecting, cleaning, cutting, and sewing.
Besides being eco-friendly, our products have the advantage of practicability. They are created to please our customers' needs. We even adapted the accessories for the Romanian market. The Slim Wallet, which is also the best-selling product of our range, is designed so people could fit in it the Romanian paper money, while the bags and covers have the perfect dimensions in order to fit the products they were created for.
Some of our objectives are to increase the awareness level regarding social responsibility and different ways to protect the environment and to create working places with reasonable conditions.
We are also very open with respect to the local arts industry. Over time, we have been collaborating with several artists, offering them different opportunities to display their work and promoting them nationally.
Upside Down's philosophy is centered on the principle of sustainability. Moreover, the company encourages the idea of responsible shopping and tries to have a constant conversation with the costumers, trying to inform them about the way we can solve environmental problems or about local or national actions which suit our values or ideas. Their feedback is very important for us, leading to improvements or even the appearance of new products. The best example is the bumbag, a product integrally born from our customers' needs of carrying their things in a more practical way, especially in the summer and in various social contexts.
We think of Upside Down not only as a small, but brave business, but also as a way of thinking and acting based on the outside the box philosophy. We save specific materials others couldn't even think they could. This is how we like to think that we make the difference on a market already full of other accessories or fashion-related brands.
"What we do is best described by the company's tagline "the incredible life of after waste" because all in one, that is what we do: we transform useless things from the urban environment in new, cooler and higher in value products and we try to determine people to adopt the same way of thinking and doing things."
A social enterprise changes the consumers' culture in Russia
It all started with the Social Impact Award 2014
CharityShop is a new type of social business that becomes more and more popular in Russia. Daria Alekseeva, owner of CharityShop, was a finalist of Social Impact Award in 2014. She was interested in fashion but also wanted to make this world a better place. Daria looked at different kinds of charity shops and developed her own version.
CharityShop in Moscow sells donated second-hand goods, for example, clothes and jewelry. It builds new infrastructure and consumer culture. People donate things they do not need anymore, and others buy them for a lower price. They collect donated clothes and other items that the owner does not need anymore. All donated items are categorized in three groups: the ones that are of the best quality are sold in the shop, the ones that are still good enough for usage are sent to poor families, the ones that are of the worst quality are recycled.
Up to 140 tons of clothes
CharityShop operates not only in Moscow, but also in Adygea, Rostov-on-Don, Nizhny Novgorod, Kazan and Saint Petersburg. They started to cooperate with famous brands and big malls. For example, CharityShop places special boxes for collecting goods in SELA shops and MEGA mall, and got 140 tons of clothes, shoes and jewelry one month. CharityShop team also often works in partnership with big corporations. For instance, during one #UberSpringCleaning day, Uber drivers collected 3 tons of goods by picking up donated clothes from families who wanted to participate in this campaign.
Profit goes to charitable foundation called "Vtoroe dyhanie"(Second breath). It organizes special programs that help people from social vulnerable groups to find a job. Part of revenue goes to Equal Opportunities Development center "Вверх" (Up) that helps children from correctional orphanage to adopt to life outside.
CharityShop also offers job opportunities
Furthermore, Daria gives job to people who have difficulties in their life so they can start over. CharityShop helps them to get legal registration, if they do not have one, recover documents and pay related fees. Once Daria hired a homeless man. As she mentioned in her article in Forbes "his hands were shaking so intensively so he couldn't even tie a bag with the stuff. However, employers usually do a great job. The team looks after them and is very happy when to see that instead of rotten food they have stew and potatoes for lunch". In addition, CharityShops organizes special events. For example, they run workshops on developing personal look for homeless people and free-shopping days for employees of nursing homes.
CharityShop is the first social enterprise of that kind in Russia. It changes consumer culture and people's mindset.
Will we finally manage to make children interested in chemistry?
The number of students interested in studying natural sciences is still decreasing. Obviously, something's not right! Chemistry is definitely the least favorite, despite the fact that nowadays, it's the foundation of all our consumer areas. The children don't see the logic in it, the volume of "pointless" theory bores them. The two Slovakia's SIA winners 2015, Adrián Hegedűš and Ivana Kravárová, came up with an original way how to change the situation. They realized that the simplest way to study and learn is to do so by playing games. The result is their brand new didactic game ChemPlay.
"We spent more than a year developing the game. Then we spent another one testing the game at Slovak and Czech both middle and high schools. We also presented it at various official conferences, aiming to get the most valuable feedback – from the professors. Fascinating and motivational was the interest it aroused. It was an indication that the desire to solve the question of children tuition isn't important just to us and that the game is truly demanded amongst the teachers. The teachers, children and parents value above all the fact, that the game allows no plain memorizing. It requires parallel use and development of logical, analytical, combinatorial and creative thinking while also improving teamwork skills.
The probations proved this way's effectiveness. The children were suddenly much more active and the boring theory was suddenly neither boring, nor theory. It managed to keep them focused for the whole 45 minutes long class, which, until then, required the teacher to have unachievable skills and authority. Numerous kids got more than just motivated, they began asking questions to unravel some more advanced curriculum.
Thanks to the success at various conferences, presentations and probations we gathered the courage to attend some competitions. The award of the Faculty of natural sciences of the Comenius University at the festival of science and technology, organized by AMAVET and advance to the international expo ESI 2015 in Brussels were an immense encouragement, followed by more awards and victories, for example the victory at the Bravo vědě competition, which took place in Pardubice, Czech Republic.
However, we also wanted to gather some feedback from the businessmen concerning the market success potential of our project. Therefore, we attended some business-related competitions, such as Social Impact Award Slovakia 2015, which we won, and the prestigious competition Nápad roku 2015, where we were scored the special EKONOM Student podnikatel award and got the 5th place overall.
A huge experience was also the summer SIA bootcamp in Vienna, where we got to see other amazing projects from all around the Europe and get some other valuable feedback. Another great success of our project is being featured at the Slovak map of social innovators, accompanied by such names as our president Andrej Kiska, Zuzana Wienk from the Alliance Fair-play or the pals from OCTAGO, who won the SIA as well.
We closed the 2015 with 2nd place which gave us free membership (and much more!) at Impact Incubator, organized by Impact HUB, Bratislava. Meanwhile we attended dozens of amazing mentoring events that helped us a lot in the terms of organization, project realization and a general idea what should our next steps be. We also have a new webpage with the order form thanks to the mentors. It was the next stage of our project's evaluation and verification whether it can survive on the market.
It was a correct step. Within the first two verification weeks we acquired orders both by schools and individuals. With the verified demand for ChemPlay, the thought of starting the production and distribution came to our heads. We already gained the theoretical knowledge by the mentors, but it was a great challenge anyway. We had to apply the theory, find the correct sponsors, get them excited and interested. It's not easy, but we're almost there. What brought us even closer, was the decision to try the crowdfunding via Center for philanthropy in Bratislava.
Our tiny project has grown a little throughout the time. We got contacted by Czech companies that want to distribute our game in Czech Republic. Given this, and the excited reactions of Czech teachers, we couldn't but recreate the game to be bilingual. This, however, caused a little more ambitious budget as the starter pack of money needs to be a bit bigger. We're proud and happy that in 50 days of the campaign, we managed to have raised 112% of the goal amount, which brought us one more step closer to the finalization and first production. Having circa 170 orders sure bears obligations and responsibility, but also an encouragement that our effort is not just wasting time.
It is overwhelming to hear these reactions of teachers, like "the change of mood is evident. The bored youth is all of a sudden overflowing with questions, they contemplate, they help each other, but mainly, they think creatively…", but to know that the game will travel to over 40 Slovak schools is even better. Our goals, however, exceed the boundaries of Slovakia. Chemistry works the same all over the world, thus we aim to expand within Europe and maybe once even within the whole world.
ChemPlay is just the beginning. Our objective is to build a set of didactic games able to playfully teach the basics of natural sciences and motivate children to study them.
"If you have something in mind, simply give it a try."
Interview with David Zistl, founder of "Flüchtlinge Willkommen" and SIA winner 2015.
The vast migration of refugees has become one of the most complex challenges for European countries since many years and triggered a broad discussion about how the refugees can be integrated into our society. While politics are still struggling in offering proper solutions to this topic, a few students from Vienna, Austria have been faster. In the beginning of 2015, they developed the project "Flüchtlinge Willkommen" ("Refugees Welcome"). The project's concept is as easy as impactful: Whoever has a free room in his or her shared apartment, reports this on the online platform of "Flüchtlinge Willkommen". The project then acts as an agent by connecting the interested person with a local NGO and one or more refugees. Before a contract is signed, the refugee(s) and his or her potential future flat mates meet and get to know each other.
In May 2015, "Flüchtlinge Willkommen" won the Social Impact Award in Austria. We talked to David Zistl, initiator of the project about this exciting year, the challenges he has been facing and why the Social Impact Award has been an important step for the project.
David, almost one year ago you and your colleagues started "Flüchtlinge Willkommen". What was the driving motivation for you?
"Simply because the situation of asylum seekers in Austria has been and still is terrible! The immigrants are being kept out of city centers, they have almost no possibilities to get in touch with locals. You have to consider that the Austrian authorities support refugees with 320 € per month, out which 120 € are supposed to be spent for housing. You simply can't get a room in a shared flat at that price! Moreover, with the dramatic increase of refugees coming to Austria more and more of them become homeless. In Traiskirchen, a large refugee camp close to Vienna, refugees were sent away and being told that they should take care of housing on their own. And even for legally approved refugees the situation is very difficult as they need a pay slip in order to be able to rent a flat on their own. So, there was definitely an urgent need for a concept like ours."
So you started to work on it in January. Just five months later, at the end of May, you won the Social Impact Award in Austria. How did this influence the project's development?
"Oh, it definitely helped us a lot. Even more important than the direct financial support has been the fact that this award brought us in touch with ERSTE Foundation and other important players that later invested into the project."
How did you use the prize money?
"First of all, we were able to pay two team members a small salary in order to grow the operations and to bridge the time until we were able to raise higher funds from ERSTE Foundation and others. But we also used part of the money to create and print flyers and other PR material to increase publicity."
Now, about half a year later, what is the status quo of "Flüchtlinge Willkommen"?
"Well, most important to mention is that we have already provided more than 200 refugees a room in a shared flat! But it is not merely about the numbers, but the people. It is incredible to observe how much the matching of locals and refugees affects both sides! I just want to give you one example: A successful entrepreneur approached us and offered a room in his apartment. So, we put him in contact with a immigrated teenager. But the entrepreneur didn't stop there. He organized him access to school and offered him an apprenticeship position in his own company as soon as he finishes school."
Reflecting on everything that has happened this year, what has surprised you most?
"The success of our financial model is one of the greatest surprises. It is based on micro donations by flat mates, family members or friends of the locals. Thanks to their solidarity we were able to raise enough money for each and every flat room that we got offered. Once, we raised more 2.700 € within two days, just from micro donations of ten to thirty Euros."
In a few weeks the Social Impact Award 2016 kicks off in more than ten European countries and again thousands of students will participate in workshops, work on their ideas and try to put them into praxis. With your experience from this year: What would be your key advice to them?
"Simply do it! Try it out and then you'll see if it works or not. If you have something in mind, simply give it a try. Probably, we are often too pessimistic that things might not work in the end, but our example should show that it can happen. But of course, you need to work for it and you need to be very flexible."
Dear David, thank you for the interview and all the best for your project!
Promoting social inclusion and active citizenship
Between four and ten thousand people live in the streets of Prague, making homelessness an issue that has to be addressed on a social level. That's why Pragulic cofounders Tereza Jureckova and Ondrej Klugl came up with an idea for a project that allows people living in the streets to become tourist guides, contributing to the reduction of social exclusion and stigmatisation.
"It all started after SIA kick off in Prague in 2012," Ondrej says of the idea, which by now has transformed into a social business. "At that time we were three students who decided to connect and run a project." Today, besides the two managers, the team consists of external psychologists, bookkeepers, and volunteers who translate the city tours. "Although most people overlook the homeless we learned that they have big potential and we hope that we can help them restart their lives with our service and what is even more important also educate the public," Tereza adds.
Tereza and Ondrej found out about the SIA competition through their university and having dived deeper into the concept of social entrepreneurship they decided to take part at the kick off at Imapct Hub Prague. "For me it was a great chance to finally start something," says Tereza who aims to help a marginalised group gain acceptance and respect by giving them a place and purpose in society.
What doesn't kill you…
While the beginning was tough, both cofounders proved they had the will and the ambition to deal with challenges. When Ondrej had a knee surgery during the launch of Pragulic, all he could think of was keeping the business going. "I remember the first thing I did when I woke up after the surgery was that I had to deal with some phone call connected with Pragulic. It was both mentally and physically difficult for me and it influenced me a lot." Tereza, on the other hand, won't quit the project before she's 100% sure that it can be run without her. "Sometimes you lose your energy with people who are not worth it. But whatever I do I never completely forget about work and I am looking for social enterprises, homeless or inspiring people. I think that this is a sign that I am really passionate about what I do."
Setting high goals
With its lovely bridges and numerous historical sites Prague is a must-visit for tourists from all over the world. Pragulic tours, however, offer a different perspective on city life and allows you to experience a place through the eyes of a homeless person. "We have proven to ourselves and also to people around us that we were able to set up a sustainable social business," says Ondrej.
"When you grow you are setting up higher and higher goals. I compare it with what we achieved over time and I can be really proud. For us, every small step counts," Tereza concludes.
In Croatia, a small startup project called Coinsulter aims to link the digital currency Bitcoin to the world of the consumer-market.
When Luka Klancir comes home from his regular job as project manager in a digital agency in Zagreb, Croatia, he hardly ever calls it a day. His second job and primary passion, Coinsulter, still awaits. The app shall change people's money matters and will allow them to use the highly talked-about digital currency Bitcoin. Moreover, a personal financial advisor is included in the service.
Together with his former fellow students Filip Rafajec and Vinko Horvat, Klancir runs www.crobitcoin.com, a Croatian Bitcoin information portal. They founded Coinsulter in 2014 as an "extended arm of the portal, that is now in the project phase and will be launched in the summer of 2015."
Bitcoin or bit-what?
Bitcoin is a digital currency not issued by a state. It operates by a "virtual ledger" called the blockchain. To use Bitcoin, e.g. to make payments or investments, you only need a key-phrase and an app on your mobile device or computer.
Luka Klancir first got in contact with the idea when he lived in Graz as an exchange-student in 2013. "Back then, Austria already had a good community of digital currencies – unlike Croatia at that time," remembers Klancir who returned to fill the gap.
The three entrepreneurs financed Coinsulter by keeping their day-jobs and are still not looking for investors. "I think waiting until we have more things accomplished will make us more interesting to investors." And while the young entrepreneur admits that working two jobs does take its toll on his private life, he says he is willing to make that sacrifice.
Social Impact Rewarded
Besides the prospect of financial success, Coinsulter proposes a financial and social revolution, as the founders are well aware. "By excluding the banks, digital currency gives people more freedom. In countries where the banking-system is underdeveloped, this can be a way of getting paid or financing your business."
Winning the Social Impact Awards in 2014 added to their insight into the business-world. "On the way to the SIA we attended workshops, learned about pitching and proper business-planning. If you propose an abstract topic like Bitcoin, you have to learn to speak plainly about it. And of course, winning the award boosted our motivation," he adds.
The next goal after launching the app is to establish a company. The Coinsulter-app will only be the first in a line of a series of services. "We are already talking about possible applications and ideas around 'the internet of things', which I think is going to be the next big trend."
Whereas Klancir does not believe Bitcoin will replace the euros one day, he thinks that digital currencies will become increasingly important for international online-payments and for professional currency-investors.
What would you say to others like you?
Do not think starting a business will be an easy ride. It is going to take some sacrifices, but these can pay off nicely and maybe make the world a better place.
Almost there
You need to register in order to submit your bulletin & vote.
We care about your privacy.
Read Privacy Policy .
× close