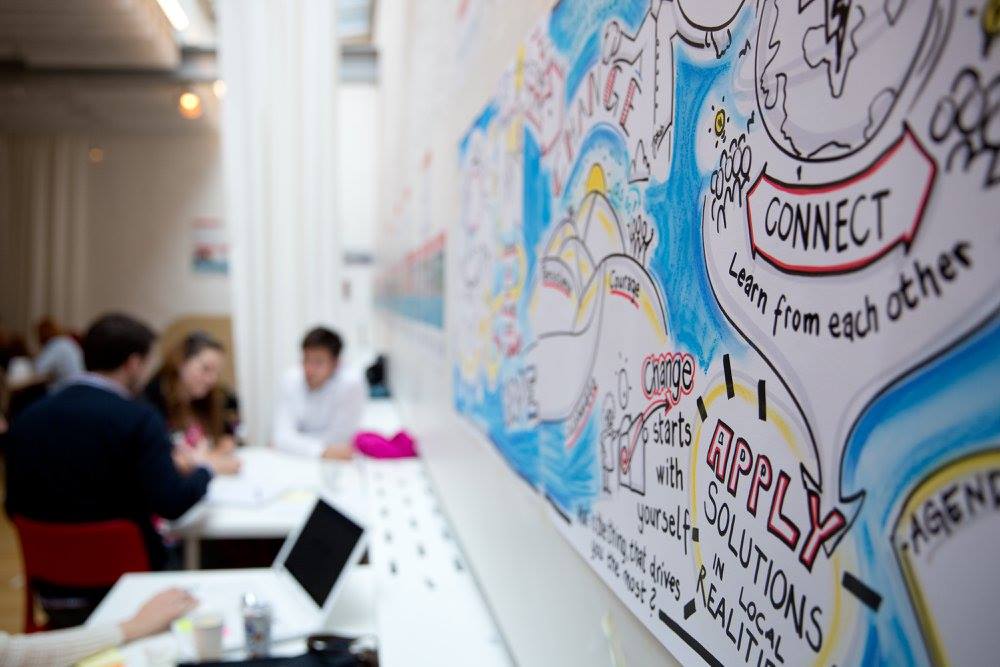 5 reasons why you should always attend events
In today's world, we are often so busy that we tend to ignore any event promotions that pop up in our inbox or on Facebook. But should we? Events offer so many benefits – both tangible and intangible – that we really should be making time for them. Here are our top 5 reasons why you should make the time to attend an event.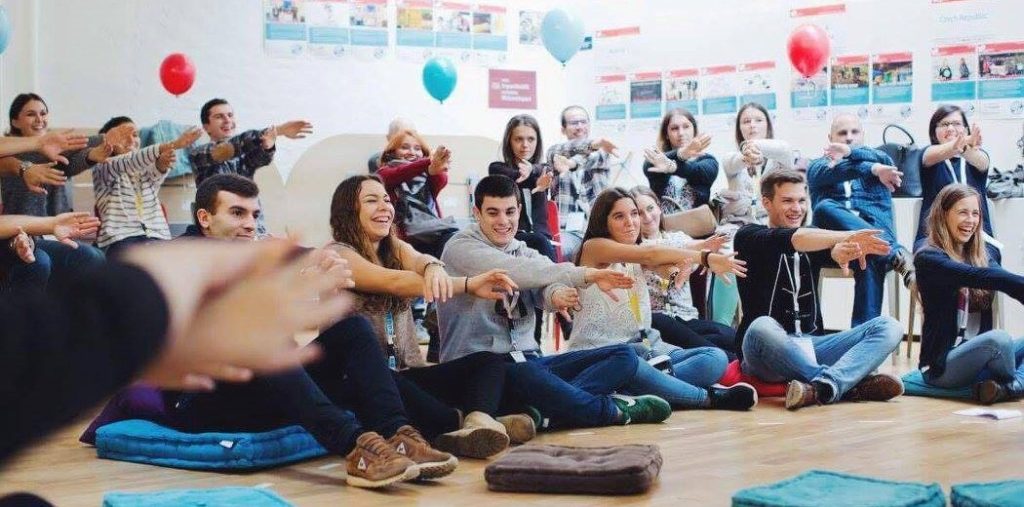 1. Networking
You know those people who walk into a meeting and just start chatting to people? Ever wonder how they do it? They have networked. They have attended events, met people and know what's going on. Events are often designed to help people mingle and meet others and sometimes even have little ice-breaking activities for participants to complete, making it even easier to meet others.
At Social Impact Award events we like to do it like this. We use ice-breakers by involving all participants in networking games. Sometimes they get a color upon arrival and then asked them to find 3 other people with the same color. Or we ask participants to form a virtual 'crossword' with words they had been given on arrival. Something as simple as this makes it easy to meet people and start networking.
2. Let people know who you are
Want people to know your name? Go to an event. Attending events gives you exposure to people you would not normally come into contact with. Additionally, it is likely that event promotion will ensure you name is seen by many more, who do not even attend the event.
At the events of Social Impact Award – whether it is the kick-off, idea generation events, meet the jury, or the big award ceremony – you have the great opportunity to meet like-minded people and experts from the field of social entrepreneurship. By talking to other students about what they do and what ideas they are working on, you can learn and potentially even find supporters or followers of your idea or venture.
3. Open your mind to new ideas and latest trends
It is so easy to get caught up in our own bubble and forget that there is a whole world out there, full of new ideas and discoveries every day. Attending an event not only gives you the opportunity to meet others but also gives exposure to new ideas that could be implemented in your own business.
Social Impact Award prides itself on delivering useful and relevant content by speakers who are in touch with best practices and the latest advances. Attending a SIA event or workshop could lead you to dramatically improve the way you think of your desired impact, just by implementing a few key ideas.
4. To be motivated
Stuck in a rut? Leave your own work behind and just talk to others about what they do and why they do it. There is nothing better than watching others get excited talking about their work, and Social Impact Award is full of motivated people who want to do this. You never know, you might even find solutions to some of your own problems!
5. To socialize
Sometimes there is nothing better than forgetting about work and just going out to meet new friends. And, let's face it, most of us at Social Impact Award will take any excuse to have a chat!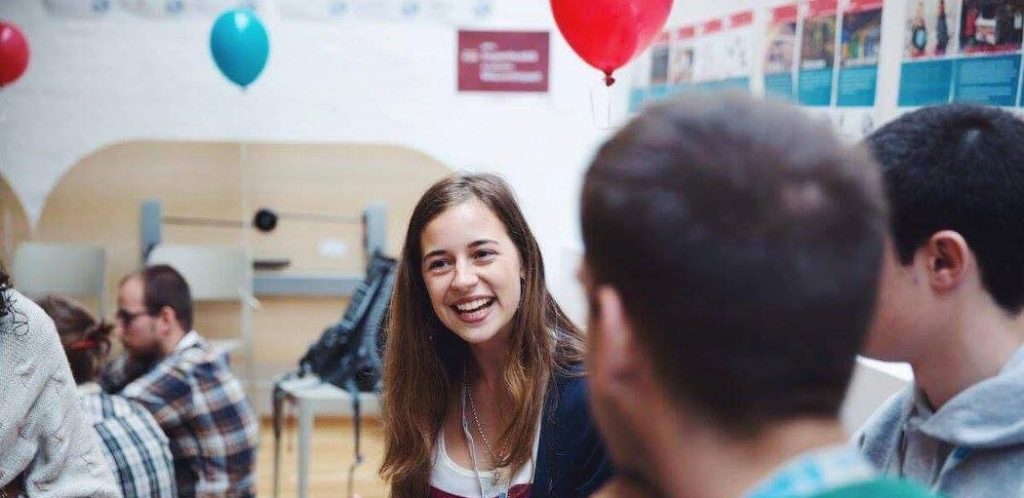 So, whatever the reason, just mark your diary and go. You never know who you'll meet or what it will lead to.
For more information on any of our Social Impact Award events, please sign up to our newsletter Spark. Alternatively, you can visit our country websites and follow us on Facebook. 

"Social entrepreneurs are brave and passionate people, who are not afraid to fight the windmills." – Nikoleta Kosovac
Nikoleta Kosovac is a coordinator of the street papers Liceulice, as well as SIA Serbia 2016 Jury member. She joined us at the beginning of the year at the Belgrade Kick-off and followed the journey of SIA throughout the year. Thanks to her enthusiasm, we managed to create a strong partnership and help each other along the way. We talked about Liceulice, but also her view on the young social entrepreneurship scene. 
Nikoleta, street paper Liceulice (meaning Face to Face and Face of the Street – word play) has been active for 6 years now in Serbia. Tell us something about how the idea of starting this paper came about and how you got involved in it.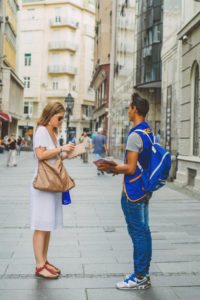 The idea of starting street papers in Serbia started 8 years ago, when our current president of Executive board – Branislav Trifunovic visited Sovakia and there, by accident, met sellers of their street papers. Upon returning home, he wanted to do something similar to help those with difficulties finding a job, who live at the sidelines of our society. As he had never done something like this before, he started gathering people interested in starting the paper in our country.  For those who don't know what street papers are, I will just mention briefly that those are the papers sold by the members of marginalized groups. Sellers earn half of each sold copy, and the other half goes into creation of the next issue.
Liceulice strives to present non-commercial topics in an interesting way. Street papers open up a space for new people and new topics – everything that is being pushed away from the commercial media or that hasn't been given enough attention. We try to draw attention to important social issues, but through examples of good practice, personal stories of our heroes and so on.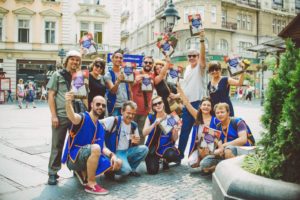 How I got into all that? At first I thought by accident, but now I am sure it was no coincidence. I worked in advertising for a couple of years, and was less and less fulfilled by it. A friend mentioned to me this project and thought I would fit in. I went to meet the people gathered around the idea, and as soon as we met each other, it was clear that we are going to work together. I wanted to believe in what I do and to feel better at the end of the day, and Liceulice brought so much more to me.
What is the change you noticed in your sellers in the past 6 years? 
In the last 6 years, we worked with a couple of hundreds of people, and we currently have about 60 people active in Belgrade daily. Liceulice is a side job to some, and the only job for the others. Sellers decide themselves when and how much they will work. They often say that communicating with people on the streets is more important to them than money. Some were shy at the beginning, quiet, introverts, and today they are among the most talkative, most resourceful and most successful ones.
The change is evident and shown in the level of their confidence. They feel Liceulice as something of their own and are not shy to share personal stories with the rest of the team. Some of the sellers got other jobs in the meantime, while some have improved their sales skills, and are now teaching others. Couple of sellers were homeless, and now, thanks to our help and the help of our partner organizations, they have a roof above their head.
It is also important to mention that street papers build a relationship between sellers and readers, because the sale is done face to face. This interaction build bridges between marginalized and wider public. This helps people understand the importance of social inclusion and brings to realization that we, as humans, are the same – we just don't have the same opportunities.
We, as humans, are the same – we just don't have the same opportunities.
What is the biggest success you had so far, and what the biggest defeat when it comes to Liceulice? 
Our biggest success is that we are still here and not giving up, despite many obstacles. Throughout the years, we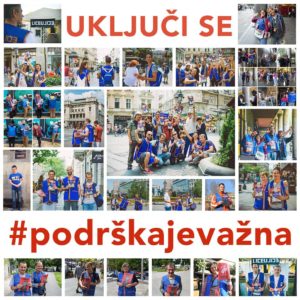 have worked on social and economic empowerment of couple of hundreds of people, published 33 issues of magazine, initiated similar movements in Macedonia and Kosovo, organized 2 street activism festivals, had 7 cycles of workshops on the topic of activist design for young artists, worked with dozens of volunteers, cooperated with many NGOs, individuals, professionals, activists and so on.
We are proud to say that Liceulice has become noted and influential member of International Network of Street Papers (INSP). At INSP conferences, we were nominated for 6 awards for our articles, photographs and design. We weren't really aware of the community we have created, until the biggest financial crisis hit us this summer.
Our biggest success are the people for whom this exists, people who believe in this story and people who work day and night to make this happen.
The biggest failure is the fact that Liceulice has not been recognized by the city government and relevant institutions. Not just financial support, but support in many other ways, is necessary for the street papers to function. We believe this will change one day. Maybe when we celebrate our 10th birthday. We will see.
Maybe it would be best if I just mention the words of Kruno Lokotar, editor and publisher: "Liceulice, along with the progress of medicine, is the only reason of optimism that comes to my mind."
How do you see the role of youth when it comes to solving social issues? 
The theme of our last issue is Serbian youth, their social and economic inclusion (or exclusion). When we talk about youth, hot topic is education to which we devoted the most of our attention. Our younger associates shed a light on other important aspects of youth lifestyle, from moving to a bigger city for studies, to omnipresent precarious work and return to the small city environment.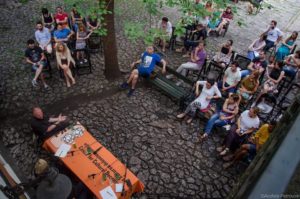 We must remember that youth is among the most vulnerable groups in Serbia. But also, that those who can, contribute to solving social problems in various ways. However, we should not expect too much from youth as it has a lot to carry on its backs. Even though everyone says that youth is our future, they cannot solve social problems without connecting with others who are in this fight.
The youth cannot solve social problems without connecting with others who are in this fight causing social injustice.
Why did you join SIA Serbia as a jury member? 
I've known members of the SIA team for quite some time and have followed closely what you have been doing, and I am very proud of the whole teams. When I was invited to take part in SIA Serbia as a jury member, there was only one possible answer!
Where do you see youth social entrepreneurs in 5 years? 
Social entrepreneurs are brave and passionate people, who are not afraid to fight the windmills.I would like to know where do they see themselves in 5 years. (laughs)
Non-formal community of social entrepreneurs is developing rapidly in Serbia and it is going (in my opinion) in the right direction. More and more great and successful ideas are developing, while international cooperation keeps improving. Social entrepreneurs are brave and passionate people, who are not afraid to fight the windmills.
I believe there are many young social entrepreneurs who you will be interviewing like this in 5 years.
Thank you Nikoleta for this amazing interview – and your support for SIA!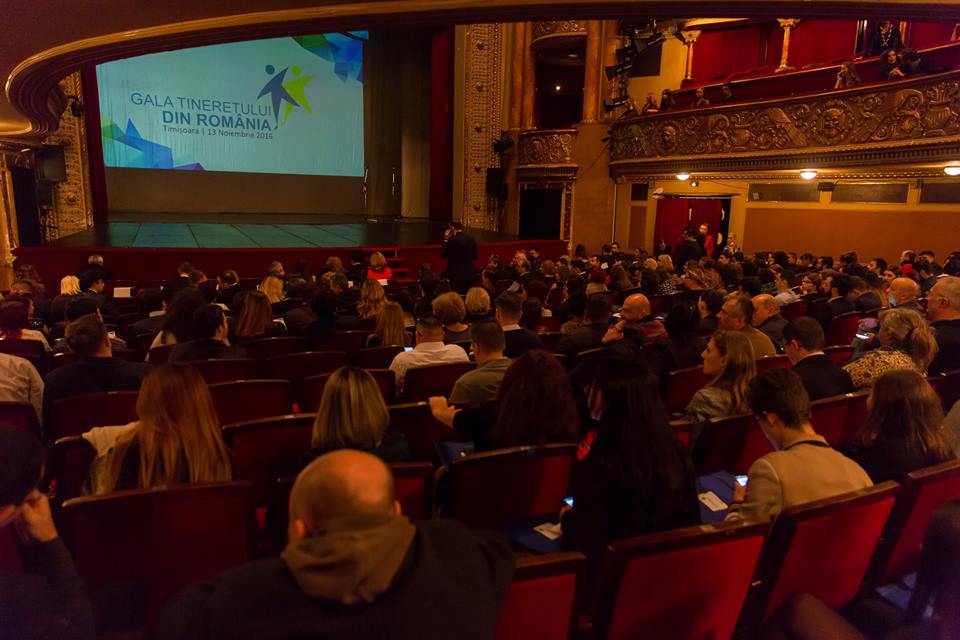 SIA Romania received the Entrepreneurship Award at the Gala of Romanian Youth
Social Impact Award Romania received recognition for its work this year from the Romanian Ministry of Youth and Sports. During the 3rd edition of the Gala of Romanian Youth, SIA was considered by the jury as the most relevant project at the Entrepreneurship category.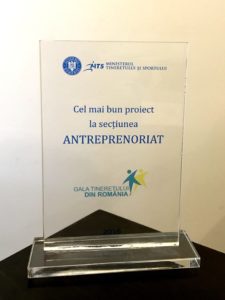 More than 124 projects competed for the 2016 Edition of the Gala of Romanian Youth. Their activities involved over 80.000 young people this year with a total budget of almost 2,5 million euro spread around the country. The Gala took place within the Romanian Youth Capital Program which has been granted the High Patronage of the Romanian President. Besides the awards, the Gala also had a series of interventions by senior officials like: Ms. Elisabeta Lipa, Minister of Youth and Sports, Ms. Ligia Deca, Advisor to the President of Romania or Mr. Nicolae Robu, Mayor of Timisoara.
This year the SIA Romania teams organized 15 social entrepreneurship workshops in 5 cities across Romania, involving over 300 young people.
Social Impact Award Romania has reached its 5th edition this year and ambitions for the next years are high. This year the SIA Romania teams organized 15 social entrepreneurship workshops in 5 cities across Romania, involving over 300 young people. These events offered the opportunity for an in depth conversation of what social innovation is and a series of co-working tools: idea generation and business model workshops or business planning opportunities. 9 teams were selected in May as Finalists. These spent the summer incubating their businesses and participating to various workshops with SIA Romania partners. The 3 winning teams received financial support and travelled to Vienna in October to meet other 30 SIA winner teams from across Europe.
The 2017 plan for SIA Romania is ambitious, following the international agenda of development and growth. SIA Romania educational program will take place next year in 8 cities, reaching more than 700 young people and offering the opportunity for 15 social businesses to enter the finalists list and have a change of winning the competition.
As the number of countries in which SIA takes place at international level will double next year, this global program becomes one of the most relevant and transformative opportunity for young innovators. SIA Romania is proud to be part of this and will continue to extend its impact for creating social change.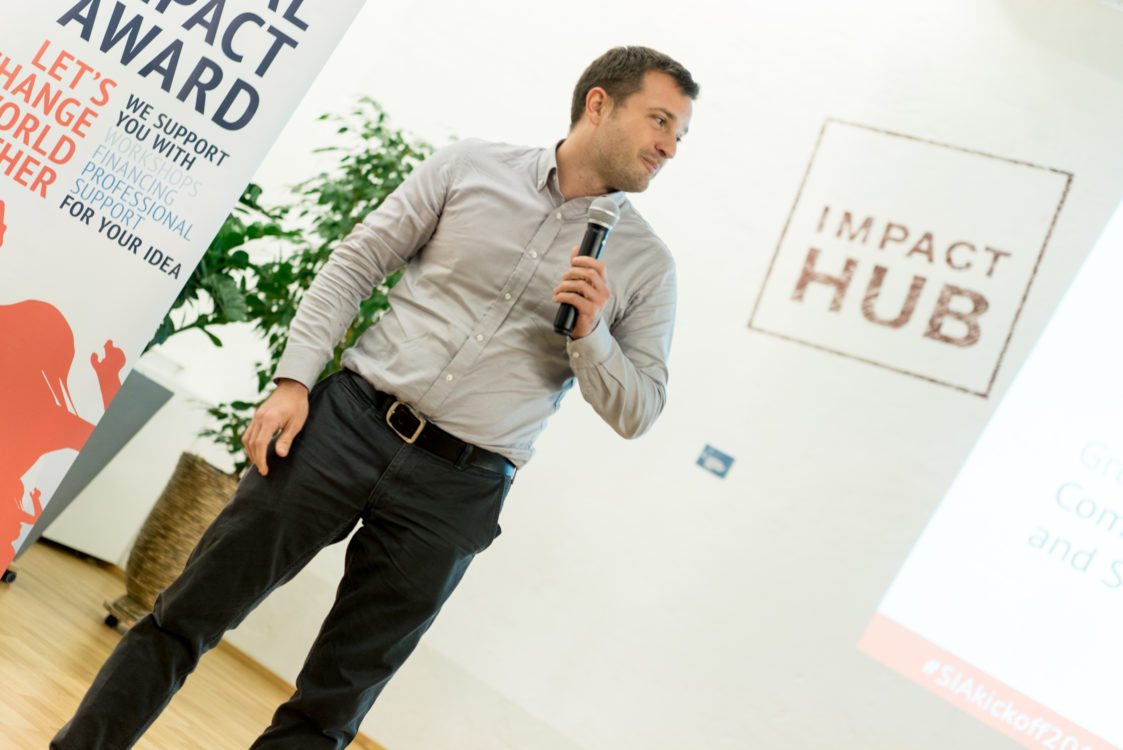 Social entrepreneurship is also a chance to excite a new generation of talent to engage in activities that are positive for society. – Peter Vandor
Peter Vandor is the founder and scientific director of SIA. He is also the initiator of the first university course on social entrepreneurship in Austria, which has won several awards at WU. We asked him a few interesting question: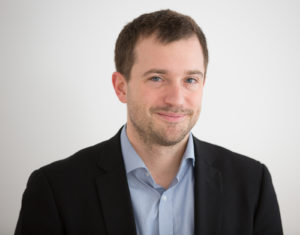 SIA is a program around Social Entrepreneurship. Why do you think that S.E. is a promising approach to tackle the key challenges of our times?
One of the main DNA-strands of Social Entrepreneurship is innovation. The discourse is very much centered around questions such as "how can we think about social challenges in new ways? What could we transfer what works from very different contexts?". Such questions can be very powerful to come up with good answers to challenges in a complex world. Of course, innovation is no dogma, we cannot expect our existing solutions to continue working while problems, the affected individuals and the environment change in a rapid pace.
From a systemic point of view, social entrepreneurship is also a chance to excite a new generation of talent to engage in activities that are positive for society and this change is happening. 15 years ago, most students at my university wanted to become investment bankers. Now, entrepreneurs and social entrepreneurs are the rock stars on the campus.
Looking at the state of the world today, what do you expect from the current generation of students?
The same I expect from myself: try to have a positive overall effect on the world in their small and big decisions, from a job decision to the question when it is really necessary to blast vast amounts of CO2 into the atmosphere for long haul travelling. This is a big thing to ask and I personally regularly at it fail, but we have try, and try better especially when we face large-scale threats like climate change.
Why is WU Vienna engaged in SIA?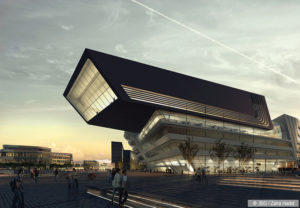 My motivation to start SIA was a very personal one. I had wanted to be engaged in the field of social entrepreneurship as a student but have found no matching offers in my university, no courses to learn about the topic or to play around with it. So the intention was to create something like this for others. This intention has since then been shared by my colleagues at WU and I received the opportunity to continue to work with SIA on topics where we can add competencies, such as research, the design of the academic curriculum and strategy.
You are also in charge of the impact assessment of the program. Why do you consider this as important?
Our impact assessment activities, among others including the use of international surveys, allow us to learn systematically what is really going on in the program, what works for students and what not. This is very important for a program on this scale. After all we want to make sure that the program is effective in all countries and for all stakeholders. Also, it allows as to enter a systematic dialogue with participants and learn about their perspective on social entrepreneurship. For example, when I learn that more than 70% say that they believe so strongly in their idea that they will implement it, regardless of whether they win SIA or not, I know that we have managed to attract the right kind of people to our award.
Thank you Peter for this interesting interview!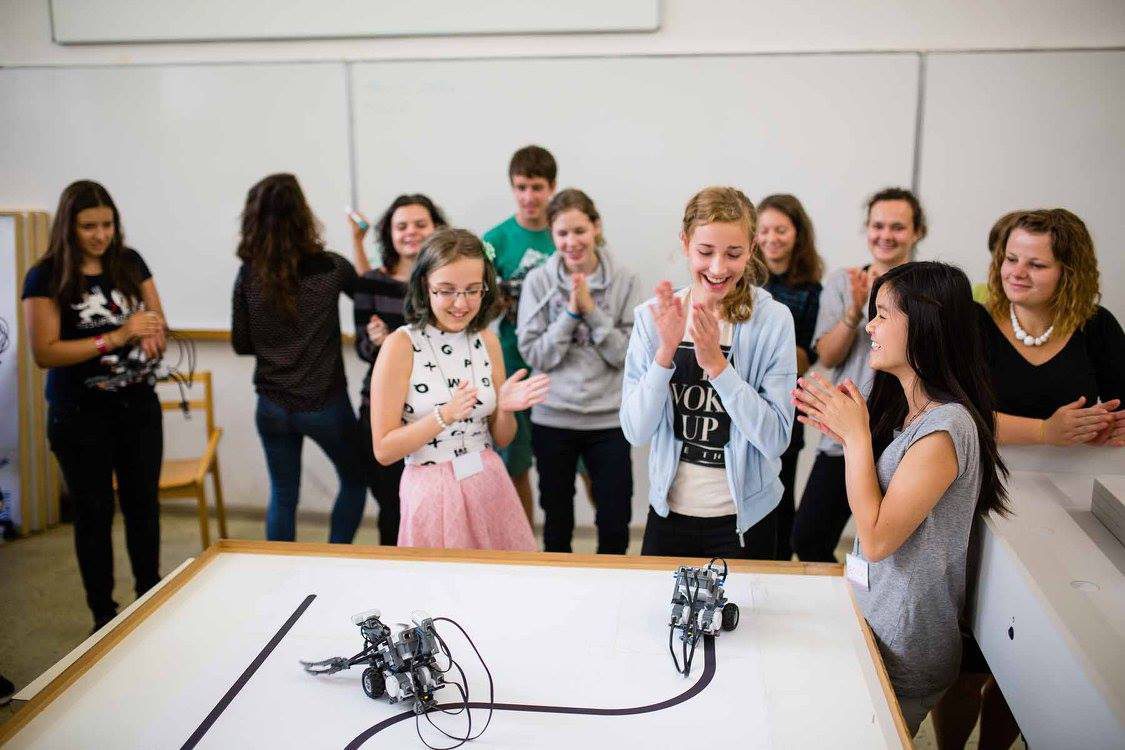 The victory of Social Impact Award gave us everything you need to start a race. – Czechitas
Czechitas are specialized in IT and believe that women can be as good as men in such an area. Their team is formed by twelve strong and self-confident girls, who are trying to break stereotypes in IT area and to show the girl's power. They started to organize workshops based on IT skills and to educate women in it. Czechitas´ workshops became so popular that they decided to open a special IT school only for gentle gender.  
In 2015 you won the Social Impact Award in Czech Republic. What does the victory mean to you after one year? Have you been moved by the experience of winning SIA? 
I can't believe it has been already a year! What a fantastic year! What a race! The victory of Social Impact Award in September 2015 gave us everything you need to start a race. A lot of confidence to stand up at starting lane right next to other contestants (entrepreneurs), many fans cheering, established team and also some kind of qualification, meaning that we are social entrepreneurs so we can do good and be independent, sustainable business at the same time. So the others should watch out. (They are smiling.)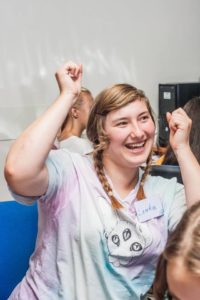 IT area is considered to be a men matter. Do you have succes in breaking stereotypes? Do women tend to continue in IT thanks to you?
Sure we do! That is the main reason why we get up every Monday morning. We have more than 3800 graduates from our courses and as result, we motivated more than 50 women to change their careers entirely. Because women can do IT.
Do you remember any serious problem which happened to you during the workshop?
Yes, I remember that one day the wifi didn't work at all and we couldn't use data from Cloud. It was actually pretty fun, you have to see the bright side of the life.
What do you think is the reason of stereotypes in IT area?
Well, IT area is very male-dominant so no surprise that people make their stereotypes. So why there are no women in IT? We realized that there are three things behind those stereotypes: (1) the lack of female IT role models at schools and families, among teachers and moms, CEOs and leaders at Czech IT scene make us think of IT specialists as men (2) the lack of confidence and (3) the lack of information about IT education, careers and opportunities. We can change all of them.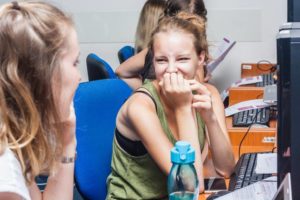 Where are you heading to at the moment? Don't you have in mind to open a special IT girl/women school? 
Exactly. It has actually become short-term goal! We are opening our first pilot Digital Academy for Women in January, offering full-time IT (data based) education for 3 months to 20-30 women. It is going to be very practical, challenging but amazing opportunity to raise new talents in IT.
What do you like (enjoy) the most about your work?
I love every single part of it. That feeling you have on Monday morning when you wake up and are very excited about the entire week. When you appreciate every challenge and opportunity you meet and everyone in your team. Surrounded by those and them I am growing. And of course I love the flexibility… time wise but also in visions.
Good luck girls! We wish you all the best!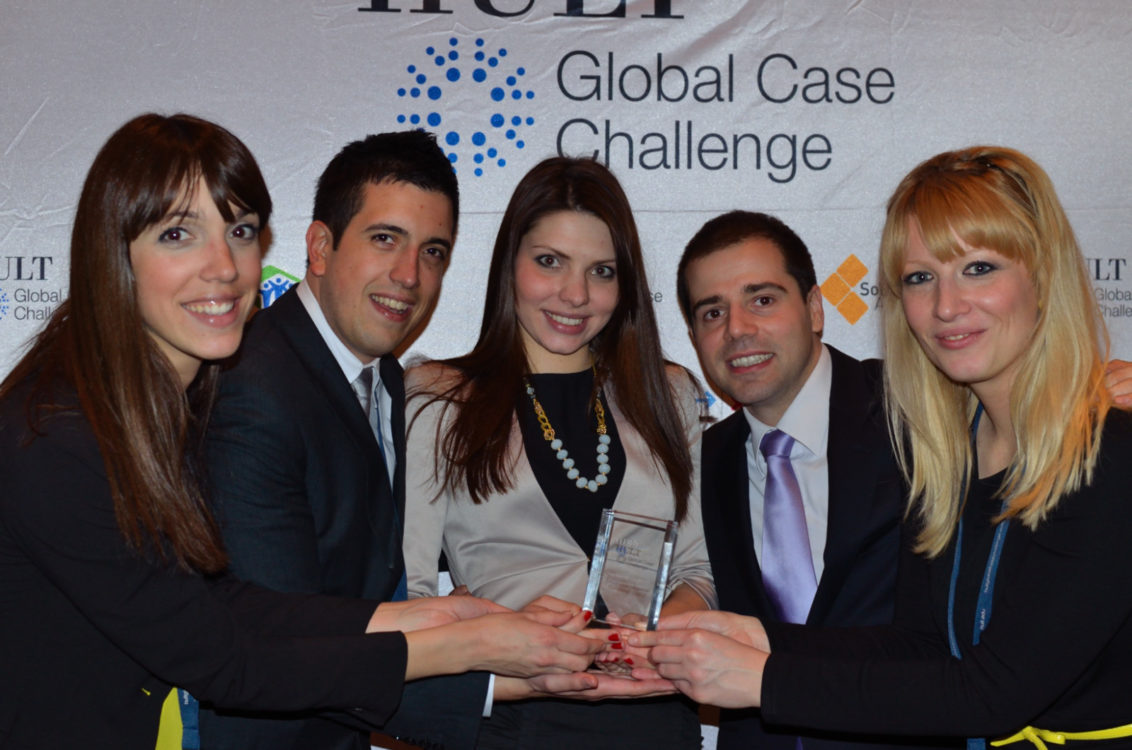 Students are inexhaustible source of inspiration and innovation; they come up with something new every day and have ideas that can change the world – Branka Novcic
Branka Novcic, teaching assistant at the Faculty of Organizational Sciences (FOS) in Belgrade, is one of the most respected and loved among students. Branka studied at FOS herself, and has won many awards on international competitions for the faculty. She is now devoted to ehancing the experience of her students and helping them learn practical skills for the "real world".  
Branka is also SIA Serbia Jury member, and is actively promoting SIA and social entrepreneurship among students. We talked with her about the works she does with students and social entrepreneurship in general.
Tell us something abut your work with students. How did you decide that you want to work at the university?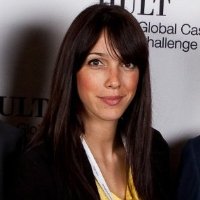 I started working at the faculty accidentally, as I accepted the job with an idea to "buy some time" before deciding where I want to work. However, it turned out that this was one of the best decisions I have ever made. Having participated in various case studies and competitions as a student, I continued working in this area, but now as a mentor. It was the experience in these case studies that helped me when I started working with students, because my teaching method is based on learning practical skills and through examples. Today, going into classroom is the most valuable part of my job as I am aware of the privilege that I have and the impact I make teaching these young minds.
You are communicating with students daily. Do you see innovation in the way they think about business? 
Students are inexhaustible source of inspiration and innovation; they come up with something new every day and have ideas that can change the world. It is up to us to move them in the right direction and support their wishes, as well as give them the necessary knowledge to make those wishes come true.
How have you become interested in social business? 
I became interested in social business in 2011 when we applied for Hult Global Case Challenge, a global crowdsourcing platform on the topic of social entrepreneurship. To be honest, I didn't know much about it before this, but we learned a lot very quickly and started working on a project for the poor neighborhoods on the topic of water supply and sanitation.
Do not run away from social entrepreneurship, because this is a profitable area too.
Do you talk about social businesses with your students and how do they react to this?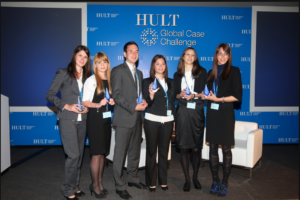 Part of my job is presenting the successes FOS teams had on international competitions. As it turns out, our two biggest successes were at before mentioned Hult Global Case Challenge in 2011 and 2012, when we represented Europe in finals and had significant results. Therefore, our students are informed about this, but then it is my job to bring closer to them what we did and why were we so successful. Student reactions and getting better each year and more of them is becoming interested in the topic. We have most definitely raised awareness of social entrepreneurship among our students and tore down some taboos.
Your expertise is in marketing and PR. How important is this field for the development od social business ecosystem in Serbia? 
When developing business model, marketing is everywhere, but it is more important to understand the problem itself and adequate recognition of needs and characteristics of target groups. Actually, in those beggining steps of business model development, market analysis and segmentation are two phases where most business models fail. If that is done in the right way, the implementation of marketing plan is the cheery on the top. Therefore, understanding the problem, market analysis and segmentations are the key to success of every business model.
You have joined SIA Serbia as a Jury member. How was your experience so far? 
I am truly grateful to everyone from SIA Serbia team because they recognized me as a jury member. All the experiences I have gained from this are valuable and I think that Serbia needs more similar initiatives. Educating youth about social entrepreneurship is a prerequisite for the further development of the field, and that is exactly what you do. Thank you for making me a part of this story.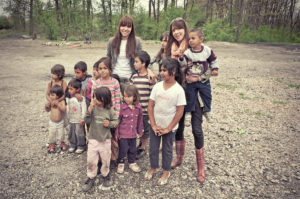 What is your message for young people and future social entrepreneurs? 
Do not run away from social entrepreneurship, because this is a profitable area too. Social entrepreneurship is currently a trending topic among many companies who are looking for ways to reach out to the poor. Therefore, you should try and work on your ideas that can solve some of the burning societal issues.
Thank you Branka for this interesting interview and your expertise as a jury member!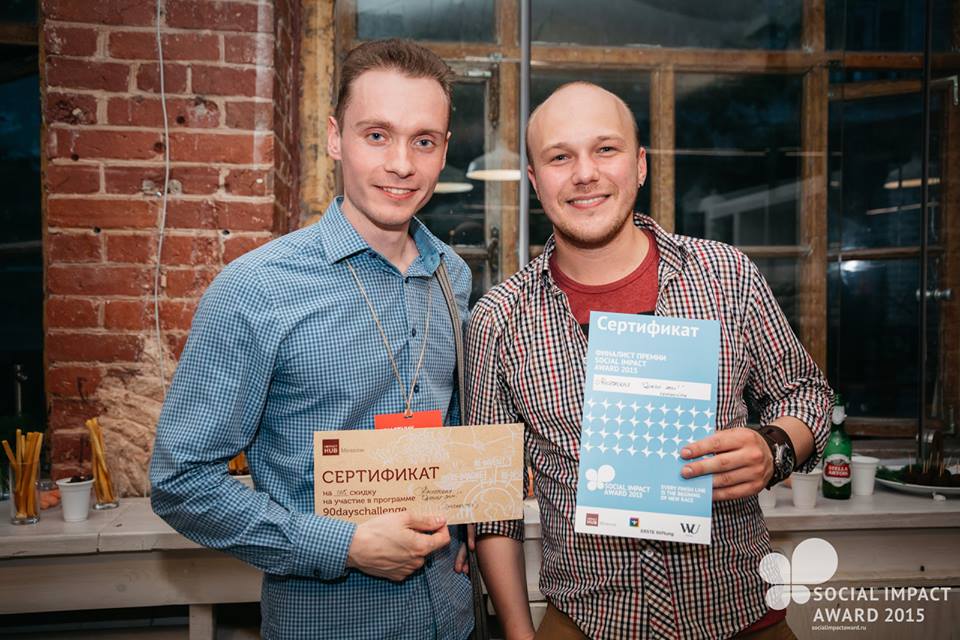 Change cannot happen in isolation and that collaboration is always the way to go – Anastasya Markelova-Gavrish
Anastasya Markelova-Gavrish is one of the co-founders of Impact Hub Moscow that organizes Social Impact Award program in Russia. Anastasya has answered a few questions concerning social entrepreneurship development in Russia. Let's look!
Ksenia: What do you think about social enterprise in Russia? How do you see the movement of social entrepreneurs in 5 years (in Russia)?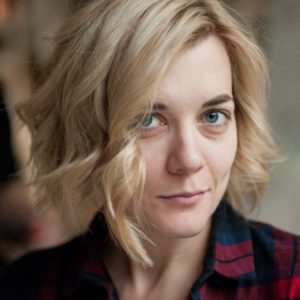 Anastasya: I think that entrepreneurship in general and social entrepreneurship in particular in Russia is quickly developing and becoming more and more popular, it is kind of a real movement nowadays indeed. At impact hub Moscow we see more and more young people willing to find a meaningful career and considering founding or working for an impact oriented startup as a valid option. Moreover, we see people with experience in non for profits who are looking for more sustainable ways of delivering impact to their target audience. We also see the number of business focused entrepreneurs who try to find an impactful way to deliver value to customers. There is also a huge interest in learning about social entrepreneurship from outside of Moscow. All these trends supply us with a much larger number of idea-stage entrepreneurs. This year, we had more than 4000 people in total from all over Russia learning about social entrepreneurship via participating in at least one event hosted by impact hub Moscow (including more than 2000 participating in one of SIA RUSSIA events). Our early stage program 90 days challenge is accelerating 30 ventures this year from idea to the first sale (comparing to 6 startups last year (2015) and 5 in 2014). On top of that, we see that the number of matured entrepreneurs has grown, and their needs are different: we now need to work on providing them with education and resources around scaling, securing investment, growing operations and etc. I think in 5 years we will consider social entrepreneurs to be a usual part of our daily life and hopefully as customers will always have high quality options to satisfy all of our needs by buying products and services from social entrepreneurs.
Ksenia: You are a co-founder of Impact Hub Moscow. It is great because Hub is the first organization that organizes international programs to support social entrepreneurs in Russia. What helps you to promote social ideas in Moscow? What obstacles do you face in business development?
Anastasya: We are endlessly grateful to our partners, especially City foundation, for helping us build impact hub Moscow and supporting our programs. City foundation and other partner organizations helped us by providing expert support and resources. We strongly believe that change cannot happen in isolation and that collaboration is always the way to go.
We are bound to host a cross-sectoral community of social entrepreneurs, experts, representatives of corporations, foundations, educational institutions, individuals etc, so together we can achieve the world that works for all.
As for the obstacles, I often see a reputation that social entrepreneurship has in Russia of being 'too social' and less perceived as a business. We always emphasize the idea that having a strong business model and providing products and services of impeecable quality are the crucial elements that will allow social entrepreneurs to win the markets and sit at 'grown-ups table' as well as make a greater impact.
Ksenia: Do you plan to organize other programs to support social business in Russia?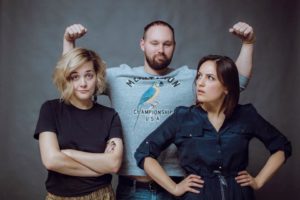 Anastasya: As I mentioned before our programs grow together with our community and we see that entrepreneurs on more mature stages of development require different knowledge and skills, especially in the areas of investment and scaling. As for investment, we will run an investment preparedness lab in November (together with Unreasonable Institite) this year aiming to help entrepreneurs to navigate different types of capital, to learn how to create and gather all the necessary materials for raising capital, and to get feedback from experienced investors.
Thank you Anastasya for this interesting and powerful talk!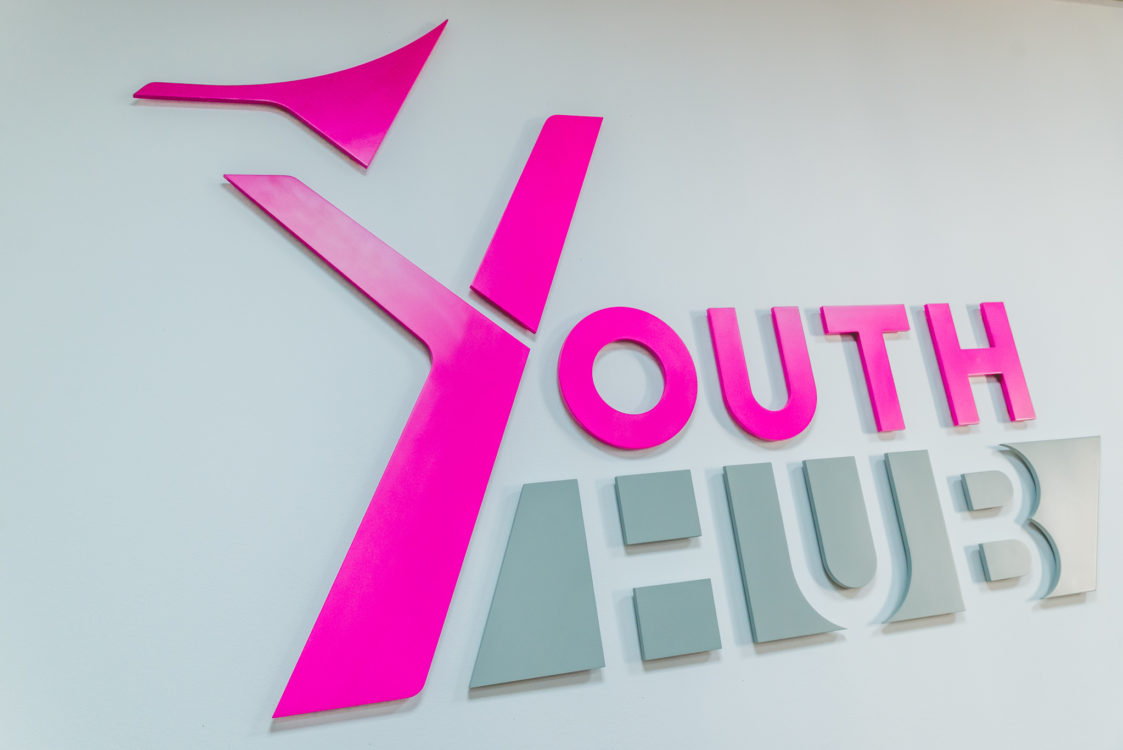 Once people start to think about ideas on how to improve their lives in a creative way and also have an impact in the communities, many great initiatives were put in place


In this Interview we are talking with Loredana Urzica, the founder of Youth HUB in Bucharest, Romania. She believes that young people should have a proper environment to achieve their full potential, therefore all her work is concentrated on developing new projects and programs in order to empower the young generation.
Dear Loredana, why did Youth HUB join SIA?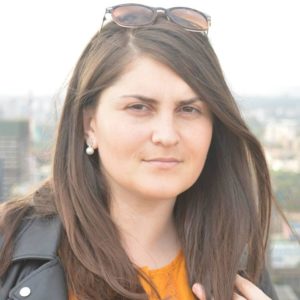 Youth HUB is a social enterprise in itself, designed to help young people start their our business and create jobs. We do that by offering space for working, by offering support, knowledge and consultancy in various fields such as business modelling, financial, juridical, marketing, funding etc. The reason we joined SIA 2016 is because we find it to be the kind of project which helps us fulfill our mission of promoting entrepreneurship as a method of solving current problems in our life and also as a way of empowering the young generation to be active. We also are very interested to promote social entrepreneurship among young people, as it is a new concept and not so many are familiar with the concept.
What is the value your organization feels that SIA is bringing to Romania?
One of our core values is the belief that young people can make a difference in our society and have a positive impact. This is also something that Social Impact Award is promoting as an important part of the activities and it is one of the few complex projects that are organized in Romania in the field of social entrepreneurship.
What is your role and what do you offer?
Youth HUB is the Incubation Partner and our role in the project was to host the meetings of the organizing team and also workshops on business modelling. We were happy to welcome the finalists in our co-working space during the incubation period and offer access to our facilities and knowledge.
How do you see the future of social innovation in Eastern Europe?
Eastern European countries have acknowledged the concepts of social innovation and social entrepreneurship much later than the western countries. But once people start to think about ideas on how to improve their lives in a creative way and also have an impact in the communities, many great initiatives were put in place. We see thinkers and doers that come together for a higher purpose which is related to solving the needs and the problems they are facing. We already have started to have good practices and examples of social business that have saved communities and created a spirit of proactivity.
Thanks for this interesting talk!
We want to have long term benefits and finding a way to support social entrepreneurship – Dragana Crvenica
"I would be happy if we show our SIA participants that it is a worth effort trying and learning, and that success is not about being lucky."
In this Interwiev we´re talking with Dragana Crvenica, Head of Communications Department of Erste Bank AD in Podgorica, Montenegro.
1. Erste bank is recognized as a responsible member of Montenegrin society. Do you see yourself and Erste bank as pioneers of bringing the idea of social entrepreneurship to Montenegro?
Erste bank is part of the regional Erste Group, institution with more than 190 years of tradition, with roots in the noble idea of economic empowerment of the poor by helping them save money and gain financial independence. Social responsibility was and is the core of its corporate philosophy. Erste is among the top banks in Montenegro and is very much aware of how its actions impact the society we all live and work in. I admit, one feels fulfilled as a person when sharing company's success with the community, but we also recognize it as the right way to achieve long term sustainable business growth, reduce costs and manage risks better. Corporate philanthropy is just one way of being socially responsible though. Another part also comprises of actions you undertake to empower people. Just like in the saying about the difference between giving a man a fish and teaching him how to fish. We want our actions to have long term benefits and finding a way to support social entrepreneurship is clearly one of them. But we cannot call ourselves pioneers in this field. Social entrepreneurship is a known term here. What we can say is that we are unique in efforts of establishing a framework for young future social entrepreneurs that will work for them and support them in every step of the way – providing education, financial support and when possible, becoming buyer of their products or services. That's what SIA is about.
2. In your opinion, are young People ready to stop searching employment within state administration and take the initiative and try to realize their ideas?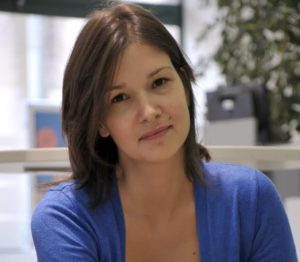 Unfortunately, we do not see evidence of this trend going down. Paradox is that even students of entrepreneurial studies often see themselves in state administration. This is not bad per se, on the condition they see their role as enablers of the change towards system more favorable for entrepreneurship, but I fear this is not the case. Our economy is open and import dependent, it is not so easy to find opportunities. However, we are not lacking ideas and we saw this during the application process for SIA Montenegro. Combining this fact with the very high rate of realized and still going strong social entrepreneurship projects in SIA in previous years, I am confident that we can and we will change something.
3. As a Head of Communications, but also as a successful former journalist, how do you see the role of SIA in the process of changing the mind-set of future generations of potential entrepreneurs?
Changing mind-set is the most ambitious goal one can imagine. Sometimes I am not sure I can change mind-set of my six year old kid. And he is not even the stubborn one in the family – she is smiling. On a more serious note, I would be happy if we show our SIA participants that it is a worth effort trying and learning, and that success is not about being lucky. Having even one SIA Montenegro project realized will then speak volumes, much better than any awareness campaign we could, as good as we are, organize and execute.
Thank you Dragana for your encourage thoughts.
FACE TO FACE – A Voice and Power for the Voiceless & Vulnerable
The extent to which a society is developed can be seen in its dedication to protecting the rights of vulnerable and minority groups. This is the first lesson of the principles of democracy and a prerequisite for freedom and quality of life.Unfortunately, the path to a free society is long, windy, and without immediate results. To properly protect and integrate those people who have found themselves at the margins of the society, a new approach is required, a long term strategy that does not passively wait for new systems or rely on alms. We're talking about a long term approach in which active and conscious citizenship, civil society organizations, institutions, companies and other structures will continuously support vulnerable citizens in their decision to accept the biggest challenge: a "decent job".
In Macedonia for the last 4 years, the street paper "Face to Face" has taken on the role of initiator, supporter and mediator of the changes needed in the lives of the most vulnerable. Active in six cities around the country, its second name could also be "Step by Step", since the changes it generates emerge from the rhythm of durable, tangible actions with real effect.
Basically, "Face to Face" aims to impact the lives of people who for various reasons have found themselves on the sidelines, by helping them to develop their entrepreneurial spirit as a basis for further progress.
Moreover, "Face to Face" is a pioneer in promoting the model of social entrepreneurship in Macedonia, though the country's proposed Law on Social Entrepreneurship has yet to pass. This product, from which half of the revenue always remains with the seller, is primarily a response to the economic crises that emerge in almost every society undergoing a process of transition, as Macedonia has in recent years. The basic approach is to use work as a tool to make these vulnerable citizens more socially and economically resilient. By focusing on their abilities, they feel useful and see themselves as an important part of society. With this labor model, they have the opportunity to be responsible for the successes they can achieve and escape the cycle of poverty into which they have fallen.
The concept of "Face to Face" is one of the most innovative and successful self-help initiatives for the homeless and other vulnerable groups in Macedonia. The magazine works with a number of target groups, including youth over 16, homeless people, people with a history of alcohol abuse, disabled people, social welfare recipients, single parents, former victims of violence, etc.
Selling "Face to Face" is a micro business for these people and provides benefits on several levels, including: daily sustenance, shelter, social inclusion, and adequate preparation for reintegration into the labor market.
Returning from street to school; from street and uncertainty to being at work, from open sky to shelter above head… are just some of the changes generated by the "Face to Face" model. Each story is different, but almost everyone has a positive outcome.
Armando is a young man that replaced the street with school hours by taking the "Face to face"–challenge. Through numerous trainings, an award for continuous development and commitment to one's work, and trips in Europe, he was able to take responsibility for his life. He is one of the heroes of "Face to Face" and manages his earnings to support a family of eight. Through his work and dedication, Armando motivates other vendors to make success inevitable. "I feel secure working for 'Face to Face'. If in a day I sell more magazines than usual, I immediately begin to think of all the plans I have" says Armando, whose dream for the future is to become a hairdresser.
"I support 'Face to face' because some people were not given the best shot in life. With this initiative we will be able to provide those shots that are missing", said the famous Macedonian actor Sasko Kocev.
The process of selling the magazine is generally face-to-face and represents another opportunity to raise people's awareness about poverty and homelessness. This serves to fight common and pervasive stereotypes. Changing the way, the general public sees these groups influences their own self-perception as acceptance becomes more widespread. In this way, the vendor of the street magazine will not wait for passive measurements from the state and its institutions, but will actively act towards the enhancement of their everyday lives.
"I feel good working with 'Face to Face'. Of course,it's my job. It is shameful to hold out one's hand and beg. On the other hand, life without money is difficult. The most important thing you need is consistent work, to go on site and work" – said Sadik Ercan, the best seller of "Face to Face" for 2015.
Before entering into the work process and the ongoing operations, "Face to Face" vendors undergo a training which focuses on self-confidence, motivation, sales techniques and improvement of communication skills.
The preparatory program is conducted by a certified trainer for personal development, a social worker and a psychotherapist, in coordination with a mentor who is assigned to each seller.
"F
ace to Face" enjoys credibility among public figures in Macedonia from all areas and spheres of society, who selflessly give their voice to support the specific priorities of the entire platform. "Face to Face" furthermore has a mission to stimulate and awaken social responsibility among companies. The vendors serve as bearers of social change, especially through different activities they conduct (in cooperation with companies) and are continuously alerting about important issues of our life.
One such example was a campaign which used the selling of the magazine to influence reading habits, especially among young people. This campaign had positive repercussions on several levels in improving the quality of society.
Through its content, the magazine continuously works to break prejudices, to raise awareness, to support and encourage collaboration and partnerships, to inform, to educate, and to build values.
The sellers of the magazine, as our fellow citizens, each have a unique, personal story. They also have the same rights, desires, potentials and the urge for belonging that everyone else has. In order to understand these citizens and act accordingly, it is necessary to have a sharp and awakened civil and social sense.
Another very important aspect is the coordinated effort to improve the situation of marginalized people. Only in this way, if we all work together, the goal can be achieved faster. The ultimate goal is the economic and social empowerment of the vulnerable groups of citizens. If we are aware of the efforts made in this sphere, only if we listen to each other and exchange experiences, we can move forward from the starting point. And our goal is to move continuously and to move in the right direction.

Web: www.licevlice.mk
FB: https://www.facebook.com/LiceVLice
Twitter:@licevlice

Almost there
You need to register in order to submit your bulletin & vote.
We care about your privacy.
Read Privacy Policy .
× close