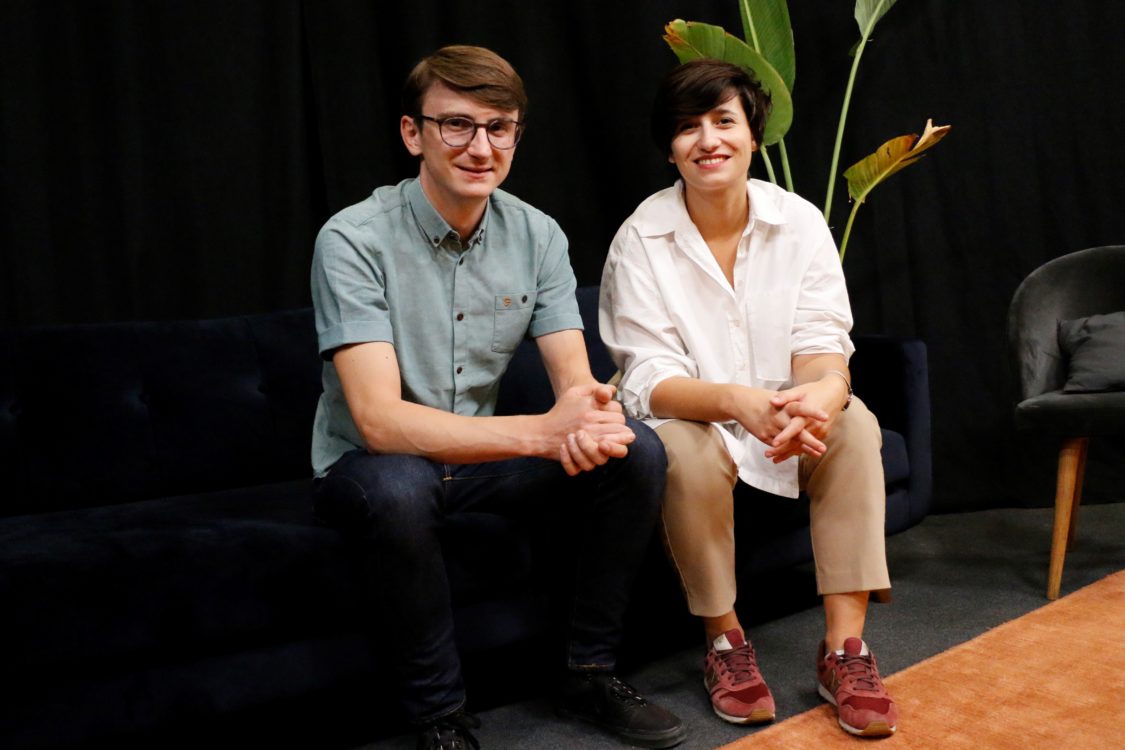 Meet Jonas Dinger and Ana Janošev, SIA's new Managing Directors
In December, we announced that the long-time Managing Director of Social Impact Award (SIA) Jakob Detering would step down to make space for Ana Janošev and Jonas Dinger, who will lead SIA into the future. 
The pair has been with SIA for years, and is already working hard to take SIA to the next level. We sat down with them to discuss the experiences that shaped their journey with SIA and get some insight into how they envision the future of the organization. 
Can you tell us a bit about your personal journey and how you ended up at SIA? 
Jonas: Originally from Germany, I moved to Vienna in 2015 and began working as a junior researcher at the Social Entrepreneurship Center for the Vienna University of Economics and Business. This new job included work with SIA, so I pretty quickly took part in workshops all over Austria. After seeing how much the workshops impacted participants, I "officially" joined SIA as country coordinator for SIA Austria and later became our Development Lead, responsible for pushing SIA forward geographically, programmatically but also financially. 
Ana: I got involved in the social entrepreneurship field in Serbia in 2015 and soon after became the coordinator of SIA Serbia. I found myself passionate about building this international community and building connections across borders among our partners, so I gradually increased my engagement with SIA's international community. I offered to support the international team in Vienna with these efforts and joined the SIA international team in 2018. The rest is history!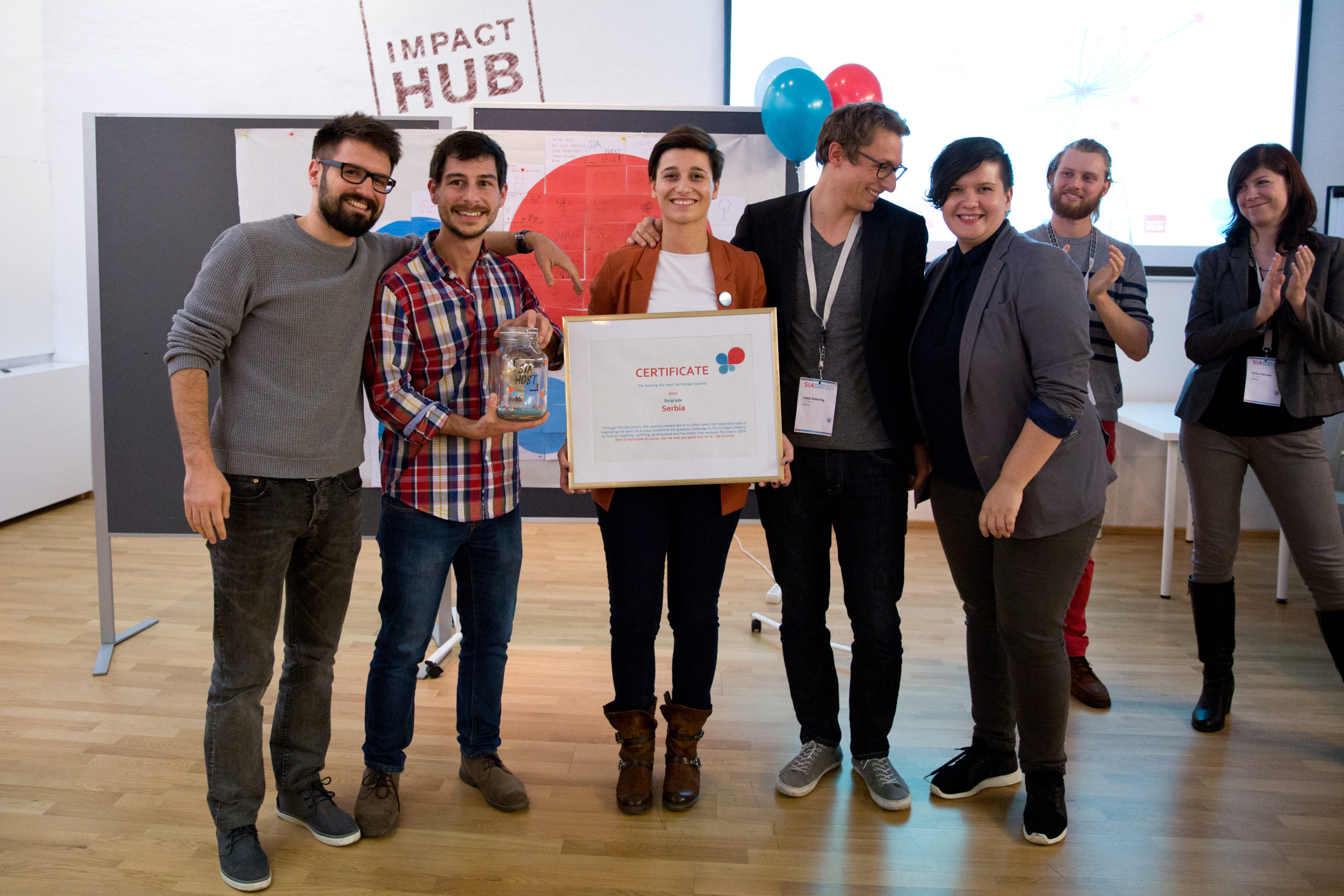 Ana, middle, country coordinator of SIA Serbia.
Having been around for a while, you know SIA inside-out. How have your experiences shaped how you're approaching this new role?

Ana: We spent so much time working as and with local SIA hosts that we fully understand local realities, team structures and resources. A big part of what we do at SIA is deeply rooted in these local realities and depends on the strength of our hosts. Having a hand on the pulse will play a big role in how we grow and expand our work and our network in the future. 
Jonas: SIA has greatly evolved as a community in the past years. Ana and I have always been part of this evolution, which has played a defining role in our personal development and journeys. I think we have both seen from up close what SIA is capable of and how it can transform lives. We want to give everyone the possibility to experience that for themselves. 
What was a defining moment in your journey with SIA?
Ana: The first community gathering of all SIA hosts took place in 2017. I was struck by how down-to-earth and "human" the gathering was. We were all invited to be vulnerable and share our feelings, fears, and failures. This approach enabled real connections between us and I came away knowing I would always want to work in such an environment.
Jonas: In 2016, I facilitated a workshop in Vienna, where a group of five girls met for the first time and decided to work on an idea together. They came back to the next workshop, and the next, and applied with their idea. They were selected as finalists and won the Social Impact Award at the end of the year. Of course, the story would be perfect if their venture was still up and running. While that isn't the case, this experience had such a strong effect on them that most of the former team has gone off to build a career in the impact field. Being able to witness their personal journey and their venture's growth was eye opening, and showed me what SIA is all about: helping young people realize their potential as agents of change.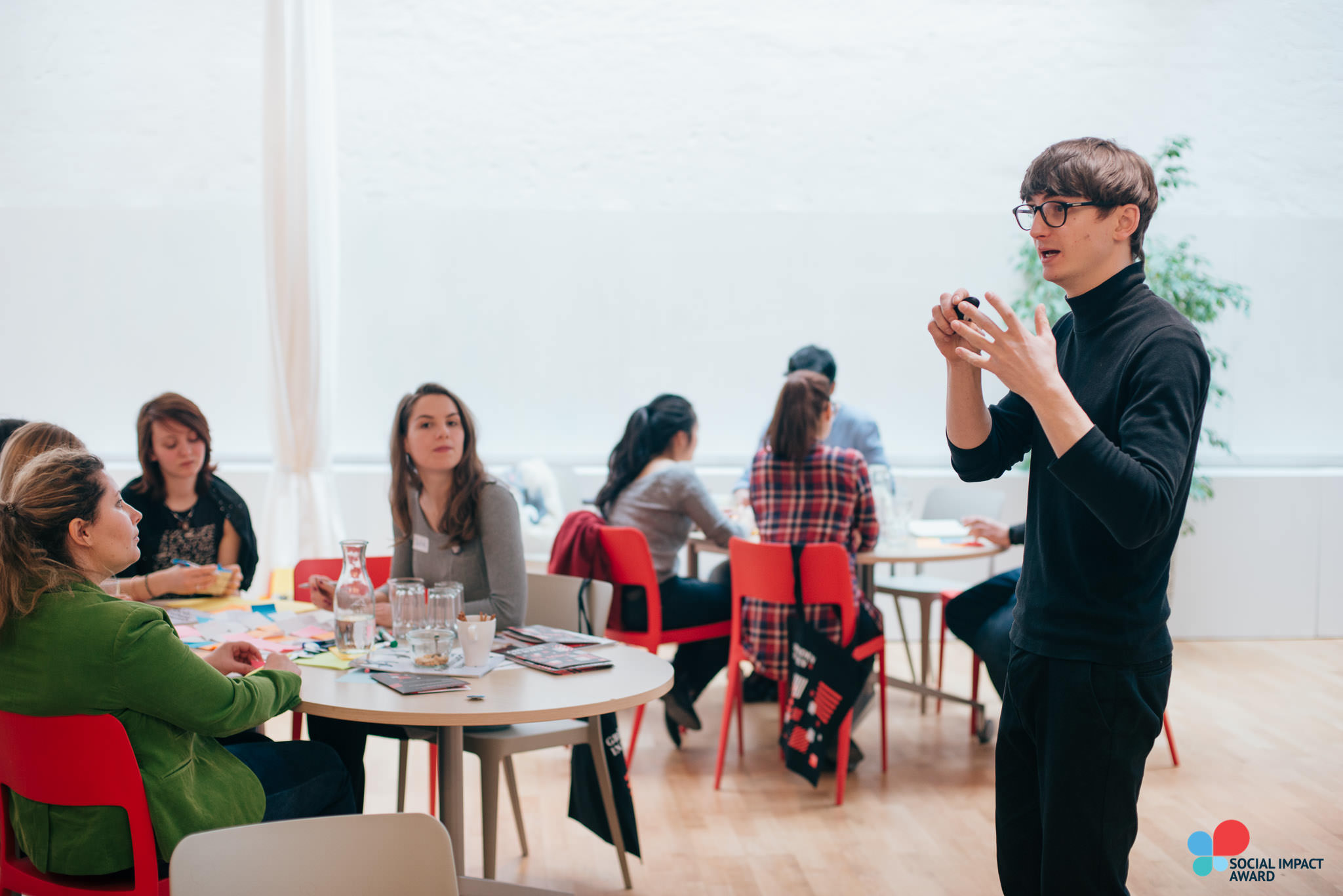 Jonas, right, country coordinator of SIA Austria.
You guys are taking over against the backdrop of a global health crisis, an unfolding climate crisis, shifting political tides, growing polarization, and much, much more. What is SIA's role in this reality?
Ana: Social Impact Award provides a stable and supportive space for young people to build on their passions, learn new skills, and explore their own potential in these uncertain times. This support is invaluable in giving every young person an opportunity to build solutions to the problems they care about. 
Jonas: The world needs the ideas and engagement of youth to face these challenges. Social enterprises and social innovations play a crucial role in shaping the future, essentially modeling ways that we as a society could organize ourselves, work, live and interact with each other in a more just, equitable and sustainable way. Social Impact Award's role is to enable young people to explore and build the solutions of the future.
Speaking concretely, what's on your agenda for the next few years? 
Ana: Our priorities for the next two years are fully in line with our 2023 strategy. We are heavily focusing on scaling and deepening our offerings, namely by expanding to new countries and by improving the quality and reach of our offerings locally. Our strategic partners play a crucial role in this and we are very excited to see our partnership with SAP Global continue to unfold. 
Jonas: If we want to build the world of tomorrow, we need to bring more diverse voices and supporters into our movement. From including more young people that have been left behind, to establishing our support offers in underserved areas of the world, we'll work to make our field more inclusive, more resilient, and more impactful. 
Learn more about Ana and Jonas' predecessor Jakob Detering and his experiences leading SIA.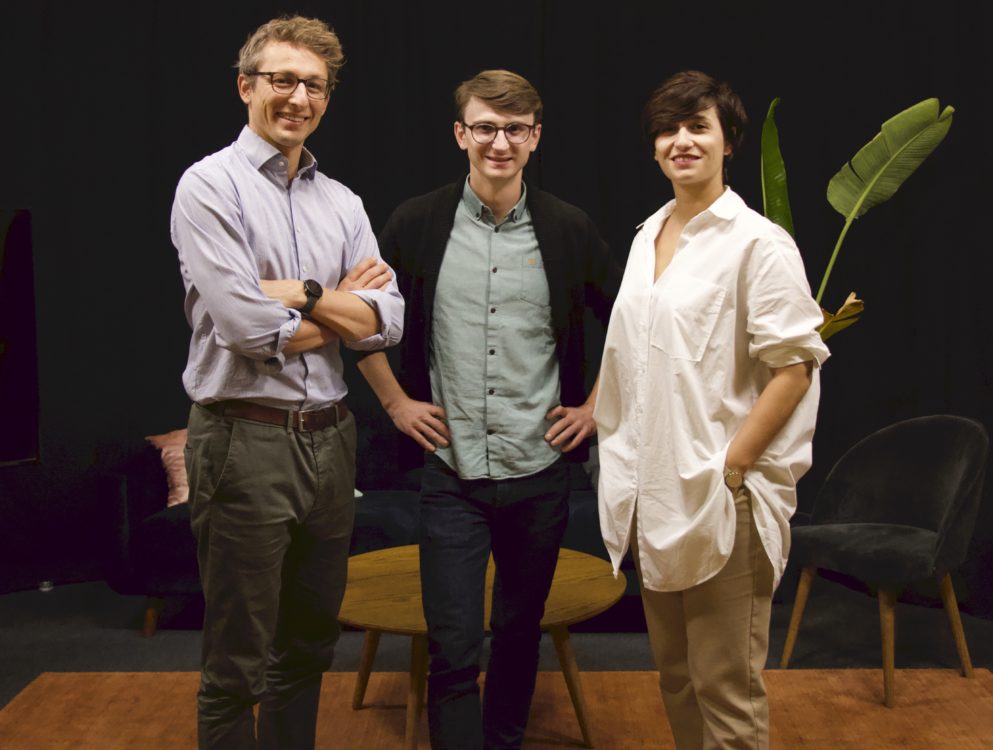 Leadership change at Social Impact Award sparks new era for Europe's largest community of young social entrepreneurs
Jakob Detering passes on the torch as Managing Director of Social Impact Award to Ana Janošev and Jonas Dinger.
After 6 years at the helm of Social Impact Award, Jakob Detering is handing over the leadership to Ana Janošev and Jonas Dinger while continuing to serve as Social Impact Award's chairman of the board. Under Jakob's leadership, SIA grew into one of the world's largest communities of young social entrepreneurs supporting almost 10,000 young people annually and fostering more than 1,000 social ventures in more than 25 countries across Europe, Central Asia, and Africa.
Jakob Detering won Social Impact Award 2010 himself and took over the leadership of SIA in 2015. Using an international franchise system, he developed SIA into a diverse support platform for young social entrepreneurs.
We are deeply grateful for Jakob's leadership in the past six years. His passion for the mission and people of SIA, as well as for building organizational structures have manifested in many forms" – Peter Vandor, SIA founder and next to Jakob Detering and Impact Hub Vienna a SIA shareholder.
Against the backdrop of a global pandemic, an unfolding climate crisis, and a plethora of social and economic issues, Social Impact Award's work is more relevant than ever.
The youth has the talent, passion and grit to change the world. All they need is an environment in which they can realize their potential. I'm convinced that under the leadership of Ana and Jonas, SIA will further scale and deepen its impact globally and move us closer to a world where young people realize their potential as agents of change. – Jakob Detering
Having been key drivers of SIA's strategic developments for many years, Ana Janošev and Jonas Dinger will build on their understanding of the ecosystem to fast-track SIA's international growth. The pair will put extensive focus on deepening offerings and increasing accessibility for marginalized communities, ensuring that young people's motivation and potential to change the world is met with an enabling environment for doing so.
We are deeply honored and very excited to take up the leadership of SIA. We will not only continue to offer the necessary support to guide youth from intentions to action, but will also work towards bringing more diverse voices and supporters into the global movement of youth social entrepreneurship. – Ana Janošev and Jonas Dinger
The leadership transition will come into effect on January 1st. 
We encourage you to read Jakob Detering's "6 key learnings from 6 years leading Social Impact Award", where he shares honest insights into Social Impact Award and the state of the ecosystem today.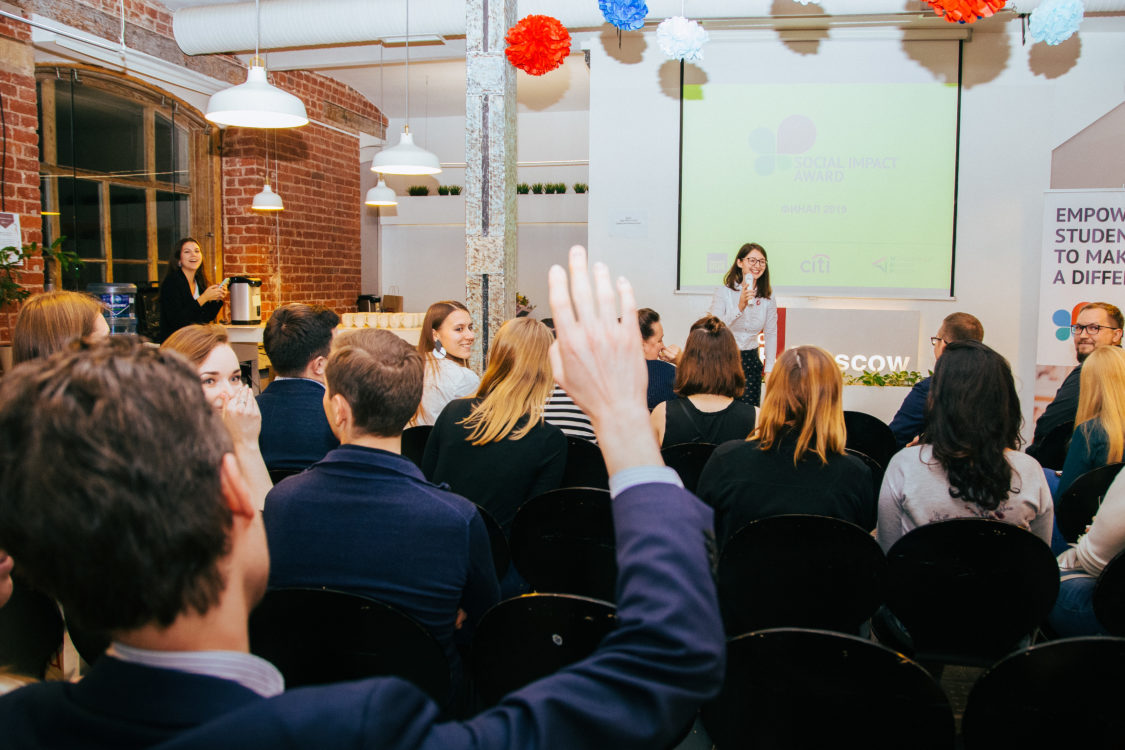 How the Role Models of Social Entrepreneurs are a Hidden Force Behind Positive Impact in 2021
An interview with Kyle Yong from Modul University Vienna about the power of role models as a force for positive impact.
Impact is not something we can achieve in isolation. As the social and ecological crisis we are experiencing globally grows deeper, we think it's time to understand who can inspire the younger generation to bring about positive change in their communities. 
At SIA, we have found that more often than not, the lack of role models keeps youth in Europe, Central Asia, and Africa from getting into action. Whether you have someone to look up to for guidance and inspiration can make a huge difference, especially when you're dreaming of having a meaningful impact in your community. 
But who are the people we choose to look up to when we start our journeys as social entrepreneurs? Are they widely known, more popular entrepreneurs or members of our communities and families? What is the role they play in our journeys and even in our ventures? 
As a community, we felt the need to learn more about this topic and its potential to influence our programs. With the support of Kyle Yong, SIA volunteer and student a Modul University Vienna, we conducted a series of interviews with young social entrepreneurs from our community and dove deep into this topic. 
We sat down with Kyle to learn more about his research and understand exactly what young social entrepreneurs are looking for in their role models. 
To begin with, can you tell our audience a bit about yourself and your work with SIA?
Sure! I'm Kyle and I am a Kiwi (from New Zealand) living in Vienna, Austria since the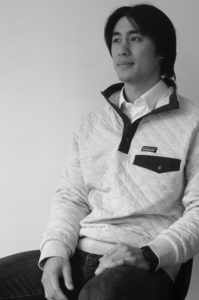 end of 2019. I am the Austrian brand ambassador for Gexsi (Good Search) – "the search engine for a better world". At the same time I volunteer with Social Impact Award, supporting their social entrepreneurship incubation programs in Austria and Germany. 
I am on a journey towards finding a lifestyle that balances learning, contribution and freedom. My current two favorite topics for discussion are the future of work and social entrepreneurship, and in my free time you will find me in a boulder hall, in a cafe eating brunch, or playing computer games.
One last point which also informs our interview is that I have recently received my MBA in Sustainable Management, with a research thesis on the role models of young social entrepreneurs. 
Let's deep dive into your research work! What is role modeling and what was your motivation to learn more about the role models of young social entrepreneurs? 
I have always associated role modeling with "someone I look up to" or "someone who has some qualities or attributes that I would like to replicate", especially in terms of life direction and values. As someone who has only recently entered a community that cares about sustainability through social and ecological impact, I have met so many young people that act with a drive and responsibility in this field. That got me thinking: why are they like this? 
My assumption was that their relationships with others were the likeliest cause of their behaviors, and this is what actually led to my research. I wanted to explore their relationships with role model-like figures from which they have drawn support, inspiration, and motivation throughout their social entrepreneurship journey.
What are some of the key insights you have gathered after talking to various members from our international community? 
To start, I realized that the concept of "role models" can be new, and not consciously thought about by some people. Once I started the discussions, many insightful examples showed up, but it was important to realize that this is not top of mind for most young social entrepreneurs. 
As a concept, "role model" is often related to career orientation (often in relation to family influences) of  heropreneurs (as in entrepreneurs heavily portrayed in media) when it comes to businesses. For our young entrepreneurs, finding a social entrepreneur as a role model can be a struggle on its own. Even more so, I discovered so many social entrepreneurial role models that are NOT social entrepreneurs themselves.
To name a few examples of role models we have come across: the business expert who concretely demonstrated how one should run a financially sustainable business and provided tools to do so; or the high school teacher that enabled a first experience with volunteer work; or a work colleague at an NGO, who proficiently and reliably completed her work and was a source of support and feedback. 
While there is a great variety of "definitions" when it comes to what makes a good role model, our social entrepreneurs have described the impact and influence of their role models on their journeys in terms of motivation, direct support, relatability and knowledge sharing. At the same time, it was interesting to see how strongly our social entrepreneurs tie their own ability to be a role model for others with their own success and the success of their ventures. 
Another valuable insight has to do with the power of role models to be relatable and authentic. I found that most of the participants tended to be influenced by role models with a transparent, realistic journey, one with ups and downs and not just success stories. I believe this makes it easier to recognize the real people behind the amazing work being done. 
What surprised you the most and why? 
There was one particular outcome of my research that surprised me the most: how ineffective distant public figures are as role models in comparison to those closer to the social entrepreneur. 
It seems like the most recognized and commonly mentioned role models in social entrepreneurship are those public figures and success stories that many people don't know about personally, like Muhammad Yunus. When it comes to the role models who are creating the most influence on the social entrepreneurs, we should be looking for, and recognizing the individuals that are much closer to their personal lives. 
After leading these conversations with our members, what do you think makes a good role model? 
I can share some of the individual summaries which I feel best reflect the answer to this question – and the level of variety, depth and potential that this field has to offer to young social entrepreneurs. These are all anonymous. 
Role models do not care about fame or position, they fight against injustice or unfairness, and can see the potential in others and engage this potential so that it can develop.
Role models fight for human justice and equality, create interventions and present well to others. They are able to fill knowledge gaps through their experience and expertise and thereby create more options in general decision-making processes.
Personality wise, role models should be understanding and empathetic. This enables them to build trust and draw people towards them. […] They are knowledgeable in all areas related to their field and can therefore provide concrete answers and examples to the social entrepreneur based on their experience.
Role models are important for inspiration and shaping, but not imitation. It is important that they are human and kind, and they do not need to be perfect people.
They are inclusive and enablers for others. They have a journey that is transparent and can be followed and therefore learned from.
Role models are not one individual, but an imaginary combination of the best aspects of many people put together.
What can we learn from your work in order to inspire a new generation of young agents of change? 
I think we need to realize that we are not alone on our journeys. We need to more consciously recognize and build upon relationships as we progress on our own paths to create a positive, sustainable impact in our communities. 
At a personal level, this can be a good reminder to be conscious of the people around us, identify and celebrate the individuals who we feel inspired by and also take some time to reflect on why they might be influencing us and our work. 
At the community level, perhaps this is an invitation to enable peer to peer support and tap into the potential of each community member to inspire, teach and support others. This can enable other types of support for our young social entrepreneurs, such as inspiration from grassroots activists, or concrete tools for growing social businesses. 
For more information about any of the points in this post, please feel free to contact Kyle Yong at kyleyongat@gmail.com or see this link to his research.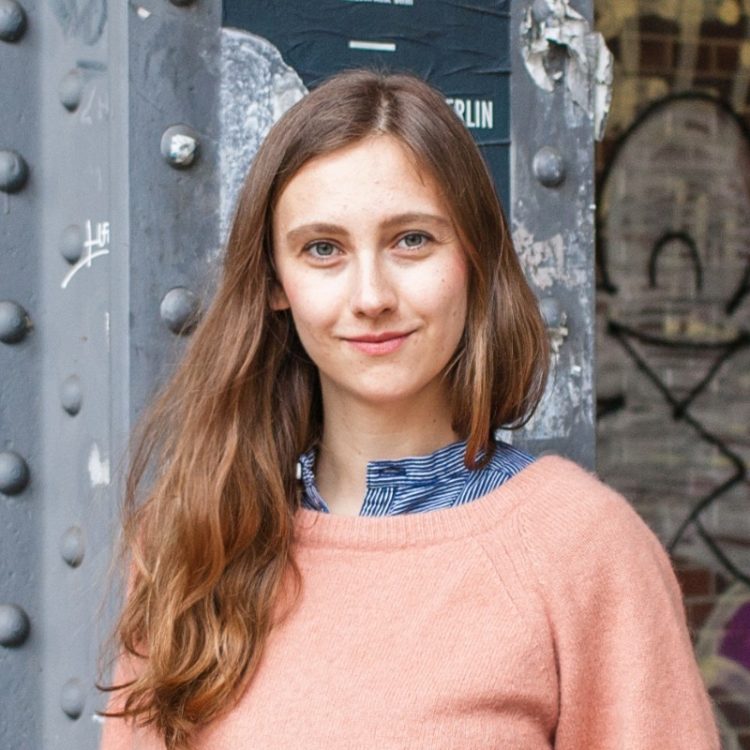 Introducing Lisa Schnägelberger, our new SIA Germany Coordinator
Expanding Social Impact Award into Germany is not an easy task. It requires careful planning, a strong ability to navigate stakeholder groups, and most of all an accurate understanding of what youth is lacking in early-stage support programs. When we met Lisa Schnägelberger, we knew she was the one to lead this effort. She's been a hidden diamond thus far but it's time to show her off to the world as she embarks on her new journey with SIA.
You're the newest member of the SIA family! Can you briefly introduce what you'll be doing for SIA?
As SIA Germany Coordinator I will be responsible for the implementation of our program in Germany, coordinating everything from workshops for the discovery phase to bootcamps during the incubation and the SIA Germany award ceremony. As SIA is still new in Germany, I'll also be responsible for establishing partnerships across the country and integrating SIA within the existing social entrepreneurship ecosystem.
What are you most looking forward to in this new journey?
Lots of things! At the local level, I'm excited to get to know our community. Attending the first edition of SIA Germany's award ceremony just recently and seeing all our participants passionate about making a change was very inspiring. On a more meta-level, I'm looking forward to exploring the social entrepreneurship ecosystem and making sure that SIA Germany is truly adding value to that ecosystem. Finally, I'm excited to meet the international SIA community from our 25+ countries of activity and seeing how SIA Germany will contribute to this global agenda.
Tell us a little bit about yourself – where are you from, and what led you to applying to SIA?
I was born in Darmstadt next to Frankfurt, and have been living in Berlin for 10 years. I initially moved there to study Business Communications Management but had a "purpose crisis" that led to an internship at Good Jobs, a platform helping people find jobs at purpose driven organizations. That is where I first discovered the German social entrepreneurship scene and where I decided that I wanted to dedicate my career to the field. At that time, I still felt I needed more education so I went back to school to do my masters in Nonprofit-Management & Public Governance.
After my Masters, I started working as project manager and facilitator for a small NGO dedicated to volunteer engagement and coordination in Germany. Social Impact Award felt like a natural next step – the program is a major vehicle for social entrepreneurship and is only getting bigger and more impactful. We are facing so many crises nationally and globally, so it's crucial that these young people are empowered to create change. And even if they don't end up running a successful social venture, participants will always have a different view of the world after our program.
Why do you think SIA is the right fit for Germany?
There are many programs for supporting social entrepreneurs in Germany but none offer very early stage support. I personally experienced this gap in the ecosystem a few years ago. I had an idea for a social venture, was looking for support, but none of the options were the right fit – they were all too niche. Social Impact Award is the program and community I was looking for, and I believe it will effectively fill an important gap that has been around for too long. Also, I think SIA will be a great vehicle to reach youth across Germany beyond the existing social entrepreneurship bubble.
On a lighter note: what is your favorite hobby, and what is a simple thing you can't stand?
I'm afraid to sound like a grandmother but during the quarantine I started planting fruits and vegetables on my balcony and I have been in love with gardening ever since. Watching your plants grow day by day is the best feeling.
As for my pet peeve, I really dislike the smell of pickle vinegar. I was once on the train in Berlin and someone was eating pickles from the jar and the whole wagon smelled like pickle vinegar, it was awful.
Finally, are you for or against pineapple on pizza?
I am absolutely against it, it's a very big no for me. No way.
Thank you so much for taking the time Lisa, we're excited to have you with us.
I'm looking forward to this new journey with SIA!
To stay up to date with SIA Germany, sign-up for our newsletter!
If you have questions for Lisa Schnägelberger related to Social Impact Award Germany, you can reach her at: lisa.schnaegelberger@socialimpactaward.net.
Almost there
You need to register in order to submit your bulletin & vote.
We care about your privacy.
Read Privacy Policy .
× close