Beyond Business – Social Entrepreneurship as a Versatile Tool
Your Summit's "backstage pass"
For selected partners and stakeholders of our international Social Impact Award community we offer exclusive access to the SIA Summit 2019. Dive into SIA's diverse community, engage with the remarkable SIA winners from Europe, Central Asia and Africa and discover a fresh perspective on social entrepreneurship. Together with a small group of foundation managers, academics, corporate leaders and civic actors, we guide you through an exciting 1,5 days experience at the heart of Kyiv.
Fresh perspectives on social entrepreneurship
How can social entrepreneurship contribute to peace-building in conflict areas – such as in the Summit's hosting country Ukraine? What are effective ways of equipping underprivileged youth with the necessary skills and mindset to turn their talent into social innovation? How can social entrepreneurship empower youth increase their overall employability or even create their own jobs? And how can social enterprises function as a vehicle for inclusion rather than being an elitist domain?
During the SIA Summit we will explore these and similar questions by engaging with practitioners and social innovators from the SIA community. We take a look beyond the hype and examine social entrepreneurship as a versatile tool.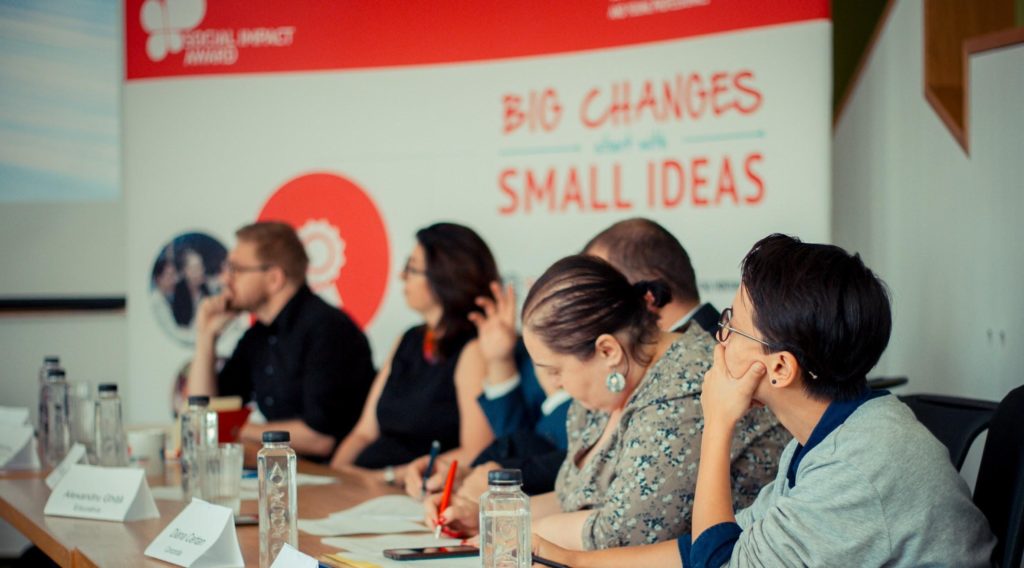 Agenda at a glance
Thursday, December 5th
Until 2pm | Arrival Time
We await you gladly throughout the entire day at the event location, where you have the opportunity to chill out in our SIA lounge, do some work, or stroll around the city.
2:30-3pm | Registration & Networking Coffee
3-3:45pm | Welcome & Get-to-Know
3:45-5:15pm | Impact Expedition: Social entrepreneurship as a tool for peace-building
How can social entrepreneurship contribute to peace-building in conflict areas? SIA Ukraine with its experienced licensee, the Ukrainian Social Academy, has developed and implemented a unique way of using social entrepreneurship as a vehicle to support peace-building and intercultural dialogue in Ukraine. Together with Petro Darmoris, Executive Director of the Ukrainian Social Academy, you will explore the potential of social entrepreneurship in an interactive discussion.
5:15-7:30pm | Social Business Visit & Dinner
Building on the previous session, you are invited to join us for a visit to a very special social business: Pizza Veterano - a pizzeria that is run by veterans from the current war between Russia and Ukraine. It helps former soldiers to reintegrate into society and the regular job market and has already successfully scaled across Ukraine. We will not only engage in a conversation with the founding team of Pizza Veterano, but also enjoy their delicious pizza for dinner.
8-9:30pm | Fireside Chat: Social entrepreneurship as an empowerment tool for underprivileged youth
In the evening, you are invited to discover yet another perspective on social entrepreneurship. Together with all SIA winners and team members, we gather in a relaxed atmosphere over a glass of wine and listen to a conversation of Jakob Detering, Managing Director of SIA International, with Etienne Salborn. Etienne Salborn is the CEO of the Social Innovation Academy, SIA's licensee in Uganda. He will share his insights on running SIA workshops in one of the largest refugee camps in the world in Northern Uganda and how social entrepreneurial skills help underprivileged youth to create their own jobs.
---
Friday, December 6th
7-10am | Breakfast & free time
10am-12:30pm | Conversations: The perspectives of young social innovators from around the world
In this special session, you have the unique opportunity to engage with the SIA winners - social innovators and entrepreneurs from Europe, Central Asia and East Africa - in an eye-level conversation. Learn more about their ventures and explore the human dimension of being a young innovator in a fast-paced world.
12:30-1:45pm | Networking Lunch
1:45-4:00pm | Discussion: Social entrepreneurship as a versatile tool
We reconvene in a closed session and discuss in guided group conversations on the fresh perspectives we have gained throughout yesterdays interactions and the conversations with young social innovators this morning. What new perspectives could we gain on social entrepreneurship? What patterns within the social entrepreneurship scene do we need to break, which bubbles to burst? What could we bring back into our own organisation?
4-5pm | Closing Ceremony
SIA Summit's official closing ceremony will celebrate the success of all participants and allow us to reflect on the entire event experience.
6-7pm | Dinner
7-9pm | Global Village
Let us enjoy the diversity of cultures at the SIA Summit, through snacks, drinks and music. Each country represented at the Summit will present their own culture at their own stands, so you can stroll around and literally travel through the entire SIA community.
9pm | Grand After Party
---
Saturday, December 7th
Until 11:00 | Breakfast & Check-Out
12:00 - 15:00 | Sightseeing Tour
Please note that this agenda might be subject to minor changes.
Tickets
You can purchase your "backstage pass" via our Eventbrite page (see buttom below). Please note that each ticket includes:
Full access to all sessions outlined in the agenda above
Accommodation at the Summit's venue (Premier Hotel Rus) in a single room from Dec 5-7 

(not included in ticket type "Local")

Breakfast on Dec 6 & 7
Lunch on Dec 6
Dinner on Dec 5 & 6
The ticket price is 350 EUR excl. VAT, respectively 250 EUR excl. VAT for ticket type "Local" as this ticket type is without accommodation.
Please be aware that travel costs are not included in the ticket. The SIA Summit team is glad to support you in finding the best connections to Kyiv and help with local transportation. We will also post detailed recommendation on the transport from airport to venue closer to the event. For further questions, please write to summit@socialimpactaward.net.
To avoid any confusion, we would also like to remind you that the entire SIA Summit 2019 takes place from Dec 3rd to 7th, with the dedicated track described here starting on Dec 5th.
Get your Summit "backstage pass".
Our Event Partners
The SIA Summit 2019 is brought to you in collaboration with the following outstanding SIA partner organisations: