Impact Camp
The 'Impact Camp' provides the winning teams of Social Impact Award 2019 with an intense personal learning experience and aims to equip them with essential skills for a successful journey as future entrepreneurs and change makers. Zooming out of purely entrepreneurship-related topics, participants will develop their individual capacities in more fundamental skill areas such as leadership, innovation, strategy, and connection. A highly experienced team of facilitators will lead the participants through a mix of hands-on skill workshops, interactive learning simulations and inspirational exchanges with experts and peers.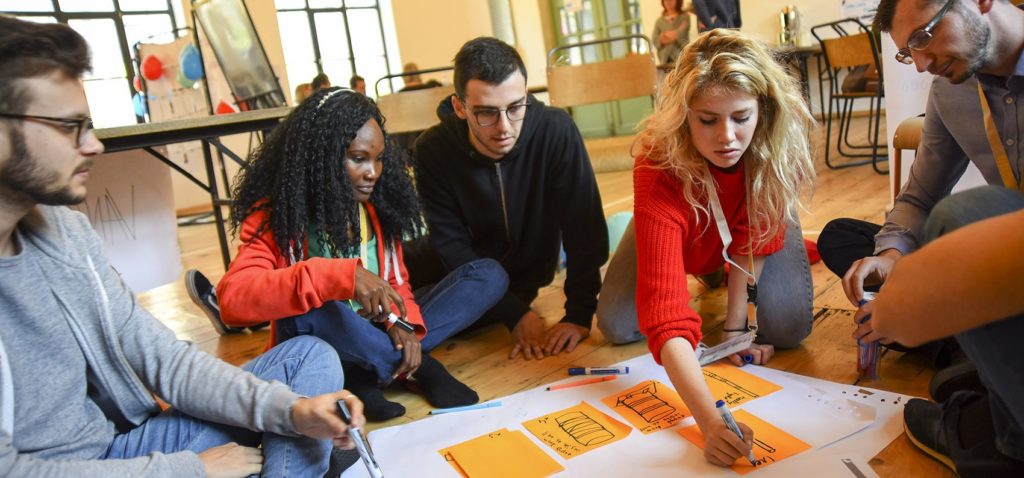 How to make the most out of it
How to prepare for the 'Impact Camp' and get the best experience:
Come with an open and entrepreneurial mindset
Everything you will experience at the SIA Summit is an invitation for you to challenge yourself on a personal level. Be curious, seize the opportunities and drive your own learning!
Leave the daily work at the airport
Sure – we know that the world keeps on turning and you need to keep up with daily tasks. However, the better you can reserve your headspace and focus for the SIA Summit, the more rewarding and impactful the experience will be!
Get ready to rock the SIA Global Village
On the last night of the Summit, we'll have a "Global Village", where each country represented at the Summit will present their culture, food, and drinks. We encourage you to bring some local/national drink – both non-alcoholic and alcoholic 😉 – all types of food & sweets, information material (or anything else that represents your culture and fits in your luggage) to share with other participants and show the rich diversity of our global community.
Check out the event logistics
You want to learn more about the event location or how to get to your hotel from the airport? Here you can find more information on the event's logistics – including useful tips on packing, local currency, etc.:
Agenda at a glance
Tuesday, December 3rd
Tuesday serves as the day of arrival. We await you gladly at Hotel Rus. You can check-in at your room from 2 pm onwards. The official program starts at 4 pm with a guided sightseeing tour through the streets of Kyiv. In the evening, we gather for the official Opening Ceremony. Afterward, we gather for a welcome dinner, enjoying some food and drinks and getting to know each other better.
Until 4 pm: Arrival at the hotel
4 pm: Sightseeing Tour
6:30 pm: Welcome Reception
7 pm: Opening Ceremony
8 pm: Welcome Dinner
Wednesday, December 4th
On Wednesday, we kick off the Impact Camp by forming cohorts, clustered around the focus areas of all ventures (e.g. education, circular economy, inclusion, etc.). In the afternoon, experienced experts from the fields of leadership, innovation, strategy and connection will offer dedicated sessions to provide you with hands-on tools and practical insights.
Until 9 am: Breakfast
9 am: Leading Impact
10:30am: Cohort Activation
12:30 pm: Lunch Break
1:30 pm: Impact Skills Workshops
5 pm: Closing of the Day
6 pm: Free time
7 pm: Dinner
Thursday, December 5th
On Thursday, we challenge you as winners on a different level. Our legendary "Summit Challenge" will allow you to apply your skills as an entrepreneur and change maker and learn from it. In the evening, we convene in a relaxed atmosphere for a very special fireside chat on the topic of social Entrepreneurship as an empowerment tool for underprivileged youth.
Until 9 am: Breakfast
9 am: Morning Activation
9:30 am: Summit Challenge
12:30 pm: Lunch Break
1:30 pm: Summit Challenge Debrief
4 pm: Cohort Debrief
5:30 pm: Free time
6:30 pm: Dinner
8 pm: Fireside Chat
Friday, December 6th
On Friday morning, we will bring you together with philanthropic, civic, public and corporate leaders to engage in meaningful conversations. In the afternoon, we look ahead beyond the Summit and close the Impact Camp at the official closing ceremony. And, of course, don't miss out on the global village in the evening and the grand after-party!
Until 9 am: Breakfast
9 am: Morning Activation
9:30 am: Partner Conversations
12:30 pm: Lunch Break
1:30 pm: Take it forward
2:30 pm: Cohort Closing
4 pm: Closing Ceremony
5 pm: Free time
6 pm: Dinner
7 pm: Global Village
9 pm: Grand After Party
Saturday, December 7th

Saturday serves as the day of departure. We kindly ask you to check out at Hotel Rus until 12pm. You can leave your luggage at the hotel and join us for an optional sightseeing tour (this one is especially for those that missed the tour on Tuesday afternoon). If you would like to stay longer at Hotel Rus, please find more information here (see the question "You want to spend more time in Kyiv?").
Until 10am: Breakfast
Until 12pm: Check-out
12pm: Sightseeing Tour (optional)
Our Event Partners
The SIA Summit 2019 is brought to you in collaboration with the following outstanding SIA partner organizations: