Vision Retreat
The 'Vision Retreat' is designed to empower all SIA organizers in reflecting on the progress of their activities throughout 2019 and strategize on how to further develop the program. In interactive sessions, we leverage the international dimension of SIA's growing team to learn from each other and build a stronger and more resilient community.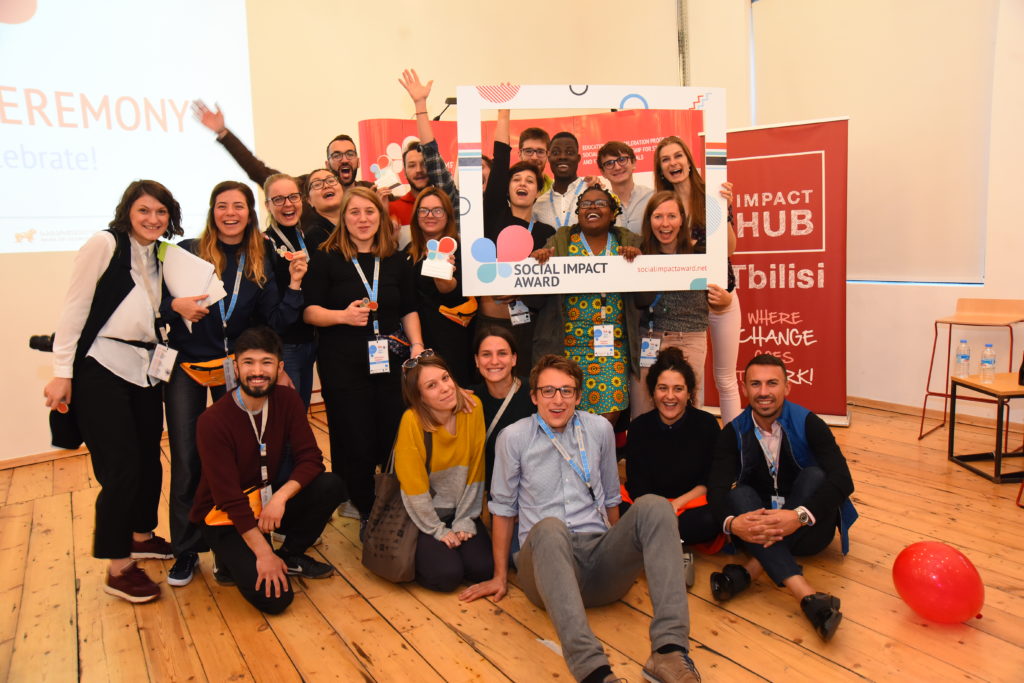 Check out the event logistics
You want to learn more about the event location or how to get to your hotel from the airport? Here you can find more information on the event's logistics – including useful tips on packing, local currency, etc.:
How to Prepare for the Vision Retreat
Please consider the following action items. They will help you to capitalize on what the retreat has to offer.
Make sure that you are free to focus on the group and the agenda throughout the time in Kyiv.
Prepare your financial statement and narrative report for 2019 as well as your budget for 2020. This will help you to mirror your strategic outlook with your financial realities. Please use the official SIA templates

and send both documents via Slack to

@ana.janosev until October 31st at the latest.
In weeks before the Summit, we will share with you two presentations (Strategy 2020-2023 and International Updates for 2020). As we have limited time at the Summit, we will not be able to go in-depth on both topics. Therefore, please review the presentations before arriving to the Summit and prepare any questions or feedback you might have.
Make sure that the winners you bring with you are aware of the agenda, logistics, how to prepare, etc.

Bring your 

laptops

, as you might need them to work on during the sessions.

On

 the last night of the Summit, we'll have a "Global Village", where each country represented at the Summit will present their culture, food, and drinks. We encourage you to bring some local/national drink or sweets (or anything else that represents your culture and fits in your luggage) to share with other participants and show the rich diversity of our global community.
Any other questions? Please post your question in the respective Slack channel: #community_gatherings.
Agenda

Tuesday, December 3rd
Tuesday serves as the day of arrival. We await you gladly at Hotel Rus. You can check-in at your room from 14:00 onwards. The official program starts at 16:00 with a guided sightseeing tour through the streets of Kyiv. In the evening, we gather for the official Opening Ceremony. Afterward, we gather for a welcome dinner, enjoying some food and drinks and getting to know each other better.
Until 16:00 – Arrival at the hotel
16:00 – Sightseeing Tour
18:30 – Welcome Reception
19:00 – Opening Ceremony
20:00 – Welcome Dinner
Wednesday, December 4th
On Wednesday we start the Vision Retreat, with the topic of the day "Understanding". The day focuses on learning from the past, through the analysis of the Alumni study and the overview of the impact in your own countries, presented by Peter Vandor and Lukas Weissinger from WU. After lunch we will focus on reviewing your year but also learning about SIA's strategic objectives for the next three years, helping us to prepare for the next day.
Until 09:00 – Breakfast
09:00 – Vision Retreat Opening
10:00 – SIA's Long-term Impact
11:30 – Your Impact
12:30 – Lunch Break
13:30 – Your 2019
16:00 – Strategy 2020-2022
17:30 – Closing of the Day
18:00 – Free time
19:00 – Dinner
Thursday, December 5th
On Thursday we will focus on "Envisioning". After learning about the upcoming international developments for 2020, you will go on a vision journey that will address some of the most frequent questions you will face in the upcoming year. Post-lunch sessions aim at goal-setting for the next year and learning from other team members about their daily realities. In the evening, we convene in a relaxed atmosphere for a very special fireside chat on the topic of social entrepreneurship as an empowerment tool for underprivileged youth.
09:00 – International Updates for 2020
11:00 – Vision Journey
12:30 – Lunch Break
13:30 – Year Ahead
15:45 – Learning Café
17:45 – Closing of the Day
18:00 – Free time
18:30 – Dinner
20:00 – Fireside Chat – Social Entrepreneurship as an empowerment tool for underprivileged youth
Friday, December 6th
Friday is all about "Connecting". We will start the day a bit later and have a working breakfast where we will discuss potentials for regional collaboration. We will then boost the team spirit through a team exercise, in order to prepare for the final part of the Community Canvas. After lunch, we will share the upcoming Buddy Support system and close the retreat. The closing ceremony will mark the end of the official Summit program, but don't miss out on the global village in the evening and the grand after-party
09:00 – Regional Collaboration Breakfast
10:15 – Team Booster
11:00 – Community Canvas pt. 3
13:00 – Lunch Break
14:00 – Buddy Support
14:30 – Closing Vision Retreat
16:00 – Closing Ceremony
17:00 – Free time
18:00 – Dinner
19:00 – Global Village
21:00 – Grand After Party
Saturday, December 7th
Saturday serves as the day of departure. We kindly ask you to check out at Hotel Rus until 12:00. You can leave your luggage at the hotel and join us for an optional sightseeing tour (this one is especially for those that missed the tour on Tuesday afternoon). If you would like to stay longer at Hotel Rus, please find more information here (see the question "You want to spend more time in Kyiv?").
Until 10:00 – Breakfast
Until 12:00 – Check-out
12:00 – Sightseeing Tour (optional)
Our Event Partners
The SIA Summit 2019 is brought to you in collaboration with the following outstanding SIA partner organizations: