Join us and create impact at scale.
Social Impact Award, founded in 2009, is Europe's largest community of early-stage social entrepreneurs under 30. We run education and incubation programs in more than 15 countries in Europe, Africa and Asia to support early-stage social entrepreneurs in developing and implementing innovative business solutions to tackle the most important societal challenges of our times. We do so by hosting events and organizing workshops to raise awareness for social entrepreneurship, teaching the necessary skills to navigate from vague intentions to promising ventures, providing access to networks and promoting the best teams with the Social Impact Award.
And we are just getting started. On the brink of achieving significant growth with even stronger presence and impact around the world in the years to come, we are committed to further nurture a globally diverse community of individuals and organizations united by the imagination and drive to pursue enterprising ideas for the world.
As part of this evolution, we are looking for exceptional individuals driven by the belief that youth can make the difference. If you are interested in joining our team and supporting our work, reach out to people@socialimpactaward.net with your CV and a brief description of yourself.
---
---
Why we get up in the morning
We at SIA want to enjoy our work. But what does it need for that? What ingredients are necessary and helpful to make us feel good about our jobs?
We have asked ourselves these questions and still do so every day. We have mixed our personal experiences with studies and research on the topic. Based on both, we have identified five key factors for a meaningful, healthy and satisfying job. Their importance might vary from person to person and throughout time. As a principle, we at SIA value them all equally. It is our ambition to address all five factors at SIA.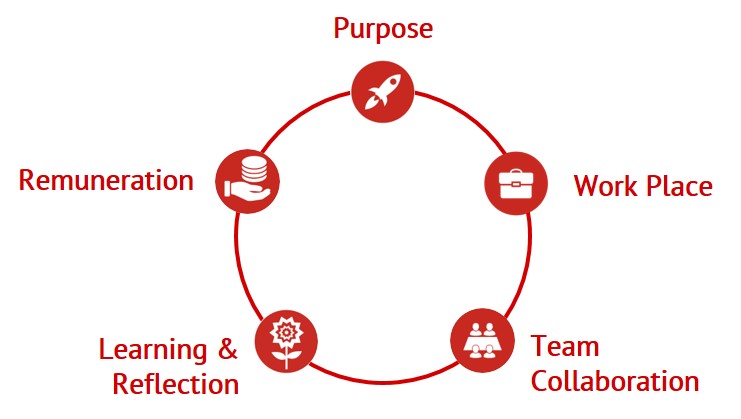 ---
Data Protection Statement
We at SIA take data protection seriously. Please make sure to carefully read and - in case you agree - sign our data protection statement for job candidates. Please attach it to your application whenever you apply for a job at SIA. In case you have any questions on your data privacy, please write us at privacy@socialimpactaward.net.
Data Protection Statement (English)