THE CIVIC SECTOR AS A JOB CREATOR
An interview with Barbara Sadowska: The Team Leader of the Project "Fostering Social Entrepreneurship", Macedonia Co -Founder of the Barka Foundation, Poland An Ashoka – Innovators for the Public Fellow, […]
An interview with Barbara Sadowska:
The Team Leader of the Project "Fostering Social Entrepreneurship", Macedonia
Co -Founder of the Barka Foundation, Poland
An Ashoka – Innovators for the Public Fellow, USA
A Schwab Foundation Social Entrepreneur, Switzerland
Q: First to say "hello" to Barbara Sadowska- a co -founder of the Barka Foundation, Poland, an Ashoka Fellow, a Schwab Foundation Social Entrepreneur and now a Team Leader of the Project "Fostering Social Entrepreneurship", Macedonia. Can you tell us more why you decided to work in the area of social entrepreneurship?
A: Actually, I need to go back in time in order to draw my pathway towards developing a true passion for social entrepreneurship. It was around 30 years ago that my family and I have started community support initiatives for the marginalized groups of citizens in Poland. Basically, the idea behind the Barka Foundation began in 1989, after the fall of Communism in Poland. My husband Tomasz Sadowski and I were psychologists from a small village near Poznan in Western Poland who saw the new political landscape as an opportunity to make a real change for the most vulnerable members of our society. As a couple, we had many years of experience working within the prisoners and people with psychiatric diseases  and were concerned about how the changes would affect people on the edges of the community – especially those with the substance abuse issues, the unemployed, elderly and homeless people who may have been overlooked in such a tumultuous political climate. Our family decided to make a life-changing decision to act upon these concerns so we all have moved (including our 3 daughters) into an old and disused school building in rural Wladyslawowo near Poznan (western Poland).
Gradually, we had gathered a group of people who had nowhere else to go and we all lived together under one roof. The group included men, women and children who were homeless, unemployed, or suffering from some form of addiction or disability. The driving force behind this was sheer hope of creating an environment in which the 'forgotten and unwanted' could have a chance for personal growth and social development. Each member of the household had a specific role or duty within the group and the old school house became a small but thriving self-sufficient community. It quickly became clear that by giving these people an opportunity to belong and contribute to something worthwhile, their sense of self-belief and confidence steadily grew. These were actually our first steps towards creating social entrepreneurship initiatives in Poland and later in Europe.
Throughout years to come, we established connections with various CSOs, local municipalities, Ministries, cooperatives and started acting out of sense of empowerment of socially marginalized groups, rather than offering them a short-term material assistance. Our belief in the self-reliance power and the potential of each individual brought us to the path of social entrepreneurship.
Q: A couple of words about yourself and the Barka Foundation.
A:  The word 'Barka' means 'lifeboat' in Polish and the Barka Foundation has certainly been a lifeboat for the thousands of people who have benefited from its support and guidance over the past 20-30 years. Based on our experiences of building and empowering local communities from the scratch, we have managed to create more than 10 international Barka's over the years located in Poland, UK. Germany, The Netherlands etc. Barka did not only work locally in creating action-oriented projects, we made efforts to act nationally and so have impacted the laws on social entrepreneurship, have established social enterprises and eventually positively affected unemployment rates in Poland. Our good practice model was taken over by several other Western European countries for the needs of social integration and unemployment reduction.
We are proud to say that we have managed to create a global impact and have established over 200 local partnerships for social entrepreneurship all over Poland, 1200 social enterprises (due to creating legal and financial framework), 7000 work places, 100 social houses for recovered families – obviously, our Barka experience has been a valuable source of inspiration for many other CSOs and social entrepreneurship initiatives in Europe, Canada and in Africa too. Hopefully, my position of a Team Leader in Macedonia will be inspirational enough for CSOs, institutions, communities of citizens who want to see social changes happen in the spirit of unity and solidarity.
Q: What is your role in Macedonia?
A: Being a Team Leader of the EU funded  project called "Fostering Social Entrepreneurship", run by EPTISA is a great opportunity to share our Barka experiences to Macedonia and show that it is not only about transferring knowledge, expertise and good practices but it is also about creating positive changes within Macedonian society by making people believe that they can do it too in their own country. Social entrepreneurship with time becomes almost a passion that needs to be passed onto new areas as people need to know that every change for the better is possible, despite your own "local" circumstances. Macedonia too is in the transition period to the EU process as Poland was years back – we have managed to find our own ways of empowering the most  needy in the society, Macedonians can discover own potential and contribute to the development of social entrepreneurship. With this project, we want to create a Law on Social Entrepreneurship that will be a solid framework for empowering CSOs and encouraging them to register as social enterprises, creating job opportunities for the youth and the most marginalized groups of citizens and eventually to stimulate financial institutions to create a climate of social change and economy of solidarity.
Social entrepreneurship does not force us to choose between freedom and solidarity, but shows that true solidarity comes from liberty and it cannot be arbitrarily imposed.

Q: Why do you see potential in the CSOs (and why they should transform themselves in social enterprises)?
A: I see a full potential of developing social entrepreneurship concept in Macedonia via the work of civic organizations as their basic preoccupation is assisting the citizens in need in the local community. They are close to people, they have potential to understand their obstacles and constrains and they have human and ethical potential to serve the society and focus first on people instead of the capital only. So they can build foundations for the economy of solidarity in Macedonia. Instead of focusing on short-term projects lacking continuity, they can build strategic approach and empower both themselves and the communities that they are working with and design long-term solutions for the unemployed, youth, single parents, Roma communities, substances' addicts etc.
Q: Can the CSOs solve the issue of unemployment? Why?
A: Eradication of unemployment is not a matter of solely "solving an issue" and only having one social actor who is "in charge or has the total responsibility". It is about an overall integrative approach and creating a spirit of collaboration where all social actors are changing previously established own mental codes and raising awareness on the importance of the economy of solidarity. Such a concept should be introduced on all levels of social care – starting with institutions, municipalities, corporations, banks, CSOs and citizens.
CSOs can play a great role in the process of introducing social entrepreneurship ideas into the society and so become the initial agents of change who will, by continuing their specific role of supporting the citizens in need surely contribute to the reduction and gradual eradication of poverty.
 Additionally, they can assist young people by encouraging them to participate in social entrepreneurship internship and scholarship programmes and so instill a spirit of self-reliance  self-empowerment and self – employment with youth.  
For this reason, the "Fostering Social Entrepreneurship, Macedonia" project is empowering CSOs and leads them in their own development towards becoming strong social enterprises in the future. Subsequently, they can contribute to a long-term job creation for the marginalized groups of citizens who will be supported and protected by the new Law on Social Entrepreneurship that we are currently designing together with the MLSP members, CSOs, local municipalities and other relevant stakeholders such as the Ministry of Finance, Ministry of Economy  and the National Employment Agency. Despite the current hardships, the potential of Macedonian CSOs is very significant; working with very small resources, a handful of staff and volunteers will not stop them in their trying to develop social innovations and to enhance a system-based approach. Therefore a spirit of collaboration and a solid institutional support will be highly appreciated in the future.
Every country in the World has the climate for development of social Entrepreneurship. … Raising awareness about the social entrepreneurship and its importance is the first step, in which the active role of the Government of all levels, NGO sector and private sector should be seriously taken.
Q: Apart from supporting CSOs in their transformation you also work on reestablishing the eco system in Macedonia. You work on the legislation but you also work with the youngsters. Can you tell us why you think that the youth are important part in the whole story?
A: Macedonia needs some serious improvements in existing legal acts and to create a new generation of enterprises called Work Integration Social Enterprises (WISE), which provide an opportunity for job training of the excluded groups of people. Second type of SEs  would provide services of general interest in the fields of health care, psychology, mental health care, education and training, ecology  etc. reinvesting their profits back into the communities. 
There is a need to further examine the Act on Association and Foundations towards the inclusion of more 'enhancement tools' for the CSOs to start centres for social and professional integration e.g. start-up capital or tax exemptions when employing the disabled or the unemployed individuals. Such examples exist in France, Belgium and Poland. The mechanisms to strengthen the entrepreneurial approaches of the CSOs are required. In Macedonia, the Special Fund which financially supports the companies working with the disabled should also support the CSOs to create work places for the disabled.
 In Austria, Slovenia and in Poland, public benefit organizations can benefit from a new source of financing; namely each individual tax payer can chose a public benefit organisation to pass on to a 1% of their tax. This gives the CSOs more independence to invest resources from "the 1%" into projects aimed at the development of entrepreneurship and thus help them generate own resources and strengthen their statutory activities. It would be recommended that Macedonia applies a similar solution. 
The law on social enterprises needs to get adopted, but only after it gets the proper "shape" to meet the requirements from all partners – the  public authorities and social enterprises. The majority of CSOs support the idea of creating a special legal status for social enterprises. The Law would provide a consistent framework that would apply to all enterprises pursuing social aims regardless of their legal or organizational form.
Youth employment is also important integral part of the Law  offering future employment perspectives to the youth and developing a spirit of social entrepreneurship can only bring positive social changes for all in the future Additionally, stimulating youth to participate as interns within the SEs or writing a business plan could have long-term effects for the SE development in Macedonia and for the economy of solidarity as a new concept in the region. What is more, a new generation of social entrepreneurs might be created both with the Social Impact Award Initiative and with the EPTISA SE internships and educational business opportunities.
Q: In the last couple of months, you collaborated closely with the team of Social Impact Award Macedonia. Can you describe this experience? What are the benefits from this type of collaboration?
A: This is a great type of collaboration where people with passion and dedication create synergies in order to promote a positive social change, including young people, who very often cannot find their place in the society. Working with Mladi Info, the organization with the significant experience on youth integration and social entrepreneurship, visiting high schools and universities was an immense opportunity to reach out to pupils and students who are willing to explore their own potential in terms of developing social entrepreneurship ideas. By visiting several private and national schools and Universities, as well as CSOs working with youngsters we have managed to reach out to more than 200 students who will hopefully be encouraged and inspired to make the first significant steps in realizing their own SE ideas. Civic sector is a pillar stone in the process as they will open their doors in creating a significant social impact rather than maximizing private profit. Some of them can become  social entrepreneurs creating their own work places supported by Mladi Info within the Social Impact Award or can gather a knowledge and experiences thanks to the internship and scholarship programmes offered by the Project "Fostering Social Entrepreneurship, Macedonia" .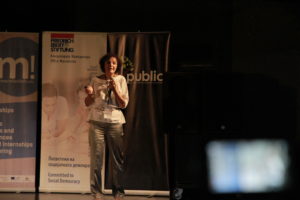 By creating synergies with the NGO Mladi Info and Eptisa we have the potential to influence young people to in the future think more in terms of awareness raising when it comes to create their own work places within the concept of social economy, where not only individual personal development but a concept of solidarity will be a light motive for developing future businesses in Macedonia. Both the EPTISA and the Mladi Info representatives believe that the meetings held with students will be fruitful and will have concrete results due to the fact that many students in the visited cities have evaluated the presentations and the workshops as very inspirational and useful for their future personal career development.
Q: How to motivate other people, organizations, institutions to join us on this journey?
A: All the parties involved will need additional education and expertise regarding the social entrepreneurship. This could be an eye-opener and an additional motivation for other organizations, institutions, companies etc. Mladiinfo and Eptisa strongly believe that the concept of SE starts with education, so the education tools and methods of trainings have to be prepared in terms of raising awareness and competences of local partners and staff. It is important to work on capacity building and create experience of working with disadvantaged individuals as well as working in the business sector. There are many competences required:  animation of local partners for cooperation, organising mutual exchange, supporting business side of social enterprises and networking with local businesses and municipalities. There is an additional need to gather experienced experts, people who have practical and not only theoretical experience in the field. Additionally, introducing and implementing the Law on Social Entrepreneurship could be an extra stimulus and a motivation for CSOs, institutions and companies as it could be a solid a base and a pathway to the SE development in Macedonia.
Q: Message for our young future change makers and potential social entrepreneurs?
A: Every country in the World has the climate for development of social entrepreneurship. Human potential among people, especially young people in Macedonia is significant and it only needs to be awakened and integrated within own society. Raising awareness about the social entrepreneurship and its importance is the first step, in which the active role of the Government of all levels, NGO sector and private sector should be seriously taken. The lack of awareness on this topic is the first obstacle in "healthy"development of social entrepreneurship and social enterprises community. Social entrepreneurship does not force us to choose between freedom and solidarity, but shows that true solidarity comes from liberty and it cannot be arbitrarily imposed.
As there is no dedicated special policy or budgets available for social entrepreneurship in Macedoania now, it is extremely important to involve the relevant ministries, CSOs, private companies (with  corporate social responsibility agendas)  and local municipalities and to create legal possibilites, financial tools and partnerships for social entrepreneurship and to prepare a common SE strategy. Therefore, it is extremely crucial to build new forms of partnerships which fall within the rules of the modern management philosophy. These emphasize that networks of institutions and a mutual collaboration are more important than traditional and hierarchical management models.