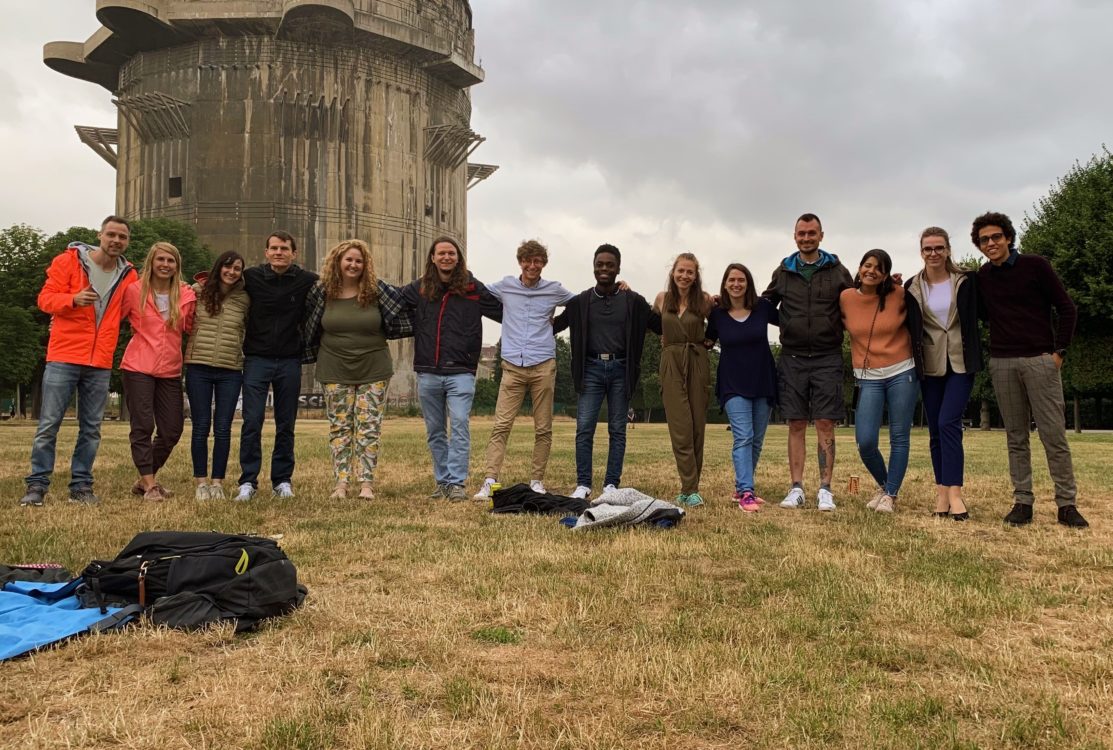 5 ways to build a long-lasting team
Whether you are a student working on a group project, or an entrepreneur running a company,  building a good team is hard. But what about building a team that lasts?
The pandemic put social ventures to the test in more ways than one. And as we've entered a "decade of disruption", social ventures will need to greatly increase their resilience to survive over the next few years, which includes their business and impact models, as well as their teams.
As part of a collaboration with Impact Hub Vienna entitled RE:Start, Social Impact Award is building a comprehensive support program to help social ventures increase their agility and resilience, which also includes a series of blog articles dedicated to sharing best practices on the topic.
This is the first of the series, and features key takeaways from Stefan Steinberger, the founder of Everyone Codes, who shared his experience on the topic of "building teams that last" to SIA Austria and Germany finalists at the incubation kick-off bootcamp. Titled "How to build a great team", his workshop got intimate about his journey as a social entrepreneur and gave concrete tips on building a team that lasts.
Stefan's journey
During the European refugee crisis in 2016, Stefan saw many refugees coming into Austria looking for work, but missing the skills that employers wanted. He saw a growing demand for IT professionals and came up with the idea of teaching refugees how to code. Unfortunately, with a background in economics, this would prove tricky, so he had to get creative.
He reached out to Vienna's Technical University looking for professors that could teach refugees how to code. During his search,  he found out many of the courses at TU that taught soft skills were overbooked and demand for the courses exceeded supply. Students generally knew how to code, but they needed to complete certain courses with soft skills to graduate. Stefan realized that if he could convince the University to create a new course where students would be the teachers (building their soft skills) and refugees would be the students, he would solve his two biggest problems: a lack of space and a lack of skills.
It worked. The University was convinced and even gave participating students the necessary accreditations to graduate. Refugees Code was born.
Since then, Stefan has built a team of 14 people across Austria and has expanded his program to support all people looking for work, not only refugees (hence the new name Everyone Codes). He's changed founding teams two times, and seen dozens of volunteers and team members join and leave his team. Here are 5 of our favorite key takeaways from his experience.
Stefan's takeaways
Figure out your theory of change, what core competencies are needed to achieve this, and which ones you bring to the table.
When you know what you are really good at and really bad at, it becomes much easier to build a team. The people you try and bring on board are here to fill the gaps, not copy your strengths.
Clearly define who the CEO is.
When your team doesn't agree, who makes the final decision? Clearly identifying who that person is and what their responsibilities are is key to making sure someone sails the ship while still leaving space to their team to build great things.
Discuss the mission statement deeply with your co-founders.
Being on the same page with co-founders requires lots of conversations. Ask yourselves questions like "where do we want to be in 5 years? What are we trying to change? How big are we trying to get?"
Discuss what happens if/when one of the co-founders leaves.
Statistically, it's unlikely all co-founders will stay co-founders forever. More often than not, co-founders leave, so it's better to be prepared when that happens.
Celebrate the small wins.
People tend to stay in teams where they feel appreciated. Simple acts of celebration like bringing cake to the office after a small success or going out to a team lunch will go a long way in making people feel happy about their work.
Building a social venture is not easy. It takes hard work, luck, and lots of help. Knowing how to build a strong, long-lasting team can make all the difference. Hopefully these tips will help you build a strong team for all your future endeavors. In the next article of our series, we'll discuss how to build a resilient business model.
Joint project with Impact Hub Vienna, funded by Wirtschaftsagentur Wien.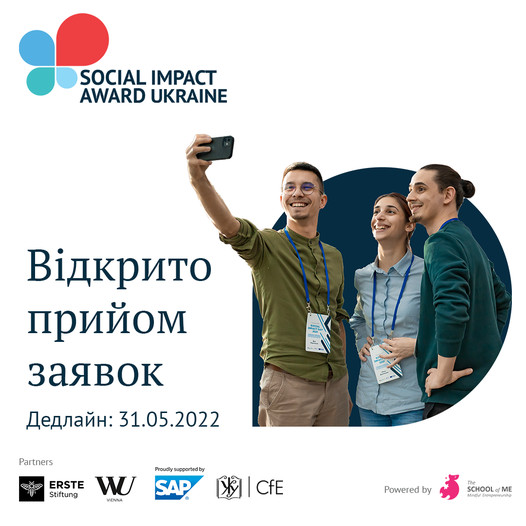 Our Decision to Run SIA Ukraine in 2022
"On February 24th 2022, Russian military forces launched a full scale invasion of Ukraine. Since then, violence and warfare has spread across the country, leaving thousands dead or wounded, and forcing more than 10 million to leave their homes. The situation remains extremely volatile.
Even in these circumstances, everyday activities in many parts of Ukraine have continued. Public transit, internet access, banking, grocery stores, and many more crucial services have remained open and active. Ukrainians have volunteered to support wartime efforts while also continuing their work and studies. This testifies of the resilience of the Ukrainian people: they truly believe moving forward is the only solution. 
The current situation has made it clear that our work has never been more important than now. We need to keep providing young people with a space to dream and keep providing the support to build solutions to these pressing issues. If not them – who? 
After careful consideration and conversations with our local Ukrainian implementation partner School of ME, we have decided to move forward with the 2022 edition of SIA in Ukraine. The motivation of our local team and our strategic partners, as well as the resilience of the Ukrainian people and global circumstances make it clear: running SIA is not only possible, it is necessary. 
The program will be run entirely online with a strong focus on solutions to the current crisis. Until the end of May, SIA Ukraine will run online discovery events, introducing young Ukrainians to the field and helping them develop an idea. Applications to the local incubation program will then open, giving both young people in the country and Ukrainian refugees outside of the country the chance to turn their idea into a functioning venture. 20 ventures will receive support over 12 weeks and the 5 most promising ventures will receive 1,500 euros to pursue their venture. The program will be run and supported almost exclusively by internally displaced organizers, coaches, and mentors, allowing them to continue working in their field.
We are happy to announce that our partner SAP will provide the necessary funding to put SIA Ukraine 2022 in motion. All programs in surrounding countries, including Hungary, Romania, Slovakia, and Georgia will continue with no interruption, and will put renewed focus on supporting solutions to the crisis. We will continue monitoring the ever-changing situation closely in collaboration with our local implementation partner School of ME. The safety of our participants, our organizers, and our community is our top priority. 
We look forward to this year's edition of SIA Ukraine and extend a big thank you to our partner SAP. Together, we can build a world where all young people are able to realize their potential as agents of change, regardless of circumstance."
– Ana Janošev & Jonas Dinger, Managing Directors of SIA
You can stay up to date on SIA Ukraine events and workshops here. As the conflict is ongoing, victims of the crisis still need support. You can find a comprehensive list of resources on how to help here. This link also covers resources for people in Ukraine in need of help.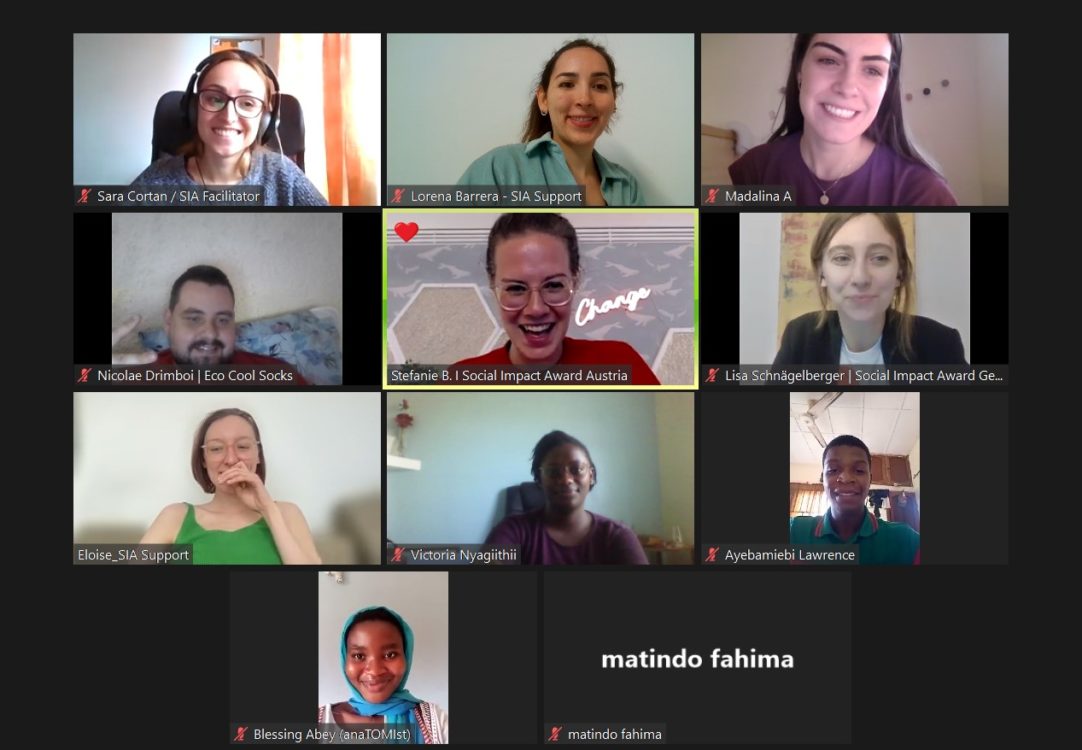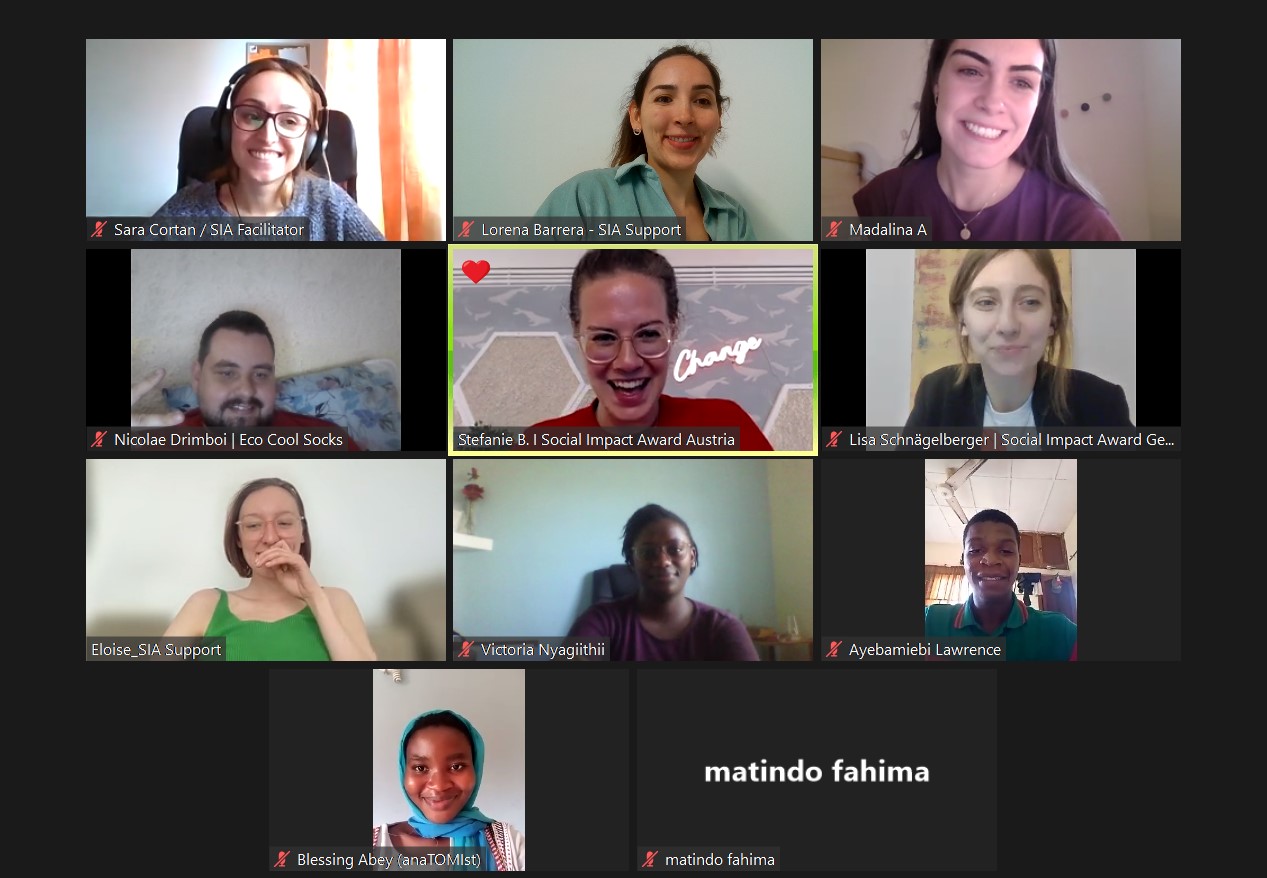 Exploring the Field of Social Entrepreneurship
As the climate gets hotter, wars get closer, and disasters grow bigger. many people, especially young, are turning their heads towards the field of social entrepreneurship. Opportunities are increasing and connecting one's purpose with their work is an attractive selling point.
Unfortunately, many still don't know where to start. Our field is not well advertised across Central and Eastern Europe, or in Africa and Central Asia. Becoming aware of existing opportunities is a challenge. And when someone does become aware, they often don't know where to get involved, or with whom.
It's no secret solving these two issues is a big reason why Social Impact Award (SIA) exists. They guide our activities, and most recently led to the creation of a new series: the International Social Impact Weekend.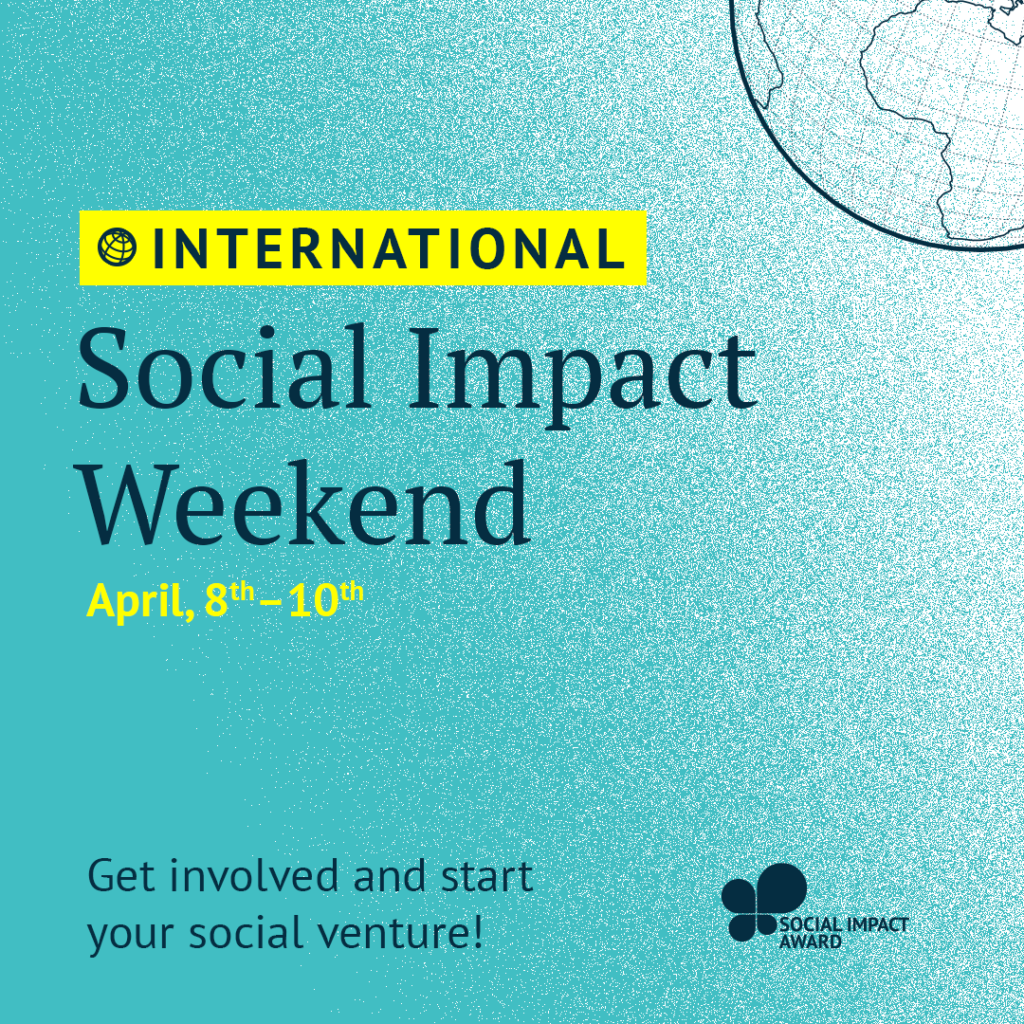 A 3-day, fully immersive experience into the world of social entrepreneurship, it's a place where people can come and try themselves out as social entrepreneurs. The most recent edition took place in April, and brought together participants from over 25 countries. On Friday, participants were given the opportunity to learn and exchange directly with past SIA alumni from Germany, Serbia, and the Czech Republic. They were then invited to share the problems they are interested in building solutions to and joined teams with others interested in the same topics as them.
The weekend focused exclusively on coming up with an idea for a venture and laying the groundwork for this idea to grow into a full-fledged venture. Participants were able to explore different types of business and impact models, understand how impact is measured, create and present a short pitch, and much more.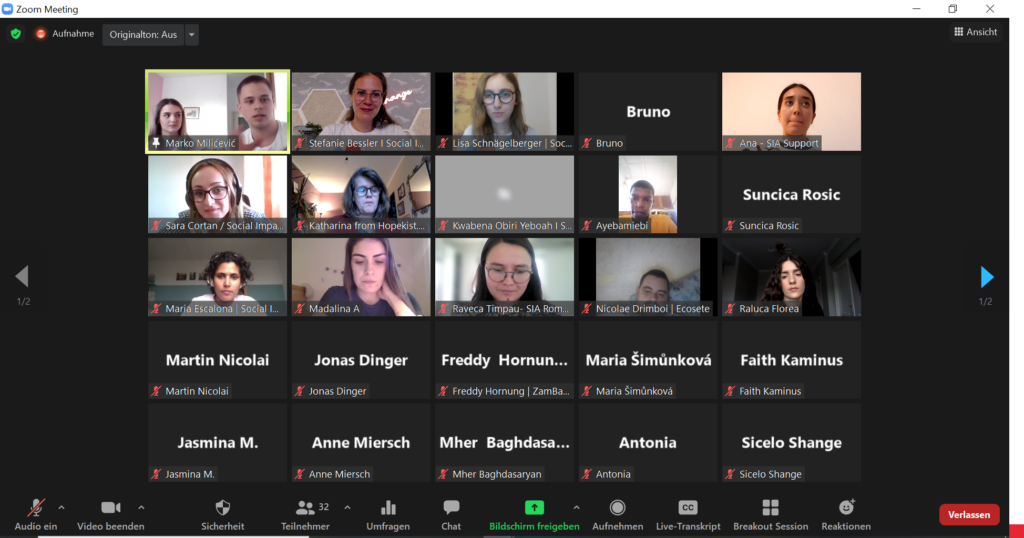 Another common issue for newcomers is the lack of opportunities to connect with experienced professionals from our field. For the first time ever, SIA collaborated with the Skoll World Forum, the world's most important conference on social entrepreneurship to change this. By offering the International Social Impact Weekend as an ecosystem session to participants of the Skoll World Forum,  young people from under-represented ecosystems such as Kenya were able to learn and connect with professionals from experienced ecosystems, such as Sweden. Not only is this a valuable learning exchange for both groups, it allows inter-personal connection across countries at a time where xenophobia and nationalism are rampant.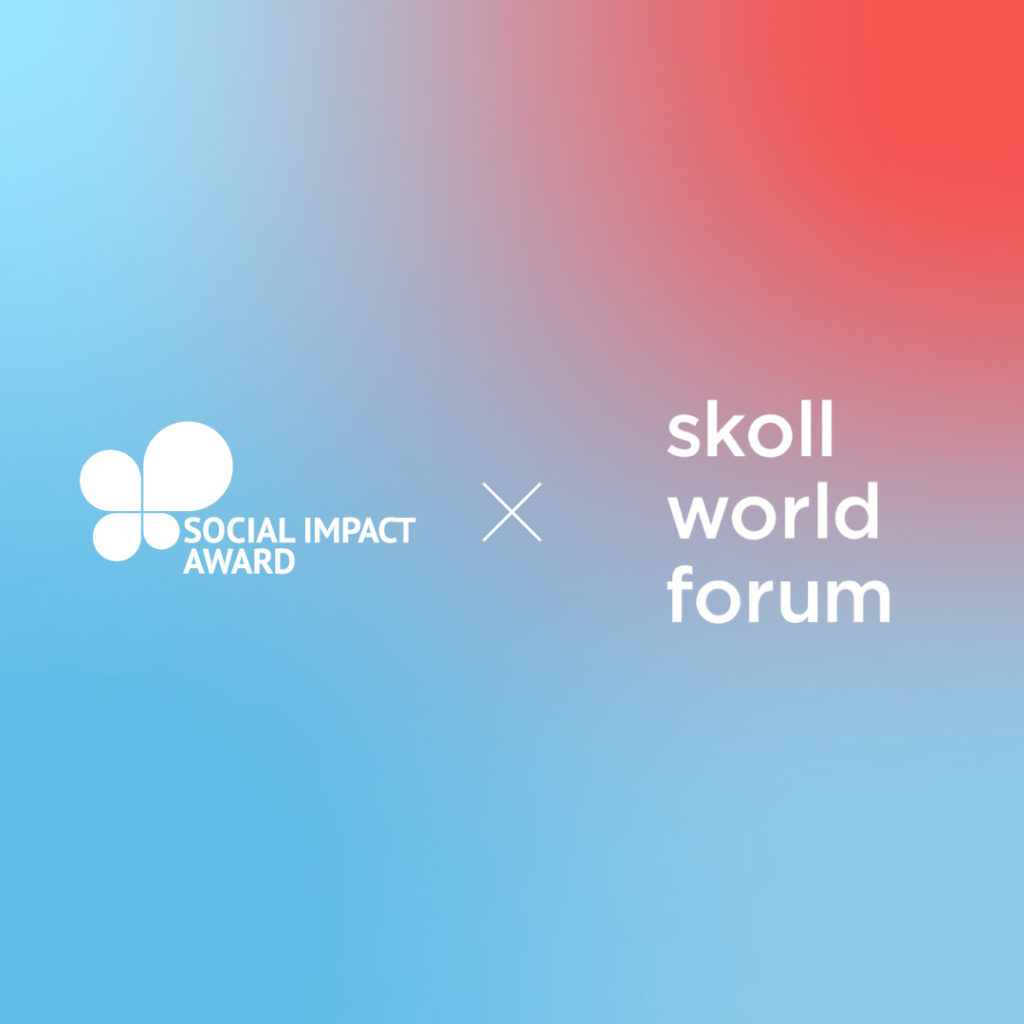 Having this kind of safe space to explore the field is crucial. If you're looking for similar opportunities, stay up-to-date with our local events and workshops on our facebook page. And if you've decided you'd like to build a venture, you can already apply to your local incubation for support.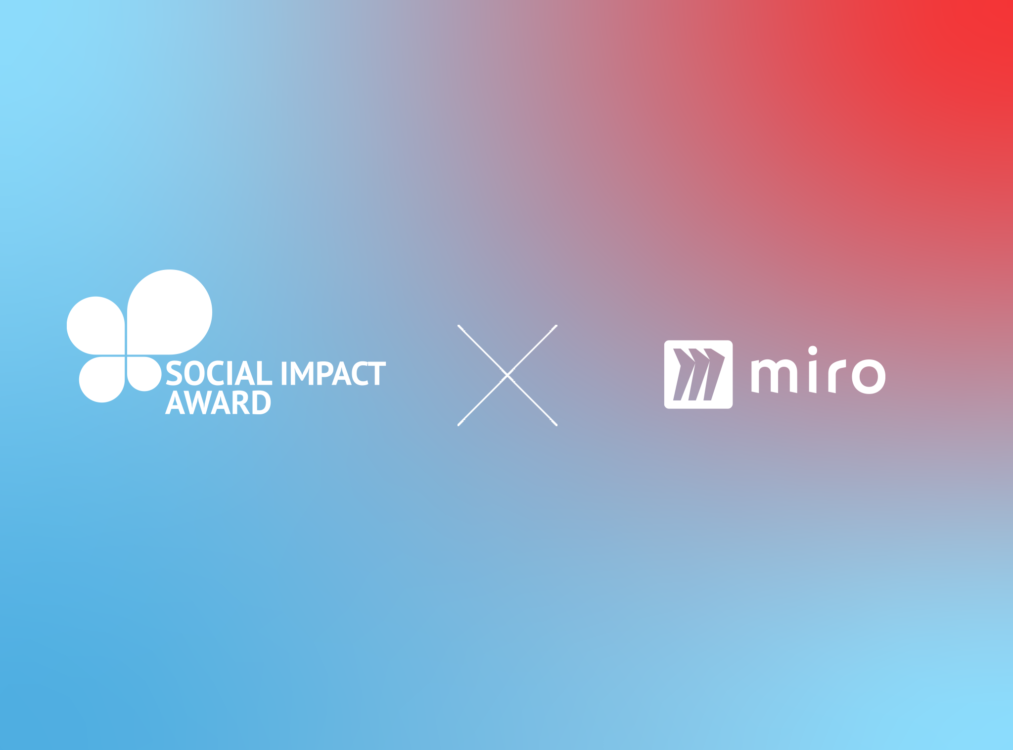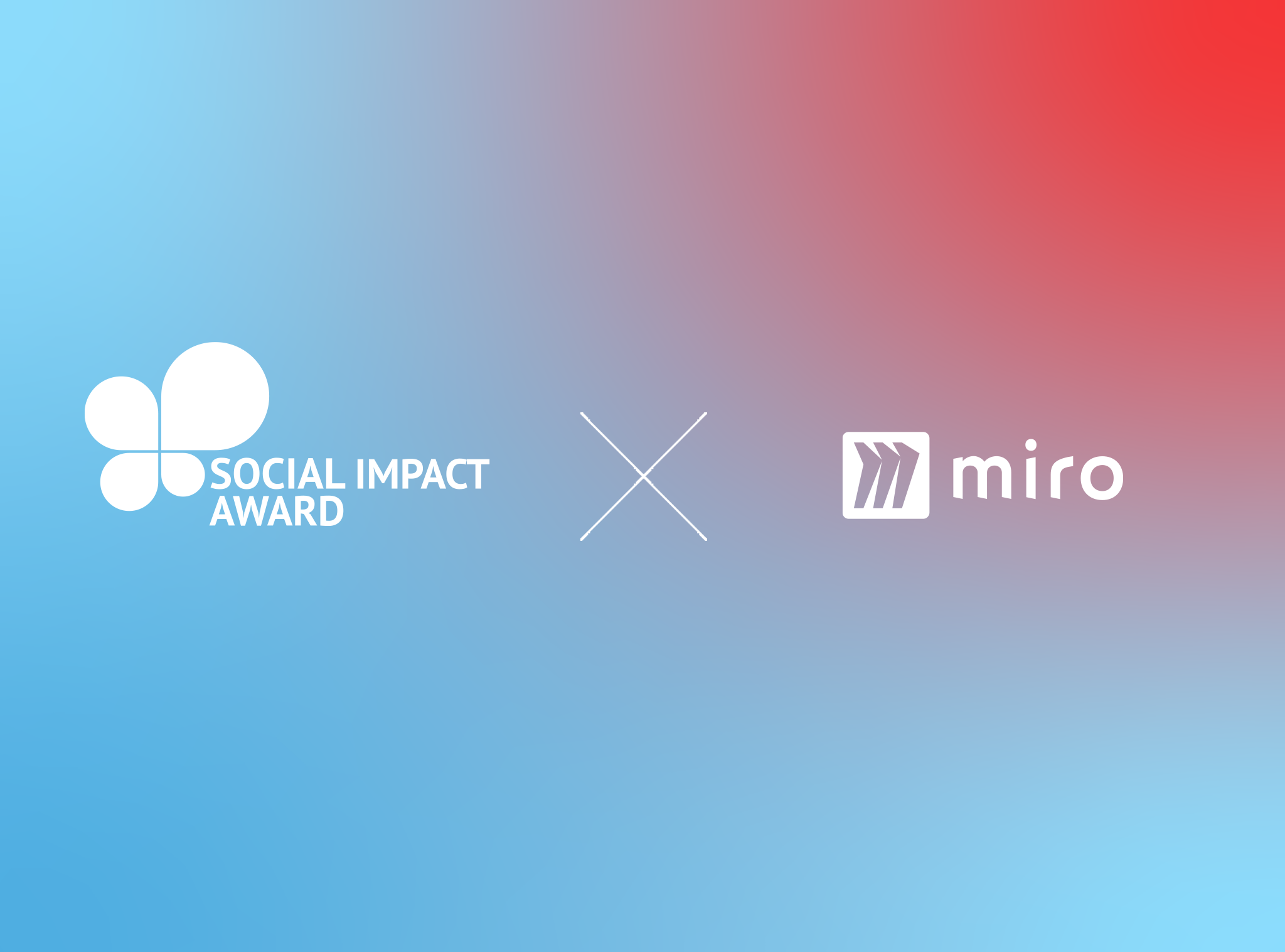 SIA x Miro – Unleashing our global community
We've partnered up with Miro, the leading online collaboration company, on their start-up program to provide SIA alumni with access to their digital tools. We're big fans of Miro and regularly use their tools for our work at Social Impact Award. In a previous article, we showed how we use Miro in our operational and strategic processes. This time around, we'll share a little bit about how we use their tools to organize our community elements.
Team retreats
A few times a year, we get our diverse SIA teams together in one place to connect and plan. With a team spanning across 19 countries, these spaces produce some of the glue that holds us together as well as keeping us motivated and organized. Miro has become an important part of setting up these retreats and running them successfully. We use a wide range of personal and community-built boards for brainstorming, structuring, and more.
Community Gatherings
Our international SIA team runs yearly community gatherings bringing together hundreds of young people from around the world online and in-person (depending on Covid-19 restrictions). These gatherings allow our international community to meet and feel part of something much bigger then their local program. They are also spaces for deepening knowledge and acquiring new skills to take their ventures forward. We use Miro to organize these gatherings, and often use it during skill-building sessions. For example, our Summit requires months of planning, which Miro allows us to centralize and organize as we see fit.
These are some of the ways we use Miro for our work. These tools have helped us in many ways, and we're excited for SIA alumni to make the most out of their offerings.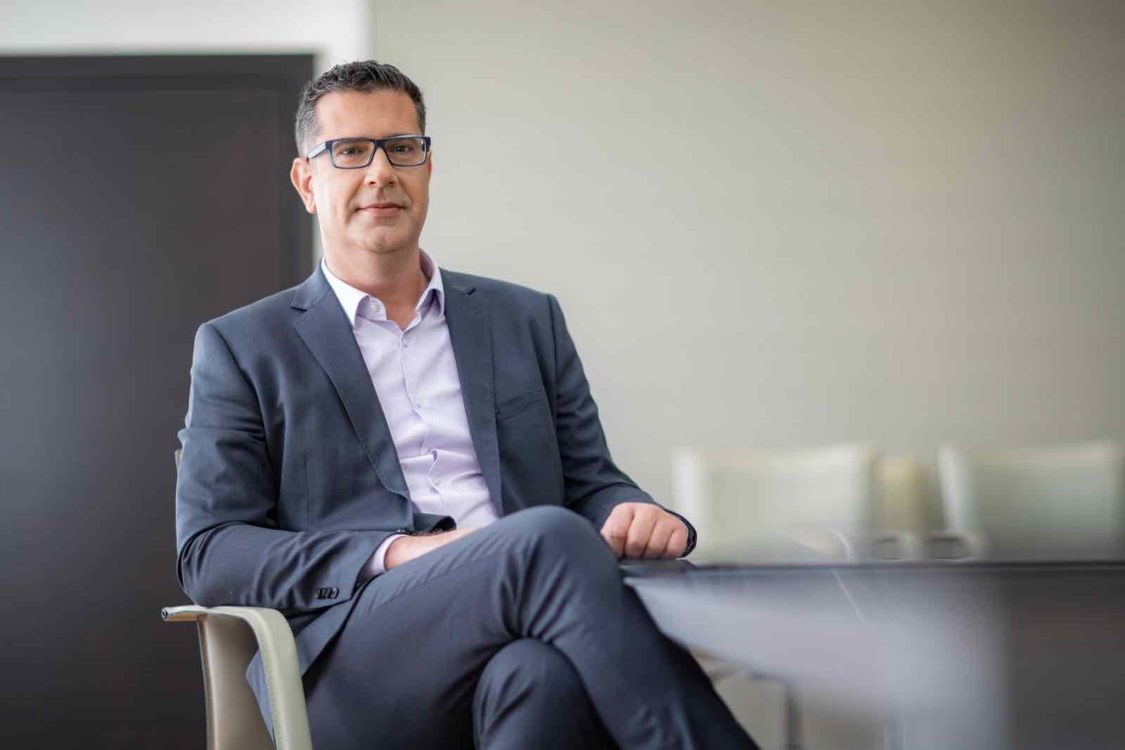 Making SIA accessible to rural areas: In conversation with Aleš Bržan
Our work at Social Impact Award (SIA) is deeply rooted in local realities. We strive to make our offerings accessible to all, by working with partners embedded in local communities. Whether living in rural areas or larger cities, this approach allows us to appropriately meet the needs of young people across all our regions of activity. 
Our work with municipalities has played a crucial role in making this approach successful. Local government institutions have very strong and personal ties with the communities they serve, and witness first hand the value of supporting young people to build careers with purpose. By working with SIA, they invest in the future of local youth and send a clear signal that they believe in young people's potential to make a difference. 
Last year, SIA Slovenia and the municipality of Koper in Slovenia worked closely together in order to give all young people in their community access to the SIA program. We sat down with Koper's mayor Aleš Bržan to discuss the importance of investing in young people at the local level. 
In 2021, you worked closely with SIA to bring the program to your municipality in Slovenia. How did this collaboration come about?
Support for social entrepreneurship is one of my key campaign promises and I always keep a close eye on any program empowering young people to develop and implement innovative business solutions. I firmly believe social entrepreneurship is a very effective way for young people to create improvements in society.
How can social entrepreneurship contribute to a more just, sustainable, and prosperous future for your region?
The City Municipality of Koper is at a crossroads, both literally and figuratively. With several main road entry points into Slovenia, rail connection to Central and Eastern Europe and with the Port of Koper, the major contributor to the economy, Koper is dealing with the social and environmental impact of transport. At the same time, Koper also has important natural resources with our unique ecology and biodiversity. To protect our economy, environment and future, we need to develop new sustainable transport systems, we need new ideas, new solutions. We need young people to get involved in creating new sustainable business models and young people need to have their say in how to limit current environmental, social and economic costs for our economy. 
How do you see Social Impact Award contributing to the future of your municipality?
We are glad Social Impact Award has raised awareness for social entrepreneurship in our municipality and believe it will steer us towards an economy built for prosperity, not just profits.
For a deep dive into our work with municipalities, take a look at our Global Impact Report 2021.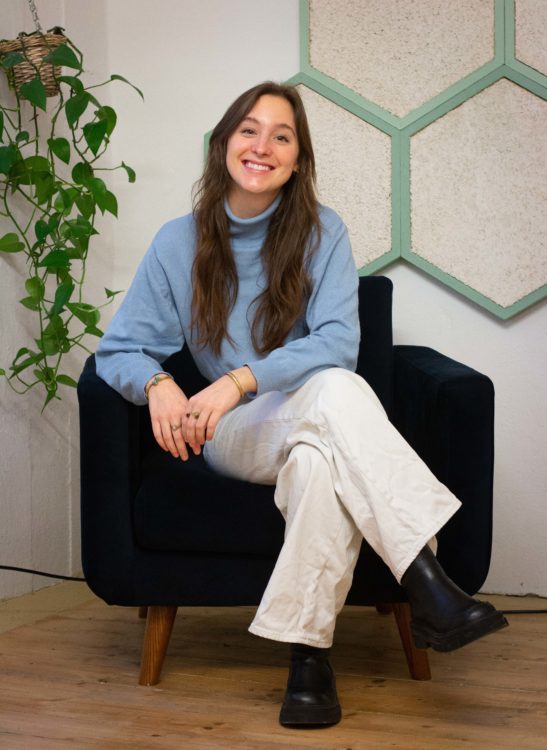 Meet Ronja Kötzer, our new Communications Support
Ronja Kötzer is a fresh face at Social Impact Award (SIA) International. She recently joined our team as Communications Support to take communications for SIA Austria and SIA Germany to the next level.
We sat down with her and spoke about her journey before SIA, what motivated her to apply, and what she's most excited about in her new role. She was kind enough to also share her most embarrassing professional experience, which involves one of the most important women in the world. We hope you enjoy the conversation!
Let's start from the beginning. Where are you from, and how did you end up at Social Impact Award? 
I grew up in Stuttgart, in Germany, and moved to Passau for my studies. Passau is quite small so I knew everyone and was in this great little "student bubble". I really enjoyed it but was looking to expand my horizons, so I moved to Berlin and did an internship at the German parliament. 
Coming from the countryside, Berlin was a bit too crazy for me. I applied to study in Vienna and have been here since October. I came across the opportunity to join SIA shortly after moving and the rest is history!
What motivated you to be a part of the SIA international team as Communications Support? 
I want to empower people to do good around them. Our world is very broken, so I think it's important to give young people opportunities to see that making a change doesn't have to be complicated. SIA walks people through their first experiences in this field, showing them how to make a difference. I really believe that every venture has the potential to make an impact on a large scale, and this belief is what motivated me to join SIA. 
What excites you most about this new experience? 
I'm most excited about exploring our community. SIA is the biggest community of young social entrepreneurs in Europe, and I've never experienced anything like it before. Getting to connect with young people from around the world is a unique opportunity. Many members of the community are one step ahead of me in social impact work, so I'm looking forward to learning from them. 
My work is mostly focused on Austria and Germany, so I'm also looking forward to understanding the differences between the two ecosystems and learning more about what makes youth in both countries unique. The two countries are so geographically close and the language is pretty much the same, but people are still very different. What do their ideas and their plans for the future look like, and how different are they? 
Let's switch gears a little bit. The world wants to know, what's an embarrassing fact about you? 
I'm quite a clumsy person, so I fall and make things fall quite often, especially in front of other people. My worst bout of clumsiness, however, was when I spilled coffee on Angela Merkel's shoes while working at the German parliament. I was tasked with giving someone next to her coffee and accidentally made some fall on her shoes. It was very embarrassing, but nothing bad came from it!
Want to know more about other members of our team? Check out our most recent interview with the new Managing Directors of SIA.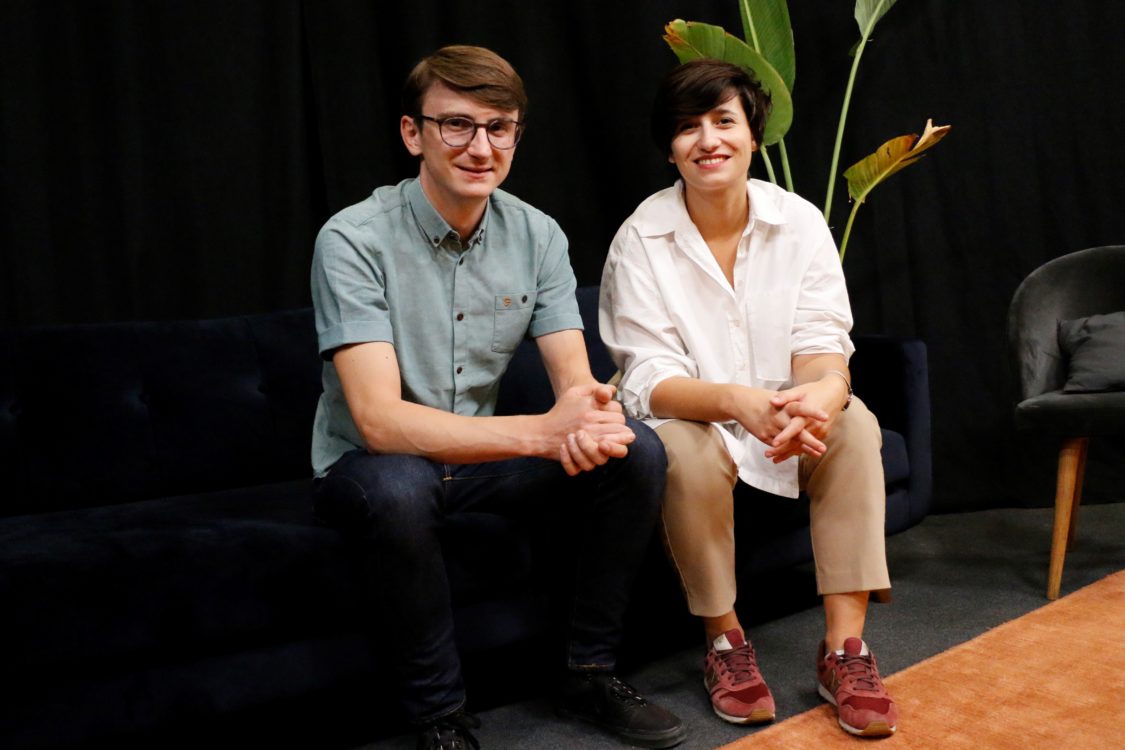 Meet Jonas Dinger and Ana Janošev, SIA's new Managing Directors
In December, we announced that the long-time Managing Director of Social Impact Award (SIA) Jakob Detering would step down to make space for Ana Janošev and Jonas Dinger, who will lead SIA into the future. 
The pair has been with SIA for years, and is already working hard to take SIA to the next level. We sat down with them to discuss the experiences that shaped their journey with SIA and get some insight into how they envision the future of the organization. 
Can you tell us a bit about your personal journey and how you ended up at SIA? 
Jonas: Originally from Germany, I moved to Vienna in 2015 and began working as a junior researcher at the Social Entrepreneurship Center for the Vienna University of Economics and Business. This new job included work with SIA, so I pretty quickly took part in workshops all over Austria. After seeing how much the workshops impacted participants, I "officially" joined SIA as country coordinator for SIA Austria and later became our Development Lead, responsible for pushing SIA forward geographically, programmatically but also financially. 
Ana: I got involved in the social entrepreneurship field in Serbia in 2015 and soon after became the coordinator of SIA Serbia. I found myself passionate about building this international community and building connections across borders among our partners, so I gradually increased my engagement with SIA's international community. I offered to support the international team in Vienna with these efforts and joined the SIA international team in 2018. The rest is history!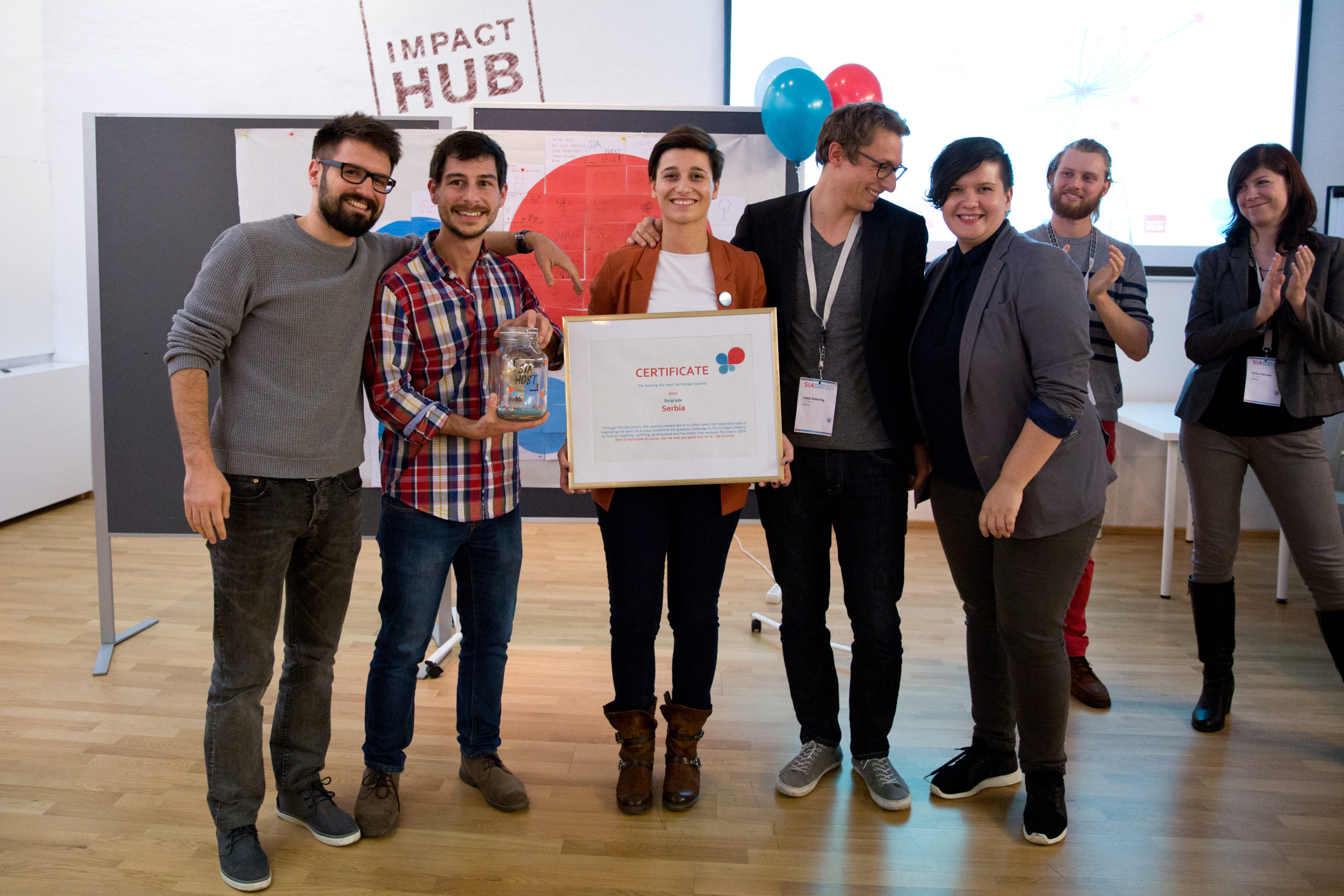 Ana, middle, country coordinator of SIA Serbia.
Having been around for a while, you know SIA inside-out. How have your experiences shaped how you're approaching this new role?

Ana: We spent so much time working as and with local SIA hosts that we fully understand local realities, team structures and resources. A big part of what we do at SIA is deeply rooted in these local realities and depends on the strength of our hosts. Having a hand on the pulse will play a big role in how we grow and expand our work and our network in the future. 
Jonas: SIA has greatly evolved as a community in the past years. Ana and I have always been part of this evolution, which has played a defining role in our personal development and journeys. I think we have both seen from up close what SIA is capable of and how it can transform lives. We want to give everyone the possibility to experience that for themselves. 
What was a defining moment in your journey with SIA?
Ana: The first community gathering of all SIA hosts took place in 2017. I was struck by how down-to-earth and "human" the gathering was. We were all invited to be vulnerable and share our feelings, fears, and failures. This approach enabled real connections between us and I came away knowing I would always want to work in such an environment.
Jonas: In 2016, I facilitated a workshop in Vienna, where a group of five girls met for the first time and decided to work on an idea together. They came back to the next workshop, and the next, and applied with their idea. They were selected as finalists and won the Social Impact Award at the end of the year. Of course, the story would be perfect if their venture was still up and running. While that isn't the case, this experience had such a strong effect on them that most of the former team has gone off to build a career in the impact field. Being able to witness their personal journey and their venture's growth was eye opening, and showed me what SIA is all about: helping young people realize their potential as agents of change.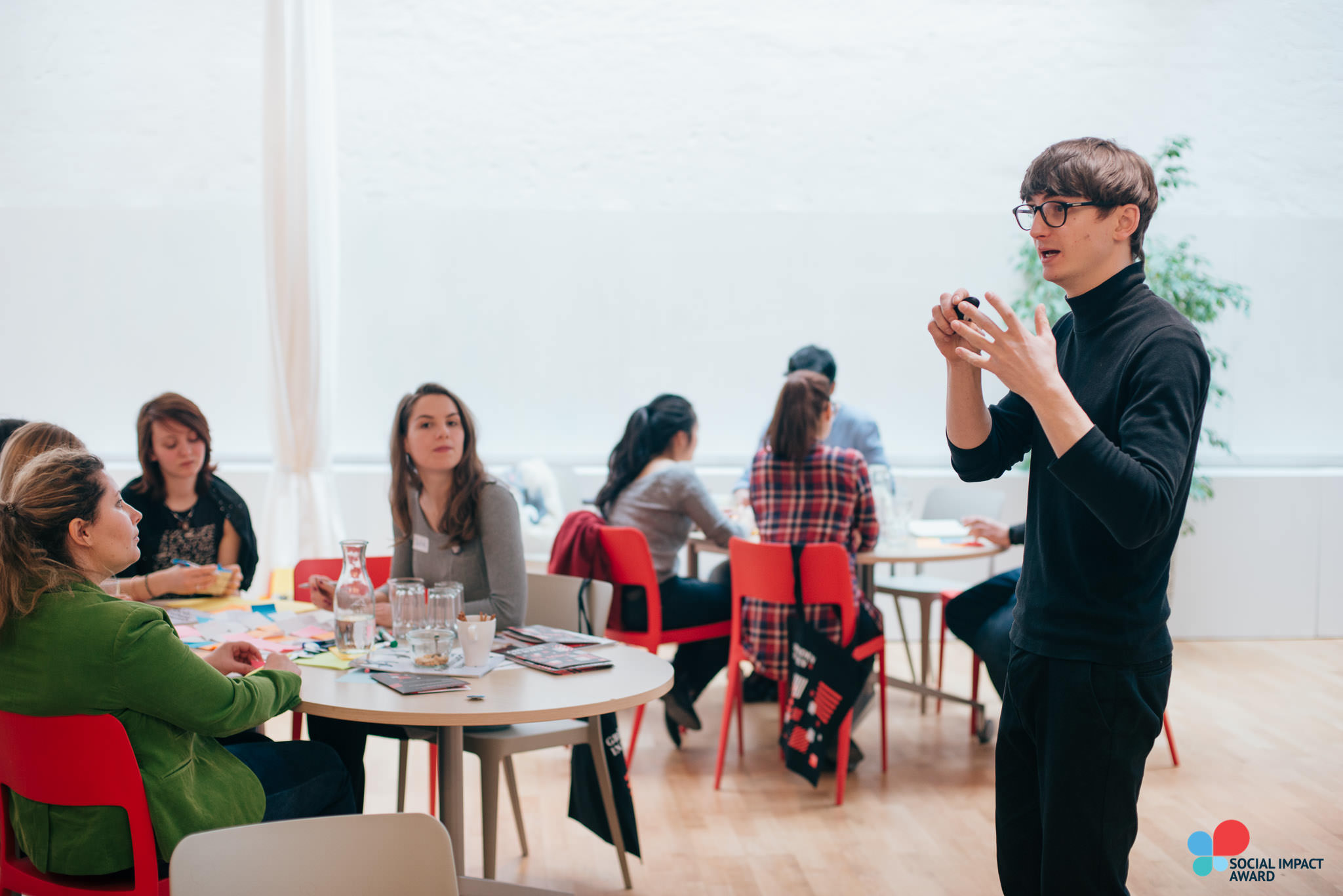 Jonas, right, country coordinator of SIA Austria.
You guys are taking over against the backdrop of a global health crisis, an unfolding climate crisis, shifting political tides, growing polarization, and much, much more. What is SIA's role in this reality?
Ana: Social Impact Award provides a stable and supportive space for young people to build on their passions, learn new skills, and explore their own potential in these uncertain times. This support is invaluable in giving every young person an opportunity to build solutions to the problems they care about. 
Jonas: The world needs the ideas and engagement of youth to face these challenges. Social enterprises and social innovations play a crucial role in shaping the future, essentially modeling ways that we as a society could organize ourselves, work, live and interact with each other in a more just, equitable and sustainable way. Social Impact Award's role is to enable young people to explore and build the solutions of the future.
Speaking concretely, what's on your agenda for the next few years? 
Ana: Our priorities for the next two years are fully in line with our 2023 strategy. We are heavily focusing on scaling and deepening our offerings, namely by expanding to new countries and by improving the quality and reach of our offerings locally. Our strategic partners play a crucial role in this and we are very excited to see our partnership with SAP Global continue to unfold. 
Jonas: If we want to build the world of tomorrow, we need to bring more diverse voices and supporters into our movement. From including more young people that have been left behind, to establishing our support offers in underserved areas of the world, we'll work to make our field more inclusive, more resilient, and more impactful. 
Learn more about Ana and Jonas' predecessor Jakob Detering and his experiences leading SIA.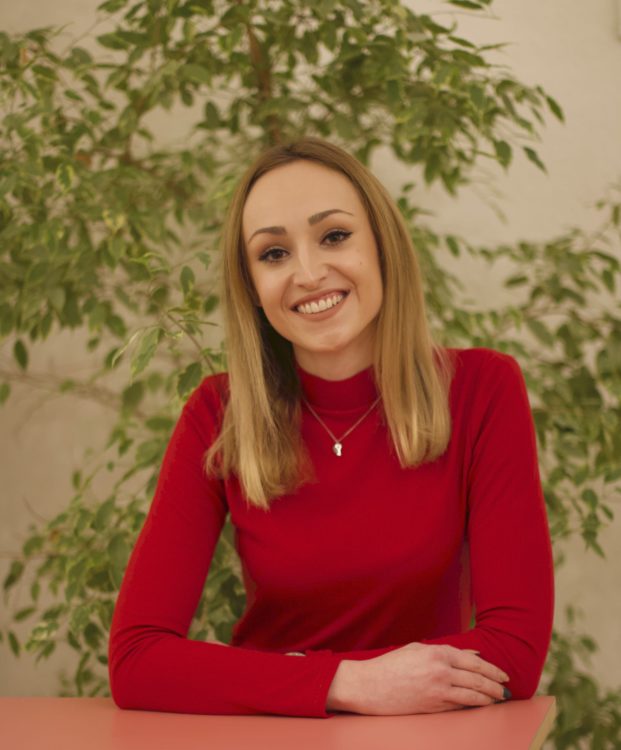 Meet Sara Čortan, our new international coordinator
We're proud to introduce our new international coordinator, Sara Čortan. She's hardly new to Social Impact Award (SIA): she coordinated SIA in Serbia for years. She's now moved on to our international team and is ready to build a strong community of SIA hosts around the world.
We sat down with her to discuss how she first got in touch with the social entrepreneurship sector in Serbia, and what she hopes to bring to her new role. Enjoy!
How did you first get involved in the social entrepreneurship sector? 
I had always been interested in the social sector. I studied social work and social policy at university, and started working in that sphere after graduating. A friend told me about a volunteering opportunity at the SIA Summit in 2017, and without knowing anything about social entrepreneurship I decided to help out. The energy was immense. Seeing like-minded people from all over the world come together made it clear that I wanted to be a part of the community. I became a volunteer for Razlivaliste, the SIA Serbia host and became coordinator of the SIA program 2 years later.
You speak about energy. What about the energy made the difference for you here? 
I'm always focused on the energy, it's a guiding principle in my life. The energy in our community is different. It's young, dynamic, centered around having fun and making a difference. It's hard to describe, but it's what got me interested in SIA and what gives me a sense of belonging here. 
Your new title is international coordinator. Can you describe this role? 
As international coordinator, I am here to enable hosts to deliver the highest quality program possible. To do so, I build connections between countries, share important information and content, as well as nurture a strong community among hosts. 
How does your experience as local coordinator in Serbia shape how you approach this new role? 
Local hosts have very specific needs, which I've personally experienced. Now that I understand the international perspective, I'm well prepared to build tailored support offerings that not only address these personal needs but also create spaces for hosts to grow and learn on their own. 
The pandemic has been pretty crazy for you with work. You ran the SIA program and made a career move during Covid-19. How did you handle all of this? 
I had lots of personal struggles during the pandemic. I took some courses around personal development and did lots of work on my mental health. This made me realize I spend so much time caring about others that I have a tendency to forget about myself, so i'm working on changing that. 
You're a proud Serbian. What do you think is Serbia's gift to the world? 
Going back to energy, I think Serbia has very unique and beautiful energy. Our country's struggles have made us resilient, warm, and sometimes a bit crazy, but mostly in a good way. That resilient spirit is very special. Also, our famous liquor Rakia! 
You can keep in touch with Sara's work via Linkedin. 
Interested in meeting more members of our team? Check out our recent interview with Lisa Schnägelberger, our SIA Germany coordinator.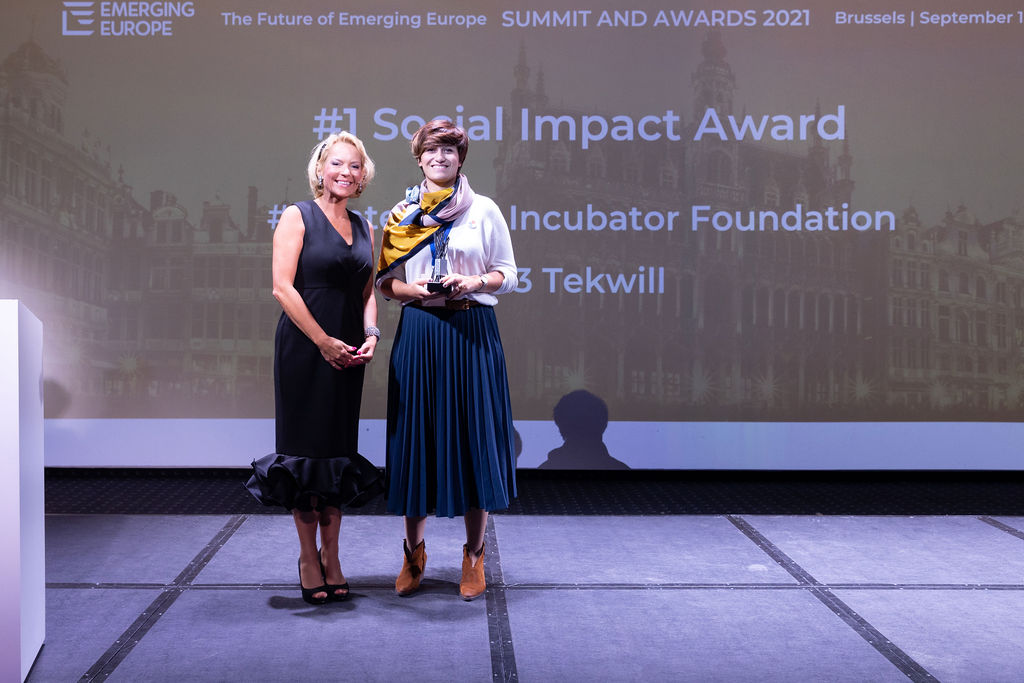 SIA Takes Home Gold at Future of Emerging Europe Awards 2021
Photo credit: Octavian Carare, Emerging Europe
We took home 1st place in the category "Inclusive Entrepreneurship" at the Future of Emerging Europe Awards 2021 for our work with marginalized groups during the pandemic.
The start of the pandemic in 2020 coincided with the beginning of our ambitious 4 year strategic plan, which included a key target group for our support activities: "marginalized communities". This group grew substantially over the year due to the economic and social ramifications of COVID-19.
From 2020 onwards, we actively expanded our programmatic elements to rural areas, made them more accessible to people with disabilities, and started building local and international partnerships to access these communities. Just one example of this was SIA Georgia's partnership with UNDP Georgia, which allowed us to provide internet to participants living in remote villages. This allowed marginalized communities to participate in the program and build their ventures.
Fast forward to 2021 – we got nominated by Emerging Europe for the award and competed with 2 other organizations for first place in a public vote. We received the most votes and took home the Gold in Bruxelles. Other winners included Svetlana Tikhanovskaya, the leader of Belarus' opposition movement; the leaders of the All-Poland Women's Strike against abortion; Youth Cancer Europe, a community of young cancer patients and survivors working to improve the lives of those suffering from the disease; and more.
Social Impact Award was nominated for strengthening support for young entrepreneurs from across the Southeast Europe region in building social enterprises that solve most challenging issues in the time of a global pandemic.

A big thank you to Emerging Europe for nominating us and to the general public for voting for us. This award goes out to all the marginalized groups we've had the chance of working with these past two years: you are all amazing and deeply inspirational.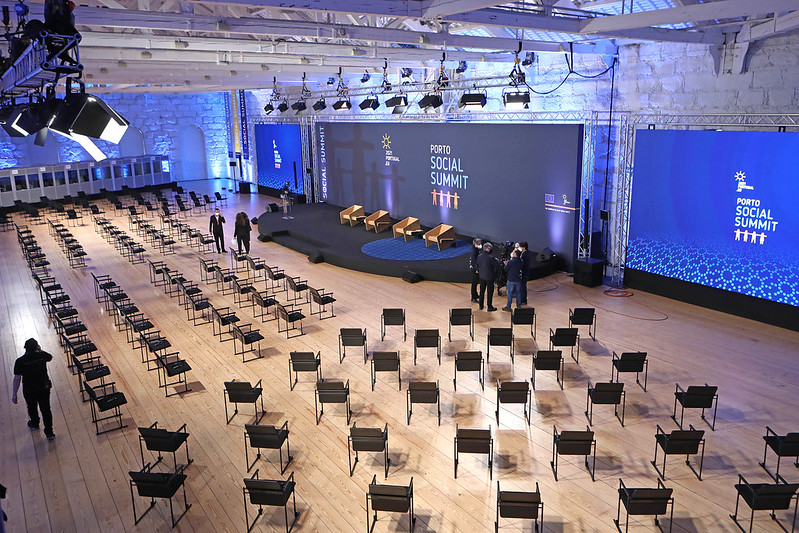 Is Social Entrepreneurship About to Change Forever?
With in-person gatherings kicking off once again, European heads of state and government officials met in Portugal for the Porto Social Summit. The Summit aims at setting the European agenda for the next decade to ensure Europe faces the challenges of the present and of the future without leaving anyone behind.
For the first time ever, members of the European social entrepreneurship ecosystem were invited to attend. One of these lucky invitees was Neven Marinovic, President of Euclid Network and Executive Director of Smart Kolektiv in Serbia. As Neven is also a member of Social Impact Award's advisory board, Jakob Detering, Managing Director of SIA, had the pleasure of sitting down with him (over zoom) to discuss his experience at the Summit and how policy-makers envision the future of social entrepreneurship.
We hope you enjoy.
If you prefer listening to the 20 minute conversation rather than reading through, we uploaded it to youtube.
Neven, thank you so much for taking the time! A few weeks ago, you had the chance to participate in a pretty fancy conference. Before we dive into the content of the Summit, I'm curious to know: how was the atmosphere at the conference, considering it was one of your first in-person conferences since the start of the pandemic?
For me personally it was very exciting because it was not only one of my first in-person events but also my first opportunity to travel abroad in a very long-time. From the start of the journey, not just at the conference, you can sense that things have changed. There is tension in the air already at the airport. Although the event was a unique opportunity to get together, it was heavily influenced by the COVID protection measures. We needed to keep distance from one another, which stopped us from having informal one-on-one conversations with people.
It did take away a lot from the purpose of the event, since such a big part of these events is meeting and interacting with people directly, which we could not do as easily.
Now, as for the content. The summit resulted in the adoption of the Porto Declaration on Social Affairs, which, as I understand it, puts emphasis on an inclusive recovery from the COVID-19 pandemic. What is meant by that?
I think the main point being made at the event, with the heads of state of all European Countries, leaders of the Parliament, of the European Commission, and all others is that Europe will not abandon their welfare state model. They acknowledged that even when facing this economic crisis and all kinds of other issues, what makes Europe unique and strong is its welfare state model. It will not only be kept but upgraded and improved with modern trends in mind.
The fact that you, in your role as the President of the Euclid Network, were invited to this event makes me think that these leaders are considering social entrepreneurship as an important part of the recovery. What do you think is these leaders' expectations of the social entrepreneurship field?
First of all, to be quite honest, Euclid and other members of the social economy are newcomers at working with high-level political leaders. This is the first time members of our ecosystem were invited to this kind of event, which is a big step forward. Unfortunately, since these relationships are so new, we are not yet fully integrated in their understanding of policies and they don't fully understand why we are relevant to their goals.
Second, I think they see social entrepreneurship more as a tool to address other issues like inclusion, unemployment, skills development, the green transition, etc. They don't understand that the social economy should be a goal in itself, that it should not be marginal but rather mainstreamed and its principles should be brought into the European economic model.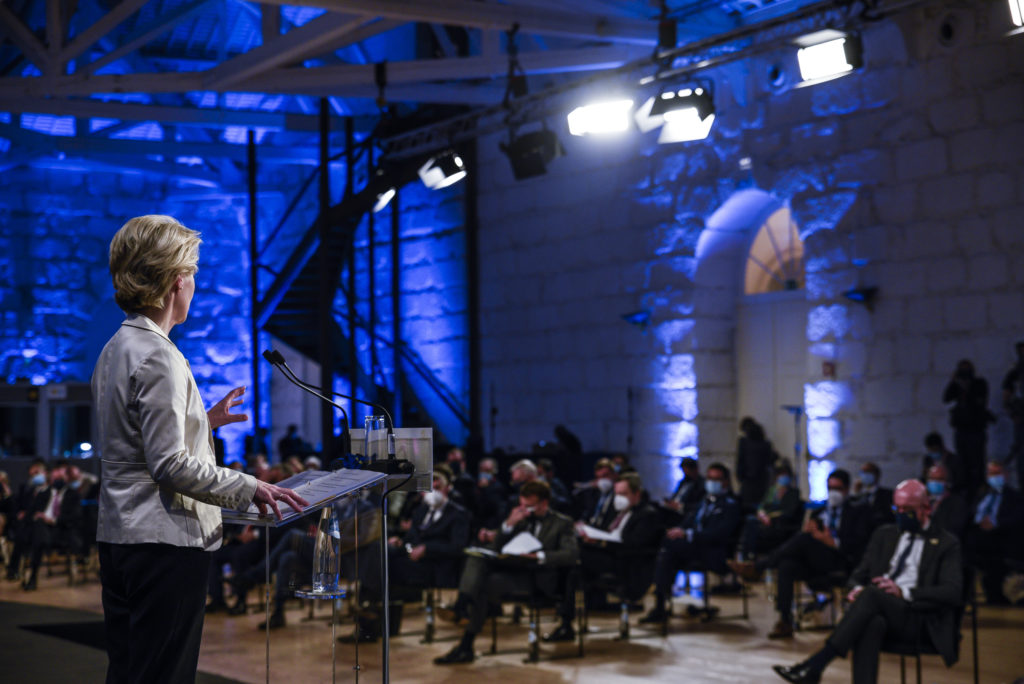 To build on the last part of your statement, what are your demands for the social entrepreneurship ecosystem?
I think social entrepreneurship as a philosophy has much more transformative power than is being recognized. For the long-term health of our society, if we want to live in a healthy environment, with an economy that functions well, without putting too much pressure on people and the planet, the principles we preach as an ecosystem are the way forward. For now, it seems like social entrepreneurship is still too marginal for people to recognize its power.
When politicians think about labor rights or marginalized communities, they think of compliance. They try to make businesses more compliant with a set of issues. It should, however, be the other way around. The social entrepreneurship model already embeds these issues at the core of its work, which should be supported by governments and institutions through funding and policies to solve the issues at hand.
I want to focus on one element that is particularly important to us at SIA: youth. French President Emmanuel Macron emphasized the role of youth in the recovery effort. What do you think youth's role should be in this and how can SIA support?
I think there is much more recognition on why it's important to work with youth at all different levels than why it's important to support young social entrepreneurs. SIA is in a good position because it works directly with young people, helping them build important skills and knowledge that will play a key role in the transition. It's really crucial for SIA and other members of the ecosystem to keep engaging with young people on the implications of this transition and help them build the necessary skills that will help them stay valuable over time.
What would be your message to our more than 1000 alumni ventures working across the world whose business and impact models were and still are under substantial pressure from the pandemic? Can they be hopeful that leadership will recognize their importance and value?
I don't want to sound unrealistic and say that everything is going great. However, I do think that social entrepreneurs across Europe should be hopeful, because there is definitely a clear understanding both at the country level and at the EU level that there should be more instruments out there to support and fund social ventures.
On the negative side, the wheels of EU bureaucracy move quite slowly. I am still quite hopeful after seeing how quickly they moved during the pandemic to mitigate the crisis. There are already policies in place, so it is just a matter of time until they become more comprehensive.
Finally, this leaves me with what we need to do as actors. We need to push harder. Some of the stakeholders were very well prepared and have been in the conversation with policy-makers for a long-time. Our goal should be to come together as an ecosystem to ensure our voice is heard and put positive pressure so the entrepreneurs we work with get the support they need.
Almost there
You need to register in order to submit your bulletin & vote.
We care about your privacy.
Read Privacy Policy .
× close