Meet Jonas Dinger and Ana Janošev, SIA's new Managing Directors
In December, we announced that the long-time Managing Director of Social Impact Award (SIA) Jakob Detering would step down to make space for Ana Janošev and Jonas Dinger, who will […]
In December, we announced that the long-time Managing Director of Social Impact Award (SIA) Jakob Detering would step down to make space for Ana Janošev and Jonas Dinger, who will lead SIA into the future. 
The pair has been with SIA for years, and is already working hard to take SIA to the next level. We sat down with them to discuss the experiences that shaped their journey with SIA and get some insight into how they envision the future of the organization. 
Can you tell us a bit about your personal journey and how you ended up at SIA? 
Jonas: Originally from Germany, I moved to Vienna in 2015 and began working as a junior researcher at the Social Entrepreneurship Center for the Vienna University of Economics and Business. This new job included work with SIA, so I pretty quickly took part in workshops all over Austria. After seeing how much the workshops impacted participants, I "officially" joined SIA as country coordinator for SIA Austria and later became our Development Lead, responsible for pushing SIA forward geographically, programmatically but also financially. 
Ana: I got involved in the social entrepreneurship field in Serbia in 2015 and soon after became the coordinator of SIA Serbia. I found myself passionate about building this international community and building connections across borders among our partners, so I gradually increased my engagement with SIA's international community. I offered to support the international team in Vienna with these efforts and joined the SIA international team in 2018. The rest is history!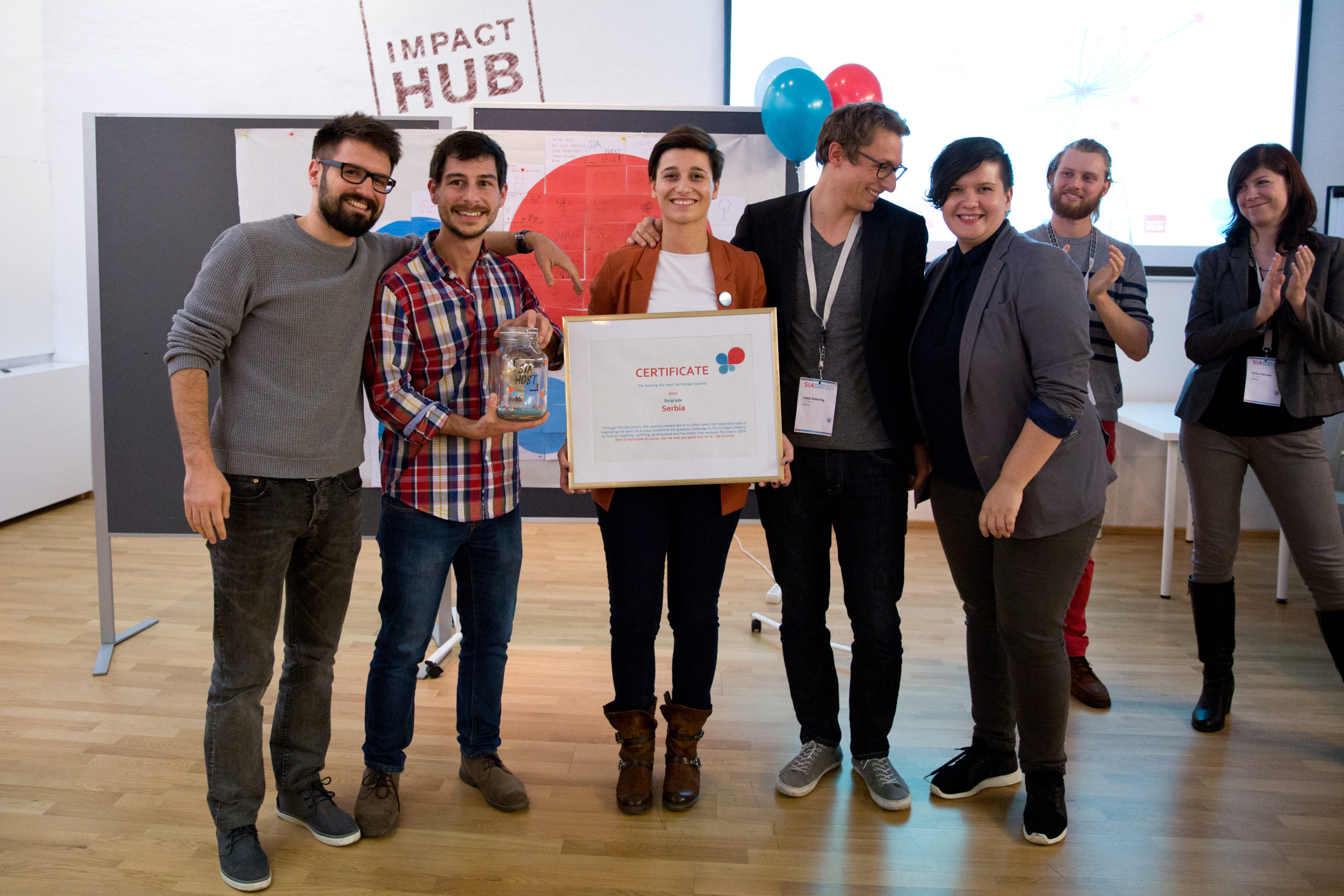 Ana, middle, country coordinator of SIA Serbia.
Having been around for a while, you know SIA inside-out. How have your experiences shaped how you're approaching this new role?

Ana: We spent so much time working as and with local SIA hosts that we fully understand local realities, team structures and resources. A big part of what we do at SIA is deeply rooted in these local realities and depends on the strength of our hosts. Having a hand on the pulse will play a big role in how we grow and expand our work and our network in the future. 
Jonas: SIA has greatly evolved as a community in the past years. Ana and I have always been part of this evolution, which has played a defining role in our personal development and journeys. I think we have both seen from up close what SIA is capable of and how it can transform lives. We want to give everyone the possibility to experience that for themselves. 
What was a defining moment in your journey with SIA?
Ana: The first community gathering of all SIA hosts took place in 2017. I was struck by how down-to-earth and "human" the gathering was. We were all invited to be vulnerable and share our feelings, fears, and failures. This approach enabled real connections between us and I came away knowing I would always want to work in such an environment.
Jonas: In 2016, I facilitated a workshop in Vienna, where a group of five girls met for the first time and decided to work on an idea together. They came back to the next workshop, and the next, and applied with their idea. They were selected as finalists and won the Social Impact Award at the end of the year. Of course, the story would be perfect if their venture was still up and running. While that isn't the case, this experience had such a strong effect on them that most of the former team has gone off to build a career in the impact field. Being able to witness their personal journey and their venture's growth was eye opening, and showed me what SIA is all about: helping young people realize their potential as agents of change.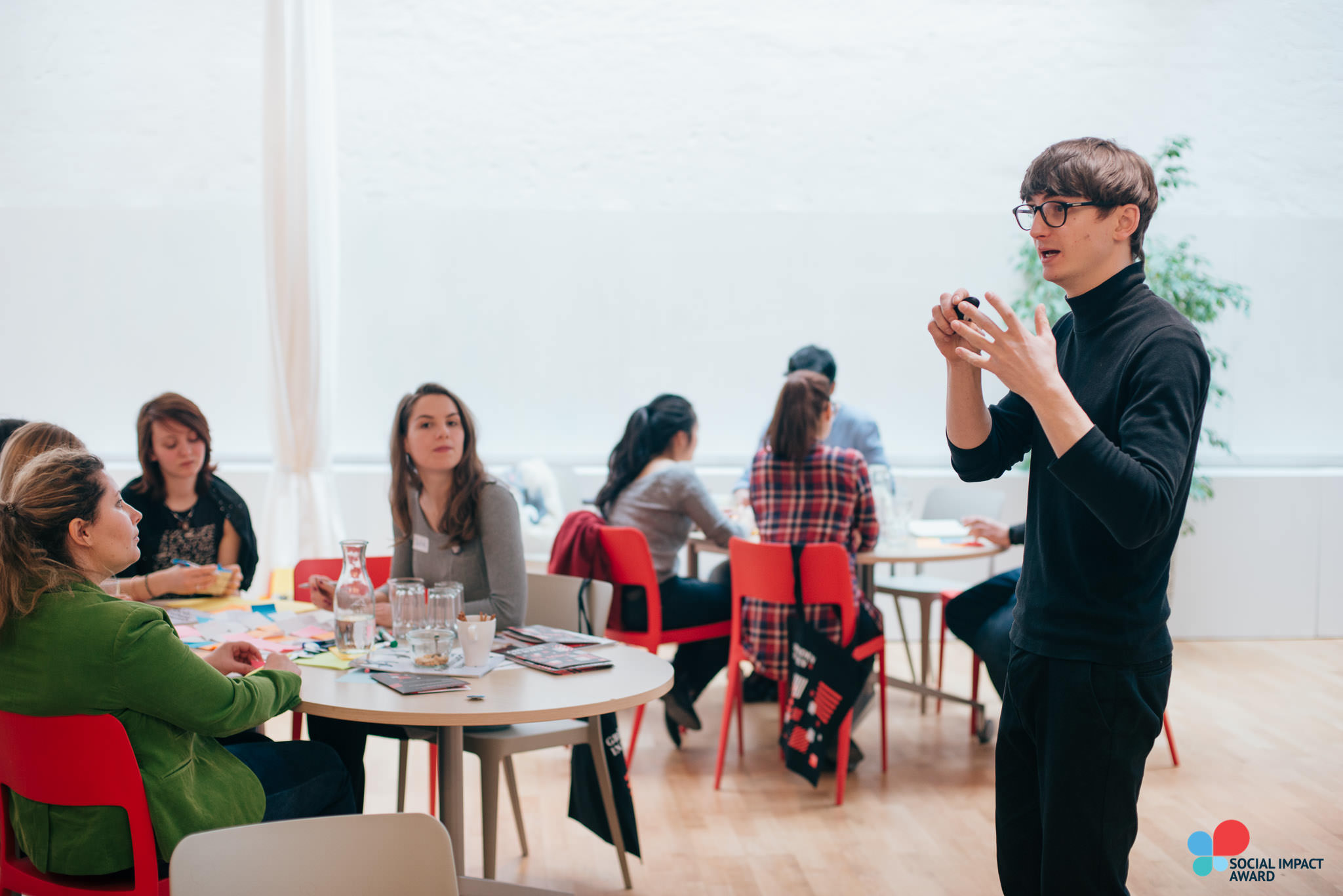 Jonas, right, country coordinator of SIA Austria.
You guys are taking over against the backdrop of a global health crisis, an unfolding climate crisis, shifting political tides, growing polarization, and much, much more. What is SIA's role in this reality?
Ana: Social Impact Award provides a stable and supportive space for young people to build on their passions, learn new skills, and explore their own potential in these uncertain times. This support is invaluable in giving every young person an opportunity to build solutions to the problems they care about. 
Jonas: The world needs the ideas and engagement of youth to face these challenges. Social enterprises and social innovations play a crucial role in shaping the future, essentially modeling ways that we as a society could organize ourselves, work, live and interact with each other in a more just, equitable and sustainable way. Social Impact Award's role is to enable young people to explore and build the solutions of the future.
Speaking concretely, what's on your agenda for the next few years? 
Ana: Our priorities for the next two years are fully in line with our 2023 strategy. We are heavily focusing on scaling and deepening our offerings, namely by expanding to new countries and by improving the quality and reach of our offerings locally. Our strategic partners play a crucial role in this and we are very excited to see our partnership with SAP Global continue to unfold. 
Jonas: If we want to build the world of tomorrow, we need to bring more diverse voices and supporters into our movement. From including more young people that have been left behind, to establishing our support offers in underserved areas of the world, we'll work to make our field more inclusive, more resilient, and more impactful. 
Learn more about Ana and Jonas' predecessor Jakob Detering and his experiences leading SIA.