Leadership change at Social Impact Award sparks new era for Europe's largest community of young social entrepreneurs
Jakob Detering passes on the torch as Managing Director of Social Impact Award to Ana Janošev and Jonas Dinger. After 6 years at the helm of Social Impact Award, Jakob […]
Jakob Detering passes on the torch as Managing Director of Social Impact Award to Ana Janošev and Jonas Dinger.
After 6 years at the helm of Social Impact Award, Jakob Detering is handing over the leadership to Ana Janošev and Jonas Dinger while continuing to serve as Social Impact Award's chairman of the board. Under Jakob's leadership, SIA grew into one of the world's largest communities of young social entrepreneurs supporting almost 10,000 young people annually and fostering more than 1,000 social ventures in more than 25 countries across Europe, Central Asia, and Africa.
Jakob Detering won Social Impact Award 2010 himself and took over the leadership of SIA in 2015. Using an international franchise system, he developed SIA into a diverse support platform for young social entrepreneurs.
We are deeply grateful for Jakob's leadership in the past six years. His passion for the mission and people of SIA, as well as for building organizational structures have manifested in many forms" – Peter Vandor, SIA founder and next to Jakob Detering and Impact Hub Vienna a SIA shareholder.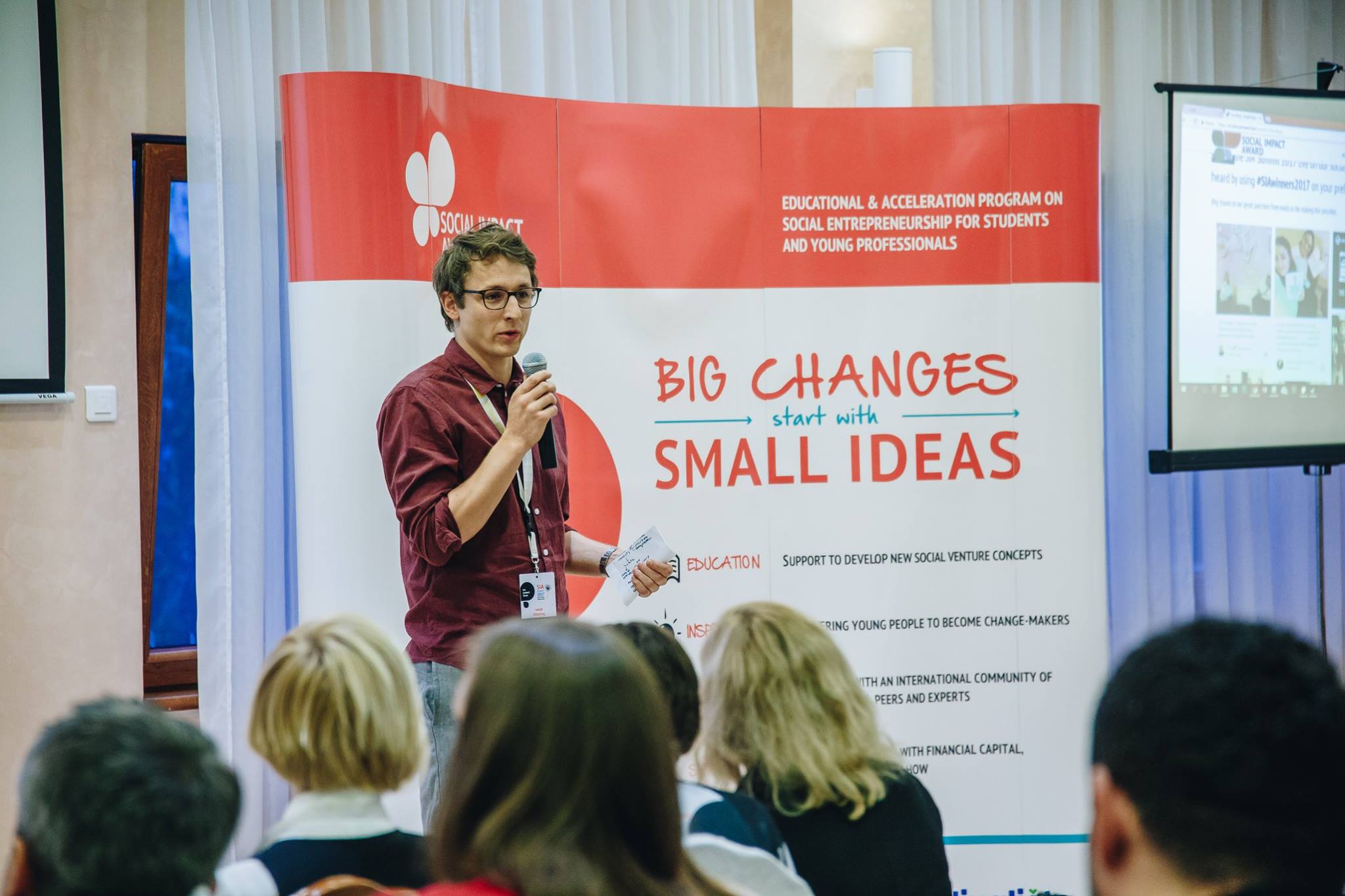 Against the backdrop of a global pandemic, an unfolding climate crisis, and a plethora of social and economic issues, Social Impact Award's work is more relevant than ever.
The youth has the talent, passion and grit to change the world. All they need is an environment in which they can realize their potential. I'm convinced that under the leadership of Ana and Jonas, SIA will further scale and deepen its impact globally and move us closer to a world where young people realize their potential as agents of change. – Jakob Detering
Having been key drivers of SIA's strategic developments for many years, Ana Janošev and Jonas Dinger will build on their understanding of the ecosystem to fast-track SIA's international growth. The pair will put extensive focus on deepening offerings and increasing accessibility for marginalized communities, ensuring that young people's motivation and potential to change the world is met with an enabling environment for doing so.
We are deeply honored and very excited to take up the leadership of SIA. We will not only continue to offer the necessary support to guide youth from intentions to action, but will also work towards bringing more diverse voices and supporters into the global movement of youth social entrepreneurship. – Ana Janošev and Jonas Dinger
The leadership transition will come into effect on January 1st. 
We encourage you to read Jakob Detering's "6 key learnings from 6 years leading Social Impact Award", where he shares honest insights into Social Impact Award and the state of the ecosystem today.