5 Apps to feel like a global citizen
We use tons of different apps everyday to connect with friends, share personal stories, find a new date, exercise, manage time, get inspired or entertain. However, some apps can be used to help other people and solve socially pressing issues. Here are examples of five apps you can have on your phone to make social impact worldwide and actually feel like a true global citizen on a daily basis.
ShareTheMeal is an app from the World Food Programme that enables people to "share their meals" with children in need. Users can give US$ 0.50 (or more) with a tap in the app, feeding one hungry child for a day. The United Nations World Food Programme (which has one of the lowest administrative costs in the non-profit sector) receives the funds and provides the meals. With ShareTheMeal's Camera Giving, you can take a photo of your food, place a #ShareTheMeal filter, donate and share directly to social media. This function is optional though. 
Charity Miles is a socially-driven, for-profit company which connects charities, individuals, and corporate sponsors to create social change. Their app enables users to earn money for their charity by walking, running, biking and even dancing. You should just choose one of their partner charity organizations and hit the streets. When you finish, you have the option to share your activity on Facebook or Twitter and raise awareness on the cause you care about. The money comes from the app's corporate sponsors who use their advertising budgets for social good.
GoodGuide is a team of scientists whose mission is to provide consumers with the information about product ingredients from food to personal care. More than 1 million consumers use GoodGuide's website and mobile apps every month to help decode product labels, research ingredients, and make more informed decisions about the products they purchase. You can instantly find the products which are safe, healthy and green and make socially-conscious shopping decisions.
We365 is a platform for making a positive impact both on local and global communities, one action at a time. You can connect with like-minded individuals and select a new challenge for yourself every day. Challenges are activities shared in the app, organized into causes which you can support, such as cleaning the environment, enriching education, or promoting human rights. By completing challenges you also earn badges for your profile, so that you can keep a track on your impactful life. Every small action can make a difference.
In the time it takes to download this app, 8 people around the world will become refugees as they flee from conflict or persecution. The Office of the United Nations High Commissioner for Refugees (UNHCR) created it to spread awareness about the projects and people they work to support. Built for iOS and Android, 'MY LIFE AS A REFUGEE' lets players get an intimate insight into the hardships refugees face every day.
Download these 5 apps and promote the CHANGE!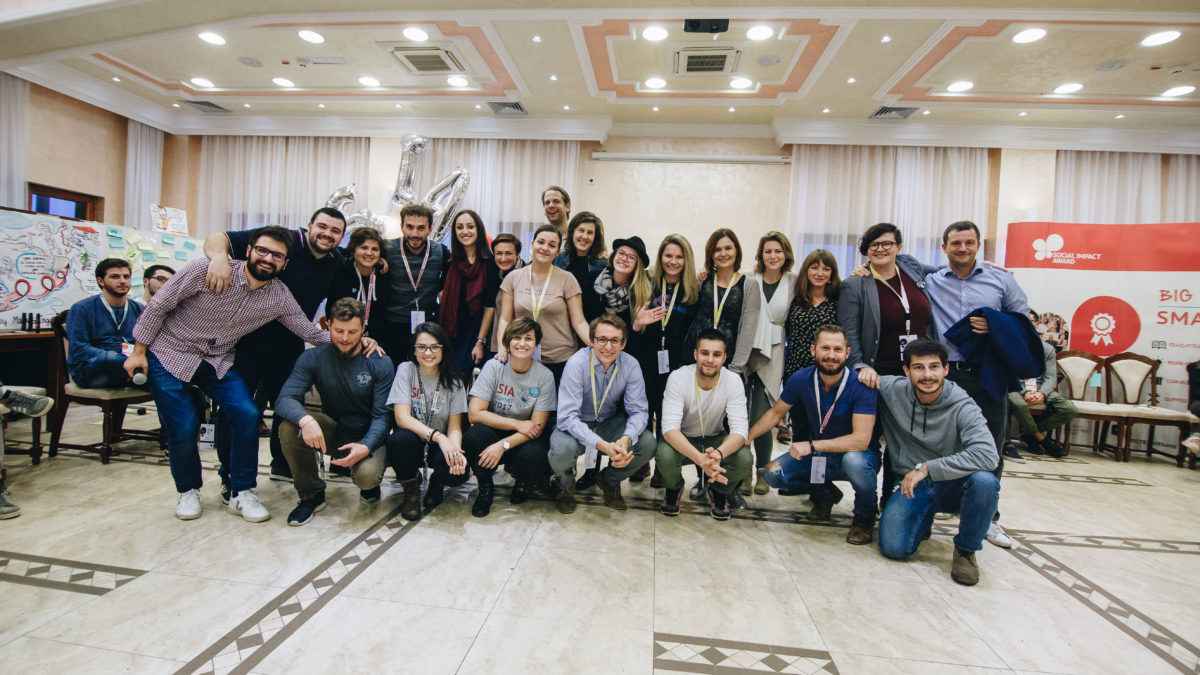 SIA SUMMIT 2017: Volunteering can keep the fire alive
The SIA SUMMIT 2017, Social Impact Awards flagship event of the year, took place from 31st October to 4th November in Belgrade, Serbia. This is the result of the work done during the last nine months by groups of young changemakers from 18 different countries from Europe and beyond. You can imagine everything that can arise from this gathering of enthusiasm, freshness and passion. Although it is hard to put all the experiences, learnings, and emotions into words, Katarina Stevanovic, who served as a volunteer before and during the Summit at least tried it. Enjoy this great piece of enthusiasm and passion that perfectly reflects the spirit of the event.
"As a student of social work and social policy, I was always interested in topics such as integration of marginalized and vulnerable people, community change, and social policy by the youth, law, human resources as well as topics that are connected to earning by doing humanitarian work.
During my senior year I was introduced to a field that combines all these topics – social entrepreneurship. In June this year, I applied for volunteering at the Social Impact Award Summit that was being held in Belgrade for the first time since it was founded. During gatherings like this one people get to realize that learning, listening, sharing and experiencing are the greatest treasures one can get.
Three qualities I take with myself into the further development of my career: organizational skills, knowledge, and personally, the most important one – teamwork.

Learning and improving is the formal side of volunteer work, but it also has its own purpose and sort of magic to it. However, what always leaves the greatest impression on us is the emotion we all share during these events, all the energy you get from others. SIA gathers so many different, and yet so similar people. It sounds confusing, but it is the reality. By similar I mean the shared energy for action towards a better world for everyone. A world where everyone's voice is heard, a world which moves the boundaries of creativity that allows anyone to break out of uniformity. By similar I mean individuality and one of a kind growth of their creations and development.
SIA awakens and refreshes perspectives, shows and opens new roads, connects and brings people closer together.
How does SIA do that?
If I had to answer this question by using words and language, I'd say it gathers people with vision, discipline and will, people whose break really is ten minutes, who know how to make great party when the time is right, those who have their goals clearly marked, who are empathic and creative at the same time, and with sharing these qualities they are even economical. Trust me, they do exist. You have them inside of yourself. It's just that some want to break out sooner, some later, some never.
For five days I was surrounded with people who could teach me so much and whose commitment was captivating. That is why I think we all need a Jakob, Bistra, Toni, Ana, Milos and Dusan in our lives. But not just those – the #SIAwinners2017 are even more amazing! The mix of their skills and knowledge made me set up some new challenges for myself, and motivated me to remain active in the field of social work and social innovation. I cannot but add that SIA is what it is because of its volunteers, who will not just work hard and with commitment for it, but will truly believe and understand the goals SIA sets. Working side by side with these people really made me realize what team work is and what it means.
What is the most beautiful thing about it?
The prettiest thing is that there are no louder and quieter people, those in charge and those who are just listening to them, older and younger among them, there is only true respect and leadership among team members. This is one of the most important things that make SIA so great.
Anyways, you end up where you are meant to. That is your path. You meet the people you are meant to and you feel it. Just like it is supposed to be, not more or less. And it should be remembered like that.
And I, I have decided to save it in my heart, and in these lines, so that it will never be forgotten."
SIA soon!  
 
Redesigning shipping containers into living space for travellers
Amar Maksumić and the rest of the team have worked hard to gather needed resources for the hostel, and in doing so they applied for Social Impact Award 2016 and won.
Travelling around the world is a wish we all humans are guilty of, because who can resist wonders of travelling and seeing and experiencing the culture, nature and lifestyles of different places and countries. Those who travel want to live the local experience and immerse themselves into their treasures. They want to eat where the locals eat, party in best party locations, experience places not offered in tourist booklets. They want to feel at home, or at least like they are visiting a friend.
Unfortunately, not everyone has a friend in every place of the world, but luckily there are places where everyone is welcomed as dear friends instead of guests. Those places are often hostels, and even more specifically – youth hostels.  If you want to feel like at home – Youth Hostel Abrašević is your go-to place. It's located in Bosnia and Herzegovina, in the heart of City of Mostar, only ten minutes walking distance from old town and less than five minutes from city center.
This hostel was born as a project of young people from Mostar.  Amar Maksumić and the rest of the team have worked hard to gather needed resources for the hostel, and in doing so they applied for Social Impact Award 2016 and won. They built the hostel themselves and with the assistance of the locals, provided through few "volunteer working actions", thus engaging the local community as well. The hostel was built from recycled shipping containers, which were repurposed and adopted to serve as lodging and accommodation for friendly travellers. Hostel is equipped with functional kitchen and bathrooms as well.
The hostel is located on the roof of Youth Cultural Center Abrašević, and is part of the wider cultural local ecosystem created by this organization for all Mostar and youth visiting their city.  They describe themselves as a safe space for young people, for art and creative self-expression, for open discussions and exchange of ideas. Ideas that promote discrimination, or abolishing of any human right are not welcome here. Youth Hostel shares the same vision and values, which is why Youth Cultural Center was the perfect  spot to build the hostel.
Although tourists are highly relevant to hostel's work, the space is actually designed to serve a higher local purpose: to connect youth from a deeply divided City of Mostar. Youth Cultural Center hosts over 80 cultural events over the year and the Youth Hostel is a response to the need which already existed and which was an open space to create new jobs. Hostel staff and employees would be given to students of Mostar, as a support to student and youth employment in the country where more than 60% of youth is unemployed.
Youth Hostel is a unique place in Bosnia and Herzegovina, but they hope to inspire others to join the philosophy behind their social business and mission.
So, what are you waiting for? Check the calendar of events and weather forecast and pack your bags, Mostar and Youth Hostel await you!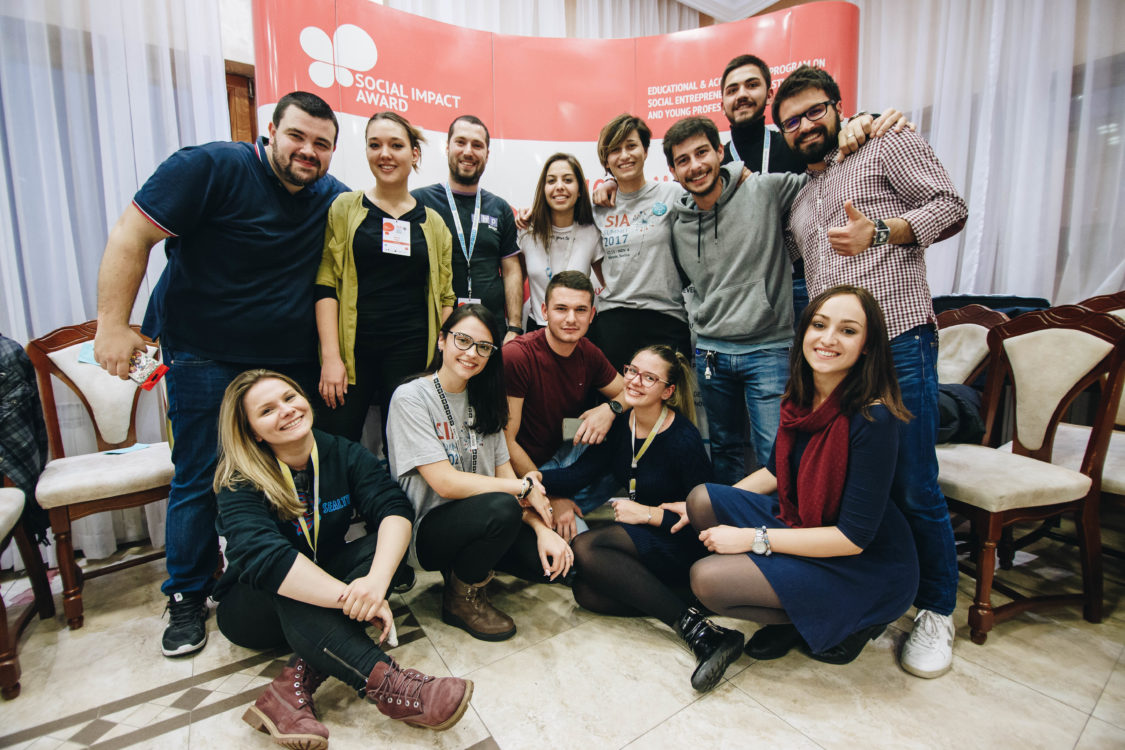 5 WAYS VOLUNTEERING PAVES THE WAY TOWARDS SOCIAL ENTREPRENEURSHIP
When we think of volunteering, we think of giving, and that is true on the outside, but that doesn't mean that we get nothing in return. What we gain from volunteering is not always visible, and sometimes we're not even aware of it, but that doesn't mean that it hasn't made an impact on us. It's the feelings and emotions we thought were nonexistent in us, it's the skills we unconsciously employ in every area of our life, it's the number of friends and people we know growing every day, and the list goes on.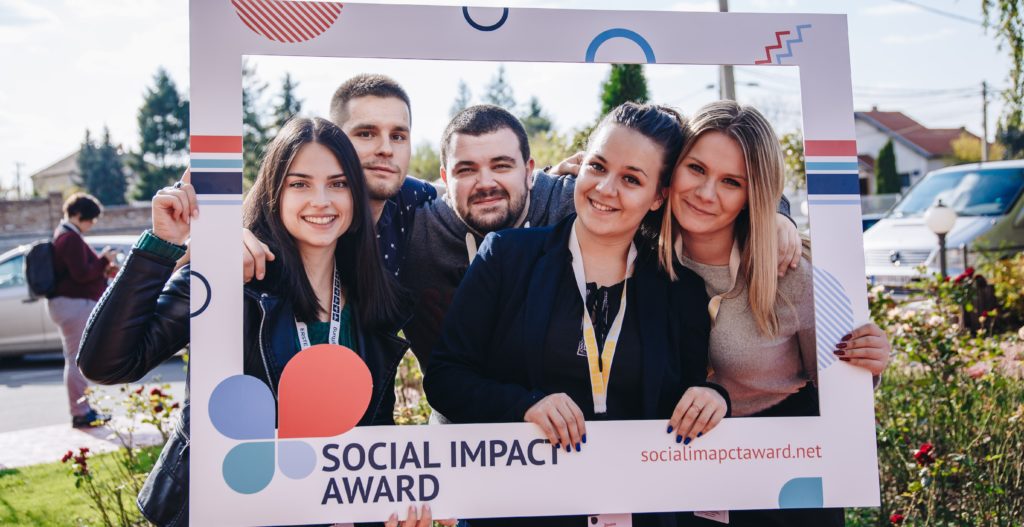 Volunteering for Social Impact Award enables you to observe directly what it takes to found your own social business.  You will get inspired by other people's ideas and you will get involved in their development. You will be part of these people's journey.
Volunteers make a difference in the society, but volunteering is not the only way to make a difference and is not feasible for everybody. Some people choose to give their contribution differently, like social entrepreneurs, who similarly to volunteers, are the change agents of the society with visionary personalities, and besides profit, their objectives include also addressing social problems.
So how do social entrepreneurs come into being? Most of them have something in common: they have been volunteers at some point in their life, and that helped them see the world through different lenses. And, how does volunteering do the trick? There are 5 WAYS VOLUNTEERING PAVES THE WAY TOWARDS SOCIAL ENTREPRENEURSHIP, which are elaborated below:
1.Volunteering helps you cultivate empathy for others
Volunteering in essence is a way to connect with others on a deeper level, and relate to their feelings and circumstances. This sense of compassion and unity can hardly be achieved from a distance, you need to walk in their shoes to truly experience the struggle certain categories in the society have to go through and the challenges they face. Volunteering makes you appreciate the little things that you take for granted, and helps you develop feelings of empathy for those who don't have equal opportunities in the society.
2.Volunteering helps make you aware of social issues in your community
Sometimes we're so preoccupied with our challenges and issues, that we forget that we can still be responsible citizens, and be part of the solution to bigger issues than ours. They say "Ignorance is bliss" and this is relatively true in other areas of life, but when it comes to social issues it's dangerous. This can be fixed once you tread that path of volunteering, because afterwards you will no longer be able to ignore the social issues in your society that you've perhaps unconsciously ignored before. Exploring different areas in volunteering, will give you the idea of what concerns you most, and potentially inspire you in the future to establish a social business that would focus on that field.
3.Volunteering helps you grow your network
Let's get this out of the way: Volunteering makes you more sociable and communicative. This is due to the fact that volunteering provides plenty of opportunities to network, by allowing you to meet individuals from organizations for which you volunteer and people who share your interest in volunteering or otherwise. If you communicate well, contacts you make along the way can all have different impact in how you're going to approach social entrepreneurship, and whether you'll be successful in your endeavors. If it doesn't make sense, think of people as a source of information, skills, and experience. Everyone you meet knows something you don't, and can do something you are not able to, or thought possible. By associating with these people you learn something that they know, something that they can do, and something they have already done. In terms of social entrepreneurship, being well-informed and being surrounded by competent associates is the main step towards succeeding.
4.Volunteering provides you with ideas for social entrepreneurship
As I mentioned in the previous point, people are a source of information, therefore they can also be an excellent source of ideas. However, networking is not the only way to get inspired. Volunteering on its own makes you more creative, and by witnessing social issues hand-to-hand you will get equipped with ideas on how to make an impact, if you're committed to the cause.
Consider your decision to volunteer as coming out of the shell. You'd been living protected from all the drama in the society, and now you've opened yourself to a world completely new and unknown for you. You've stretched your previous limits, and you've introduced an innovation in your life. From there on you can only go up. Make sure to not take advantage of your newly developed creativity without giving something back to the society! Social entrepreneurship allows you to do just that.
5.Volunteering provides you with the essential skills for social entrepreneurship
What I like about volunteering is that you're getting the sense of accomplishment that you would get from the job you love, but you're not really working. Volunteers don't get judged or fired for not knowing how to do their job, actually nobody expects anything from you, because you're doing everything for free. This gives you the chance to learn and do that without pressure. Volunteering is a hands-on teacher, it gives you emotional and social intelligence, it teaches you creativity and innovation, empathy, and most importantly leadership. If you think you have these skills, then you're prepared for social entrepreneurship.
BONUS:  Although volunteering in any area is very important in building the skills and the contacts for starting up your social enterprise, the best guarantee to achieving your goals in the social business field is to actually volunteer in that field. Volunteering for Social Impact Award enables you to observe directly what it takes to found your own social business.  You will get inspired by other people's ideas and you will get involved in their development. You will be part of these people's journey. Therefore, the volunteering experience for Social Impact Award will prepare you for the challenges that you will encounter along the way, and as a matter of course, you will be able to give your contribution to help Social Impact Award grow and advance, and inspire other people in the future. Social Impact is all about reciprocity, after all.
WHAT ARE YOU WAITING FOR?
JOIN US! 🙂 

Be prepared for the future: start your own venture!
Today's youth is made up of incredibly talented individuals with the potential to use their knowledge and creativity to make the world a better place. Indeed, it is the most knowledgeable generation that has ever lived; moreover, completion of tertiary education keeps increasing. However, the job market is changing and a significant number of these students will never be employees in the traditional sense. The traditional concept of the full-time, permanent job in which a worker is contracted to work for a single employer in return for a guaranteed salary – as experienced by baby-boomers – is long gone.
When is the perfect time to have your first entrepreneurial experience? The answer, in our opinion, is: during your studies!
According to the U.S. Bureau of Labor, the average person born between 1957 and 1964 held 11.7 jobs between the ages of 18 and 48 and nearly half of these positions were held between 18 and 24. Millennials and, even more so, Generation Z are predicted to change jobs at least twice as many times as their parents did. Furthermore, a PwC report on the future of work indicates that 46% of HR professionals expect at least 20% of their workforce to be made up of contractors or temporary workers by 2022. Finally, the integration of technology and artificial intelligence (AI) in most, if not all, economic sectors will lead to further disruption of the current job market.
In this environment, where employment is less secure and in general less available, with machines performing most of the repetitive tasks, there will be a greater interest in entrepreneurial knowledge as humans' competitive advantage will lie in creativity, soft-skills and problem-solving skills. Veronica Colondam, Founder and Chief Executive Officer (CEO) of YCAB Foundation, who is an expert from the Forum's Young Global Leaders community, declared that the most important skill of tomorrow is an entrepreneurial spirit – and the skills to know how to apply it: "It is not enough to be innovative or collaborative, it is also about knowing when to apply each of them, and how they can be used in a business context." Indeed, corporations only have interest in recruiting young entrepreneurs as they bring in new perspectives and ideas as, in the end, even large corporations won't exist in the future without innovation.
A 2012 study of 11,000 MBA graduates from the University of Pennsylvania's Wharton School of Business showed that a career in entrepreneurship, more than any other business- related job, correlates with happiness independently of how much money was made. One of the primary reasons for the happier career is the perceived greater control over one's own destiny.
So now that you have all decided to start a career in entrepreneurship, the question that remains to be answered is the following: when is the perfect time to have your first entrepreneurial experience? The answer, in our opinion, is: during your studies! Not really a surprise, as we are the organizers, implementers and supporters of the Social Impact Award. Below you will find 5 generally accepted reasons that support our Claim.
1.A valuable experience to add on your resume: the normal path to employment -study hard, get good grades, graduate and land your first job – is nearly non-existent. Now, more and more employers expect students to have at least one work experience, yet few are offering such first job experiences. A possible solution to these missing opportunities is for students to develop a small business or a side project during their studies. So, by starting your own project you will have gained valuable experience to put on your resume. Moreover, if your business is extremely successful, then you won't even need to worry about getting a full-time job after graduation.
2.Low risk: the objective of creating a social venture for a student does not lie in financial profits nor does (s)he have a family to maintain. The reason why the majority of start-ups fail is that most people never try to implement their innovative ideas! But even if students do fail, the experience gained is invaluable and well worth the time invested. Indeed, by becoming an "entrepreneur" student you learn to be accountable for your actions, nurture your creativity and develop your communication, teamwork and sales skills. In addition, the sooner you can test your ideas, the better; perhaps from an unsuccessful idea, a better one will be born and with the knowledge and experience learned, chances of success increase.
3. An easily accessible customer market: family, friends and teachers are perfect potential clients. It is very likely that people will be interested and encourage the young adult to pursue his/her entrepreneurial project and support him/her along the way. This will also come in handy when doing market research as getting feedback from friends and teachers is relatively easy. In addition, trends spread quickly in a school environment and everyone is aware of them: creating a small business in response to a current trend can be easy and at the same time, meet a real demand. For example, Thomas Suarez, a 12-year-old app developer, created his app Bustin Jieber, a "whack-a-mole" game in which you pummel the Biebs. When asked why he created it, Suarez stated that "a lot of people at school disliked Justin Bieber a little bit, so I decided to make the app.
4. Access to knowledge: Successful entrepreneurs love to give advice to young would-be entrepreneurs. They will be happy to find some time and give you their best tips as they will see you as a student trying to learn more about their project(s) than a competitor trying to steal their recipe for success. Furthermore, Universities and other educational institutes offer an increasing number of entrepreneurship courses, incubation programs and funds for student start-ups. In addition, there are plenty of networking opportunities on campus. Conferences on issues or themes addressed by your start-up, companies scouting the best students, guest lecturers are among the best opportunities to make a first lead which might in the end turn into your first client.
5. Access to company first needs: workspace, internet connection, meeting areas, printing tools, etc. Nearly all your basic needs as an entrepreneur can be met on campus. This will allow you to get your project running more quickly and with fewer initial operational costs. In addition, it will be easy to recruit volunteers or first employees as you have access to a pool of students working in different fields, with some free time on their hands and interested to have a first job experience.
It is not enough to be innovative or collaborative, it is also about knowing when to apply each of them, and how they can be used in a business context.
So by now you are ready to start creating your first entrepreneurial venture, right? Then, why not starting a social venture to do good for others at the same time? This social aspect to your start-up could also become part of your unique selling proposition and be used as a way to differentiate your start-up from competitors. If you are still not sure of what a social venture is, then don't hesitate to take part in one of the 210+ events & workshops organized by the Social Impact Award throughout Europe and beyond during the next year.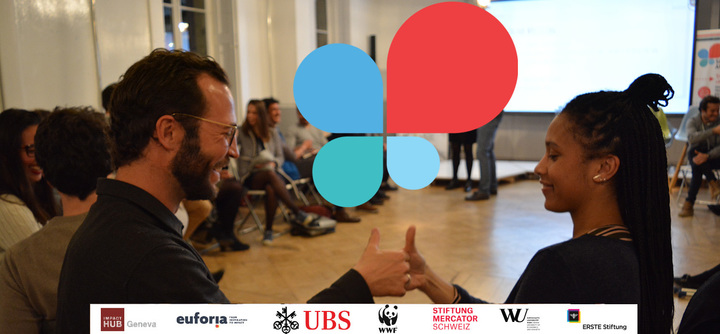 SIA relaunch in Switzerland: how it fits in the ecosystem
The Global Innovation Index ranks Switzerland as one of the most competitive and innovative countries in the world. Few of these innovations, however, transform into entrepreneurial output. Indeed, Switzerland Total Entrepreneurial Activity (7.2%) is below the average for innovation-driven economies (11.4%) according to the Global Entrepreneurship Monitor.
In addition, entrepreneurship is not yet considered by most people in Switzerland a good career path: "only 40.0% see entrepreneurship as a good career choice compared to 79.2% in the Netherlands, 64.5% in Israel and 63.4% in Portugal"[1].
Switzerland has, nonetheless, several support programs for entrepreneurs. At the central government level, the Commission for Technology and Innovation (CTI) has been successfully supporting innovative individuals since 1996 with CTI start-up, CTI entrepreneurship and a variety of funding instruments. Moreover, in the last 5 years we have seen a drastic expansion in the number of entrepreneur support activities: co-working spaces, incubation and acceleration programs for start-ups, financing opportunities, University programs focused on entrepreneurship as well as the creation of University-based incubators including, but not limited to: Impact Hubs, Climate-KIC, EPFL Innovation Park, Fondation Inartis, Fongit, Innovaud, MassChallenge, Venture Kick, and Seedstarsworld.
SIA is also taking the opportunity to engage with young entrepreneurs who are from other countries and now live in Switzerland with a goal to encourage entrepreneurial interest and support the growth of participants and their respective projects.
Few of the available programs, however, focus on fostering social entrepreneurial activities. One of the possible explanations is that because of the confederal structure of Switzerland there is no specific policy or legal framework that applies to social enterprises across the country which means that social enterprises are not considered separately. Moreover, there is no nationally adopted key performance indicators or measures to assess social impact and their legal form can vary extensively from associations to public limited companies.  In recent years we have seen the rise of Certified B Corporations label. These are companies "who meet the highest standards of verified, overall social and environmental performance, public transparency, and legal accountability."[2]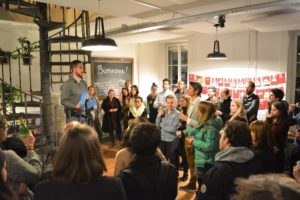 Organisations that focus on social entrepreneurship in Switzerland include Impact Hubs (currently in Zurich, Bern, Geneva and, soon, Lausanne and Basel), Euforia, Ashoka and the Social Entrepreneurship Initiative and Foundation (seif).
In response to the low amount of entrepreneurial output and with a strong belief in the potential of youth to positively impact the world, Impact Hub Geneva has decided to relaunch the Social Impact Award (SIA) in Switzerland this year after taking 2016 off to restructure and redesign the program. In order to be more inclusive of all Swiss regions, the SIA is now being implemented in Romandie for the first time ever.
To reinforce the impact of the new SIA Switzerland, Impact Hub Geneva has partnered with Euforia, to bring inspiration and encourage the engagement of the next generation in social entrepreneurship. Euforia has developed highly engaging training events that offer young people, aged 16 to 35, unique learning opportunities, introduce them to great examples of young change makers to whom they can relate, create a unique, non-hierarchical safe space to jointly succeed, fail and reflect on the learnings from "trying out" change making.
Indeed, we hope that participants in Euforia's imp!act program, which engages youth in the development of inspirational ideas and projects to address global challenges locally in 3.5 days, will be able to grow their initial concept, prototype it and make it economically viable through SIA.
SIA Switzerland aims to mobilize students and young professionals from all the Romandie region and the organizers – Impact Hub Geneva and Euforia – are conducting workshops not only in Geneva, but also in Lausanne, Neuchâtel and Fribourg. Furthermore, the SIA Switzerland jury members come from Bern, Fribourg, Geneva, Lausanne and Zurich.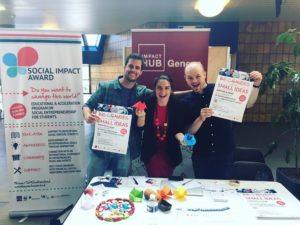 As Geneva is a cosmopolitan and diverse city, SIA is also taking the opportunity to engage with young entrepreneurs who are from other countries and now live in Switzerland with a goal to encourage entrepreneurial interest and support the growth of participants and their respective projects. Hence, in this year's edition nearly a third of SIA Switzerland Finalists have projects that will be developed partially or entirely in other countries such as Brazil, Ukraine and Vietnam.
In addition, we aim to exploit a distinctive advantage of Geneva: access to a rich community of international development organizations that may leverage the potential of social entrepreneurs to expand and scale internationally. We are happy to be the connectors and facilitators of these relationships. The first possible connection is with workshop facilitators during the summer incubation period as these are experts coming from a range of different fields and working for different organizations.
With the SIA summer incubation just starting now, we look forward to seeing how these young social entrepreneurs will be able to develop their projects throughout the summer and hope to see all their projects implemented by the end of the year!
[1] Global Entrepreneurship Monitor 2015/2016 Report on Switzerland
[2] About B Lab: https://www.bcorporation.net/what-are-b-corps/about-b-lab
THE CIVIC SECTOR AS A JOB CREATOR
An interview with Barbara Sadowska:
The Team Leader of the Project "Fostering Social Entrepreneurship", Macedonia
Co -Founder of the Barka Foundation, Poland
An Ashoka – Innovators for the Public Fellow, USA
A Schwab Foundation Social Entrepreneur, Switzerland
Q: First to say "hello" to Barbara Sadowska- a co -founder of the Barka Foundation, Poland, an Ashoka Fellow, a Schwab Foundation Social Entrepreneur and now a Team Leader of the Project "Fostering Social Entrepreneurship", Macedonia. Can you tell us more why you decided to work in the area of social entrepreneurship?
A: Actually, I need to go back in time in order to draw my pathway towards developing a true passion for social entrepreneurship. It was around 30 years ago that my family and I have started community support initiatives for the marginalized groups of citizens in Poland. Basically, the idea behind the Barka Foundation began in 1989, after the fall of Communism in Poland. My husband Tomasz Sadowski and I were psychologists from a small village near Poznan in Western Poland who saw the new political landscape as an opportunity to make a real change for the most vulnerable members of our society. As a couple, we had many years of experience working within the prisoners and people with psychiatric diseases  and were concerned about how the changes would affect people on the edges of the community – especially those with the substance abuse issues, the unemployed, elderly and homeless people who may have been overlooked in such a tumultuous political climate. Our family decided to make a life-changing decision to act upon these concerns so we all have moved (including our 3 daughters) into an old and disused school building in rural Wladyslawowo near Poznan (western Poland).
Gradually, we had gathered a group of people who had nowhere else to go and we all lived together under one roof. The group included men, women and children who were homeless, unemployed, or suffering from some form of addiction or disability. The driving force behind this was sheer hope of creating an environment in which the 'forgotten and unwanted' could have a chance for personal growth and social development. Each member of the household had a specific role or duty within the group and the old school house became a small but thriving self-sufficient community. It quickly became clear that by giving these people an opportunity to belong and contribute to something worthwhile, their sense of self-belief and confidence steadily grew. These were actually our first steps towards creating social entrepreneurship initiatives in Poland and later in Europe.
Throughout years to come, we established connections with various CSOs, local municipalities, Ministries, cooperatives and started acting out of sense of empowerment of socially marginalized groups, rather than offering them a short-term material assistance. Our belief in the self-reliance power and the potential of each individual brought us to the path of social entrepreneurship.
Q: A couple of words about yourself and the Barka Foundation.
A:  The word 'Barka' means 'lifeboat' in Polish and the Barka Foundation has certainly been a lifeboat for the thousands of people who have benefited from its support and guidance over the past 20-30 years. Based on our experiences of building and empowering local communities from the scratch, we have managed to create more than 10 international Barka's over the years located in Poland, UK. Germany, The Netherlands etc. Barka did not only work locally in creating action-oriented projects, we made efforts to act nationally and so have impacted the laws on social entrepreneurship, have established social enterprises and eventually positively affected unemployment rates in Poland. Our good practice model was taken over by several other Western European countries for the needs of social integration and unemployment reduction.
We are proud to say that we have managed to create a global impact and have established over 200 local partnerships for social entrepreneurship all over Poland, 1200 social enterprises (due to creating legal and financial framework), 7000 work places, 100 social houses for recovered families – obviously, our Barka experience has been a valuable source of inspiration for many other CSOs and social entrepreneurship initiatives in Europe, Canada and in Africa too. Hopefully, my position of a Team Leader in Macedonia will be inspirational enough for CSOs, institutions, communities of citizens who want to see social changes happen in the spirit of unity and solidarity.
Q: What is your role in Macedonia?
A: Being a Team Leader of the EU funded  project called "Fostering Social Entrepreneurship", run by EPTISA is a great opportunity to share our Barka experiences to Macedonia and show that it is not only about transferring knowledge, expertise and good practices but it is also about creating positive changes within Macedonian society by making people believe that they can do it too in their own country. Social entrepreneurship with time becomes almost a passion that needs to be passed onto new areas as people need to know that every change for the better is possible, despite your own "local" circumstances. Macedonia too is in the transition period to the EU process as Poland was years back – we have managed to find our own ways of empowering the most  needy in the society, Macedonians can discover own potential and contribute to the development of social entrepreneurship. With this project, we want to create a Law on Social Entrepreneurship that will be a solid framework for empowering CSOs and encouraging them to register as social enterprises, creating job opportunities for the youth and the most marginalized groups of citizens and eventually to stimulate financial institutions to create a climate of social change and economy of solidarity.
Social entrepreneurship does not force us to choose between freedom and solidarity, but shows that true solidarity comes from liberty and it cannot be arbitrarily imposed.

Q: Why do you see potential in the CSOs (and why they should transform themselves in social enterprises)?
A: I see a full potential of developing social entrepreneurship concept in Macedonia via the work of civic organizations as their basic preoccupation is assisting the citizens in need in the local community. They are close to people, they have potential to understand their obstacles and constrains and they have human and ethical potential to serve the society and focus first on people instead of the capital only. So they can build foundations for the economy of solidarity in Macedonia. Instead of focusing on short-term projects lacking continuity, they can build strategic approach and empower both themselves and the communities that they are working with and design long-term solutions for the unemployed, youth, single parents, Roma communities, substances' addicts etc.
Q: Can the CSOs solve the issue of unemployment? Why?
A: Eradication of unemployment is not a matter of solely "solving an issue" and only having one social actor who is "in charge or has the total responsibility". It is about an overall integrative approach and creating a spirit of collaboration where all social actors are changing previously established own mental codes and raising awareness on the importance of the economy of solidarity. Such a concept should be introduced on all levels of social care – starting with institutions, municipalities, corporations, banks, CSOs and citizens.
CSOs can play a great role in the process of introducing social entrepreneurship ideas into the society and so become the initial agents of change who will, by continuing their specific role of supporting the citizens in need surely contribute to the reduction and gradual eradication of poverty.
 Additionally, they can assist young people by encouraging them to participate in social entrepreneurship internship and scholarship programmes and so instill a spirit of self-reliance  self-empowerment and self – employment with youth.  
For this reason, the "Fostering Social Entrepreneurship, Macedonia" project is empowering CSOs and leads them in their own development towards becoming strong social enterprises in the future. Subsequently, they can contribute to a long-term job creation for the marginalized groups of citizens who will be supported and protected by the new Law on Social Entrepreneurship that we are currently designing together with the MLSP members, CSOs, local municipalities and other relevant stakeholders such as the Ministry of Finance, Ministry of Economy  and the National Employment Agency. Despite the current hardships, the potential of Macedonian CSOs is very significant; working with very small resources, a handful of staff and volunteers will not stop them in their trying to develop social innovations and to enhance a system-based approach. Therefore a spirit of collaboration and a solid institutional support will be highly appreciated in the future.
Every country in the World has the climate for development of social Entrepreneurship. … Raising awareness about the social entrepreneurship and its importance is the first step, in which the active role of the Government of all levels, NGO sector and private sector should be seriously taken.
Q: Apart from supporting CSOs in their transformation you also work on reestablishing the eco system in Macedonia. You work on the legislation but you also work with the youngsters. Can you tell us why you think that the youth are important part in the whole story?
A: Macedonia needs some serious improvements in existing legal acts and to create a new generation of enterprises called Work Integration Social Enterprises (WISE), which provide an opportunity for job training of the excluded groups of people. Second type of SEs  would provide services of general interest in the fields of health care, psychology, mental health care, education and training, ecology  etc. reinvesting their profits back into the communities. 
There is a need to further examine the Act on Association and Foundations towards the inclusion of more 'enhancement tools' for the CSOs to start centres for social and professional integration e.g. start-up capital or tax exemptions when employing the disabled or the unemployed individuals. Such examples exist in France, Belgium and Poland. The mechanisms to strengthen the entrepreneurial approaches of the CSOs are required. In Macedonia, the Special Fund which financially supports the companies working with the disabled should also support the CSOs to create work places for the disabled.
 In Austria, Slovenia and in Poland, public benefit organizations can benefit from a new source of financing; namely each individual tax payer can chose a public benefit organisation to pass on to a 1% of their tax. This gives the CSOs more independence to invest resources from "the 1%" into projects aimed at the development of entrepreneurship and thus help them generate own resources and strengthen their statutory activities. It would be recommended that Macedonia applies a similar solution. 
The law on social enterprises needs to get adopted, but only after it gets the proper "shape" to meet the requirements from all partners – the  public authorities and social enterprises. The majority of CSOs support the idea of creating a special legal status for social enterprises. The Law would provide a consistent framework that would apply to all enterprises pursuing social aims regardless of their legal or organizational form.
Youth employment is also important integral part of the Law  offering future employment perspectives to the youth and developing a spirit of social entrepreneurship can only bring positive social changes for all in the future Additionally, stimulating youth to participate as interns within the SEs or writing a business plan could have long-term effects for the SE development in Macedonia and for the economy of solidarity as a new concept in the region. What is more, a new generation of social entrepreneurs might be created both with the Social Impact Award Initiative and with the EPTISA SE internships and educational business opportunities.
Q: In the last couple of months, you collaborated closely with the team of Social Impact Award Macedonia. Can you describe this experience? What are the benefits from this type of collaboration?
A: This is a great type of collaboration where people with passion and dedication create synergies in order to promote a positive social change, including young people, who very often cannot find their place in the society. Working with Mladi Info, the organization with the significant experience on youth integration and social entrepreneurship, visiting high schools and universities was an immense opportunity to reach out to pupils and students who are willing to explore their own potential in terms of developing social entrepreneurship ideas. By visiting several private and national schools and Universities, as well as CSOs working with youngsters we have managed to reach out to more than 200 students who will hopefully be encouraged and inspired to make the first significant steps in realizing their own SE ideas. Civic sector is a pillar stone in the process as they will open their doors in creating a significant social impact rather than maximizing private profit. Some of them can become  social entrepreneurs creating their own work places supported by Mladi Info within the Social Impact Award or can gather a knowledge and experiences thanks to the internship and scholarship programmes offered by the Project "Fostering Social Entrepreneurship, Macedonia" .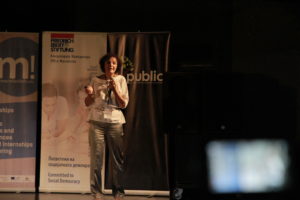 By creating synergies with the NGO Mladi Info and Eptisa we have the potential to influence young people to in the future think more in terms of awareness raising when it comes to create their own work places within the concept of social economy, where not only individual personal development but a concept of solidarity will be a light motive for developing future businesses in Macedonia. Both the EPTISA and the Mladi Info representatives believe that the meetings held with students will be fruitful and will have concrete results due to the fact that many students in the visited cities have evaluated the presentations and the workshops as very inspirational and useful for their future personal career development.
Q: How to motivate other people, organizations, institutions to join us on this journey?
A: All the parties involved will need additional education and expertise regarding the social entrepreneurship. This could be an eye-opener and an additional motivation for other organizations, institutions, companies etc. Mladiinfo and Eptisa strongly believe that the concept of SE starts with education, so the education tools and methods of trainings have to be prepared in terms of raising awareness and competences of local partners and staff. It is important to work on capacity building and create experience of working with disadvantaged individuals as well as working in the business sector. There are many competences required:  animation of local partners for cooperation, organising mutual exchange, supporting business side of social enterprises and networking with local businesses and municipalities. There is an additional need to gather experienced experts, people who have practical and not only theoretical experience in the field. Additionally, introducing and implementing the Law on Social Entrepreneurship could be an extra stimulus and a motivation for CSOs, institutions and companies as it could be a solid a base and a pathway to the SE development in Macedonia.
Q: Message for our young future change makers and potential social entrepreneurs?
A: Every country in the World has the climate for development of social entrepreneurship. Human potential among people, especially young people in Macedonia is significant and it only needs to be awakened and integrated within own society. Raising awareness about the social entrepreneurship and its importance is the first step, in which the active role of the Government of all levels, NGO sector and private sector should be seriously taken. The lack of awareness on this topic is the first obstacle in "healthy"development of social entrepreneurship and social enterprises community. Social entrepreneurship does not force us to choose between freedom and solidarity, but shows that true solidarity comes from liberty and it cannot be arbitrarily imposed.
As there is no dedicated special policy or budgets available for social entrepreneurship in Macedoania now, it is extremely important to involve the relevant ministries, CSOs, private companies (with  corporate social responsibility agendas)  and local municipalities and to create legal possibilites, financial tools and partnerships for social entrepreneurship and to prepare a common SE strategy. Therefore, it is extremely crucial to build new forms of partnerships which fall within the rules of the modern management philosophy. These emphasize that networks of institutions and a mutual collaboration are more important than traditional and hierarchical management models.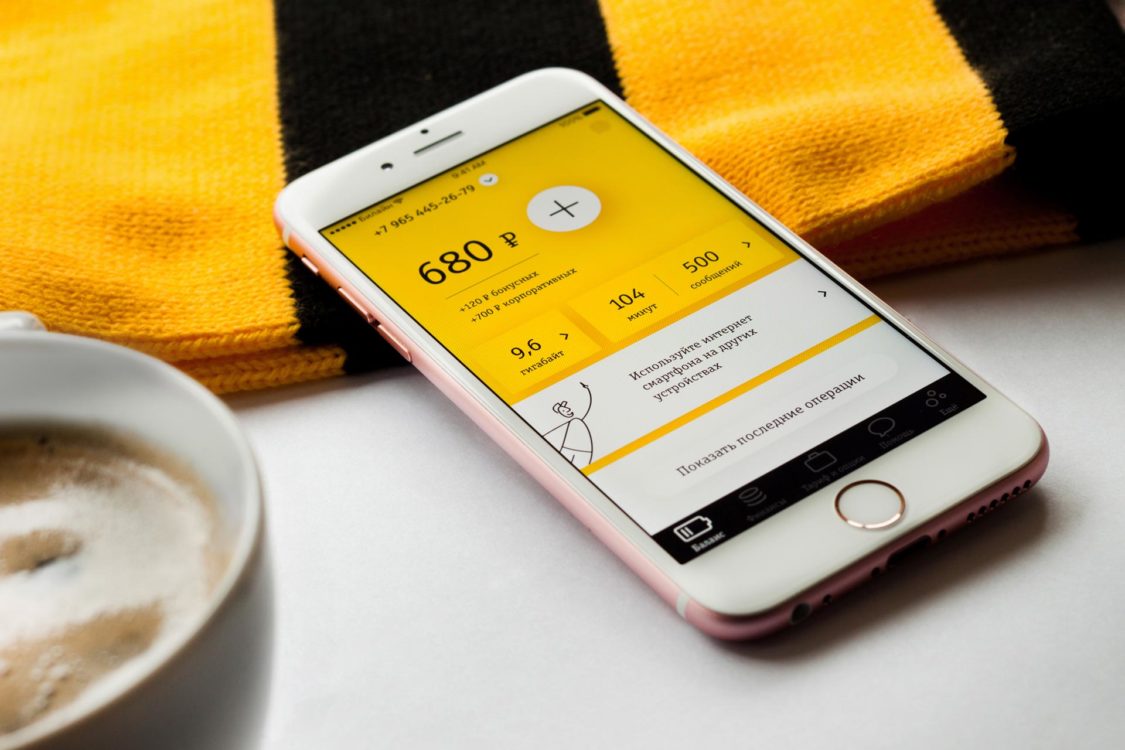 How unexpected life could be – MyBeeLine
MyBeeLine combines traditional beekeeping processes with modern IT solutions, data mining, IOT and systematic approach in order to achieve better beekeeping on both micro and macro levels. Read their success story!
The beginning…
MyBeeline is the winner of SIA Croatia 2015. The team back then (Alen and Zoran) won the hearts of the jury with their AgTech startup idea aiming to modernize how beekeepers manage their beekeeping process and their Resource Management.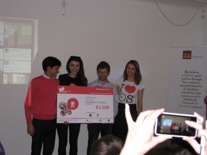 MyBeeLine's CRM (Web + Android) or popularly called BeeRM is a sophisticated system designed and developed for beekeeping businesses that introduces a modern approach supported by ICT in a traditional and very important agricultural sector. Using modern software and hardware solutions, MyBeeLine allows beekeepers to have aggregated statistics about the performance of their apiaries together with global changes that impact their business (nearby diseases, weather, market info etc.)
The story continues…
However, becoming winner of SIA is only the beginning of the team's journey to success. Almost like in a fairytale Alen and Zoran approached Luka – winner of SIA 2014 (just a coincidence?) and fellow from the same faculty – in October 2016 and offered him to join their team and bring the idea to the next level. All of them quit their regular jobs a couple of months after that and founded their company at the beginning of 2017. Currently Mybeeline is an early stage start-up with over 1.200 active users (honey producers) from all around the world (mainly US, New Zealand, Australia and UK).
Besides managing the CRM for the beekeepers Mybeeline is offering high-quality content for over 35.000 readers monthly on their blog & magazine. Topics cover tips and tricks for production of pure organic food and the blog is currently ranked on 2nd place on Google search.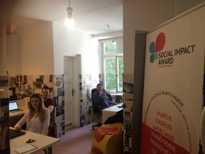 Their "modest" plans for 2017 include the validation of the business model from commercial beekeepers (large producers) and the build-up of customized features to solve various challenges for large honey producers.
As of 2017 the company is fully bootstrapped and financially self-sustainable. However, in order to realize their future ambitions the team plans look for a strategic partner or an angel investor who will help them expand in three key new markets – Hungary, Italy and Romania.
And as in every fairytale everything comes back to the right place. Same with Mybeeline team which recently rented an office at Impact Hub Zagreb and closed the cycle that it started more than two years ago with SIA. Their potential, however, and future growth opportunities are just starting to roll out since EU happens to be the 2nd largest honey producer in the world after China.
 
Bees are identified as species that are threatened with extinction at the European level. MyBeeLine thrives to solve this problem with proper bee caring approach, early detection and prevention of disease spreading and overall protection of bees.  Homepage: mybeeline.co/en/     //     FB: @mybeeline
Interested in other success stories? Find more inspiring corporations in our Book of Inspiration!
Author: Emiliya Angelova
Global-Editor: Tizian Müllritter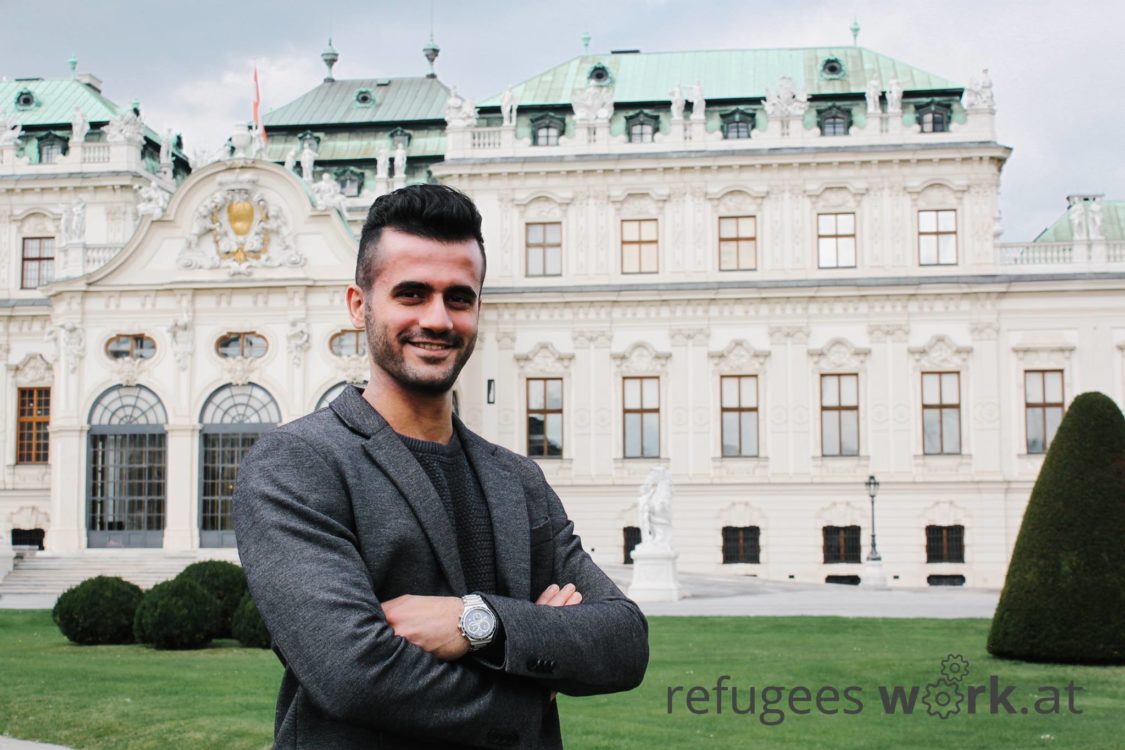 "Believing it works for me it will work for others, too" – RefugeesWork
We´re pleased to present you one of the greatest SIA Austria winners of 2016, who moreover won several grants like Get active, European Youth Award and a listing on Forbes 30 under 30, European Youth Award. A group of Austrian social entrepreneurs knew exactly what to do in terms of effective integration of refugees in the Austrian society! This is not only a success story of RefugeesWork.at, but about the user and its experience with the platform!

The social entrepreneurs of RefugeesWork.at aimed to build an easy-to-use online platform to help refugees find legal working and education opportunities which are in line with their skills – and they truly succeeded! To enable closer insights of this project, which was launched in the summer 2016, we are pleased to present to you an interview with Ali Almoualem from Syria, who was lucky in finding the right job through the platform and who was willing to share his story with us!
Dear Ali, thanks for taking the time for us today! We're interested in your story, could you briefly introduce yourself – where you come from and what your occupation is? 
My name is Ali, I come from Syria, and I am 27 years old.
I have been in Vienna since October 2014. I studied Business Information Technology BIT in Syria.
During my studies I worked for 4 years as IT support at a big company in Damascus.
At that time I was very happy and I have got good experiences which helped me to start my new life here in Austria. Now I work at Xerox Austria as a Support Analyst.
Please give us a brief description how you got to Austria and how the public services supported you to make your first steps here.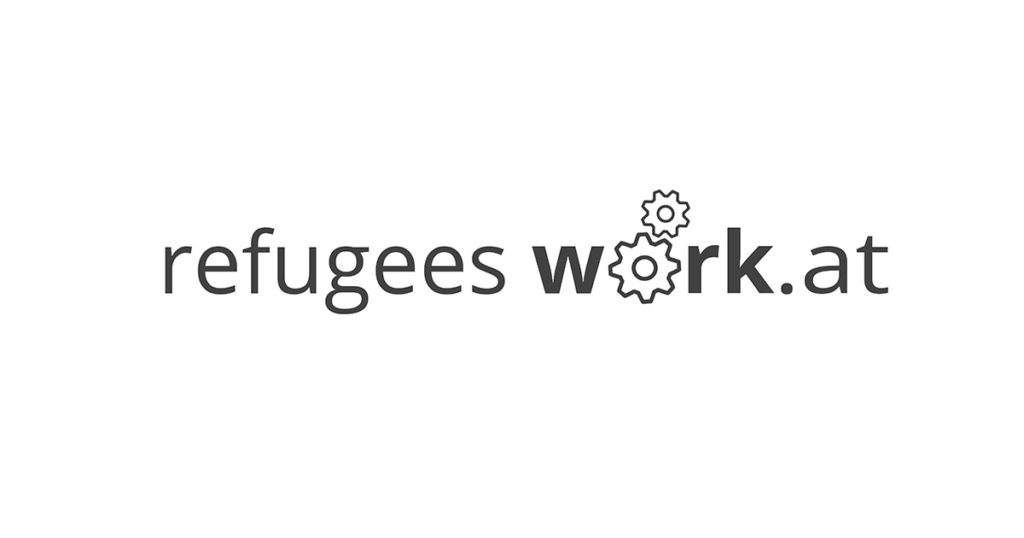 In 2014 I had to leave Syria, because I was called to the military service and I didn't want to be part of the conflict, so I decided to flee to Europe. I have chosen to stay in Austria because I heard and read about it, I liked the life style and the various opportunities to continue either my studies or my career.
When I arrived in Austria I was depressed: new language, new culture and a new beginning almost from the scratch. What made it even harder for me were the people I met – many people who have been living in Austria for years.
They all told me it is very hard to get a job in my fields right now. I should´ve worked anything at the beginning till I learn the language and get to know how it works then.
I didn't listen to them because I knew myself better than everyone else, and I knew that IT is IT everywhere.
The AMS (labor bureau) didn't actually help that much, they helped me only with a German course (A2). The other courses (A1, B1) were from the ÖIF.
My consultant at the AMS did not know that much about IT, so I had to look for another way by myself.
What was your experience with using the platform RefugeesWork? Which services did you enjoy on it?
I started to look for a job about a year ago on the popular job platforms, such as Karriere, Hokify… also on the AMS website.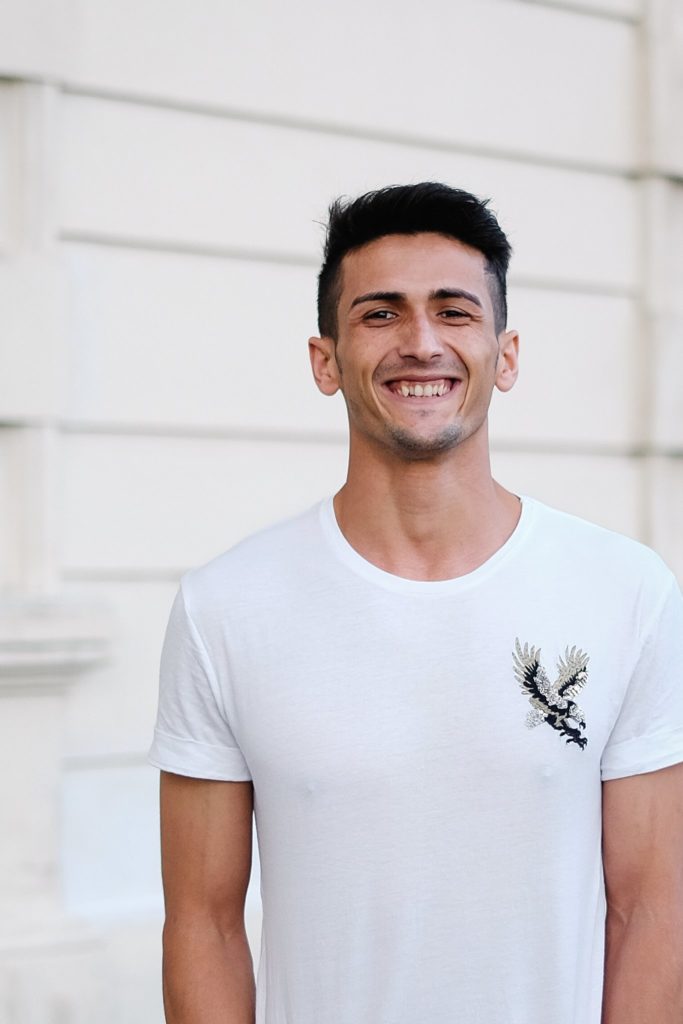 Then I heard about RefugeesWork.at from a friend. At that time, there were no jobs on it, it was in the Beta phase, only a registration was available.
I was interested in the idea, because it sounded good to me as a refugee. Two months later the website started to offer some jobs. I applied for the first job  which was at the mobile service provider "Drei", and I got my first job interview in Austria.
Even though it didn't work out I was really happy and got my power back, because it was the first job interview after about 15 job application rejections.
A big thanks goes to the RefugeesWork team, I have a job now!
I like the search engine on the platform, the filtration works good, I can choose my language level, in which state I want to work and in which fields do I look for a job.
My favorite service is the news broadcasting over Telegram. This is really a good idea because no one has to login to websites in order to get news. This has become an old fashioned way, we get the news nowadays directly on our smartphones as notifications!
Were there many firms that suited to your profile? How was the interaction with them?
I applied for more than 20 times and the only interviews that I had were through RefugeesWork.
The interaction with the firms was great: I always got a reply – either a rejection or an interview invitation, unlike other platforms where I several times got no reply at all.
What I also like about the platform is that there were/are not only small firms but also the big ones such as (Drei, Xerox, Allianz…) which look for employees in many different fields.
Would or did you recommend the platform to others and why?
I had 5 job interviews before I found the one at Xerox, all of them were through RefugeesWork, so I will indeed recommend RW to others. Because I believe it worked for me and will work for others.
Another important thing about RW is that the firms, which are looking out for employees through this platform, know already that newcomers have some language difficulties and so on, and this is a thing that I appreciate!
Perfect, Ali! We really appreciate you were sharing your experiences with us, thanks once again and all the best!
Thank you for sharing the good experiences, and I hope I helped!
They have an active number of +300 employers and +6000 refugees using the platform. Since Autumn 2016 RefugeesWork.at has conveyed over 70 jobs, amongst Ali was one of them.


Author: Tizian Müllritter
Proof-Reading: Jakob Detering
Global-Editing: Tizian Müllritter
5 (and a half) books every Social Changemaker should read
Whenever I came to a point in my personal or professional life where I wasn't sure if I am doing the right thing or what should my next steps be in order to achieve my goal, I always found help, comfort and peace in books. Inspired by a quote of Jim Rohn, an American entrepreneur and motivational speaker – "The book you don't read won't help", I decided to read a dozen of books recommended by friends, youth workers, leaders, entrepreneurs so that you don't have to, and help you find the right ones in the sea of inspirational, motivational and practical books.

It is called the Bible for social entrepreneurs, and for a good reason I may add. This is not a "how-to" guide, even though the title might suggest otherwise. It is rather a collection of stories of social entrepreneurs around the world.  It is very factual and informative, but also has very personal and emotional stories.
How To Change the World is not just for (aspiring) social entrepreneurs – it will help you find inspiration and motivation in the strength and persistence of the people described, no matter what is it you do in life. Caution: it might change your life forever.

You've probably heard of, or might even own a pair of TOMS, but do you know the story behind it? It is a social enterprise, one of the pioneers of 'one for one' movement. For every pair bought, TOMS donates one pair of shoes to the child in need. This easy-to-read book is a testimony of how and why Blake founded TOMS. It is also full of practical advice on how to include giving in your business model, why building trust is important, how to deal with and overcome fear and many others. Blake shows the successes but also failures they survived, and draws on lessons learned from both.
The book will probably be more useful for purpose driven people and those already in the field of social entrepreneurship, as it is written as a set of short lessons. However, the book is such an easy read, I would actually recommend it to everyone.

This is probably not a typical book you will find in the book recommendations for social changemakers, however, I found it quite edifying. The book doesn't portray Elon Musk (entrepreneur and innovator behind PayPal, SpaceX, Tesla, and SolarCity) as a perfect manager, CEO nor husband. It doesn't hide the scandals and controversies over his takeovers and ownerships of the companies.
Than why is it a must read? Because he is one of the rare actual visionaries of our time. His mission to put people in Mars, and the efforts to actually achieve this, has inspired me and left me in awe so many times throughout the book. The persistence he showed, even in the toughest times (at one point he almost declared bankruptcy), will definitely make you question your reasons for quitting on your dreams and aspirations.
Probably one of my favorite Elon's quotes from the book is – "I think there are probably too many smart people pursuing internet stuff, finance and law. […] That's part of the reason why we haven't seen as much innovation."
This book is for all social changemakers, no matter the field and industry (and for space enthusiast for sure). It will shift your perspective from short term to long term thinking, and also offer some valuable lessons along the way. Truly inspiring!

Start With Why will not inspire you into action as previous books might. It will however provide you with a useful tool you can use in your life, business and impact making. Simon did not discover something revolutionary, and some parts of the book might seem too obvious while reading. However, it is a thing we often forget or disregard to communicate to other people. His model for inspirational leadership – the Golden Circle, will make you think about Why. Why you do what you're doing, and how to then channel that towards your audience to inspire them to follow your vision.
The book is very clear, with lots of examples, and although at times it might seem a bit repetitive, I urge you to carry on. There is also a website that follows the book, where you can find some useful free tools to embark on the journey of discovering your Why. I would recommend it to everyone, especially to those on the leadership positions within organizations.

Okay, if you haven't heard of the book, go straight to the bookstore/library and pick it up. It is a must for anyone entering the startup world today. Why? Because it will change your thinking of business as rigid, hard-changing system that works forever. The Lean Startup methodology pushes you to test your product or service cheaply and quickly, and make better business decisions (or recover from bad ones quicker).
The Lean Startup book can be chewed up in couple of hours, but the lessons you learn along the way will stick with you for a long time. Don't hesitate to read even if you are not entering the world of entrepreneurship. It can also be used as a way of thinking in various non-business projects, as the next book will expand on.

To be clear – I am not suggesting you should read only half of this book. On the contrary! However, as Lean Startup for Social Change builds up on the previous book and I honestly recommend reading it right after.  Gelobter takes Ries's concepts of Lean Startup and unpacks them into valuable tools for experiments and value drivers in non-profits and governments.
This is a great read for changemakers looking for ways to go Lean in their work for a better and more sustainable impact.
Have you read any of these books? What are the most valuable lessons you got from them?
Are there any other books you would recommend?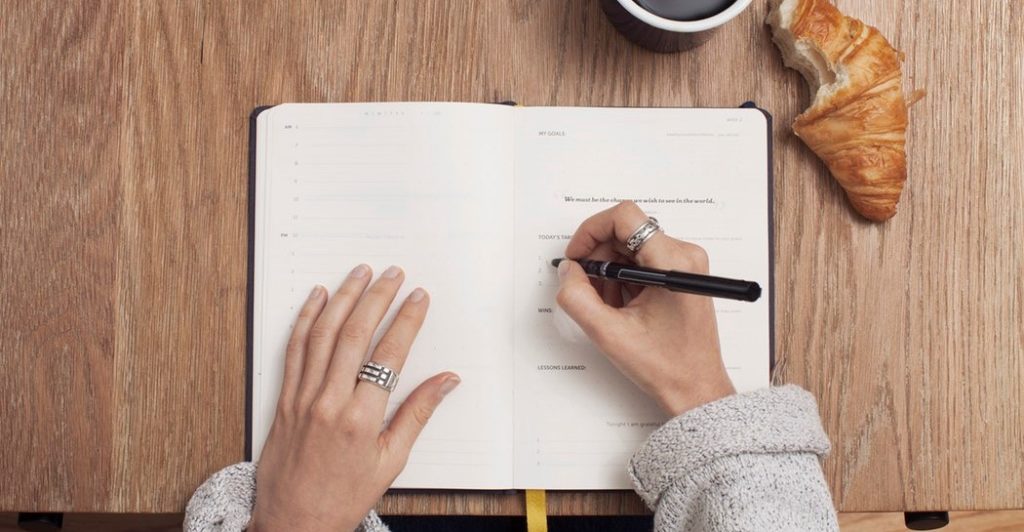 We take note…
Almost there
You need to register in order to submit your bulletin & vote.
We care about your privacy.
Read Privacy Policy .
× close