How unexpected life could be – MyBeeLine
MyBeeLine combines traditional beekeeping processes with modern IT solutions, data mining, IOT and systematic approach in order to achieve better beekeeping on both micro and macro levels. Read their success story! […]
MyBeeLine combines traditional beekeeping processes with modern IT solutions, data mining, IOT and systematic approach in order to achieve better beekeeping on both micro and macro levels. Read their success story!
The beginning…
MyBeeline is the winner of SIA Croatia 2015. The team back then (Alen and Zoran) won the hearts of the jury with their AgTech startup idea aiming to modernize how beekeepers manage their beekeeping process and their Resource Management.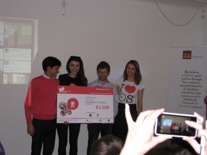 MyBeeLine's CRM (Web + Android) or popularly called BeeRM is a sophisticated system designed and developed for beekeeping businesses that introduces a modern approach supported by ICT in a traditional and very important agricultural sector. Using modern software and hardware solutions, MyBeeLine allows beekeepers to have aggregated statistics about the performance of their apiaries together with global changes that impact their business (nearby diseases, weather, market info etc.)
The story continues…
However, becoming winner of SIA is only the beginning of the team's journey to success. Almost like in a fairytale Alen and Zoran approached Luka – winner of SIA 2014 (just a coincidence?) and fellow from the same faculty – in October 2016 and offered him to join their team and bring the idea to the next level. All of them quit their regular jobs a couple of months after that and founded their company at the beginning of 2017. Currently Mybeeline is an early stage start-up with over 1.200 active users (honey producers) from all around the world (mainly US, New Zealand, Australia and UK).
Besides managing the CRM for the beekeepers Mybeeline is offering high-quality content for over 35.000 readers monthly on their blog & magazine. Topics cover tips and tricks for production of pure organic food and the blog is currently ranked on 2nd place on Google search.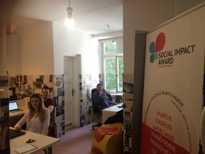 Their "modest" plans for 2017 include the validation of the business model from commercial beekeepers (large producers) and the build-up of customized features to solve various challenges for large honey producers.
As of 2017 the company is fully bootstrapped and financially self-sustainable. However, in order to realize their future ambitions the team plans look for a strategic partner or an angel investor who will help them expand in three key new markets – Hungary, Italy and Romania.
And as in every fairytale everything comes back to the right place. Same with Mybeeline team which recently rented an office at Impact Hub Zagreb and closed the cycle that it started more than two years ago with SIA. Their potential, however, and future growth opportunities are just starting to roll out since EU happens to be the 2nd largest honey producer in the world after China.
 
Bees are identified as species that are threatened with extinction at the European level. MyBeeLine thrives to solve this problem with proper bee caring approach, early detection and prevention of disease spreading and overall protection of bees.  Homepage: mybeeline.co/en/     //     FB: @mybeeline
Interested in other success stories? Find more inspiring corporations in our Book of Inspiration!
Author: Emiliya Angelova
Global-Editor: Tizian Müllritter