Join our team of volunteers! 
Would you like to be a part of the young and international team with a mission? Learn about social impact, entrepreneurship, and innovation? Develop event management, social media, and project management skills?
Then you are in the right place!
We are looking for people dedicated to learning and open to new experiences to join our team of volunteers based in Vienna. During the 6-months volunteering program, lasting from July to December, you will support our team with different activities. To maximize the learning experience, we have different roles for our volunteers. You can read more about them below and decide which one(s) suits you best. 🙂
The applications are closed now! The next round of applications will open in November 2021.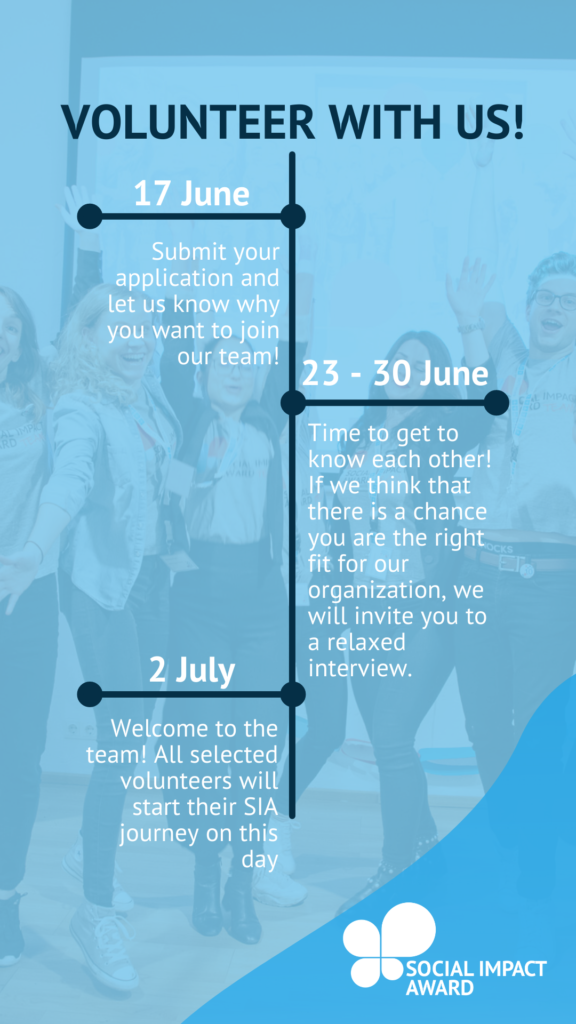 Social Media Support
You will be sourcing and publishing the content for our social media channels. Are you creative, resourceful, and know (or want to learn) your way around Facebook, LinkedIn, Instagram, and Twitter? This role might be for you!
Program and People Support
You'd be in charge of organizing fun team-building activities, supporting the recruitment of SIA staff and volunteers, office management, etc. You bring fresh ideas to the team and implement them in event management, program design, creating workshops, and more.
Fundraising Support
You will be screening for funding opportunities, researching, and writing funding proposals! You should be curious about the topic of fundraising in non-profit organizations, and be fluent in both German and English.
PR Support
You have good communication skills and a passion for writing and conveying a message. In addition to English, you are comfortable with the German language as well.
Alumni Community Support
You are passionate about communities and eager to build ecosystems that can support the work of young social entrepreneurs. You're ready to organize events for alumni, curate the Facebook group, and engage with our alumni across the world.
Incubation Support
You are organized and curious to learn about the ventures we are working with. You will support the organization and communication of different bootcamps for our participants, manage the incubation platform, and support website updates.
Scaling Support
You're curious about social entrepreneurship around the world? In the Scaling Support role, you will get to explore and research different social entrepreneurship support organizations around the world and support our efforts of expanding our impact beyond the current 17 countries.
---
What will we provide you with?
In exchange for your time, dedication, and creativity, we will provide you with:
The opportunity of working in a young, enthusiastic, and multicultural team, and directly with SIA's core members

Development of entrepreneurial skills (project management, design thinking, social innovation, and more)

Behind the scenes look into the social entrepreneurship scene in Austria and beyond

Certificate of completion & recommendation

Membership at

Impact Hub Vienna
Our expectation is that you commit 6 hours per week working with us and that you will join us at the Impact Hub when the situation allows, and online. You should also feel comfortable communicating in English.
Interested? 
The applications are closed now! The next round of applications will open in November 2021.
If you have any questions, write to us at people@socialimpactaward.net. Who knows, some of them might be answered in the story of our former volunteer Lukas.
---
Who are we?
Social Impact Award is a global, growing community for aspiring social entrepreneurs. We support young, motivated people in the development and implementation of their own innovative ideas to solve the biggest social challenges of our time. For this we organize educational and incubation programs in more than 20 countries in Europe, East Africa, and Central Asia. Since its founding in 2009 Social Impact Award headquarters are located in Vienna, where a small, agile team coordinates national teams and program development as well as global growth.