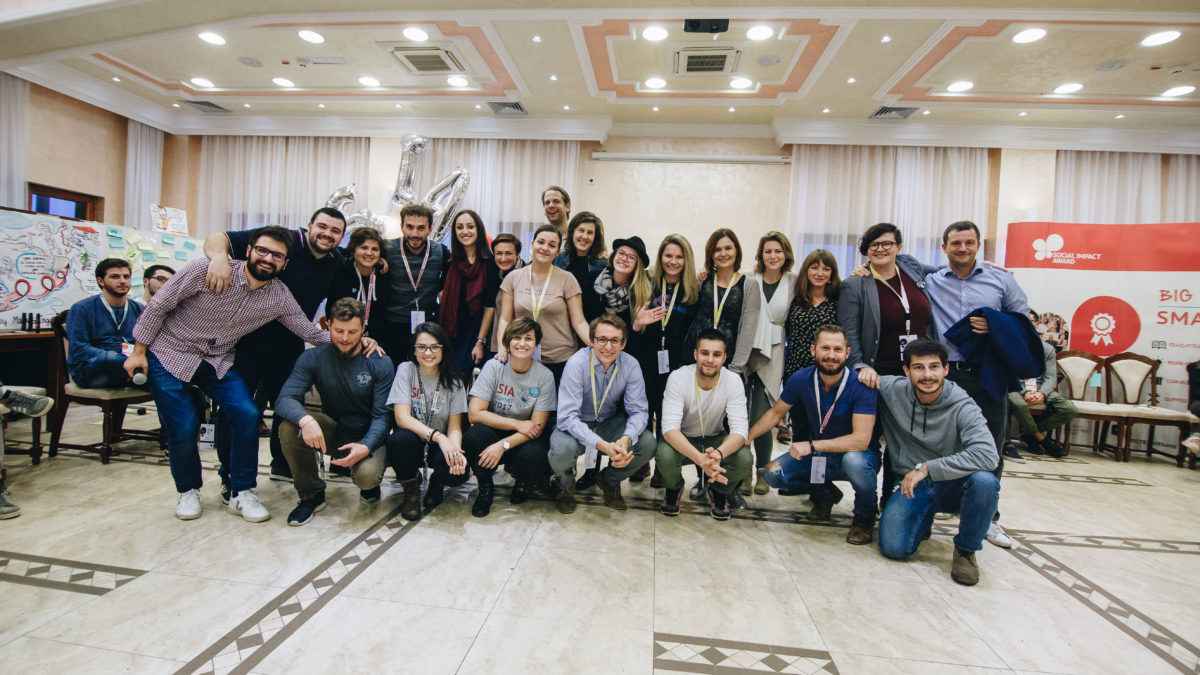 SIA SUMMIT 2017: Volunteering can keep the fire alive
The SIA SUMMIT 2017, Social Impact Awards flagship event of the year, took place from 31st October to 4th November in Belgrade, Serbia. This is the result of the work done during the last nine months by groups of young changemakers from 18 different countries from Europe and beyond. You can imagine everything that can arise from this gathering of enthusiasm, freshness and passion. Although it is hard to put all the experiences, learnings, and emotions into words, Katarina Stevanovic, who served as a volunteer before and during the Summit at least tried it. Enjoy this great piece of enthusiasm and passion that perfectly reflects the spirit of the event.
"As a student of social work and social policy, I was always interested in topics such as integration of marginalized and vulnerable people, community change, and social policy by the youth, law, human resources as well as topics that are connected to earning by doing humanitarian work.
During my senior year I was introduced to a field that combines all these topics – social entrepreneurship. In June this year, I applied for volunteering at the Social Impact Award Summit that was being held in Belgrade for the first time since it was founded. During gatherings like this one people get to realize that learning, listening, sharing and experiencing are the greatest treasures one can get.
Three qualities I take with myself into the further development of my career: organizational skills, knowledge, and personally, the most important one – teamwork.

Learning and improving is the formal side of volunteer work, but it also has its own purpose and sort of magic to it. However, what always leaves the greatest impression on us is the emotion we all share during these events, all the energy you get from others. SIA gathers so many different, and yet so similar people. It sounds confusing, but it is the reality. By similar I mean the shared energy for action towards a better world for everyone. A world where everyone's voice is heard, a world which moves the boundaries of creativity that allows anyone to break out of uniformity. By similar I mean individuality and one of a kind growth of their creations and development.
SIA awakens and refreshes perspectives, shows and opens new roads, connects and brings people closer together.
How does SIA do that?
If I had to answer this question by using words and language, I'd say it gathers people with vision, discipline and will, people whose break really is ten minutes, who know how to make great party when the time is right, those who have their goals clearly marked, who are empathic and creative at the same time, and with sharing these qualities they are even economical. Trust me, they do exist. You have them inside of yourself. It's just that some want to break out sooner, some later, some never.
For five days I was surrounded with people who could teach me so much and whose commitment was captivating. That is why I think we all need a Jakob, Bistra, Toni, Ana, Milos and Dusan in our lives. But not just those – the #SIAwinners2017 are even more amazing! The mix of their skills and knowledge made me set up some new challenges for myself, and motivated me to remain active in the field of social work and social innovation. I cannot but add that SIA is what it is because of its volunteers, who will not just work hard and with commitment for it, but will truly believe and understand the goals SIA sets. Working side by side with these people really made me realize what team work is and what it means.
What is the most beautiful thing about it?
The prettiest thing is that there are no louder and quieter people, those in charge and those who are just listening to them, older and younger among them, there is only true respect and leadership among team members. This is one of the most important things that make SIA so great.
Anyways, you end up where you are meant to. That is your path. You meet the people you are meant to and you feel it. Just like it is supposed to be, not more or less. And it should be remembered like that.
And I, I have decided to save it in my heart, and in these lines, so that it will never be forgotten."
SIA soon!  
 
Almost there
You need to register in order to submit your bulletin & vote.
We care about your privacy.
Read Privacy Policy .
× close