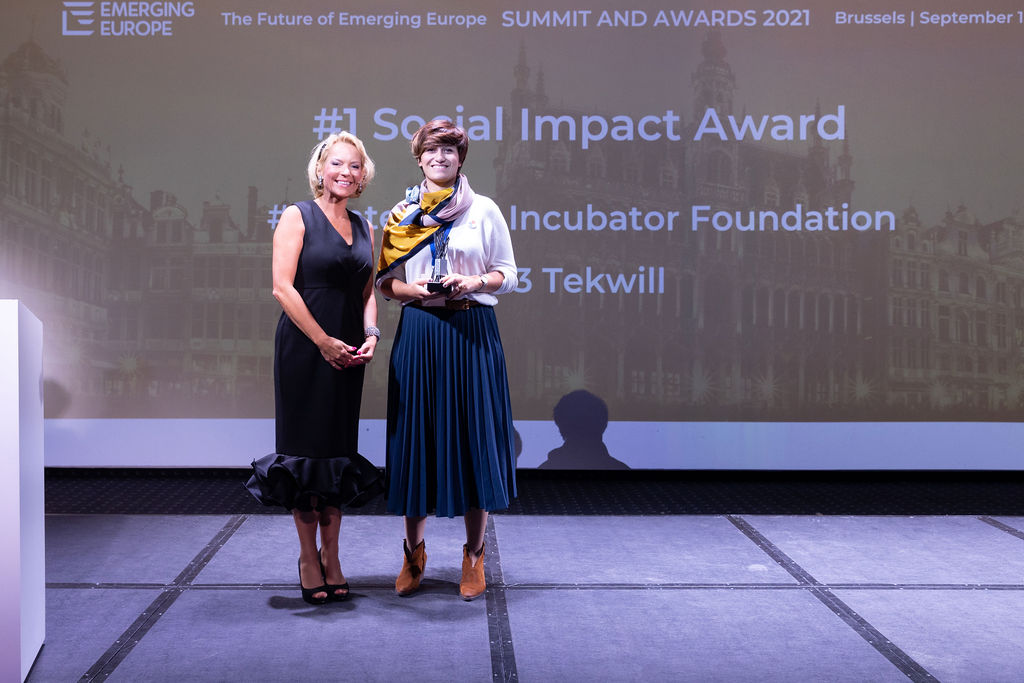 SIA Takes Home Gold at Future of Emerging Europe Awards 2021
Photo credit: Octavian Carare, Emerging Europe
We took home 1st place in the category "Inclusive Entrepreneurship" at the Future of Emerging Europe Awards 2021 for our work with marginalized groups during the pandemic.
The start of the pandemic in 2020 coincided with the beginning of our ambitious 4 year strategic plan, which included a key target group for our support activities: "marginalized communities". This group grew substantially over the year due to the economic and social ramifications of COVID-19.
From 2020 onwards, we actively expanded our programmatic elements to rural areas, made them more accessible to people with disabilities, and started building local and international partnerships to access these communities. Just one example of this was SIA Georgia's partnership with UNDP Georgia, which allowed us to provide internet to participants living in remote villages. This allowed marginalized communities to participate in the program and build their ventures.
Fast forward to 2021 – we got nominated by Emerging Europe for the award and competed with 2 other organizations for first place in a public vote. We received the most votes and took home the Gold in Bruxelles. Other winners included Svetlana Tikhanovskaya, the leader of Belarus' opposition movement; the leaders of the All-Poland Women's Strike against abortion; Youth Cancer Europe, a community of young cancer patients and survivors working to improve the lives of those suffering from the disease; and more.
Social Impact Award was nominated for strengthening support for young entrepreneurs from across the Southeast Europe region in building social enterprises that solve most challenging issues in the time of a global pandemic.

A big thank you to Emerging Europe for nominating us and to the general public for voting for us. This award goes out to all the marginalized groups we've had the chance of working with these past two years: you are all amazing and deeply inspirational.
Almost there
You need to register in order to submit your bulletin & vote.
We care about your privacy.
Read Privacy Policy .
× close