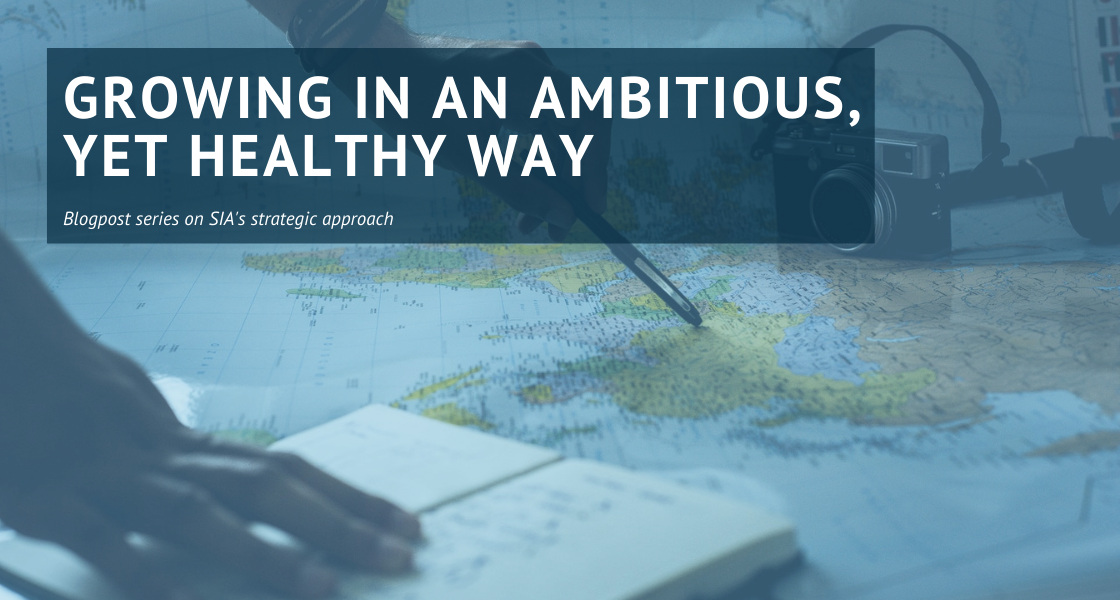 Growing in an ambitious, yet healthy way
Rebooting the social innovation sector will be a tremendous challenge that needs young talent and effective capacity-building programs such as SIA more than ever. This is why it is our […]
Rebooting the social innovation sector will be a tremendous challenge that needs young talent and effective capacity-building programs such as SIA more than ever. This is why it is our strategic objective to grow and scale our activities and our impact in the years to come. We aim to have a strong SIA presence in minimum 20 countries by 2023. This ambitious scaling goal is based on intense preparation work in the past years, where we were able to substantially increase the scalability of our activities. We have heavily invested in areas such as codification, knowledge management, and community building. In addition, we have improved and enlarged our education and incubation designs based on the detailed feedback of our participants and other key stakeholders and have built up a highly talented and capable team at SIA International to manage such growth.
Geographically we will focus our scaling efforts on the following strategic core regions:
Central and Eastern Europe:

As the region where we started with SIA ten years ago, Central and Eastern Europe (CEE) will remain at the heart of our community. SIA is already present in the majority of CEE countries, but still has substantial potential to scale further in the region (e.g. in Poland or Bulgaria). Considering the steadily high youth unemployment rates in most of CEE and the state of civil society being under substantial pressure, we consider our work in the region as critical and relevant as ten years ago.

Southern Europe:

Faced by high youth unemployment rates and significant brain drain challenges, the youth in Southern Europe – namely Portugal, Spain, Italy, and Greece – could benefit significantly from SIA's offers. Hence, it is the objective to scale to these countries as well in the upcoming four years.

Eurasia:

By being present across Russia since 2014 and by having scaled to Georgia, Armenia, and Kazakhstan in recent years, we were able to impact youth in Eurasia already on a relatively large scale. The key learning from these activities is the youth in Eurasia is incredibly motivated to turn their talent into innovative and entrepreneurial ideas that positively impact their communities and the region overall. We aim to strengthen our presence in the region by scaling to Azerbaijan and to more countries between the Caspian Sea and China.

MENAT region:

The youth of North Africa, the Middle East as well as Turkey have been – and still are today – at the forefront of civic movements in the region in the last decade. At the same time, the role of social entrepreneurship has become more relevant as well. SIA aims to support these dynamics by offering a seamless journey for the very first steps of young social entrepreneurs and change agents. In 2019, we already launched SIA in Turkey and aim to scale to countries in North Africa and the Middle East from 2021 onwards.
It is important to mention that we are also open to onboard licensee organizations outside our strategic core regions. However, we will not proactively screen countries outside the core regions for potential partners (whether it is implementation or funding partners).
After having discussed all key aspects of SIA strategy for the upcoming years in the series "Rebooting Social Innovation", in the series' last blogpost we will focus on the strategy process itself. How did we integrate the many voices and stakeholders of our SIA community into the strategy? What did we rely on in creating ideas and drafting concepts? And how will this strategy evolve further?