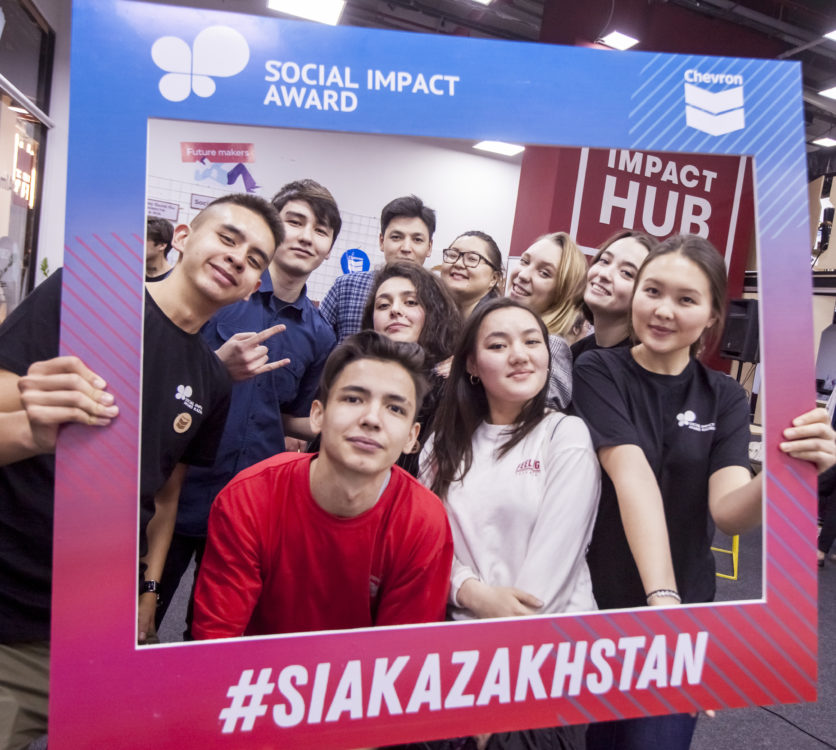 How to Start a Social or Environmental Company in 5 Steps
The world needs solutions to social and environmental issues now more than ever. Thankfully, more and more young people around the world are mobilizing to fight against social inequalities, climate change, and injustice. If you have an idea for a social or environmental company that could make the world a better place, now is definitely not the time to sleep on it.
But even with all the motivation in the world, starting a social or environmental company can get overwhelming. Business models, target audiences, mentorship, incubation programs, funding… all big words you might not understand and things you don't know you need. 
At Social Impact Award, we empower youth to make a difference. We give all the necessary support to turn an idea into a successful organization. If you already have that idea and want access to mentors, financial rewards, and skill-building workshops to build it, apply to our local incubation now.
If you are still unsure about your next steps, here are 5 steps to starting a social venture:
1. Clarify your idea
While a burning desire to make a difference is essential, it's the steps you take next that determine how viable your organization can be. Take out a pen and paper and ask yourself: WHY is this necessary? WHO is this for? WHAT problem(s) will it solve? Write your answers down clearly. You can also use brainstorming and mind maps to tease out your idea. Your business model may change over time, but your core idea is what holds your venture together.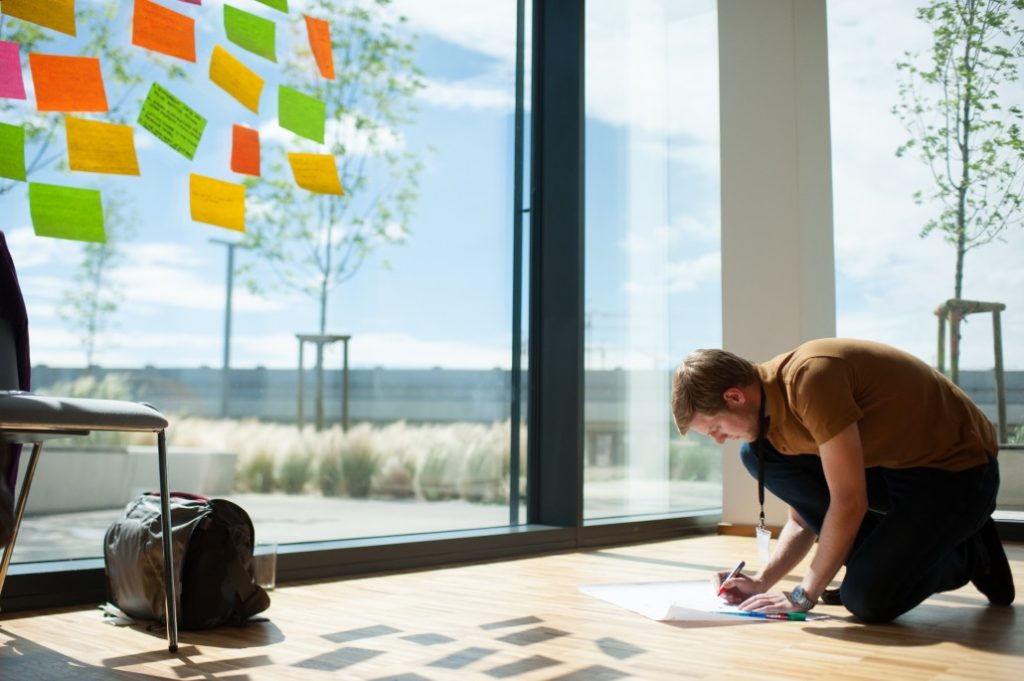 2. Ask for feedback
Are you afraid that someone will steal your idea? Or maybe that it won't make as much sense when sharing it as it does in your head? These are common fears that cross the minds of most new social entrepreneurs. Despite this hesitation, it's important to ask for feedback and get some perspective on your ideas. 
Mentors are a great way to get started. Search for people you admire in your industry and send a friendly email requesting to meet. 
Don't be shy to ask your peers and other social entrepreneurs what they think. As the founders of sustainable commute service company Triply say: "You never know what input somebody can bring".
3. Get to know your target audience
It's common to get obsessed by a brilliant idea and imagining the incredible impact it will make. But you'll never get your venture up and running without real-life insights from the people who will actually be using your solution. The founder of Psycologie.cz reminds social entrepreneurs to "focus on the problem and not your solution". 
Make sure to speak directly with your target audience and become deeply involved in the issues they are facing. Ask questions until you understand their mindsets and struggles inside out. These discussions will help you refine your approach and help you build a solution that strongly resonates with people.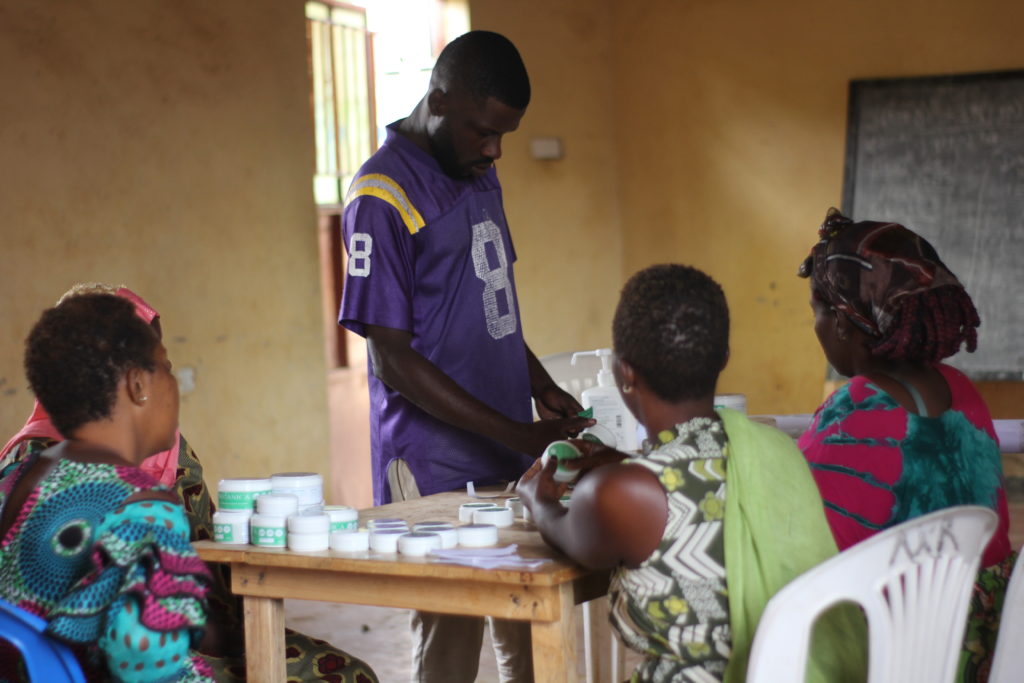 4. Identify the skills you need to build
In the social entrepreneurship game, it's important to know both your strengths and your weaknesses. Self-reflect on what you can bring to the table and what's still missing. If this is tricky, you can ask a trusted mentor to give you transparent feedback. Once you have a clearer picture, seek out opportunities to sharpen some of the tools in your toolbox with skill-building workshops or support programs. You can also look out for motivated people who balance out the skills on your team.
5. Look for funding
Money will make your venture a well-oiled machine. Seek out grants and funding opportunities in your area that support social ventures. Incubation programs like Social Impact Award give you the chance to win pre-seed funding of up to 5000 Euros. While grants can give your venture a financial boost, don't underestimate the lasting impact your community can make. Think FFF – friends, family, fools. Don't be embarrassed to ask the people around you to invest in your idea. 
Crowdfunding is another tried and tested tool. Ask a lot of people to support your venture with smaller sums. Not only is this a great way to finance your venture, but also a powerful way to build momentum and interest around your solution.
Not sure if you want to start a social or environmental company yet? We've outlined 3 reasons to get started.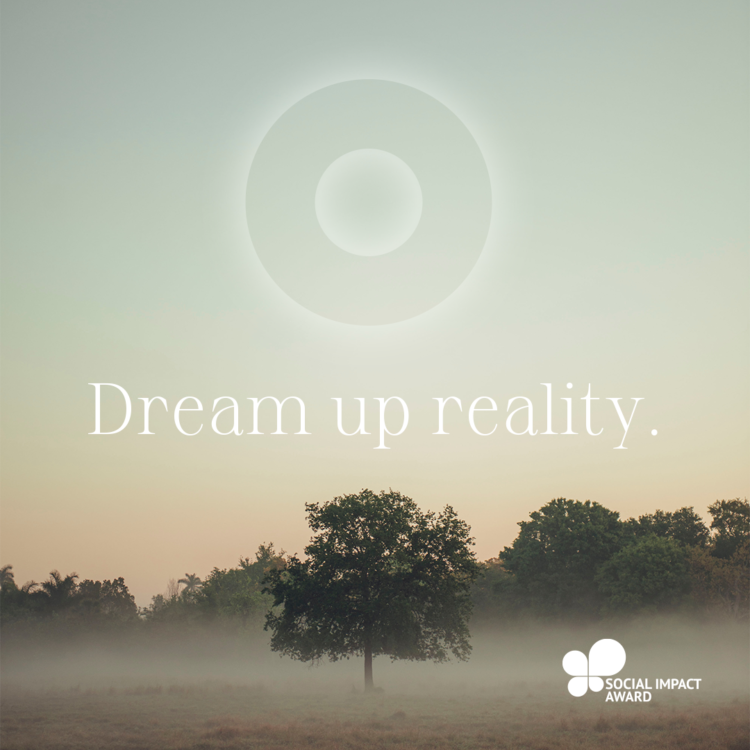 3 Reasons to Build a Social Venture
If you're a young person in 2022, it's very likely you've thought to yourself: "How can I make this world a better place?".
Applications to our incubation program are open now. Come #DreamUpReality with us.
Whether it's offering mental health support, repurposing waste, or creating sustainable jobs for vulnerable groups, you don't have to look far to notice social ventures offering solutions to some of the world's most pressing issues. Even with an idea, you're probably thinking "what next?"
Starting a social venture takes vision and imagination. It's important to envision possibilities beyond what we know so that we don't reinvent the wheel. After all, every great venture started with a fresh perspective. As necessary as it is to dream, it's just as essential to act.
Some major blocks to following through can be lack of information and discouragement from ourselves or others. But listen close: don't give up on that gut feeling! The world needs your dreams more than you think.
Here are 3 reasons to invest in your dreams and stop the next great social venture from evaporating into thin air.
1. The support you need is closer than you think
With every step forward you take, the right tools are just around the corner.
The founders of CosmoTronix dreamt of a future for Georgia where new technologies and innovative products thrive. When they noticed a shortage of specialists in the field and young people's lack of interest in electronics, they looked for ways to make the industry more attractive. They had the idea of creating a board game that would teach young people the basics of electronics, all while being fun. 
Unsure of where to go next, the founders joined their local SIA program and got access to knowledge, mentors, and skill-building workshops. They won the Community Award, granting them funding to pursue their social venture. Now, with a new and improved business model, they continue to increase the chances of employment for Georgian youth in local and international markets.
2. If not you, then who else?
Local problems mostly need local solutions. You are the expert on what your community needs. As social entrepreneur Tom Osborn said in his Ted Talk, "It was Germans who solved some of the most pressing issues in Germany, similarly Kenyans will solve some of the most pressing issues in Kenya". People who are closer to a problem understand it better than anyone and may just have the qualities to spearhead the solution.
What problems affect you and your community day-in and day-out? What do you feel needs to improve? Take action, ask for help, and make the world a more just, equal, and safe place.
3. Discover your ideal community
Dreaming alone can be isolating. The great thing about sharing your ideas is discovering people who are just as motivated as you. The social entrepreneurship community is full of like-minded, cool people with good values. By sharing your idea with others, you will have a lot more fun and stand a much greater chance of success.
At Social Impact Award, we'll enable you to connect with a global community of over 1000 social ventures actively making the world a better place. And if you've got an idea or are interested in getting involved in the field, we'll give you all the tools you need to turn that dream into reality.
Applications to our incubation program are open now. Come #DreamUpReality with us.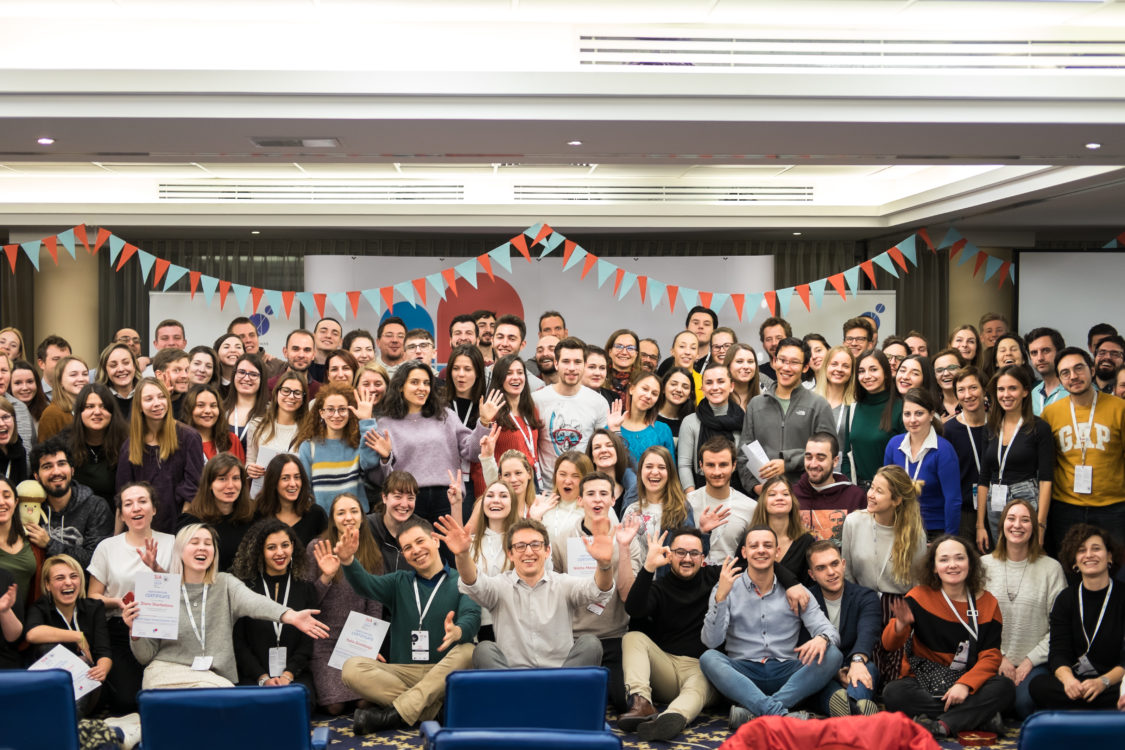 Jakob Detering's 6 learnings from 6 years of leading Social Impact Award
Eleven years after having won SIA himself and six years after taking over the leadership of SIA, Jakob Detering will step down as Managing Director at the end of 2021 and make space for his long-term colleagues Ana Janošev and Jonas Dinger to lead SIA's fast-growing community into the future. Jakob will continue to support SIA as chairman of the board.
Under Jakob's leadership, SIA became one of the world's largest and most relevant communities for early-stage social entrepreneurs supporting almost 10,000 young people annually to create impactful solutions to pressing societal challenges. The successful track record of the 1,000+ social enterprises that evolved out of SIA in more than 25 countries in Europe, Central Asia and Africa has been a substantial booster to the evolving field of social entrepreneurship and a testament to the entrepreneurial potential and focus on impact of today's youth.
In this blogpost, Jakob shares six key learnings from his SIA journey, one for each year under his leadership. He dispels a few myths around social entrepreneurship and allows us to get an honest insight into SIA and the current state of affairs in the field.
Believe in the innovative power of youth
"So much is said about today's young generation. People say that it lacks drive. That it is not politically engaged, nor interested. That it is self-oriented and hedonistic. This is far from the truth. 
Throughout the past few years, I had the privilege to engage with hundreds of young social innovators from all corners of the world. Again and again, I was not only impressed by their sense of care and imagination but also by their ability to put their passion into real action and bring about tangible change. This recurring experience has been my driving force and motivator throughout all the years.
Here are a few numbers from our long-term studies among SIA's alumni to back up my point:
Our alumni have a considerable positive impact. About 77% of SIA winners are still running their ventures 3.5 years after graduating from SIA.
SIA ventures create strong innovation and systemic impact. 75% of SIA ventures created products or services that previously did not exist.
SIA ventures have gained formidable organizational capacity. They on average employ 5.14 staff and are supported by 12 volunteers. Yearly revenues were on average 30,000 EUR. 58% of SIA ventures received external funding support.
SIA participants who quit their ventures remain committed to their impact goals and continue onto an impact-oriented career path. 65% now work in an organization (e.g. NGO) with a positive impact on society or in an organization (e.g. corporate) where they contribute to putting impact on the agenda.
So, it is both my lived experience and the impressive track record of our alumni that give me hope in front of the enormous challenges we face as humankind. The youth has enough talent, passion and grit to change the world. All they need is an environment in which they can realize their potential.
Scaling is important, but let's not forget about deepening
If someone wants to get an update on SIA's development, the questions are usually: How many new countries will you scale to next year? How many new participants did you attract? How will your budget grow?
And indeed: scaling matters. Within the past few years, we grew into Europe's largest community for early-stage social entrepreneurs – and even scaled to Africa and Central Asia. Nowadays, we reach more than 5 million people through our awareness campaigns; more than 10,000 young people take part in our education programs every year, and in 2021 we reached our long-term goal of 1.000 alumni ventures. We are proud of these numbers, as they showcase the size of our community. They are tangible and can easily be grasped.
These numbers, however, only tell half the story. By focusing on the scale of impact, one tends to underrate the importance of its depth. Shortly after I joined SIA, we made a significant change to our program by adding a full-scale incubator to our offerings. This deepening of our programmatic offerings allowed us to suddenly provide hundreds of nascent social ventures each year with mentoring, connections, a feeling of community, and capacity-building offerings to validate their impact and business models.
This is just one example of many. Throughout the years, we often pivoted our interventions, learned from our impact surveys, and made existing offerings better. This focus on deepening has been a large part of our team culture. It, most recently, also enabled us to swiftly shift into the digital space when the pandemic hit the globe.
So, my invitation is: Let's be less obsessed with growth numbers. Let's focus more on the depth of our impact. It might be tougher to grasp, tougher to reach and tougher to explain. But it is the right thing to do.
We need to go beyond the bubble
One of the reasons I care so much about SIA is that this community was personally transformative. In 2010, I won SIA myself. The recognition and motivation I received from the award were a turning point in my life and made me start a career in social entrepreneurship. But before winning SIA, I won the birth lottery. I am a white male raised in a middle class family in Germany, who was given an excellent education and a healthy environment to thrive in, free from the hardships so many face around the world.
As SIA was founded at the Vienna University of Business and Economics (by my mentor and great friend Peter Vandor), it naturally put a focus on students like me first. It's a logical approach: Students have great entrepreneurial potential, but are rarely exposed to social entrepreneurship education during their studies. Hence, throughout the years, SIA has been the entry door into the field of social entrepreneurship for thousands of students. Up until today, many of our participants are students and their impactful innovations impress me again and again.
However, if we are serious about enabling the young generation to make social entrepreneurship a mainstream approach, we need to go beyond the usual bubbles of well-educated people like me. That is why around 2017 we began to shift SIA from a student program into a youth community that especially focuses on young people from marginalized backgrounds. We started to work with rural youth in Armenia, young refugees living in the world's largest refugee camps in Northern Uganda, young Ukrainians suffering from war, and many more. We went beyond the bubble and witnessed the motivation and ability for change among those exposed to discrimination and violence.
Today, almost half of our participants globally are exposed to marginalization – economically, socially and/or politically. More than a third of our applicants has experienced long-term unemployment and more than 20% frequently experience discrimination because of their social status or attributed characteristics. These groups need to be part of the story, as their immediate connection to critical societal issues and their entrepreneurial spirit will be an integral part of taking social entrepreneurship seriously in the long run.
Let's break the myth of heropreneurship
At SIA, we're building a world where all young people are able to realize their potential as agents of change. With this work comes serious responsibility. We have to ensure that they are aware of the dark sides of social entrepreneurship and are equipped to deal with these challenges. The importance of this work cannot be understated, as our own impact studies tell us that 43% of our alumni have suffered from symptoms of burnout at least temporarily. More than 10% of our incubated entrepreneurs are exposed to a high burnout risk. And 5% reported that they had to quit working entirely due to burnout.
One of my top priorities throughout the last years was to ensure that SIA strengthens the capabilities of nascent founders to develop a healthy attitude towards their leadership roles and to build resilient team cultures. Thanks to the pioneering support from the Hil-Foundation, we intensified our research on the matter and designed a set of support mechanisms, ranging from individual coaching to peer-to-peer formats.
Unfortunately, avoiding and coping with entrepreneurial burnout is commonly perceived as an individual challenge. Yet, our data suggests that many of the stressors causing it are rooted in the broader ecosystem, e.g. lack of funding, lack of tools for conflict resolution, or insufficiently developed business models. Hence – beyond the founders – the broader ecosystem needs to shoulder some of this responsibility and provide capacity building, funding and sound policy to enable resilient social entrepreneurship.
As a result, we've extended our awareness-raising activities towards funders, investors, accelerators, public institutions, etc. We organized events and more intimate gatherings for these support groups in order to raise awareness, share our research results on the matter and connect them to real stories among our alumni. 
Please join us in this effort and make mental health a top priority – first towards yourself, but then also to those around you. Together, we can break the myth of heropreneurship and transform the work culture among social entrepreneurs.
"Glocal" organizational models are the future
SIA has been pioneering an innovative licensing model, allowing us to reach youth in over 25 countries with a program deeply rooted in local realities. We work with locally established organizations who host our programs in their country, and they are SIA's most important asset. They engage all kinds of local stakeholders including mentors, facilitators, jury members, participants, and build communities adapted to local needs. They run local awareness campaigns and also fundraise for their activities.
They do all of this under the most complex circumstances. Often, they are the first organizations locally that, through SIA, put a strong focus on the early stages of the venture pipeline. They go the extra mile and pioneer change at the intersection of social innovation and youth empowerment. And most of the time, they are underfunded and understaffed. In short, they fight an uphill battle. But they keep fighting, driven by the common vision of empowering young people around the world to realize their potential as agents of change.
At the same time, SIA has become a global community with SIA International serving as its backbone organization. Headquartered in Vienna, Austria, the lean team of around 10 employees and rotating 10-15 volunteers provides all SIA Hosts with an holistic architecture of services: a clearly codified program design, in-depth impact measurement, ongoing marketing and branding support, the organization of various annual international gatherings, a rich IT infrastructure, the curation of the international alumni community, hands-on support for the local teams, intense support and collaboration on the partnership development, and many more. Yes, this small team is busy all year long!
The more I worked with this model, the more I understood the beauty of it. We are able to fully localize our support – which is key if we are serious about guiding nascent entrepreneurs from vague intentions to feasible ventures – while at the same time heavily leverage the economies of scale of an aligned and centrally-served community. I strongly believe that in an ever more connected, yet also growingly fragmented world, such a "glocal" approach can be a blueprint to many other organizations out there.
Impact is not created in the spotlight
As I have been reflecting over my time at SIA, I went through social media posts about my work throughout the past six years. In most of the pictures, I'm addressing a conference, speaking at a SIA event, or running a public workshop. I'm on stage.
I cherish these moments greatly. They illustrate that people are interested in our work, that we are relevant and create impact. These public moments help us raise awareness for social entrepreneurship. They inspire and educate youth. And sometimes they influence a minister, a corporate executive or a philanthropist in the room to take a second look and realize that there is untapped potential at the intersection of youth and social entrepreneurship.
But those public moments are just a fraction of our work. The real impact is created offstage, often over months and years of ongoing, persistent work, in private conversations with our participants, in those long days at the office, and especially in painful moments of failure, when nobody out there cares.
As much as we all love the spotlight, let us not focus on it too much. Let us acknowledge and cherish the value of our "unseen" work. Because the most rewarding moments from my time at SIA came when our persistent work had ultimately manifested in lasting impact among our constituencies – more rewarding than any stage could ever provide."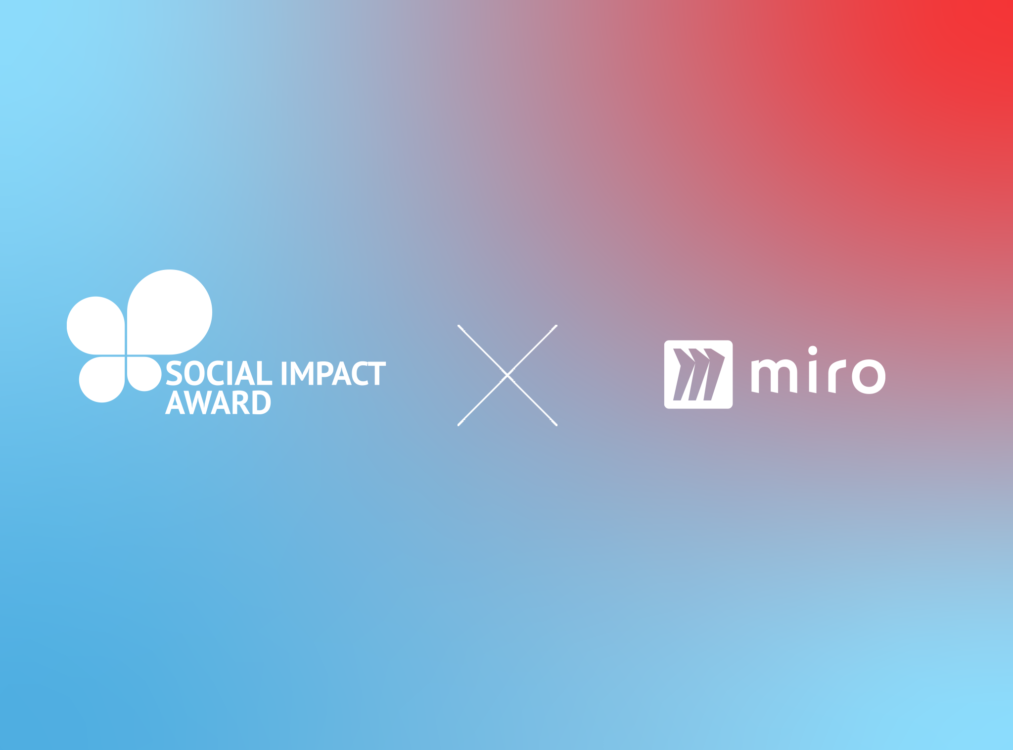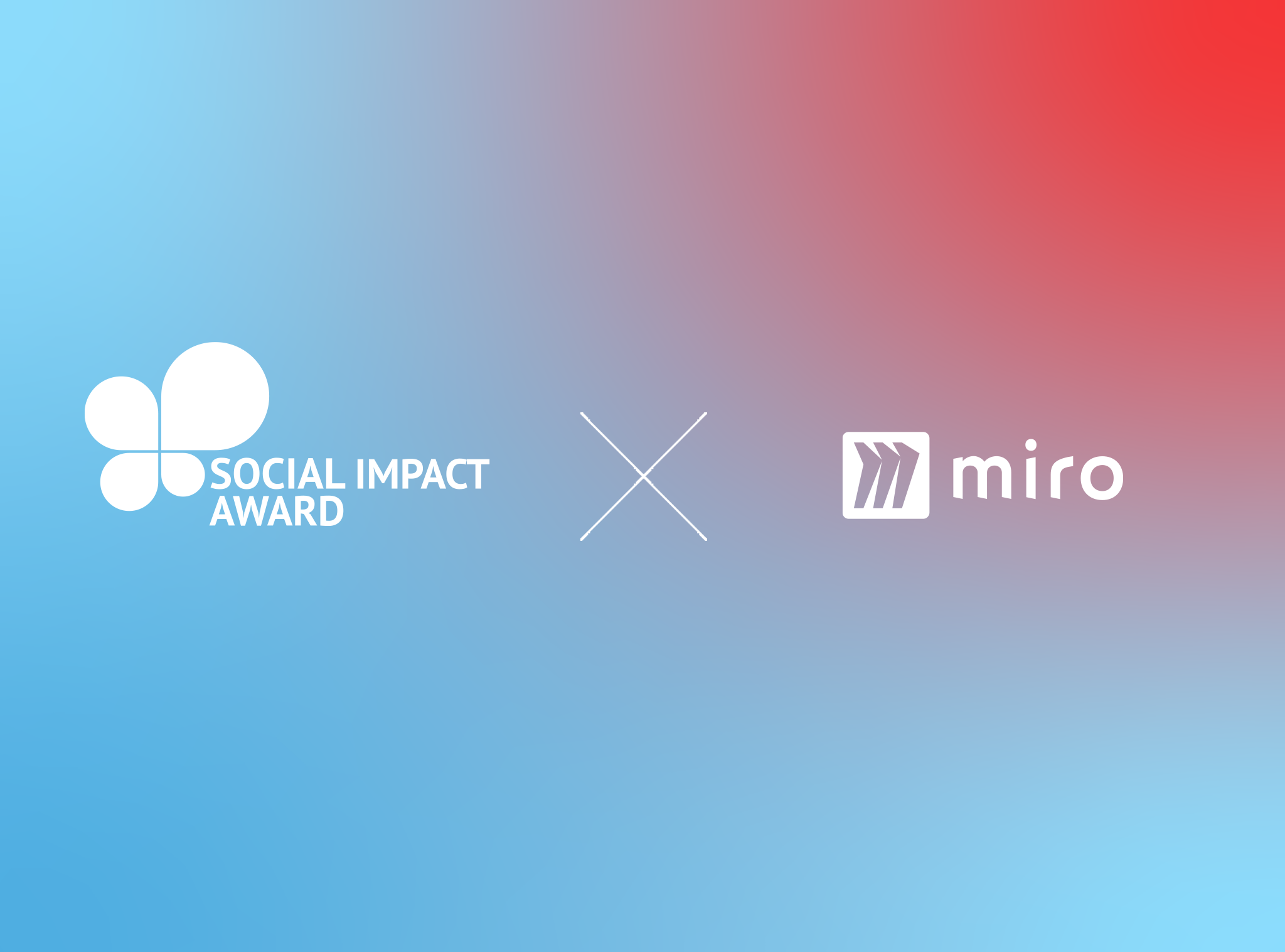 Miro x Social Impact Award – Enabling global impact, digitally
We've recently partnered up with Miro, the leaders in digital whiteboards and visual collaboration, to offer their tools to SIA alumni as part of their Miro Startup Program. In a series of 2 blogposts, we'll explore how we used Miro's tools to support our global Social Impact Award offerings and how we used them to foster our sense of community. 
In April 2021, we ran a completely new kind of SIA event: the International Social Impact Weekend. It brought together young people from all around the world for a weekend of social entrepreneurship. Participants were taken through all the early-stage steps towards building a venture, from building a team and developing an idea to identifying an impact model and pitching in front of a jury.
The event was a big success: more than 300 participants registered coming from 49 countries. And the feedback was very positive:
At the time of the event, I was in a difficult space with my mental health. This event gave me a real push, like a sparkle of light in the darkness. I got to connect and collaborate with interesting, smart people, developed new skills, and personally became a user of the Miro collective for my own projects. As a result of the experience, I started building a social venture centered around the wisdom of indigenous people in the Caucasus to make an impact. – Sophia Abramishvili, participant from Georgia
By using Miro, we were able to more successfully lead our participants on a seamless journey, taking them through all the steps needed to build a venture, online. With the help of consultant Christine Jama, an entire "SIA Miroverse" was built, made up of different planets representing different parts of the experience.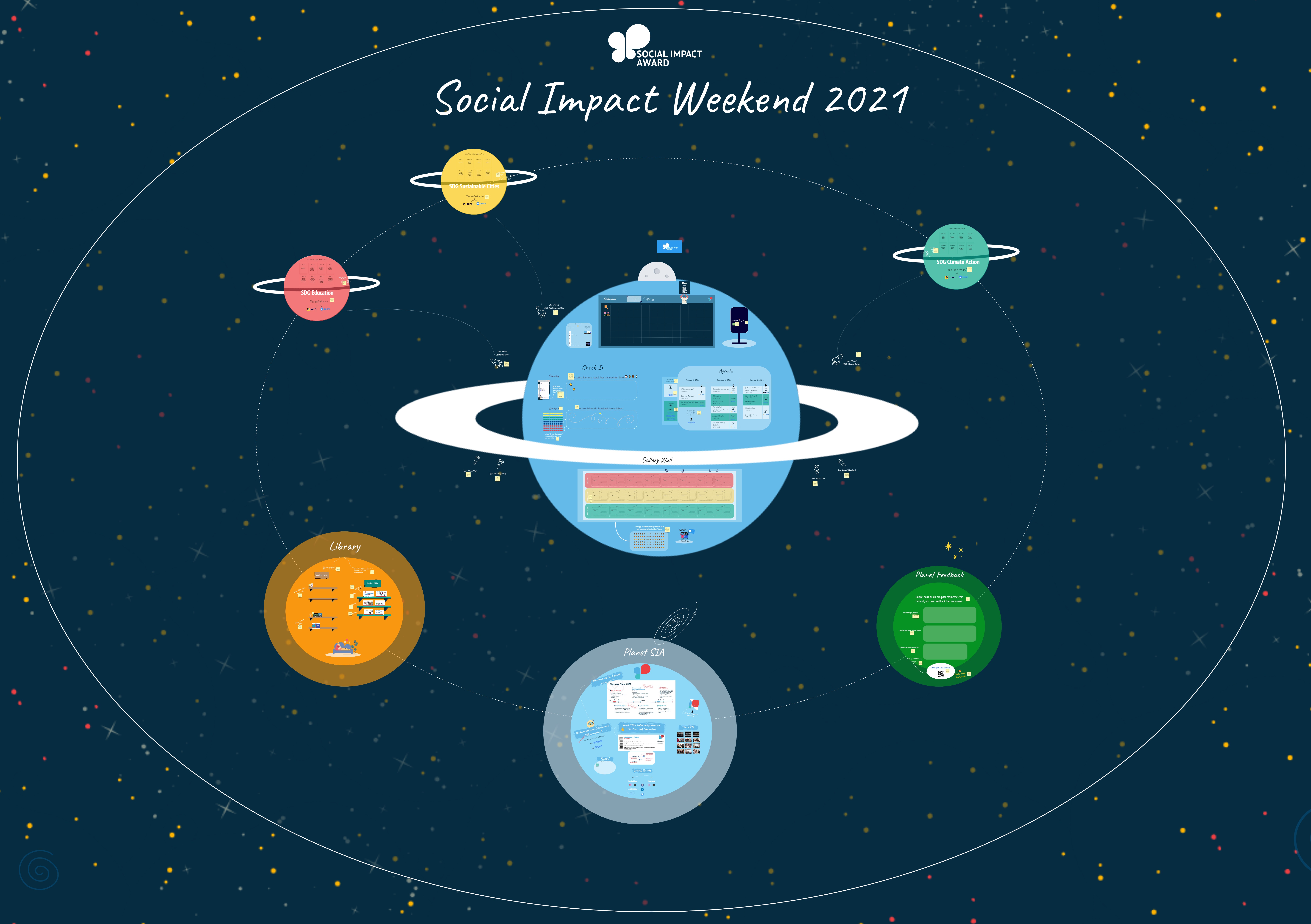 A screenshot of The SIA Miroverse
In an age of social distancing and digitalization, being able to run events fully online and replicate the flow of in-person events is a gamechanger. However, Miro is not just useful for those running online events and workshops. It can be used for a myriad of activities, like running meetings, running brainstorming meetings, and much more. In part 2 of the series, we'll explore how we use Miro to foster a strong SIA community.
If you are a SIA alumnus/a and would like to get the 1000$ miro credit, you can apply via this link.
If you'd like to stay up to date with the next International Social Impact Weekend, as well as all other SIA offerings, sign up for our newsletter! You'll also receive monthly inspiration, knowledge, and opportunities straight from our international SIA community.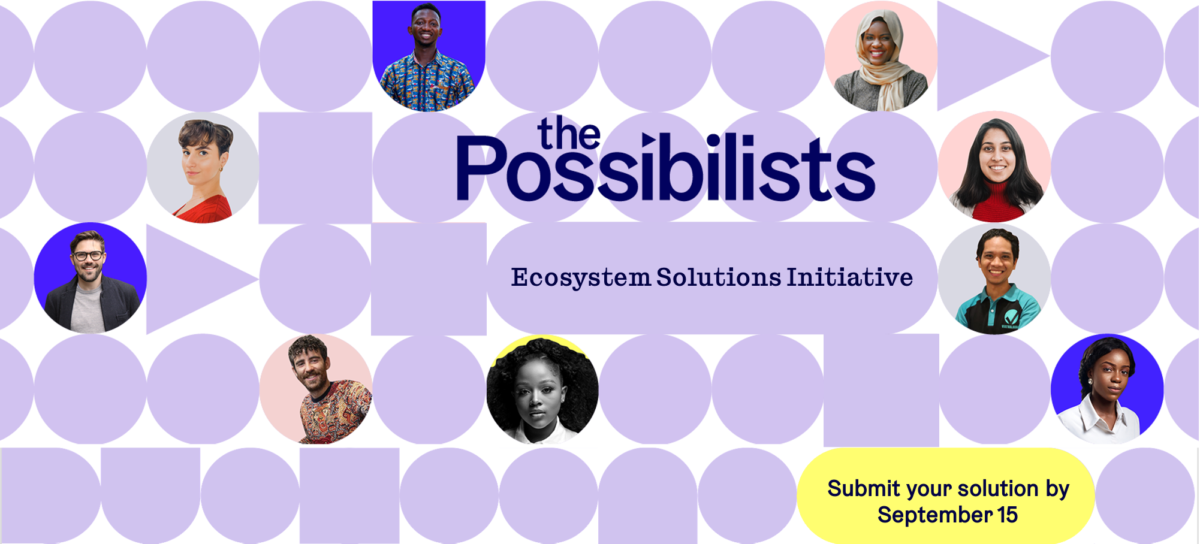 The Possibilists – the largest study on the work and lives of 800 young social innovators
The Possibilists are young people creating change everywhere we look. Some of them dedicate everything they have to tackle the most pressing issues of our time; it is their work and way of life. They are changemakers, activists, social innovators, disruptors, dreamers, doers, people who believe social and environmental change is possible.
The Possibilists – Study
Along with 15 of the world's leading youth social innovation networks, we conducted The Possibilists study to better understand the lives and realities of these young agents of change. The study was truly unique in that it looked at both the agent of change and their venture, not just one of the two. 800 changemakers responded to the study, coming from 137 countries across the globe. The results were pretty striking. Some of the major findings include:
66% cannot adequately compensate themselves through their venture.
79% are juggling multiple responsibilities along with a full-time dedication to their social ventures.
59% have experienced a burnout since starting their initiatives.
However, COVID-19 didn't knock them out, with 80% continuing activities and 69% pivoting their work creatively to tackle the crisis.
We recommend taking a look at the in-depth results.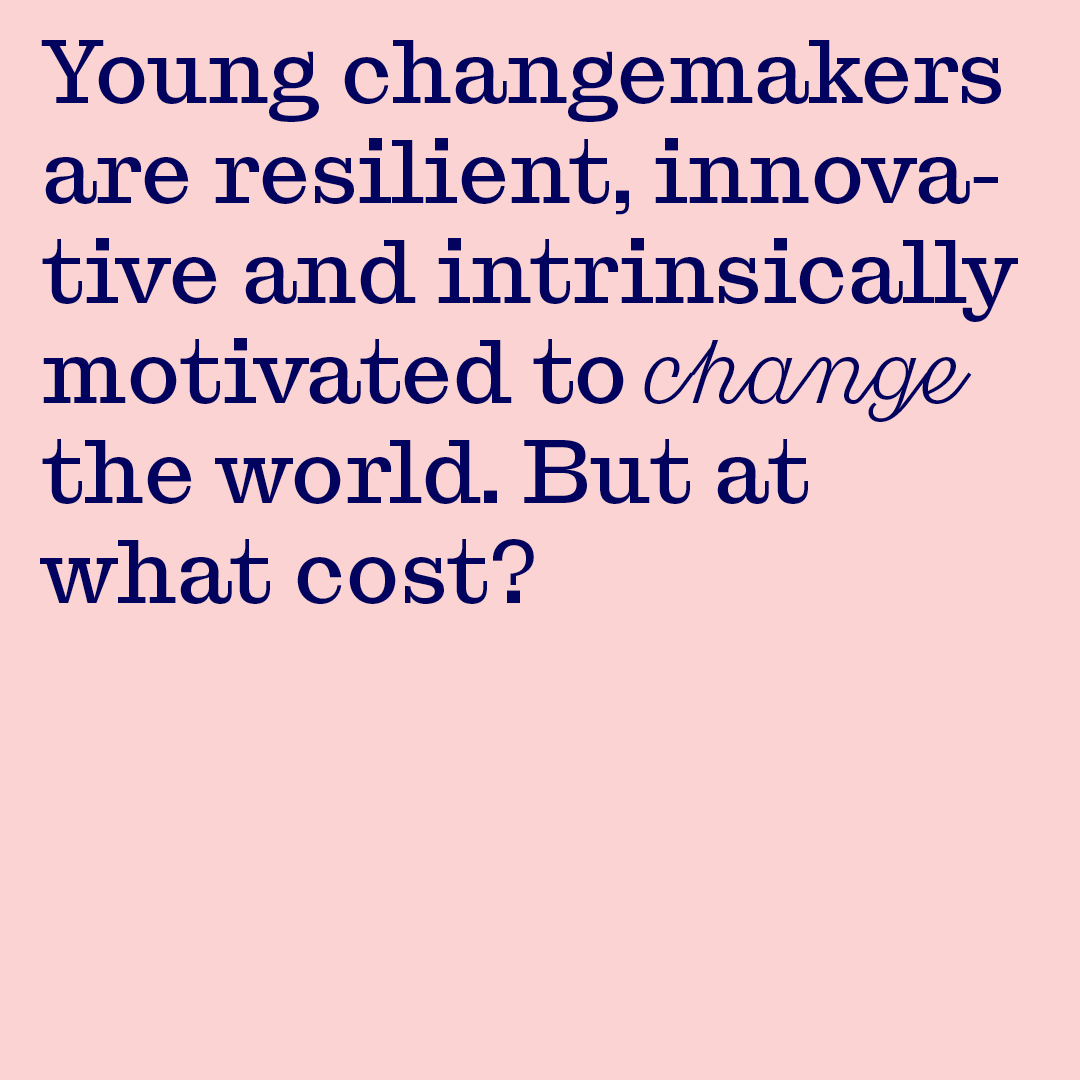 The Possibilists – Recommendations
The study made clear that respondents and their ventures needed to be connected to more people and more  organizations in their field, as well as get access to mentorship, development opportunities, and of course, access to financial resources.
As a result of the findings, all 16 organizations running the study outlined 8 key recommendations for all stakeholders working with these young agents of change. The recommendations cover all angles, from "focus on the person, not just the initiative" to "build upon the strong local-international connection of young social innovators" and many in between. We recommend taking a look at the rest of the recommendations!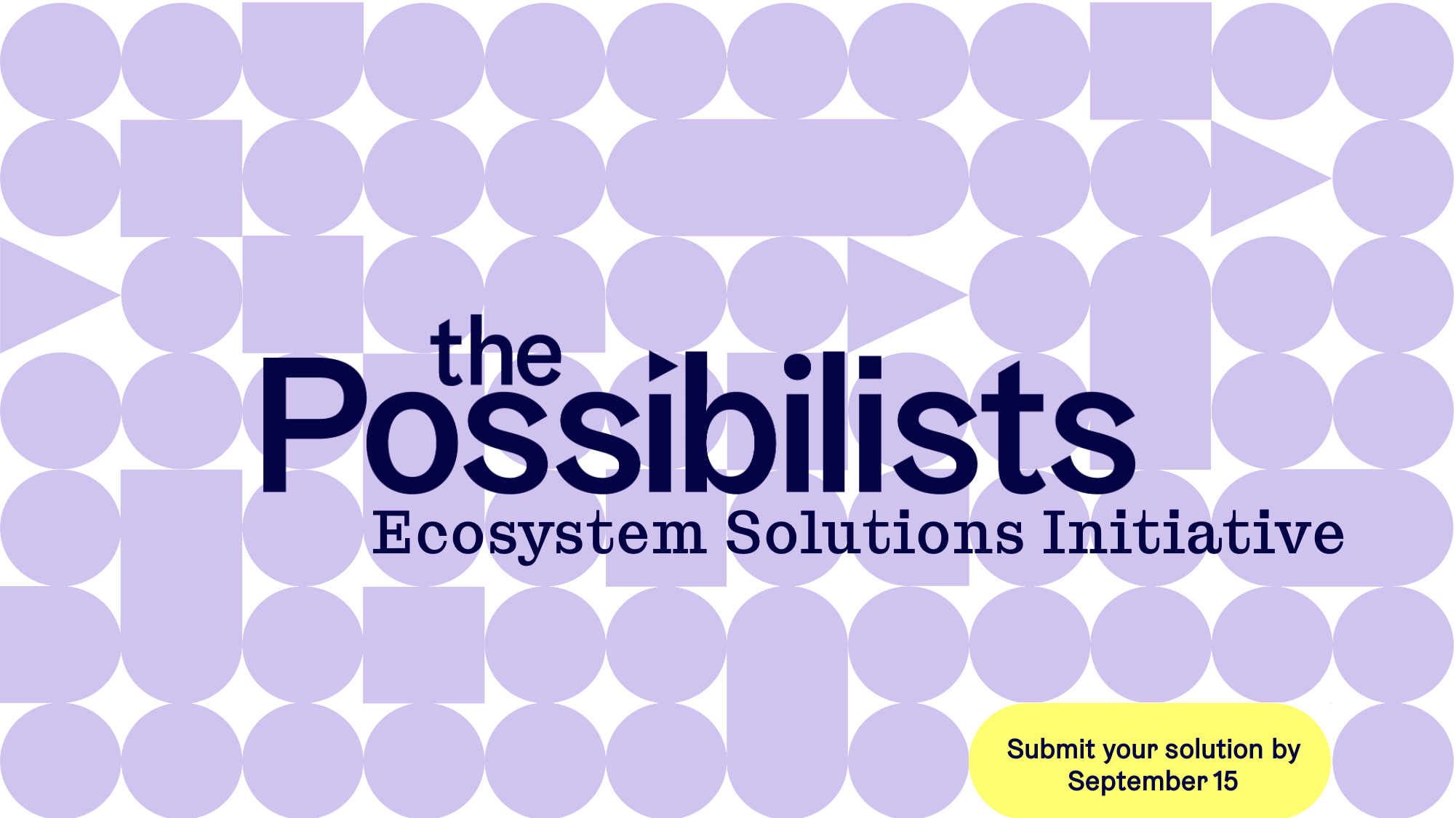 The Possibilists – Solutions
Overall, The Possibilists made it clear that we, as an ecosystem, are needed to maintain the support of these entrepreneurs, and play a crucial role in creating a future generation of entrepreneurs that are not faced with the same issues.
To help achieve this, we are launching the Ecosystem Solutions Initiative, which sources, documents, presents and connects the world's best ecosystemic solutions which address the challenges of young agents of change. Anyone operating a grant-giving program, or giving youth access to policy makers, or generally working to help young social innovators succeed: we are looking for your solutions.
You can learn more or directly submit your solution. Successful submissions will be added to a repository reaching thousands of young social innovators around the world, also giving you the chance to join our effort to improve the ecosystem for young changemakers everywhere.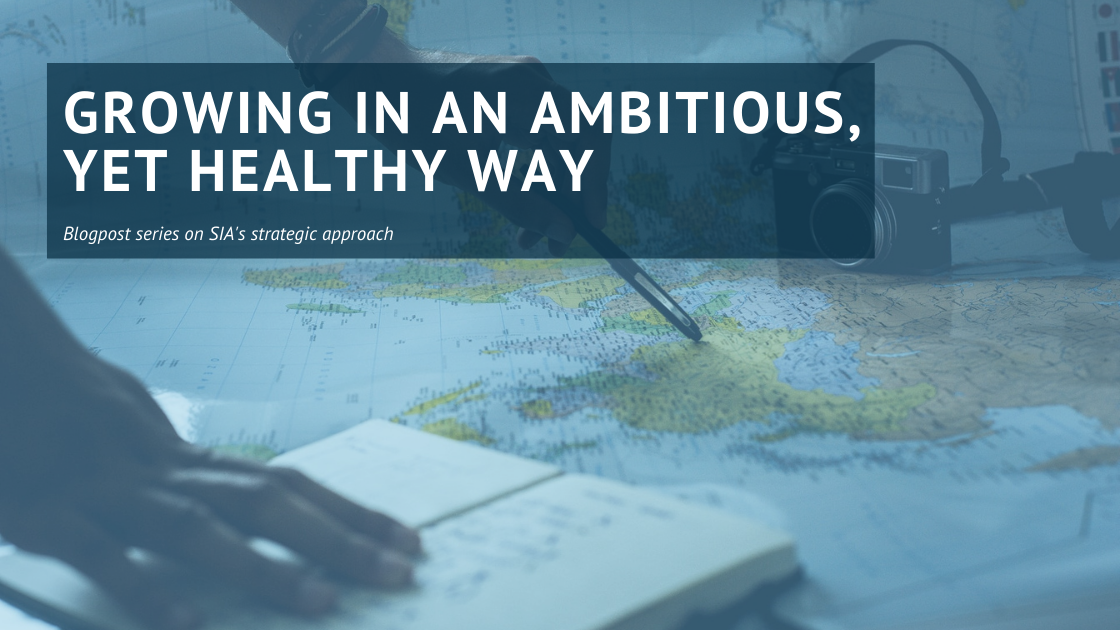 Growing in an ambitious, yet healthy way
Rebooting the social innovation sector will be a tremendous challenge that needs young talent and effective capacity-building programs such as SIA more than ever. This is why it is our strategic objective to grow and scale our activities and our impact in the years to come. We aim to have a strong SIA presence in minimum 20 countries by 2023. This ambitious scaling goal is based on intense preparation work in the past years, where we were able to substantially increase the scalability of our activities. We have heavily invested in areas such as codification, knowledge management, and community building. In addition, we have improved and enlarged our education and incubation designs based on the detailed feedback of our participants and other key stakeholders and have built up a highly talented and capable team at SIA International to manage such growth.
Geographically we will focus our scaling efforts on the following strategic core regions:
Central and Eastern Europe: As the region where we started with SIA ten years ago, Central and Eastern Europe (CEE) will remain at the heart of our community. SIA is already present in the majority of CEE countries, but still has substantial potential to scale further in the region (e.g. in Poland or Bulgaria). Considering the steadily high youth unemployment rates in most of CEE and the state of civil society being under substantial pressure, we consider our work in the region as critical and relevant as ten years ago.
Southern Europe: Faced by high youth unemployment rates and significant brain drain challenges, the youth in Southern Europe – namely Portugal, Spain, Italy, and Greece – could benefit significantly from SIA's offers. Hence, it is the objective to scale to these countries as well in the upcoming four years.
Eurasia: By being present across Russia since 2014 and by having scaled to Georgia, Armenia, and Kazakhstan in recent years, we were able to impact youth in Eurasia already on a relatively large scale. The key learning from these activities is the youth in Eurasia is incredibly motivated to turn their talent into innovative and entrepreneurial ideas that positively impact their communities and the region overall. We aim to strengthen our presence in the region by scaling to Azerbaijan and to more countries between the Caspian Sea and China.
MENAT region: The youth of North Africa, the Middle East as well as Turkey have been – and still are today – at the forefront of civic movements in the region in the last decade. At the same time, the role of social entrepreneurship has become more relevant as well. SIA aims to support these dynamics by offering a seamless journey for the very first steps of young social entrepreneurs and change agents. In 2019, we already launched SIA in Turkey and aim to scale to countries in North Africa and the Middle East from 2021 onwards.
It is important to mention that we are also open to onboard licensee organizations outside our strategic core regions. However, we will not proactively screen countries outside the core regions for potential partners (whether it is implementation or funding partners).
After having discussed all key aspects of SIA strategy for the upcoming years in the series "Rebooting Social Innovation", in the series' last blogpost we will focus on the strategy process itself. How did we integrate the many voices and stakeholders of our SIA community into the strategy? What did we rely on in creating ideas and drafting concepts? And how will this strategy evolve further?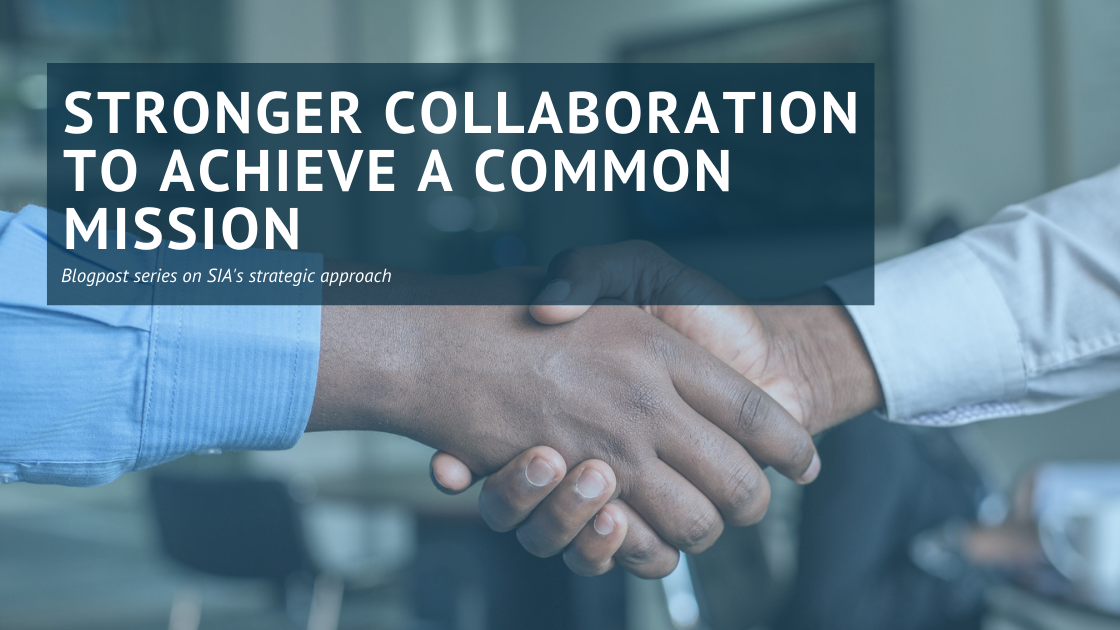 Stronger collaboration to achieve a common mission
It is an integrative part of SIA's strategy to deepen our impact inter- and transnationally. Deepening refers to strengthening the network of licensees among themselves and with SIA International through community practices and effective governance structures.
Nothing has been more relevant for SIA's success in the past than its strong community spirit and its collaborative attitude towards driving change. SIA – that is not an organization or a loose network. It is the incredibly dedicated SIA Hosts (i.e. licensees) with its 100+ SIA team members. It is the hundreds of partner organizations from academia, philanthropy, corporates, the public sector, media, and civic society organizations. It is the 8,000+ annual participants of SIA's program and the 730+ alumni ventures. It is hundreds of local mentors, coaches, experts, volunteers, facilitators, and jury members that dedicate a substantial amount of their valuable time to contribute to our community. SIA is a community of dedicated people from a broad range of backgrounds committed to turning the talent and potential of the younger generation into a tangible and lasting impact. The collaborative effort by all of them in creating this strategy is yet another testament to SIA's strong community.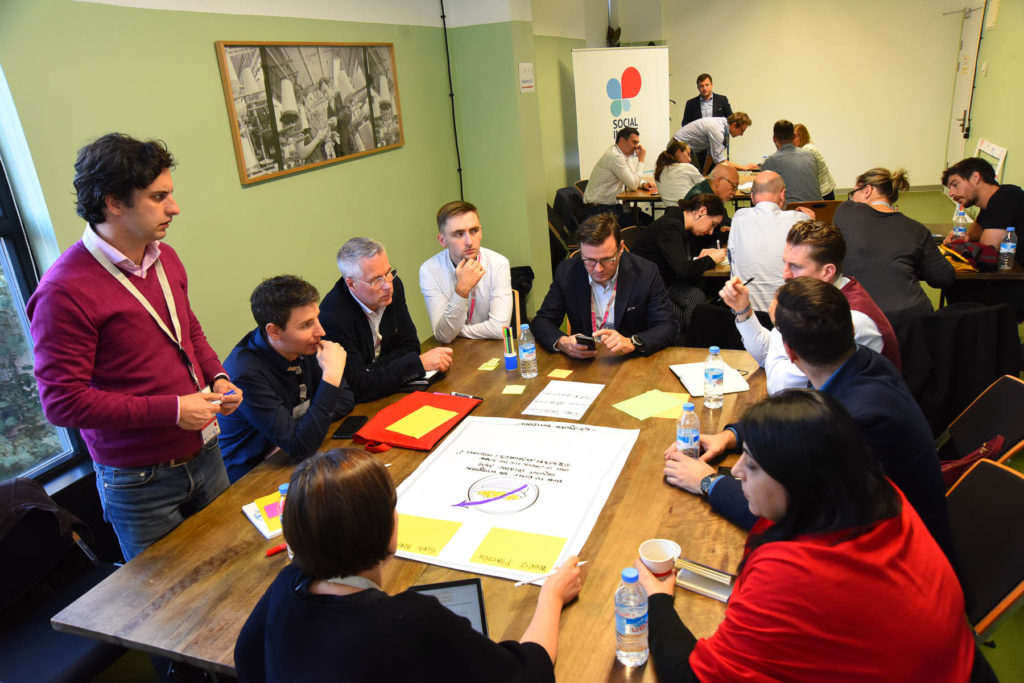 Hence, it does not come as a surprise that it is a crucial element of our strategy to keep our focus on deepening the collaboration within our growing community. This will be achieved by continuously developing the services of SIA International further, whether it concerns the development of the curriculum, the organization of international gatherings, our impact assessment, communications and marketing efforts, or our IT infrastructure. These services shall support our licensees in focusing on the implementation of SIA's activities on a local level.
Moreover, we meet the strong desire of our community to increase the regional collaboration between SIA's licensees – both in terms of developing joined funding partnerships as well as through joined activities around SIA's four impact fields. SIA International as a lean, yet strong backbone organization of the community will support its licensees in achieving a stronger collaboration. It will focus on servicing its licensees and remain a non-profit organization itself. The license model has proven to be the most effective and impactful governance model for the SIA community as it combines economies of scale with high adaptability to local realities. 
In the next blogpost of our series "Rebooting Social Innovation", we will talk about SIA's strategy to grow and scale its activities to meet the growing demand for capacity-building in social entrepreneurship in a post-pandemic world.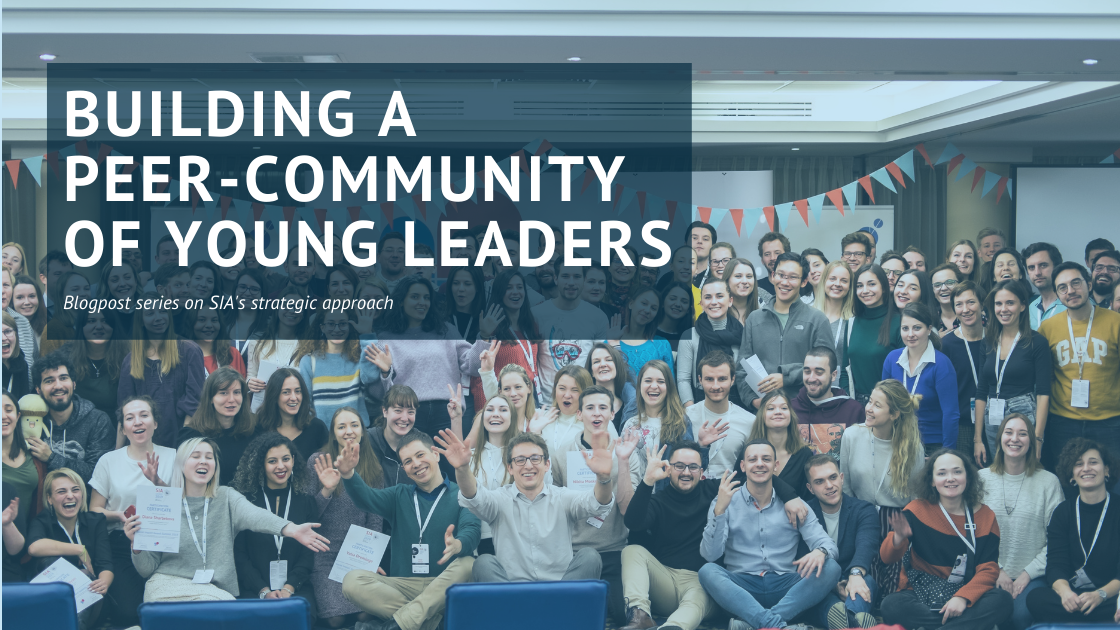 Building a peer-community of young leaders
The community aspect plays a vital role throughout the entire SIA program. In our educational work, we create a sense of community during our workshops and events, which provides the young participants with a trustful and safe space, spirit of sharing, and co-creation. During our support, we help build supportive micro-ecosystems around each venture idea by surrounding the nascent entrepreneurs with a pool of mentors, experts, and coaches as well as by engaging their first followers, customers, and supporters through mechanisms like our community voting.
In our strategic approach towards the impact field "Community", we aim to build on these practices, but put an additional focus on an essential part of our community that has not been in the spotlight so far: our alumni.
As alumni, we define all former finalists (i.e. incubated ventures and their teams) and winners of SIA. Since SIA's foundation in 2009, we have built up a pool of about  730 SIA alumni ventures. Our alumni are remarkably successful in not only keeping their ventures alive after the SIA program but also creating systemic impact through their innovative solutions and by reaching marginalized groups of society. At the same time, we also observe that even those entrepreneurs that quit their ventures after SIA, often remain committed to their impact goals and an impact-oriented career path. Our recent alumni study – conducted by our academic partners from the University of Business and Economics Vienna – indicates that 65% of those who quit their social venture stay in an organization that has a positive impact on society.
An evaluation of the current state of the SIA alumni network suggests that 51% of the SIA alumni are still in contact with other SIA alumni or the SIA team. Of those, 20% regularly join SIA events, another 20% maintain informal contact. Interestingly, when asked for their wishes from SIA, most alumni were rather eager to contribute to the current SIA program, with 43% stating that they would like to contribute as a speaker or mentor. 25% were interested in networking events (such as alumni meet-ups, meet-ups with current projects), 21% would like to receive invitations for SIA events and 18% are interested in a newsletter with updates on current projects.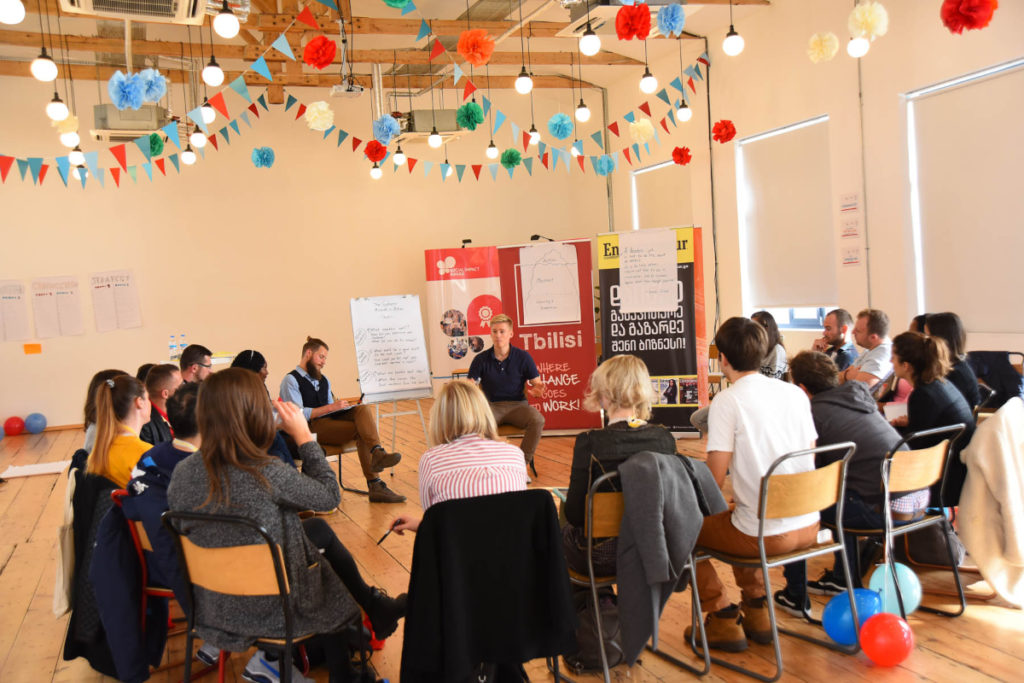 Based on these broad set of alumni data (find the detailed findings here), we set three distinct, yet interlinked objectives for our alumni work in the next four years:
SIA's alumni serve as inspiring role models for youth in their local communities and contribute to the running SIA program (e.g. as mentors, speakers, jury members, etc.).
SIA builds an active and well-connected alumni community (nationally, regionally, and internationally) that enables the alumni to learn from each other, connect on a personal level and potentially even collaborate around causes and businesses.
SIA serves as a matching agent between its alumni on the one side and later-stage support offers such as accelerators, impact funds, valuable networks, relevant events, etc. on the other side and provides each SIA alumni with at least one valuable opportunity per year.
In the next blogpost of our series  "Rebooting Social Innovation", we will look beyond SIA's four impact fields (awareness, education, support, community) and discuss how we aim to deepen our impact within SIA's network of hosts and partners.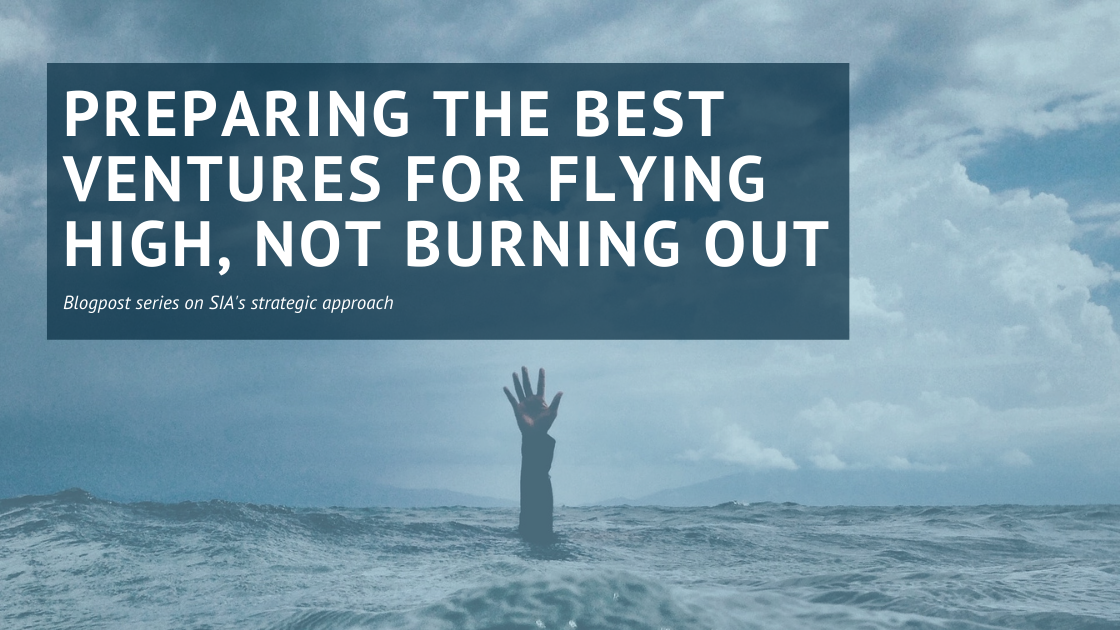 Preparing the best ventures for flying high, not burning out
Within the impact field "Support" SIA helps the most promising young social entrepreneurs with know-how, mentoring, access to networks, and pre-seed funding. Besides our award scheme, we do so primarily through our annual incubation program for the most promising ideas and social enterprises, which has become an established part of SIA's core activities since 2016.
Both our ongoing impact measurement as well as our long-term studies with SIA alumni strongly indicate that our support offers are relevant and effective. Among SIA winners, 77% still run their ventures after 3.5 years, compared to 47% of those who did not win. On average, they employ 5.14 staff, 12 volunteers, and make EUR 30k annual revenue. Additionally, 58% of the ventures have received external funding. Beyond the impact on their primary beneficiaries and missions, many ventures report systemic impact. 75% created products and services that previously did not exist and 44% suggest that their ideas have been adopted or copied by other system actors.
Our ongoing assessments suggest that there are two key impact drivers for such positive long-term results. Primarily, it is SIA's focus on the validation of both impact and business models during the incubation programs. Gaining a deeper understanding of the realities and needs of the respective beneficiary groups, building, and testing prototypes, and validating the willingness of potential customers to pay for the intended services or products – these activities are of primary importance in this early venture development. Secondly, it is the fact that SIA's support is offered through individual mentoring by experienced industry experts. Compared to any other support offer (e.g. cohort trainings) individual mentoring over a longer timespan has proven to be the most effective method to bring nascent entrepreneurs from the concept stage to market launch. Consequently, both of these impact drivers are at the core of our support strategy for the upcoming years.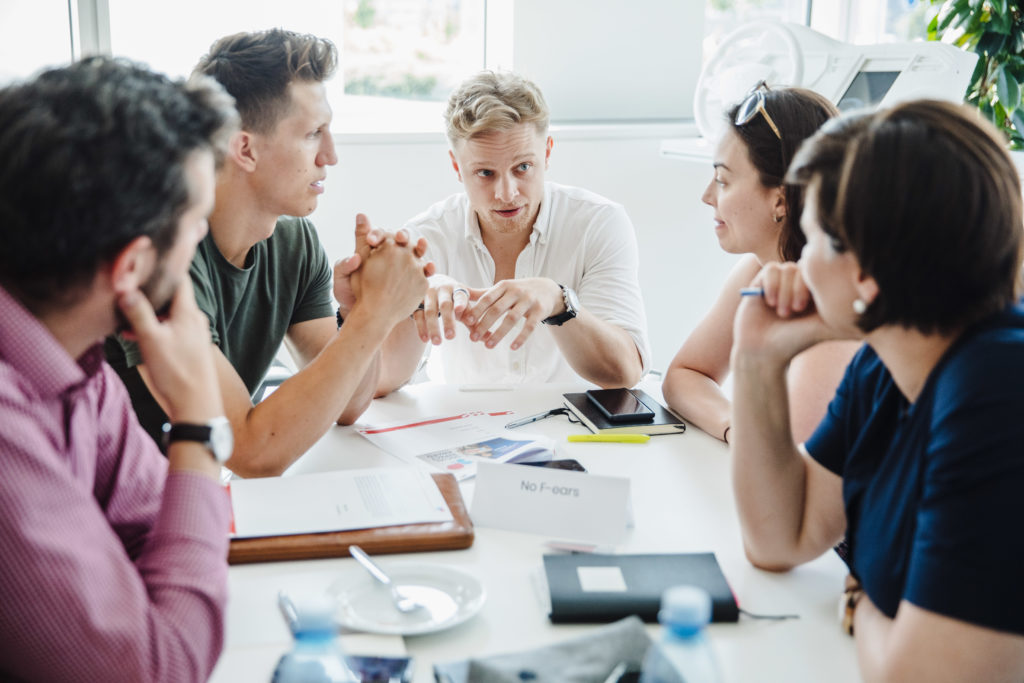 Based on these process-oriented objectives, SIA aims to incubate annually 230+ promising social enterprises and award the best 85 social enterprises (incl. pre-seed funding) by 2023. Through our mentoring and connections, 80% of our incubated ventures will have found a verified problem/solution-fit and 75% have successfully initiated their process to find a verified business model.
Which areas of development are targeted in the SIA strategy?
Besides these ongoing elements, SIA's strategy in the "Support" impact field also considers areas of development for the next four years. First, it is SIA's strategic objective to increase the representation of female and diverse role models in our incubation programs and among our winners. This will be supported through various measures such as gender quotas in SIA's selection bodies, a reworked selection process, a stronger promotion of female and diverse role models in our communication.
Secondly, it is an even stronger emphasis on the topic of wellbeing in our incubation programs. Our recent studies among SIA's cohorts indicate that more than 10% of our incubated entrepreneurs are exposed to a high burnout risk and an additional 50% should prophylactically take measures to avoid future burnout. Among SIA alumni, 78% report episodes of stress, which in some cases had negative effects on wellbeing. 43% suffered from symptoms of burnout at least temporarily and 5% reported that they had to quit working entirely due to burnout.
As an early-stage intervention program, SIA has the opportunity to strengthen the capabilities of nascent founders to develop a healthy attitude towards their leadership roles and a resilient team culture.
SIA has already started several initiatives around the topic of wellbeing in the last two years and will continue to do so in the upcoming period. Measures will include individual coaching elements, peer-to-peer formats, and inspirational events on the matter. Moreover, SIA will continue to conduct research on wellbeing and compassion fatigue among its former and current participants.
In the next blogpost of our series "Rebooting Social Innovation", we will focus on arguably the most interesting aspect of SIA: its alumni community! How can we empower our alumni to serve as role models for the next generation of social entrepreneurs? And how can we help our alumni to scale their ventures and bring social innovation to the next level?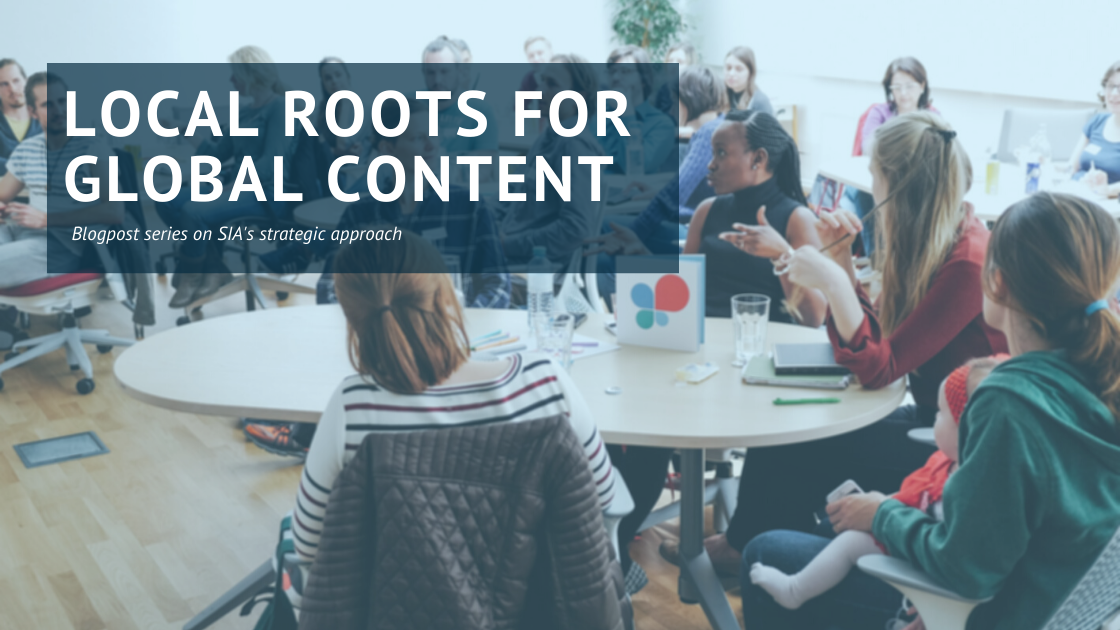 Local roots for global content
While the strategic objectives around the impact field "awareness" are explorative in nature (see the previous blogpost), SIA's educational strategy is based on ten years of successful activities in this domain. Since 2009, we have been active in 25 countries, offering over 1,000 educational workshops and events for 31,000+ young people. Through these educational offers, SIA provides its participants with the necessary tools, skills, and mindset to unfold their potential as innovators and social entrepreneurs.
However, reflecting on our educational work, we identified several key impact drivers that proved to be instrumental in enhancing the entrepreneurial competencies of our young participants and helping them unleash their creative potential, which set the direction for the next four years.
Most importantly, we try to reduce all barriers that keep youth from participating: lack of information, disciplinary and language barriers, geographic constraints, prejudice, and many others. We pursue a low-barrier approach by running workshops and events all across the countries in which we operate – not just the capitals. We continue offering our formats in the local language, choosing barrier-free workshop locations, avoiding business lingo where possible, answering all requests fast, etc. Most importantly, we spread our information broadly among the youth of all disciplines and geographic locations.
We will also continue our efforts in transforming from an education program focused on students to one that reaches youth of all educational backgrounds, including underprivileged and marginalized youth people. By 2023, we aim to have 30% of our workshop participants coming from disadvantaged backgrounds than tertiary institutions. As for the content of our educational interventions, we will continue to combine know-how with practical training and to provide opportunities for team formations during our workshops.
What will be the role of online formats in our curricula?
During the last ten years of providing social entrepreneurship education, we have learned that face-to-face education, interactive group work in a physical space, and live emotions are substantial in transforming vague intentions into concrete and feasible project ideas. Then, during the COVID-19 pandemic, we had to move all our education formats into the virtual space. We developed new webinar formats, partnered up with global players in the field of online education, trained our staff in online facilitation, built new features into our in-house support platforms, etc. In many aspects, this rapid transition has been a great success. However, it also showed the limitations of online interventions for achieving didactical objectives such as inspiration, co-creation, or enabling a sense of belonging among participating peers. The key learning is that online interventions are very helpful additions to the "toolbox" of capacity-building organizations. Nevertheless, they can only unfold their full potential if they are embedded and integrated into offline curricula and program designs. In light of these very recent experiences, we will offer our program in a blended learning format, interlinking newly developed virtual formats and web-based offers with in-place interventions.
A few other key areas of SIA's development around the topic of education should be highlighted. One is the objective to not only focus on promoting the founder role through our workshops and events. There are other roles that are as relevant as the founder to create impact – both within venture teams and as change agents in other roles in the corporate world, NGOs, or public institutions. We aim to use our educational interventions to raise awareness on the variety of ways a young person can use his or her talent to achieve impact. We will do so through case studies, the illustration of exemplary careers of SIA alumni, inspiring event speakers, etc.
Connected to this broader perspective on impactful careers, we aim to build a competence model as an integral part of our 4-years strategy. This competence model shall illustrate the full set of skills one can obtain during our workshops. This is essential as it allows us to understand, measure, and communicate the development of our participants beyond the evolution of their venture ideas. Such competence developments are instrumental in increasing the employability and job-readiness of our young participants – a crucial dimension considering the high youth unemployment rates and brain drain challenges in many regions where we operate.
Overall, we aim to reach and empower 12,000+ young citizens (18-30y) through our educational formats on an annual basis by 2023, reaching youth in 100+ cities/locations. Such interventions will annually support the creation of 1,000+ project drafts, which SIA will provide with individual and constructive feedback.
In the next blog post of our series "Rebooting Social Innovation", we will focus on the development of our incubation program in a post-pandemic world. The article will elaborate on how SIA will annually provide 230+ innovative social enterprises a seamless path from the idea generation to a market launch based on validated impact & business model – and what role wellbeing plays in all of that!
Almost there
You need to register in order to submit your bulletin & vote.
We care about your privacy.
Read Privacy Policy .
× close