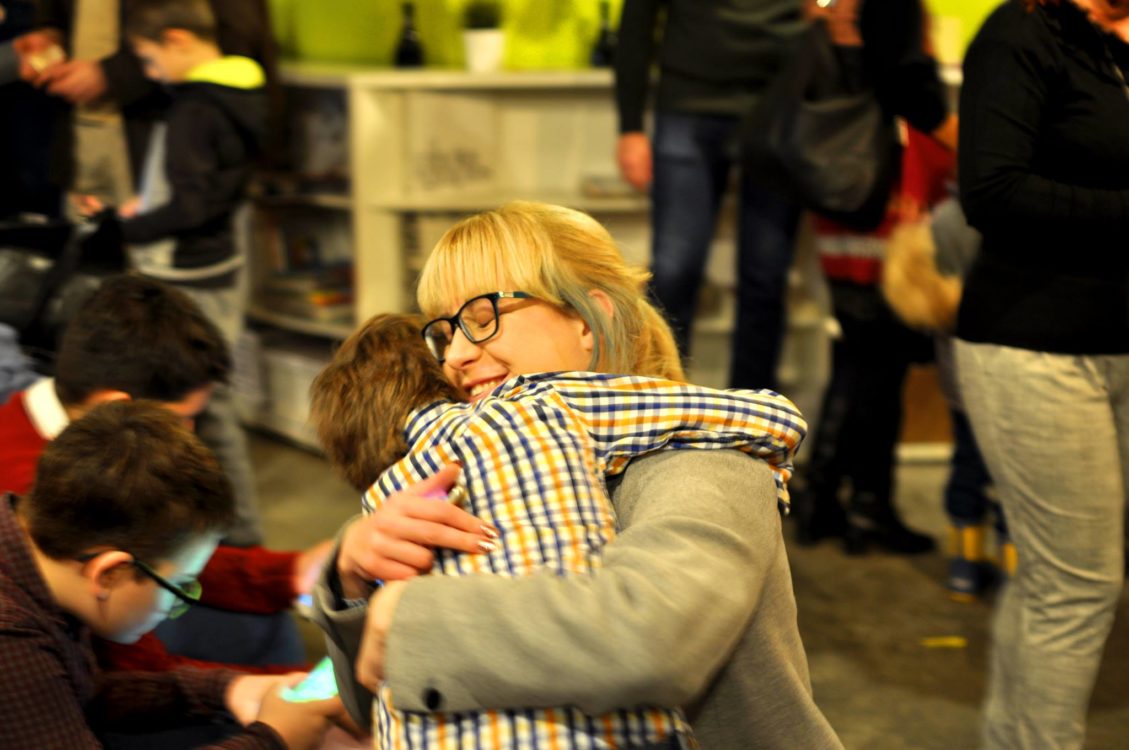 KERAKAMIKA Café: Take it Easy and DO Something Fruitful
You want to get inspired? Stay with me!
Tanya and Borche are a husband and wife team, leading a successful business with social responsibility, in Macedonia. Their business model is a blend of creative studio and café, which Tanya and Borche, both artists themselves, decided to open after a long phase of experimentation. Since then, Kerakamika is a paint your own ceramics studio where, in a relaxed atmosphere, one can have a drink while making a special gift for themselves or a dear person. As a matter of fact, initially, they named the studio Keramika Café, later they renamed it to Kerakamika.
In case you are wondering why Kerakamika instead of Keramika, read along!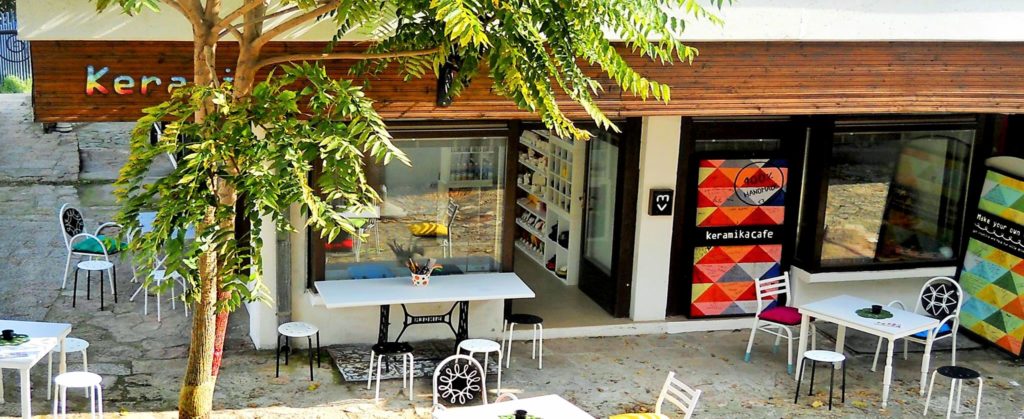 Actually, the name of the brand was deliberately invented by a little human; a very sweet one even. In the words of Tanya and Borche, the name came into being as their toddler was constantly saying Kerakamika instead of the initial title, Keramika Café. Their toddler's version of the name sounded sweet and playful, but still akin to the original. Hence, Tanya and Borche decided to rename it Kerakamika, as a combination of Keramika and Café.
Everyone has potential to become an entrepreneur by simply using their education and work experience as a starting point.
Why is this studio special?
For being an innovation. For being unique. For being multifaceted. Kerakamika is the only studio of its kind in Macedonia. On top of that, the surrounding area where this studio is located, the Skopje Old Bazaar, inspires creativity and imagination on its own, offering a magnificent atmosphere for giving life to one's ideas. What's more, visitors can create inside the studio or outdoors, while savoring a sip of coffee, lemonade, or Turkish tea, a specialty of the bazaar. The package is made whole with creative workshops, which are offered to art enthusiasts, who wish to learn skills and techniques offered by Kerakamika artists.
More about the workshops.
In this studio, they offer more than 10 different workshops, which people can choose from. In the first place are ceramic workshops, in which people learn various ceramic forming techniques and methods of decorating ceramic pieces. Part of their workshops tackle the subject of recycling and upcycling, even so, they still give advice on multi-purpose usage of every-day items in every workshop, with the mantra:
"If we can make or reuse it, let's not buy it"!
So far, Kerakamika has organized over 100 creative workshops for different groups, such as children, adults, children without parents and children with special needs. What's more impressive, these workshops are attended by people who apply the newly gained knowledge and skills to advance their career, their business, or hobby, thus becoming financially more independent.  It's no wonder, the interest to participate in these workshops is huge.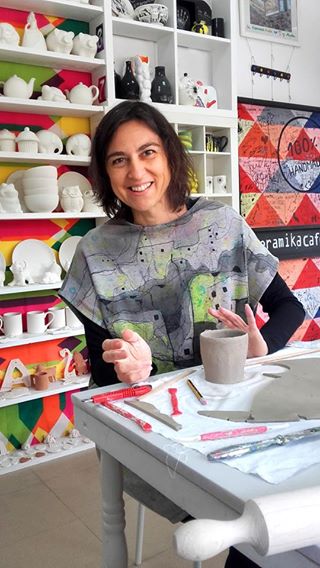 Social Impact.
Social impact is achieved by offering people knowledge within a hand's reach, without pressure, at leisure. In these workshops, they challenge themselves, gain useful skills, and gain a new perspective about the everyday items that surround them. Later they benefit from the skills (and the perspective). Kerakamika's aim is to share knowledge and happiness, and they are achieving it.
Eureka!
Beyond question, similar studios would be welcoming in other places too, for one, because this model is a perfect blend between art and business, but also because it is a balance between giving and receiving. It goes without saying that this is one of the most convenient paths for artists who are struggling to make a living, and for those who wish to serve their community while being rewarded for it. Ergo, the outcome of such an endeavor is financial as much as moral.
Feel-good elements.
In Tanya and Borche's words, there are many feel-good elements in this occupation. Such as, passing on knowledge, serving a social purpose, freedom of creating, meeting wonderful people, reciprocal inspiration, a smile on children's faces, beautiful drawings and letters from them, the thrill of completing a workshop, the excitement  of creating your own piece of art, the euphoria of seeing the results, feedback from satisfied clients… What is most morally satisfying and motivating is when participants in the workshops, apply the knowledge on their profession and hobby.
What is their advice for future entrepreneurs (you)?
Everyone has the potential to become an entrepreneur by simply using their education and work experience as a starting point. Tanya and Borche state that the most important prerequisite to thriving in this sector is self-confidence, persistence, and endurance. "You will see the outcome later, it becomes real after the impeccable dedication. And yes, work with love!"
Beyond doubt, people who visit Kerakamika leave accomplished, having acquired new skills and knowledge; delighted, having created a piece of art; animated, having gained new friends. Most importantly, they leave Kerakamika with a blissful smile on their face.
Did you get inspired by this article? Have you thought of founding your own business?

Social Impact Award offers support to young people who have an idea but simply don't know where to start. Start from here!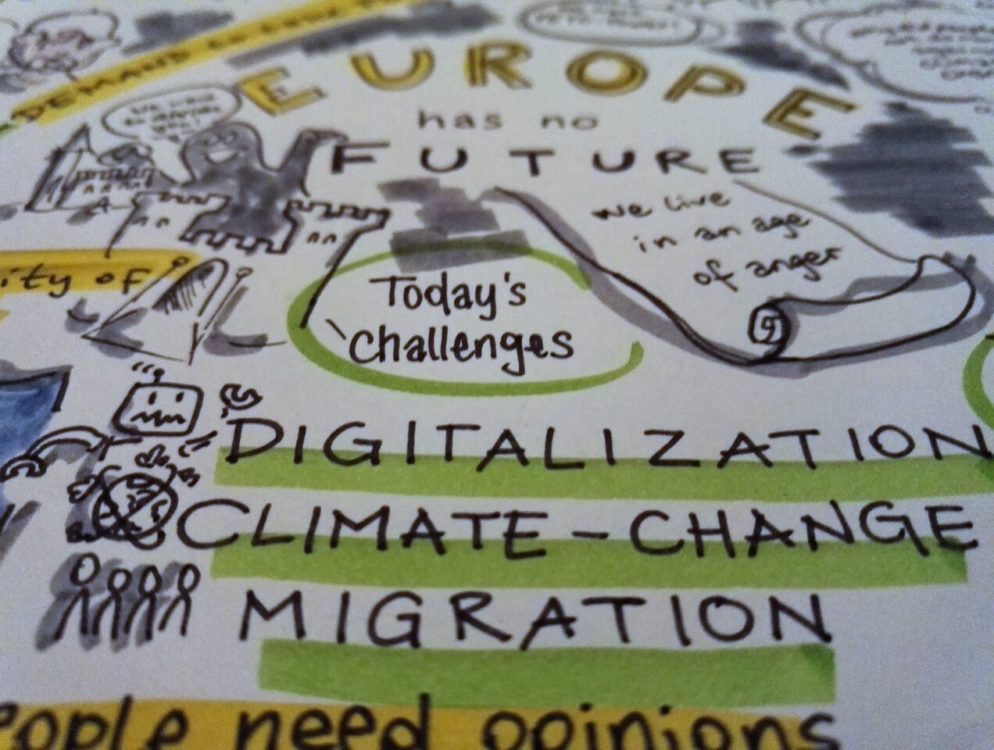 10 trends Social Entrepreneurs need to know about!
Who am I? My name is Markus Engelberger and I am the Country Coordinator of SIA Austria.
I also run my own business as a Graphic Recorder and Visual Facilitator.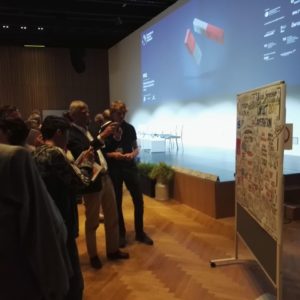 As a Graphic Recorder I basically listen to what people talk about at events and I capture the essence of it in real time through pictures and words.
I recently worked at the European Forum Alpbach, an event where Europes "Elite" comes together. There I represented Social Impact Award, but also wore the hat of a Graphic Recorder.
This is how it looks like, when I work: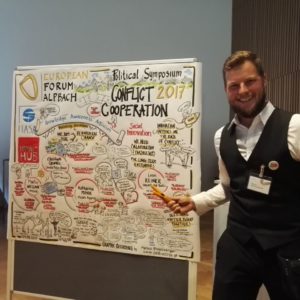 In this blogpost I am gonna share some insights I found quite interesting and of which I think that they can be very relevant for what you do!
You might wonder: "What or where the hack is Alpbach!?"
Don´t worry – For Non-Austrians, and even the majority of Austrians, it is unknown or at least mysterious, what actually happens at Alpbach, this tiny, picturesque village in the mountains of Tyrol.
Since this is important for all that follows, let me try to explain…
The European Forum Alpbach
Once a year, for three weeks in a row, the European elite in business, politics and technology comes together. A happening of the finest kind.
What is today considered the "Spring-Break of Austria´s future leaders", has a serious background.
Shortly after World War 2 leading thinkers and influencers of their times met in this village and agreed that such a terrible war must never ever happen again.
In order to realize that, they came up with the idea of bringing together the young elite of Europe once a year from now on until forever.
And that is the spirit that is deeply routed in Alpbach. That is also the reason why highly renowned domestic and international politicians, business-leaders, scientists and philantropists make their way to Alpbach every year.
They cherish the tradition and contribute to a peaceful and better tomorrow.
And well, where young people come together of course the one or the other party happens also.
But let´s concentrate on the 10 most important learnings I personally took from Alpbach, listening with the ears of a Social Entrepreneur.
The good message to start off: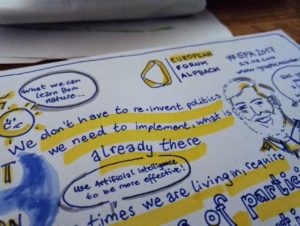 "We don´t have to re-invent things. They are already there!" (Franz Fischler – President of the European Forum Alpbach)
What he meant, is that a lot of solutions, networks, laws and so on already exist. The only problem is that people never knew about them or have forgotten.
So let´s challenge your local politicians – let them know you are interested and want to be informed!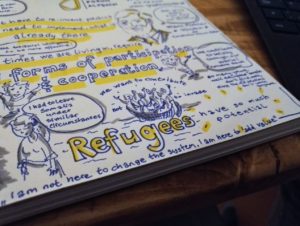 "We are not here to change the system or to invade your country – We are here to add value to your country and build a better life." (Conclusion of a group of different people that had to leave their countries for safety reasons.)
I know, many of you will say they already knew that. But even for me, a person who is constantly working together with Ventures supporting Refugees, it was an "Aha-Moment" and a kick-ass argument against all who claim Refugees are "invaders".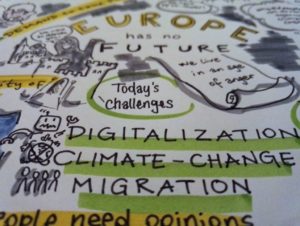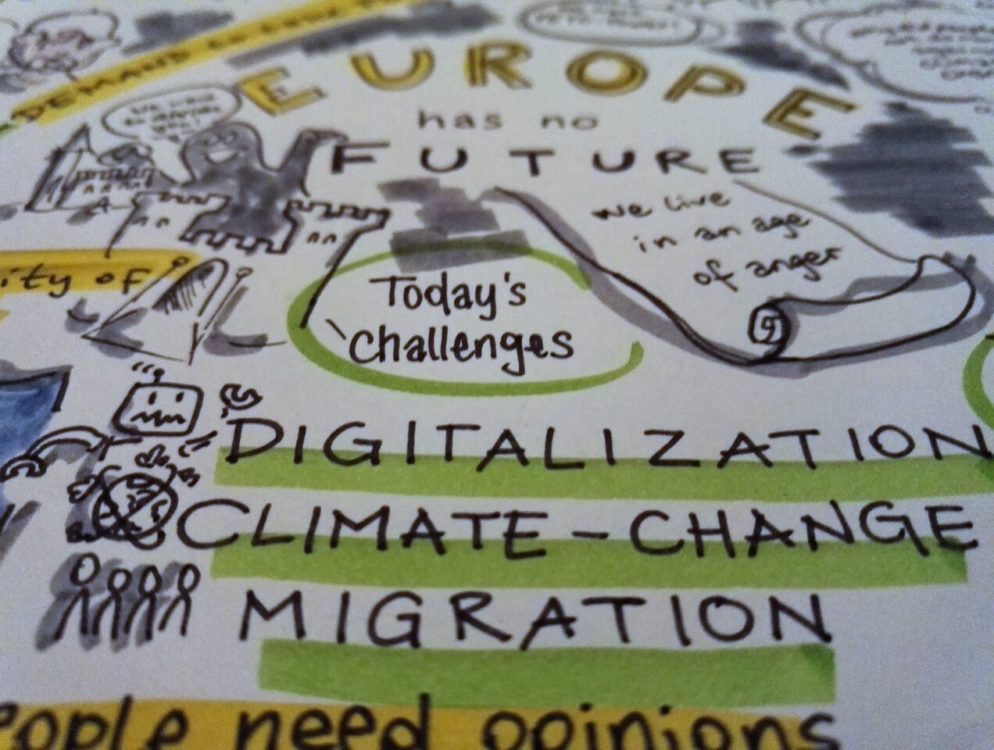 "Digitalization, Climate-Change, Migration" (Summary of a plenary session on today´s most pressing challenges).
When some of the most powerful political leaders in the world come together, these are the most pressing topics they agree upon. Maybe that´s a little hint for all of you, who wonder in which field to get active and solve problems in an entrepreneurial way. I am pretty sure these guys also have the money, if you come up with disruptive and scalable solutions.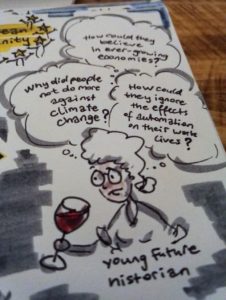 "Why did people not do more against climate change?", "How could people have ignored the effects of automation on their work lives?", "How could they have believed in ever growing economies?" system (Philipp Blom – Author, Lecturer & Broadcaster)
Three interesting questions a future young historian doing research about the days we live in might ask herself. I think there is nothing to add and I leave it open to you to explore this thought experiment.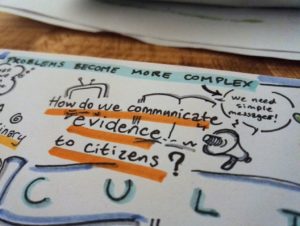 "How do we communicate evidence to citizens?"
A simple and "easy – to – get" communication is also a topic, that keeps a well-aged generation of politicians awake at night.
The same is true for:
"How do we engage citizens into transformative processes?"
What politicians lack at the moment, is the ability to come up with solutions that create and support transformation. They are willing to include people into open Innovation processes but at the moment simply seem not to be capable to pull this off.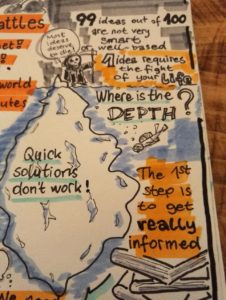 "Most ideas deserve to die!" "99 out of 100 ideas are not very smart or well based. But the 1 good idea deserves the fight of your life!" (Jeffrey D. Sachs, Director, The Earth Institute, Columbia University, New York)
"Most ideas deserve to die!" This is a harsh quote by a man who has fought for the good cause all of his life. But especially that fact makes his thought so interesting.
At the end of the day Mr. Sachs, one of the world´s leading experts in economic development and fighting poverty, is really interested in Start-Ups and Social Entrepreneurship in generel. But what he is missing in most of the projects he gets to know, is some more depth.
That means:
Do your homework fellas! Dig into research, talk to experts in the field, who for instance have been tackeling the issue of climate change for the past 30 years already, collect data, set your impact metrics and then fucking measure them.
We all know that this is not the fun part for most of the people.
But you´ll need the data to convince powerful gate-keepers like Mr. Sachs.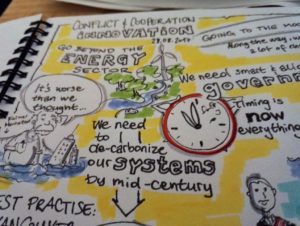 "We need to de-carbonize our system dramatically by mid-century" (Agreement in a panel discussion)
The frightening fact that our system already collapses in 15-20 years, if we as humanity continue doing, what we are doing at the moment, was starting point of a very diverse discussion between scientists and politicians.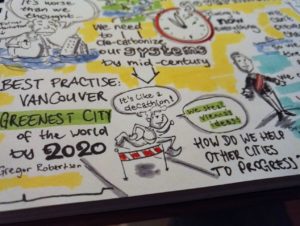 "Vancouver wants to be the greenest city in the world by 2020." (Gregor Robertson, mayor of Vancouver)
While many seem helpless or try to improve things by buying CO2 certificates (which is more about making statistics looking nicer in many cases and not about actually reducing CO2), Vancouver makes nails with heads. Vancouvers mayor, Gregor Robertson, also stated, they as a city have a clear and simple 3 step – plan how to further reduce CO2: "1.: Walking 2.: Riding the bike 3.: Green public transport instead of individual cars"
An interesting point of view from an Austrian´s perspective was, that Vancouver is looking to what  Vienna does in order to get inspiration and steal good ideas from them.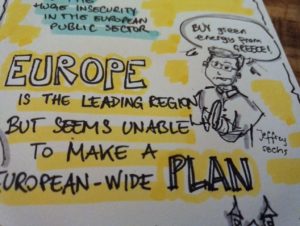 At the end of the panel discussion Jeffrey D. Sachs concluded that Europe is actually the leading region when it comes to sustainability and solutions that help us create a better future.
The only thing lacking in Europe is an agreed upon concept or plan.
He ended his speech with "Let´s make a plan!" And that I also see as a strong invitation for our community of super talented and motivated Social Entrepreneurs.
Get out of your god-damn boxes and connect to each other! Try to create synergies and learn from each other! Support each other and stand together! Then we have the chance to realize impact that truly matters!
By the way: The best opportunity to do so is the SIA Summit in Belgrade this year!
I wish you all the best, hope you found some inspiration in this Blog Post and come back to me if you have any new ideas or further questions.
What is the difference between social entrepreneurship and charity?
Despite the road we have travelled to turn social entrepreneurship from a vague topic into a trend in the Western Balkans, as societies we still often face challenges when we are explaining the difference between social entrepreneurship and humanitarian or charity work. We therefore take it upon ourselves to break it down for all those struggling with explanations that could prove clear and easily understandable.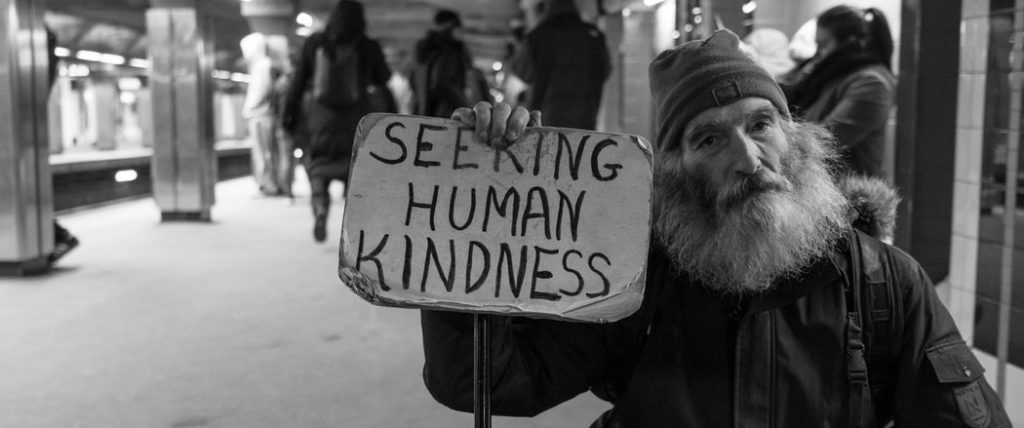 First, there were definitions.
a) A social enterprise is an organization that applies commercial strategies to maximize improvements in human and environmental well-being—this may include maximizing social impact alongside profits for external shareholders. Social enterprises can be structured as a for-profit or non-profit, and may take the form (depending in which country the entity exists and the legal forms available) of a co-operative, mutual organization, a social business, a benefit corporation, etc. What differentiates social enterprises is that their social mission is as core to their success as any potential profit, but income and profit are involved in the mix. Social entrepreneurs seek long-term solutions.
b) A charitable organization is a type of non-profit organization, which centers on philanthropic goals as well as social well-being, which gathers no profit.
Secondly, there were beneficiaries. Both social entrepreneurship and charity strive to change the world for the better by using tools and knowledge to create long-term solutions to complex problems. In those strivings, charities have a smaller scope of work – they focus on vulnerable groups in societies and ways of improving their lives (through access to food, water, education, etc). Social entrepreneurs on the other hand find creative and self-sustainable solutions, which deal with the wider group of modern day challenges. Although they often directly target vulnerable groups in societies or on the global scale, they also tackle wider issues relevant to quality of life concerning all humans – environment protection, access to healthy food and clean water, employment, immigration, energy, education and learning, democracy and corruption, etc.
You need colourful examples? Lets take a quick look at Robin Hood. What we know – he was fighting hunger and poverty by stealing from rich and giving to the poor. His work was dependent on (unwilling) contribution of others, and those he was helping needed his continuous help. Andrew Carnegie, steel magnate from US, who built about 2500 libraries in US, Canada and Europe and developed a system of maintaining those libraries know as Carnegie formula, which ensures that libraries will need no other funding while remaining accessible to public, i.e. everyone, for free. Access to information to all was provided long-term through a sustainable solution.
This leads us to third differentiation – duration of the effects as one of the core differences. Effects of charity work are mostly short-term and need repetition, while social entrepreneurs seek long-term solutions.  In other words charity moves assets from those who have to those who don't. Social entrepreneurs cause long-term changes trough innovation and mutually benefit exchanges.
For example, if we look at access to fresh food and water as a challenge, a charity would simply provide those in need with fresh food and water, while a social entrepreneur would sell the seeds and tools for growing food and teach them how to grow it and how to produce seeds. In that way target group i.e. those in need are provided with fresh food in long-run and after first contact are no longer dependent on their help.
What differentiates social enterprises is that their social mission is as core to their success as any potential profit, but income and profit are involved in the mix.
Fourthly, different approach is employed. Both charities and social enterprises have a goal to better the state of well-being of others, but they focus on different things. Charities deal with current situation, with the status quo, while social entrepreneurs look at undermining causes and try to change them in order to prevent the consequences, in other words charities deal with the consequences while social entrepreneurs deal with the root cause of the problem.
And finally, funding and sustainability come in play, as an essential differentiating characteristic inherent to these two models of change making. Charities rely on donations, they are driven by compassion and are not independent in their funding or work. On the other hand social enterprises rely on their own work through creating different business models which make their work sustainable.
In the time of scarce resources and severe challenges we are facing as the human kind, we are in dire need of sustainable models who use existing resources wisely and who create new value and impact. If you want to invest, social enterprises are the way to go. They are scalable and generate lasting solutions.
IF SOMEONE ASKS, TELL THEM- THIS IS WHAT SOCIAL ENTREPRENEURS DO…

We at Social Impact Award support you in building social enterprises that find solutions to the most challenging issues of our time. We play, we experiment, we dream big, we work hard. We are 100% human and radically collaborative. We do so by hosting events and organizing workshops to raise awareness for social entrepreneurship, teaching the necessary skills to navigate from vague intentions to promising ventures, providing access to networks and promoting the best teams with the Social Impact Award.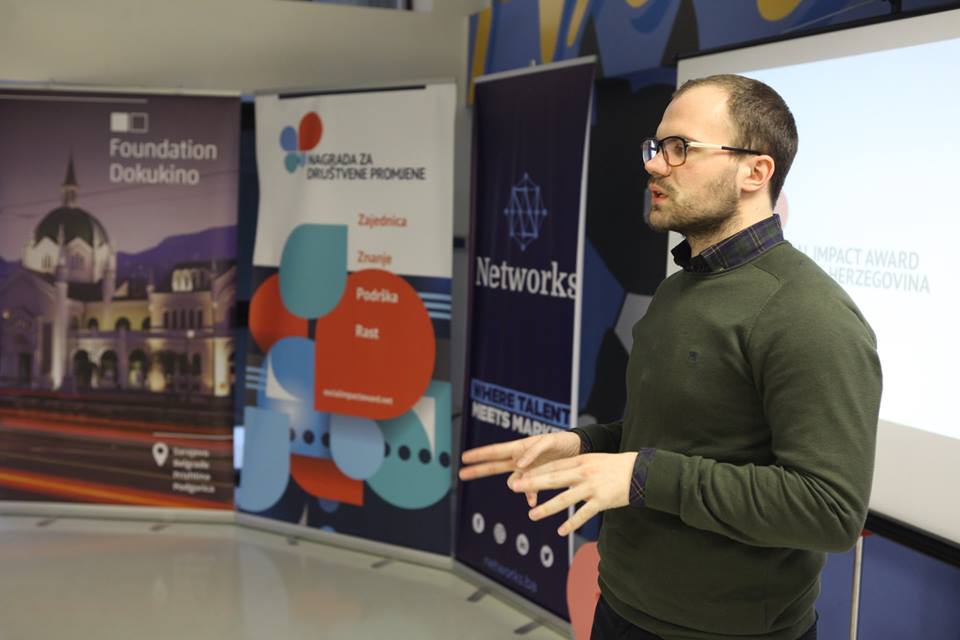 Tips and tricks: How to promote your social business at no cost?
Dear social entrepreneur, or friend, colleague and supporter or a social entrepreneur, this post is for you.
You're at the very beginning, you are confused, you have to learn legal procedures about starting your business without being imprisoned by tax police and people from SIA are encouraging you to think about promotion. You want to survive without getting grey hair and wrinkles and learn how to promote your business at the moment of usual startup money shortage? Look no further.
Let's be clear – you have to promote your business/product/service simply because you cannot get any income if no one knows about you. Your idea can be extremely important, a great solution, with amazing products of services, but if there are no people who are willing to pay for it at a decent price, the effort is futile. You do have to promote yourself and your business.
Create key messages, define channels that are available free and add some creativity.
Things to think about when deciding when and how to do it:
Timing
Don't wait for the first costumer and first money earned to start promotion – do it now. It is good to start promotion even before you start your business, even if you do not have a product ready or you are still not able to offer your services. You have to create a need.
Creating a need
People do have to eat, drink and they do have some other basic needs. Nevertheless, do you really need a vacuum cleaner when there are brooms? We now don't pose the question on what to use, but the very first vacuum cleaners and producers had to convince people that they need their products. Therefore, you have to convince people that they really need you, that your product is needed.
Strategy
You cannot convince people that they need your product if you yourself are not certain of it. What helps with this is strategy. Strategic marketing or strategic communications are professional services you might not have money for as a startup, although their work and results could prove you right to your customers. However, what you do have is common sense. Think as a costumer, test your ideas among your friends (even better acquaintances) and then just write it all down. Create key messages, define channels that are available free and add some creativity. In addition, yes, you should have a simple timeline. To take that first step is hard, but remember there is not much that you can spoil at this stage 😉
Channels
Think about available channels for free promotion, and find out which of the possibilities (which are almost endless) are best for you. Social media is a must and it's free or a good bargain if you decide to use ads. Don't forget traditional media too. You don't have to be an expert, it's enough to sit in front of the TV and watch carefully. You'll notice that there are many live TV shows with many guests in it, usually in the morning or in the afternoon. You need to be there, but hey – they also need you. Television employees are sometimes in desperate need for guests for their long TV shows. Find them, contact them by email or phone and suggest them that your story is more then a business, and they will be ready to host you. It's almost the same with newspapers, they need to fill all that pages with some interesting texts and there is for sure enough place to place the story about you. When we come to online news platforms and lifestyle media, they differ slightly. Think about click-bait headlines (but true to the text and story behind them). This style might be boring for you, but it sells products, so think how can you be attractive to the general public and to your target users. These all might not come with your first initial steps, but create the connection with media, foster it, and right about when you are ready for the market – they will have slots for you in their channels.
Luck
If you did everything well, you'll also need a bit of luck. You'll have to catch a TV show editor at the right moment, your common sense should be similar to those of your target customer and things will take a turn to better.
You can always fundraise to pay communication experts. Sometimes, it might not be a bad option. But try going through these steps first – test yourself and the business.
Author: Zeljko Veljkovic, SIA Communications Officer for BIH, MNE & KOS
Editor: Vladica Jovanovic, SIA Regional Coordinator for BIH, MNE & KOS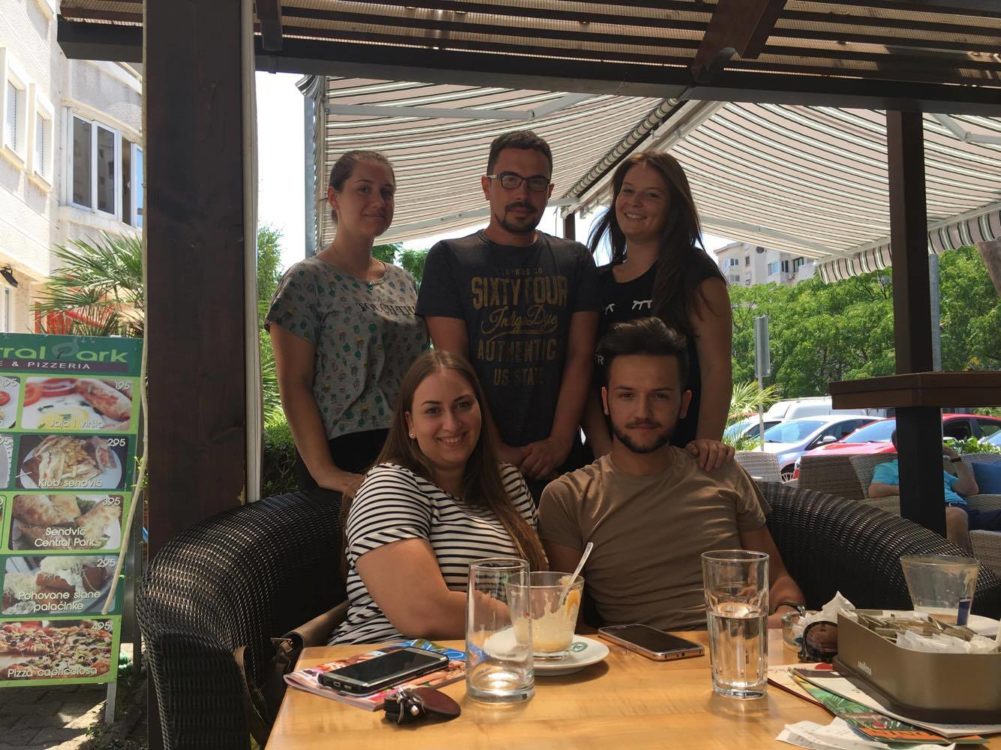 Different Corner in Montenegro: The story about persistence
Social entrepreneurship is young and in its beginnings in Montenegro. With Social Impact Award, in 2016 we market the start of focused efforts in enabling and supporting youth to choose social entrepreneurship as a path to impact social change and employment.
Among our winners, we had a team of three dedicated young women from Bar, who started the Different corner. This is a story of their challenges, struggles and how they pushed (and are still pushing) through. While challenges are common among new social entrepreneurs, we offer this story to empower and inspire others to start creating despite the uncertainties that lie ahead.
 "A year before today, we believed in our idea. We still do, but we are aware that the idea itself is not enough." – Jovana's words marked our summer chat. Jovana is one of the three-person team behind the Different corner. Jovana, Violeta and Ajla always go together, they can rarely been seen without each other, and in the moment of uttering this sentence, we could see Violeta and Ajla nodding in approval.
Initially, they come together with an idea to open a café that will bring more spirit and culture to slow winter days in the biggest coastal town in Montenegro. A regular café that will enrich the town of Bar with poetry evenings, classical or jazz music, and discussions about books or some wider cultural topics. They planned to earn money from café business and to invest it in culture. Noble, but is it possible?
"Of course it's not impossible. We do have a business plan that proves it. However, in real life, business plan sometimes is just not enough. Nevertheless, we are not only persistent, we are stubborn as well. We will do it!" says Ajla.
Full of determination and spiced with a bit of anger, these words clearly show that those three girls are still challenged by obstacles in setting up the business. The biggest one is the space. They needed more than six months to find premises good and cheap enough. Then, they needed a good architect and additional fundraising for refurbishment.
"The award money from SIA has been a great initial capital, but even more it has been an important motivation boost for us. When we won, we realized that if the SIA jury believes in us, maybe we can fundraise some money locally, where people know we are persistent and ready to work."
Although the new date for opening will not come prior to September of October, the girls are hopeful. Their story is a story of success. Sooner, or later.
Author: Zeljko Veljkovic, SIA Communications Officer for BIH, MNE & KOS
Editor: Vladica Jovanovic, SIA Regional Coordinator for BIH, MNE & KOS 
5 Reasons for Millennials to Choose Social Entrepreneurship
Millennials or Generation Z is the common name given to people who were born between 1991 and 2001. We are the people who check Facebook first thing in the morning, do not invest much in real estate or automobiles, and choose sharing economy platforms every time to plan traveling.
For millennials traditional working places don´t make any sense. Neither do traditional business models. We love flexible hours, spaces for motivation and jobs which inspire us. And that´s why here I have 5 reasons for every millennial to go for social entrepreneurship.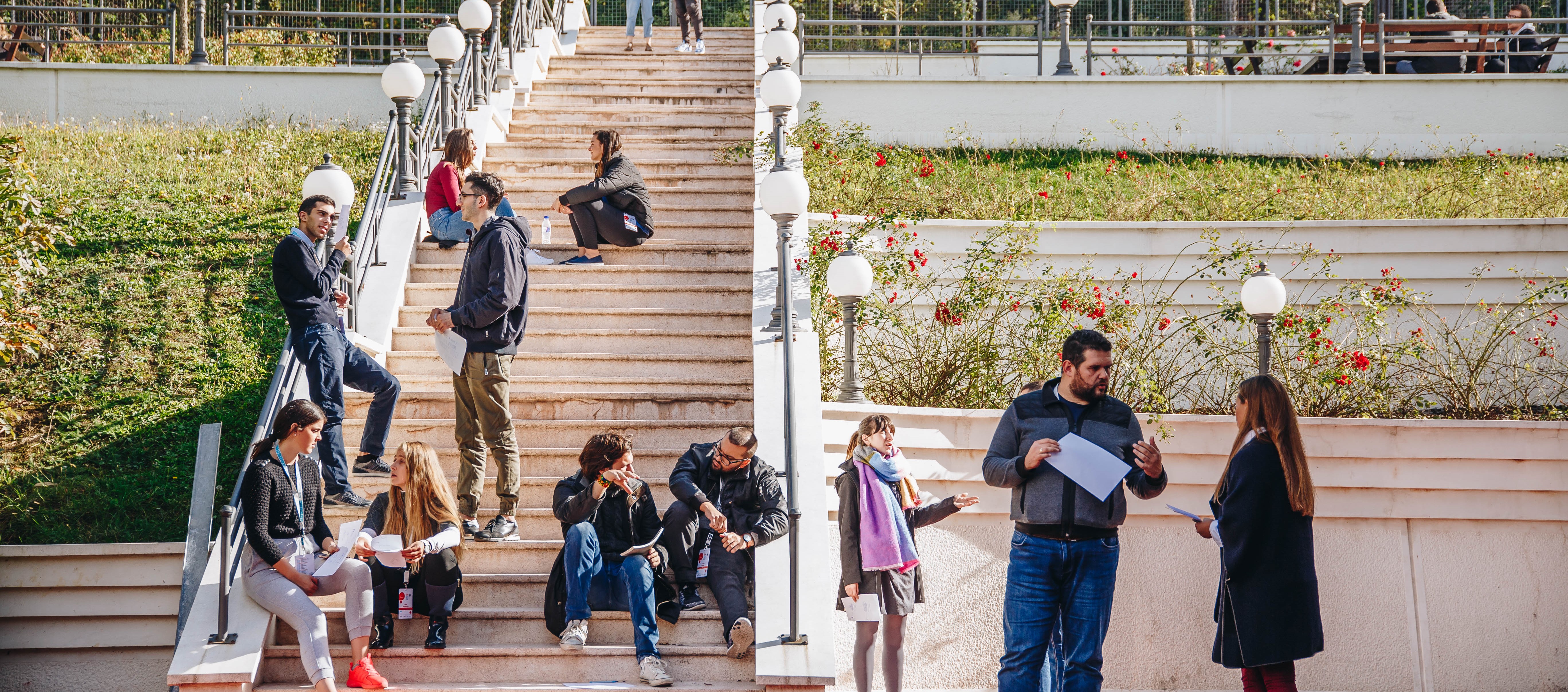 1. Because we are these terrific, ambitious people who are going to change the world!
Now, slow down a little… "Change the world" is the cliché phrase for your college essays. Social entrepreneurs must be much more realistic. Combating global warming, stopping the wars and defeating world hunger can be quite tricky tasks to accomplish, but you can always start small to make an impact. Look around your community, the place where you live or the place where you study, see the problem that scratches your heart and try to find a solution. You`ll fail a few times or maybe even more, but in the process you`ll learn a lot and change not only your life, but others´as well.
2. Because money is not enough to feel fully satisfied with your job
First things first, as any kind of business, social entrepreneurship is about making money. It´s not enough to be only Mother Teresa, you should be Steve Jobs as well. But just having a lot of money is not enough to live fully. We need our life to have a purpose, to use our skills to benefit a cause, to make this planet even a slightly better place to live (here I use one more "college essay phrase", but this one is TRUE).
3. Because social entrepreneurship is not just about business but also a lifestyle
Choosing to be a social entrepreneur is also about choosing the person you want to be. You will need to work hard, worry a lot not only about your own problems, but about the problems of others. You´ll need to find a right business model, to make sure your enterprise is self-efficient; you´ll face many challenges and tons of obstacles. But you will also be the one who inspire others, a role-model, a leader, a game-changer. Going to bed you won´t have to worry that you have not made an effort or that you have not tried enough.
4. Because social entrepreneurs are not querulous
 There are tons of people in this world who are constantly complaining about the things they don´t like but do nothing to change them. They expect the government to solve all their problems or whine about the taxes they pay which are never spent efficiently. Do you want to be this kind of person? Of course, not. Social entrepreneurs are strong enough to face the reality and start changing their communities´fate by their own hands and brains. ´Cause as Shakespeare would say, the fault is not in our stars, dear Brutus…
5. Because you can do it part-time
If you feel intimidated about being a role-model or think that you are not competent enough to be a social entrepreneur, don´t feel bad about it. You can start by volunteering in one of the social Enterprises or by entering various competitions. You can find numerous free online courses or maybe learn the experiences of successful entrepreneurs firstly. You can do all these things and study at university as well or have another job. Main point is very simple: you just have to start somewhere.
Reading this blog, you must have had this kind of question in your head all the time: Okay, I´m a millennial, I have lots of ideas and I want to change the world, where should I start? Well, one of the ways is to participate in competitions, like Social Impact Award. Social Impact Award will help you to acquire necessary skills and find the people to work with. Honestly, it has never been as easy to do good things as it is now in the 21st century – you have no excuses left for procrastination.
Go for social entrepreneurship, make an impact!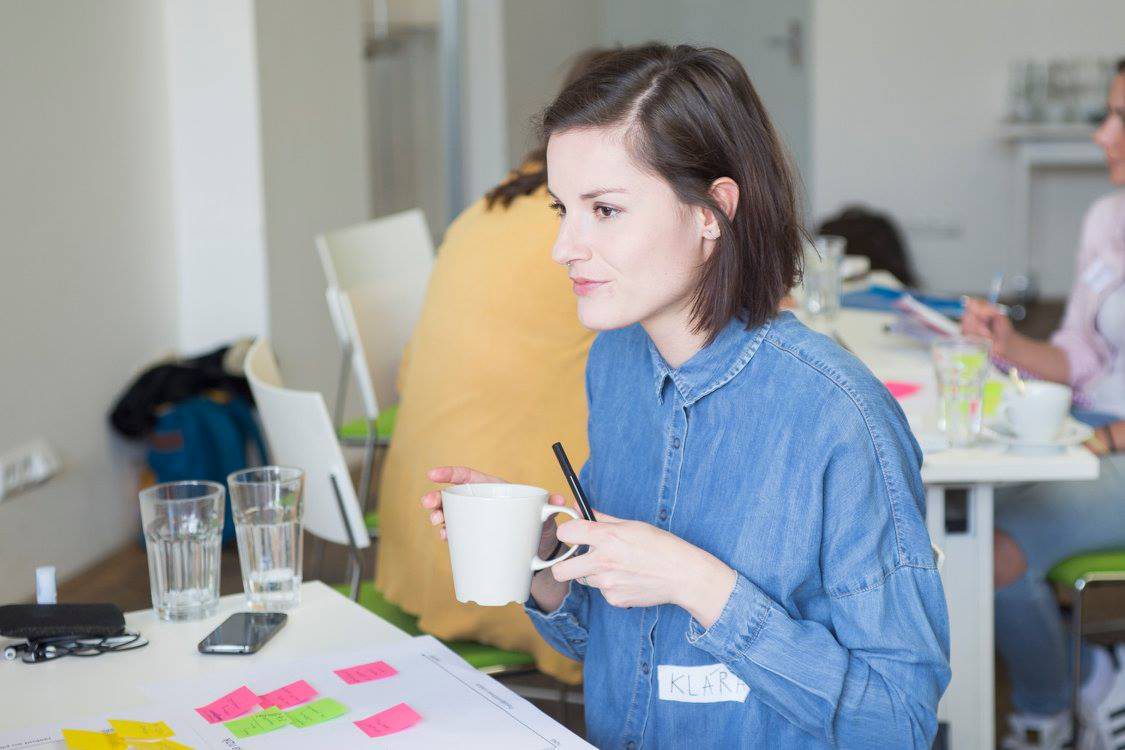 Starting a Social Impact Business from a Founder's Point of View: Ideation, Mentoring & Networking
 By Shayna Prunier, Impact Hub Budapest Co-founder: I will start this blogpost with a quick DISCLAIMER: I am not Hungarian, I am originally from the United States and have been living in Budapest, Hungary for about 5 years.  Therefore, my views on this topic will be influenced by my upbringing in the US, where social impact, mentoring, and entrepreneurship exist in a very different landscape.  However, I do speak from experience in Hungary as I am currently a co-founder of Impact Hub Budapest, a community driven co-working space designed to inspire, mentor, and help social and environmental impact entrepreneurs and businesses bloom and grow.  
An innovative idea that will positively impact society is merely the first step for any social impact driven venture. The next step is finding the right resources that can help budding entrepreneurs think outside the box and break through cultural norms. BUT… where does one look for seasoned mentors to curate and develop a project? Are there any pro bono mentoring networks that support others in the same position? 
Starting a business that adresses a pressing societal challenge is not an easy task, especially in a former socialist country like Hungry, where impactful organization tend to go against the general business mindset. Social impact or social change will only be the result of focused action, lots of time, and deliberate work. Entrepreneurs also must be willing to commit to healthier, more transparent, and more sustainable way of doing business.
Networking: Connecting to Your Community

Once you have your kick-ass idea, you'll find that connecting with like-minded people is essential in bringing it to life – we, like all other Impact Hubs, are here for this reason, but if you need more convincing, read these blogposts on the why and where to network in the social impact ecosystem.
Networking will bring you a wide range of connections, but you'll also need expert advice from a few select professionals – and that is where mentoring comes into the picture. In our experience, "mentoring is a brain to pick, an ear to listen and a push in the right direction."
Yes, You Need a Mentor
We are proud to be launching a new mentoring program this year. Our Mentor Hub will connect entrepreneurs with mentors, resources, programs and competitions for funding, and creating sustainable business models.  But we are not the only ones; in most countries business leaders from all sectors and non-profit organizations are offering their time, energy, and expertise to young entrepreneurs.
Keep in mind that mentoring (and mentoring programs) depend and differ on many factors, the phase of your project, your time commitment, areas for improvement, but in the end, the mentoring always needs to be tailored to the mentee. Don't forget that a project solely looking for investors is not ideal for mentoring, but it would be a mistake to dismiss expert help as unnecessary on the path to successful investment.

How and who to approach first?
If there is a specific target group related to the business, ask for feedback from them and/or hold focus group meetings.
If there is a professional group, like lawyers or doctors or government officials that could be helpful, find a link to these professionals and don't be afraid to ask for advice.
If there is a company related to your idea, contact them and meet with someone in a prominent position at the company. You'll find that often they are more than happy to share their experience with a young prodigy. If it applies, volunteer your time to work with them as well. The more hands-on experience you acquire will only strengthen your own business approach and end results.
If you are creating a social media campaign or marketing strategy or communication outreach, find mentors that have these specialized skills to focus ideas and pinpoint keywords that will fuel the fire and get attention from target audiences.
Most importantly, if you are looking for investments, find a coach to help you adjust your pitch to attract the right investors and present a kick-ass business plan that will WOW them out of their socks!

Current Trends in Central and Eastern Europe
Encouraging young minds to start social impact businesses is definitely trending right now. There are a few notable European-wide organizations that could be helpful such as Ashoka, working internationally to cultivate ideas using their network of fellows and partners. NESsT is also working in Hungary and many other European cities to develop sustainable social enterprises that solve critical social problems in emerging market economies. The ERSTE Foundation is active through many programs. (The latest in Hungary is their customized ERSTE Seeds program as a multistage development process for the most promising enterprises to receive 'seed grants' and build relationships for growth). The European Union is also offering social enterprise opportunities in many different channels. Just recently, they held a social innovation competition for companies all over Europe to 'reboot' equality by inspiring fresh and energetic approaches to digital inclusion, connectivity, and skills development.
To end this post on a collaborative note, let me remind you to get more involved with the social impact networks and join forces to collectively support each other for co-creation. In my opinion, searching the city for related organizations, meet-ups, academic groups or professors, or visiting the local chamber of commerce for business information will provide a worthy start. Subscribing to newsletters and blog sites related to your cause will help inform you of events and gatherings.
Don't forget that impact does not happen in isolation…
TOGETHER, WE CAN ALL MAKE A DIFFERENCE IN OUR CITIES, COUNTRIES, THE CEE REGION AND BEYOND.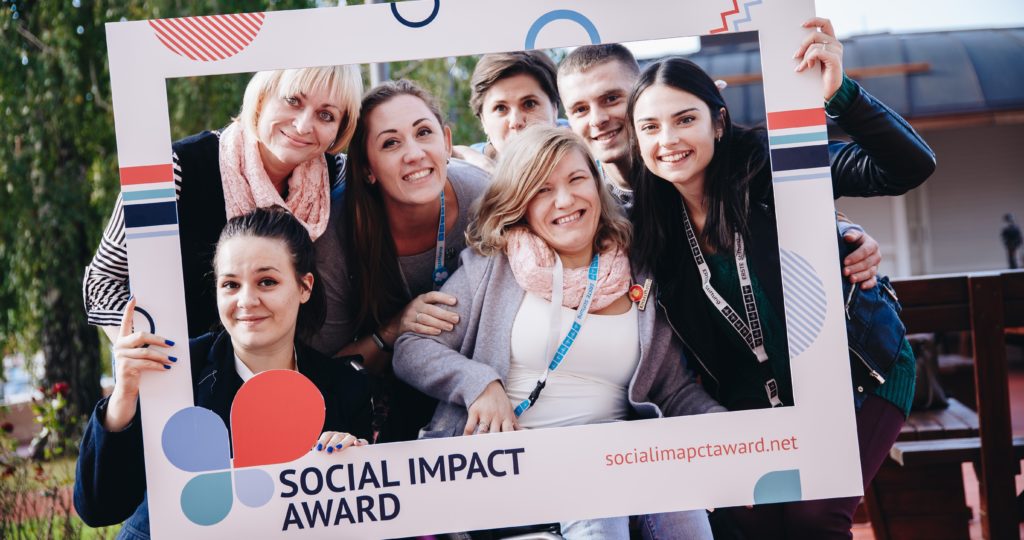 5 Reasons for Opening Healthy Food Restaurant as a Social Business Enterprise
Freshys – the first take-out restaurant with a social business model in Macedonia
– SIA winner 2016 –
There are people that stay hungry for more than 24 hours (even in your local community)
Can you imagine that in the 21st century there are still people that don't have access to proper meals for more than 24 hours? In our local reality, in Skopje, homeless people have an opportunity to visit the open public kitchens that offer free meals only from Monday to Friday. So basically, throughout the weekend these homeless people are left without food. This affects their dignity directly – meaning they must beg for food or do dumpster diving. The restaurant Freshys, together with the organization Kindness and the informal initiative Retweet A Meal, decided to partly solve this problem by giving free meals to the people in need every Saturday in the center of the city.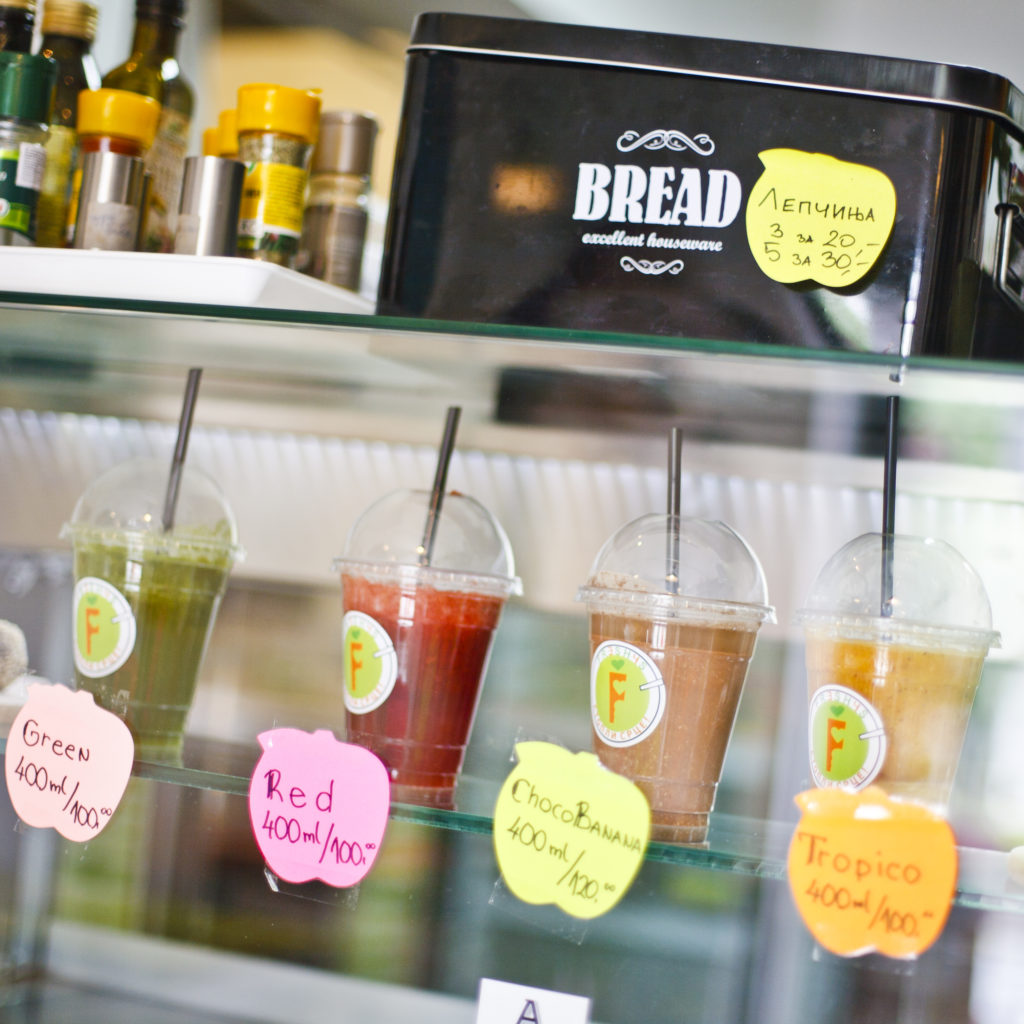 The food business is natural way of solving the lack of food for homeless people
Restaurant – a great place for promoting social entrepreneurship
Macedonia is a small country with many social challenges. And we are still at the beginning of the journey called developing social entrepreneurship eco-system.  Many of the young people, and population in general lack the knowledge of what the social business is truly about. As a place visited by a lot of people on a daily base, Freshys is a perfect location where people can taste wonderful food and get better insight into the world of social business. Healthy food and education is a win – win solution for all youngsters.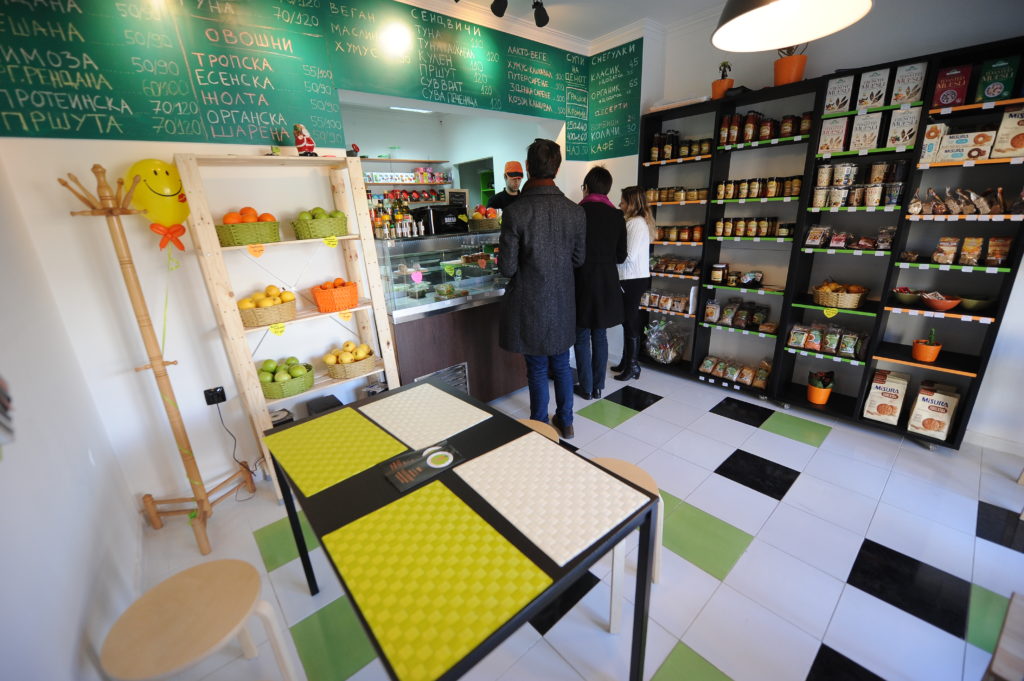 It's a business where a lot of people come every day as a customer/client, plus is a good way of promoting social business and social entrepreneurship
Work integration of deprived people can easily happen here
Future plans and social goals are also directed towards work integration of these targeted groups. As no one needs high education and special skills in order to prepare food, these plans could turn into realization quite easier. A couple of trainings, patience and a lot of passion – and Freshys will be able to employ homeless people, single moms, youngsters that are long-term unemployed, people with disability…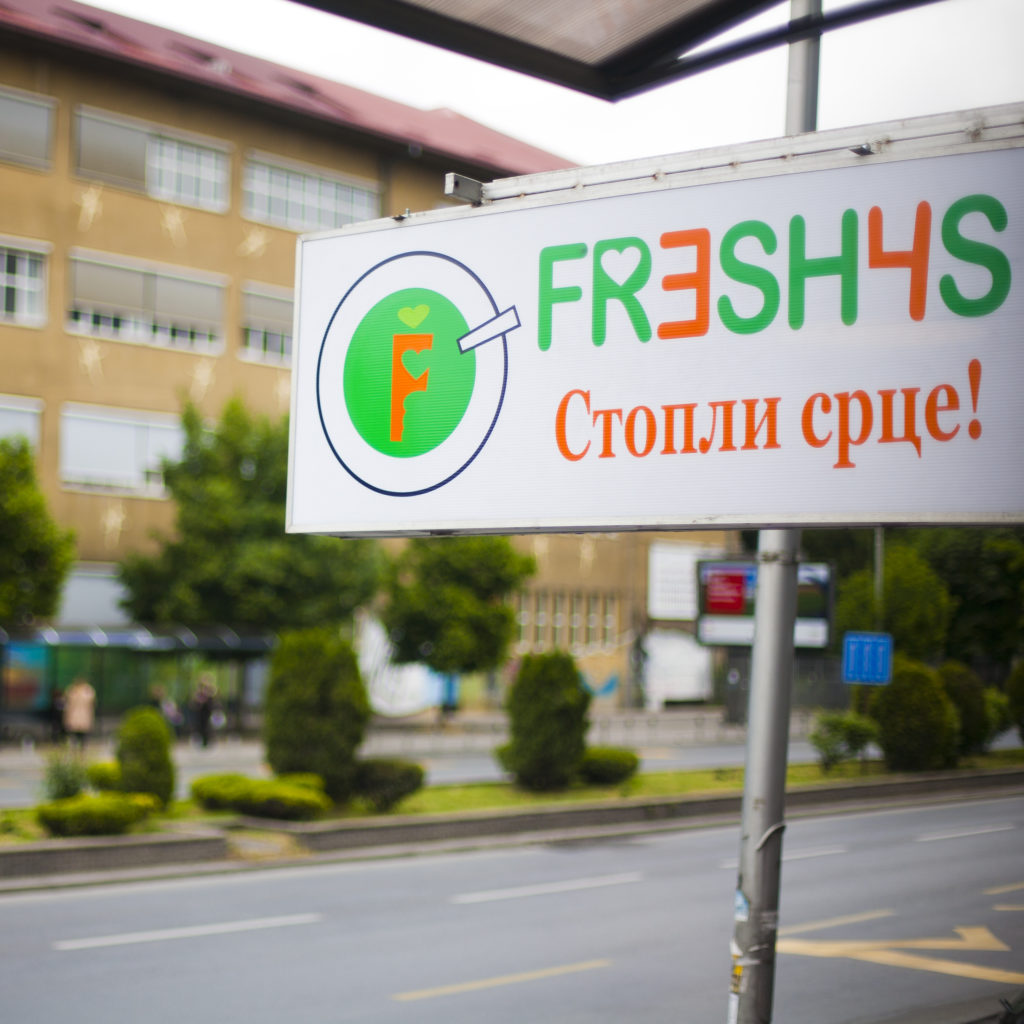 Work integration project for homeless people or other deprived people, easy to train potential employees from these groups
Positive influence on people's healthy lifestyles
In Skopje, all fast food places that you can visit in your busy daily life are not really offering healthy food. A couple of years ago, there were only one or two places of this kind, though the food prices they had were high. Opening a healthy fast food restaurant with affordable prices shapes the behavior of people in the local community. It helps them to stay healthy, save money and still not spend their time on cooking!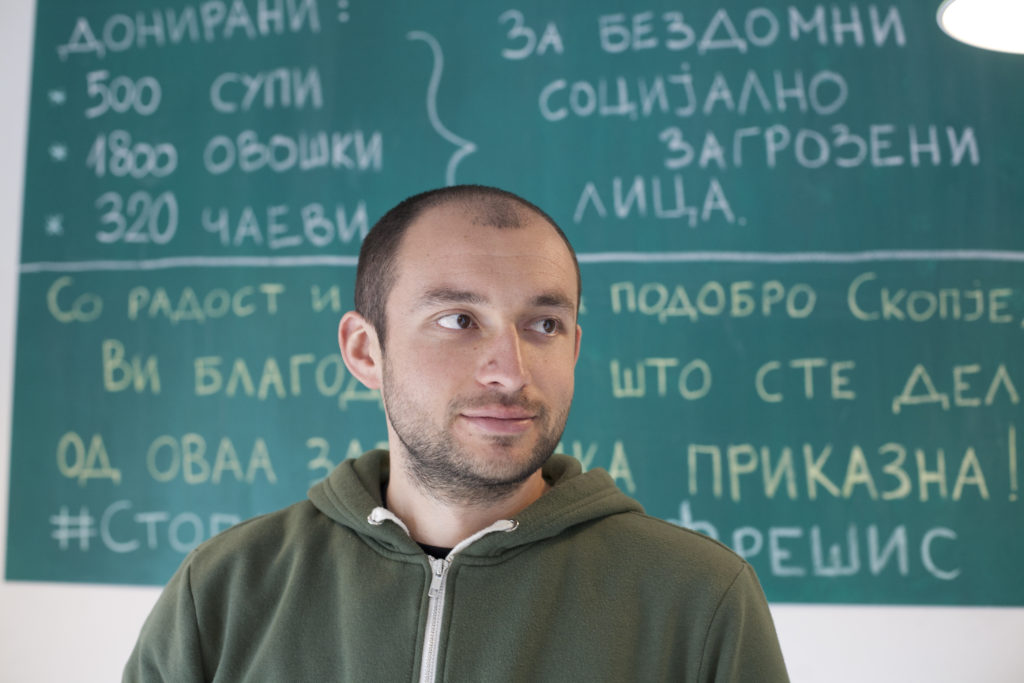 Skopje doesn't offer affordable healthy food options/ The owner, Ljubomir Stojcheski, is a big fan of healthy food
Grab the market share
With busy agendas nowadays, people don't have much time for cooking and preparing their favorite dishes and meals.  Having healthy fast food restaurants as an option, they can save their time and do other favorite activities while still enjoying the healthy food. The market for ready-to-eat foods is constantly growing and this gives a chance for growth and a capture of a bigger market share.
Market shares of food industry is getting bigger/ you don't have to cook at home
So, don't hesitate – go for it… open your own healthy food restaurant, work on the habits of people around you, integrate the people in need and do something good for you and your society! 
Author: Marija Matovska
Editor/ proofreader: Dimitar Chatleski
Chief-Editor: Tizian Müllritter

The packaging that had a past… may also have a future! – Pakomak
Pakomak is a non-profit company, founded in 2010, whose main activity is management of packaging waste. According to the new Law on management of packaging and packaging waste, since January 10, 2011 Pakomak is the first company in Macedonia, licensed by the Ministry of environment for selection and processing of packaging waste.  
The company's goal is to build a long-lasting and solid cooperation with its customers and the Government. In total, eleven leading manufacturing companies in Macedonia are founders of the company.  In accordance with European regulations, minimizing the negative impact of packaging waste on the environment, promoting a responsible attitude towards the companies packaging waste are the main goals.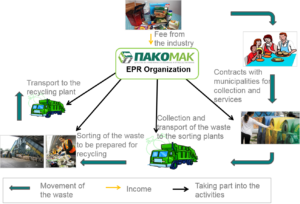 Pakomak is open to include all companies that have an obligation to manage their packaging waste and are aware of their social responsibility to provide a healthier environment. As a part of Pakomak, new member-companies have equal treatment as the founding companies.
Since May 20th, 2011 Pakomak is the 34th national non-profit company that joins the international network of packaging waste management Pro Europe, and thus receives the license to use the symbol "Green Dot". Green Dot is a financial symbol, which signifies that for the packaging that has this symbol a fee has been paid for handling the waste after its use. Additionally Pakomak is also active member of EXPRA international network of packaging waste management companies.
Sustainability through social responsability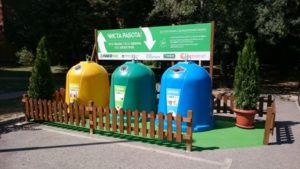 Pakomak is managing the packaging waste with the aim to minimize the negative impact of packaging waste on the environment and to promote more social responsibility for the companies toward packaging waste. In the system of Pakomak as members, there are a huge number of domestic and international companies, manufacturers and importers, who by selling of their products generate packaging waste.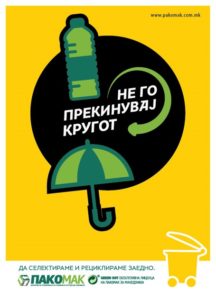 Pakomak leaves moreover an impression of positive and socially responsible changes in the society. Social responsibility for Pakomak is business imperative. As a successful and modern company Pakomak has plans to impact on their customers, members and partners, the environment and the whole society, regarding social responsibility. Pakomak in social responsibility is looking as a strategic long-term goal, which is the ultimate goal of improving the overall quality of life in the environment, which is the main goal of the company.
Increasing public awareness, Investment in infrastructures, Support in humanitarian projects
Pakomak on the one hand continuously strives to invest in improving education and raising public awareness among the population regarding the benefits of recycling, and the other hand Pakomak continuously is investing in infrastructure for the collection of packaging waste with the ultimate aim of protecting the environment. It also supports humanitarian projects and develops a sense of solidarity and philanthropy in collaboration with the community.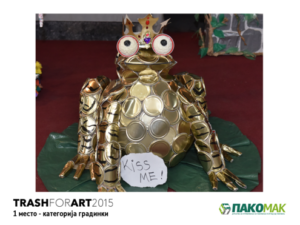 As a company with the aim to raise general environmental awareness among citizens, especially the need for separate collection of packaging waste and its recycling, Pakomak´s goal is to connect the entire chain of successful waste collection, with high benefits for: nature, citizens and the whole country.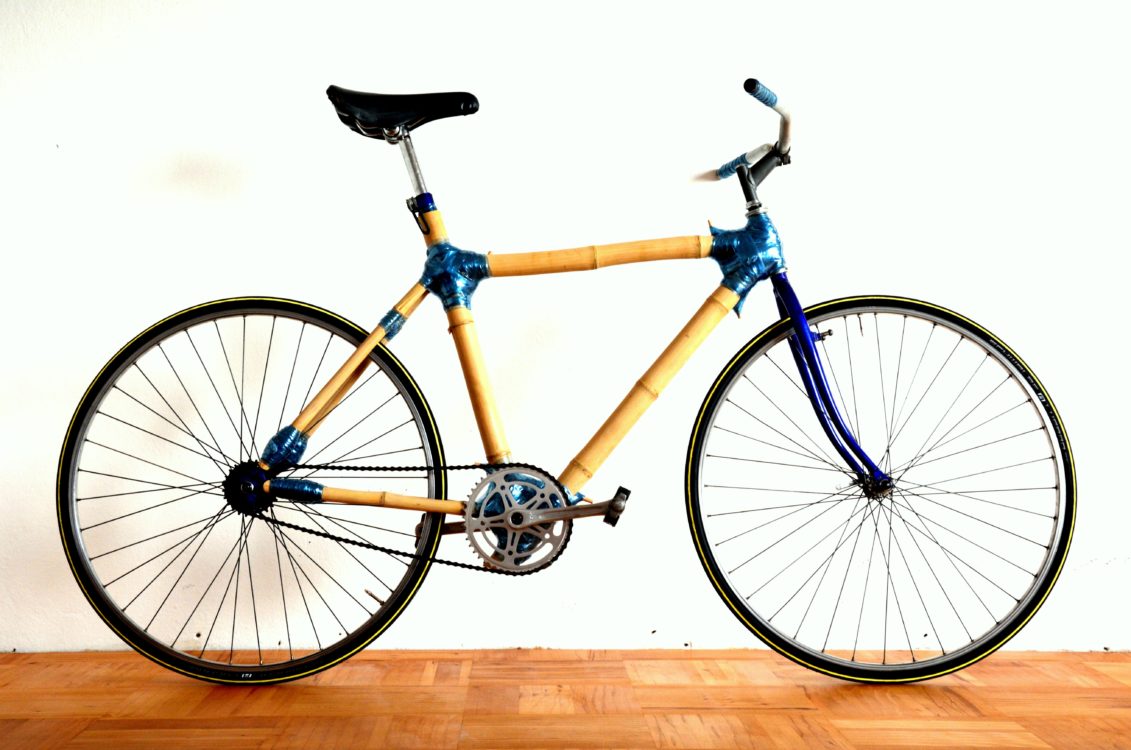 Fair Cycle – The Community Winner of Social Impact Award Austria 2016
Fair Cycle produces bicycles and other products that make an environmental and social impact. Produced in Uganda and sold both there and on our market, they combat unemployment and support a sustainable lifestyle. Fair production, materials, price, and impact are the keystones of our philosophy and products.
mobility. jobs. future.
With a bicycle, a person can go four times farther and carry five times more than by walking. This allows farmers to transfer more products to the markets, children to have easier access to education sites, families to more easily reach healthcare units, and much more.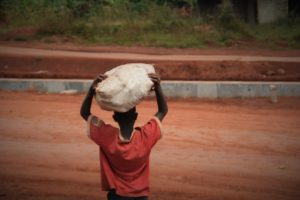 THE BICYCLE – MOBILITY FOR EVERYONE
We are developing an innovative process of joining bamboo poles with recycled plastic bottles to a bicycle frame. This allows people in developing countries to build quality bicycles at a reduced cost while also earning a fair wage in an otherwise struggling economy.
We will begin production and distribution of the bamboo frames in Uganda and spread to different developing countries as well as western markets. This can be easily done because the needed materials are widely available and helps many people to benefit from it.
With the prize money we will be able to finish developing our prototypes and plan on flying to Uganda to start building the first bicycles there in 2017.
The four Keystones of our Fair Cycle: 
FAIR PRODUCTION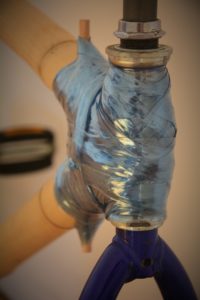 With above-average wages, good work hours, and safe workshops, fair working conditions are guaranteed. The satisfaction of the work results in our consistent high standards.
FAIR MATERIALS 
Our aim is to create products out of sustainable and reusable materials. We use natural materials like bamboo, cork, and biodegradable plastic, with other parts that come from recyclables.
FAIR PRICE 
We think that a product is only sustainable if many people benefit from it. Our goal is to develop and produce long-lasting products which most people can afford. We don't want money to be the reason why people can't choose fair production and sustainability.
FAIR IMPACT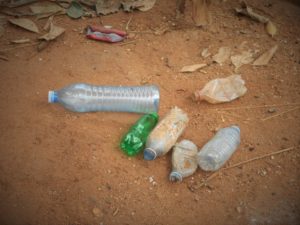 Beyond fair wages, we also take a percentage of the profit from every sold product and return it to the producing communities. This percentage supports other projects such as the bicycle "Buy One, Donate One" program, house construction, and micro-credit loans.
"AFFORDABLE, RELIABLE TRANSPORTATION IS NO DOUBT ONE OF THE MOST VALUABLE, BUT UNRECOGNIZED TOOLS OF RELIEF AND DEVELOPMENT WORK. A BICYCLE IS AN INDUSTRIAL REVOLUTION IN AN INDIVIDUAL'S LIFE." – K. DAY, FOUNDER AND PRESIDENT, WORLD BICYCLE RELIEF
In a box: What we learned from SIA in a nutshell: 
We entered SIA because we hoped to get the best support for our Idea – which we got.  
SIA supported us with a community of like-minded people. This motivated and helped us to stick to our idea and accomplish it– even in times it seemed that nobody else believed in it.
SIA helped us to focus on the important things – and not to get lost in details.
Link: Fair Cycle
Almost there
You need to register in order to submit your bulletin & vote.
We care about your privacy.
Read Privacy Policy .
× close