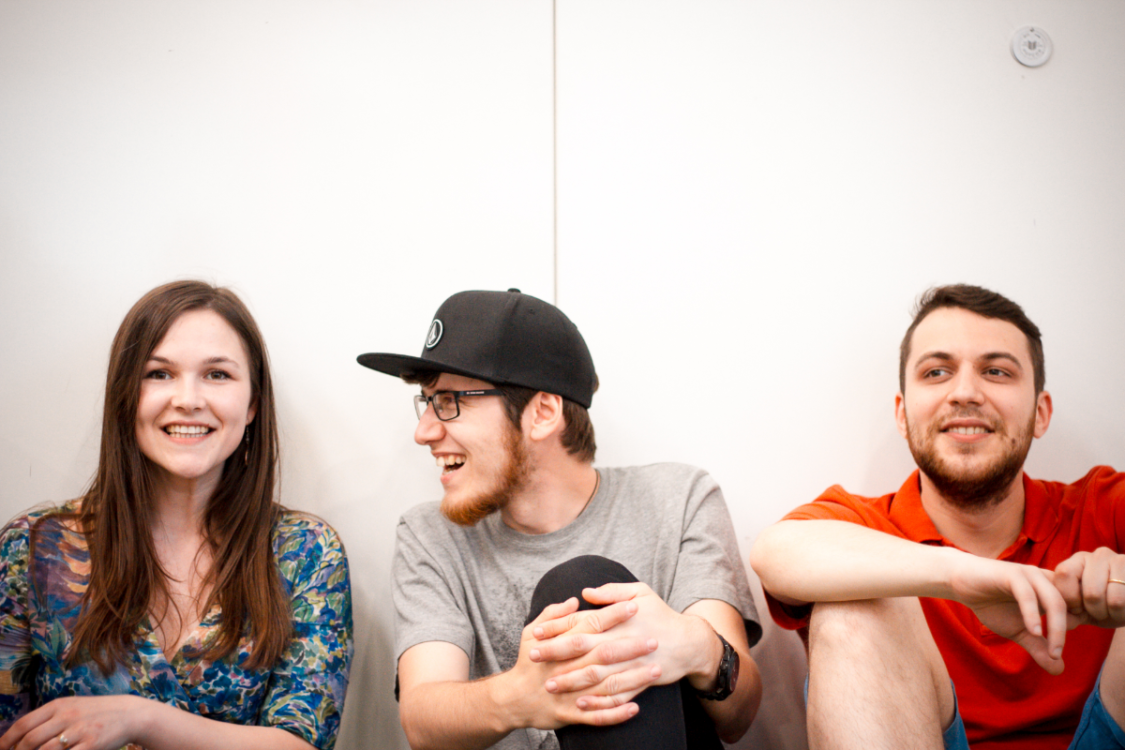 Social entrepreneurs care about the wellbeing of others. But does that come at the cost of risking their own? 
Burn-out among social entrepreneurs is a true issue. Social Impact Award's academic partner – the Vienna University of Economics and Business and its Social Entrepreneurship Center – conducted a survey among SIA alumni including personal wellbeing. Outcomes show that social entrepreneurs are challenged: More than 40% were exposed to some level of burnout. 5% might have experienced severe burnout.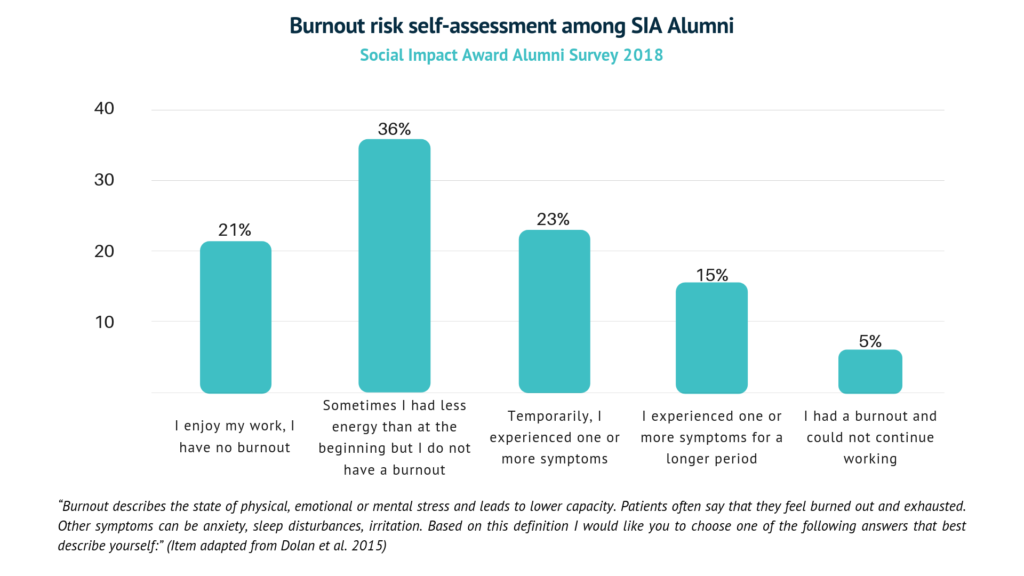 Social Impact Award is in the driver's seat to train its participants' skills to stay healthy. Together with HIL Foundation and the Vienna University of Economics and Business, we started to research and implement our findings on wellbeing since 2018. We asked Peter Vandor, our research partner and founder of Social Impact Award, to share the latest findings on wellbeing within the SIA community.
How is wellbeing perceived by young entrepreneurs? Why is it a game-changer for founders and social entrepreneurs?
In the beginning, the founders have to do everything in the organization. Faced with a myriad of different tasks, their passion and energy is the only driver. If they are not well and decide to quit, there is no venture and no impact.
Tell us about SIA's wellbeing studies. What triggered you to do the math?
More and more social entrepreneurs in my personal environment suffered from chronic stress and in some cases burnout. I wanted to understand what is going on and what we can do. Also, SIA is in a peculiar position when it comes to founders' wellbeing. We are well equipped to provide founders with the best tools and mindset to prevent burnout and have a lasting positive impact. But as a program, we also make very high demands. We could risk being part of the problem by raising pressure.
What are the key findings?
Our data from two SIA surveys among current and alumni ventures since 2018 confirmed the issue. The majority of social entrepreneurs had experienced lasting periods of stress. For 20%, this manifested in persistent physical symptoms such as sleeping disorders and anxiety issues, in a few cases even clinical burnout. This is alarming, even though similar rates in other professions and even higher levels of burnout risk in medical and care professions are common.
Much of this is driven by the high demands of entrepreneurial work. In some cases, however, the gravitas of the social problem our alumni work on seemed to amplify the pressure. A respondent explained: "…people wait for your products that could save lives and you are not doing anything. It's constantly on your mind, the fear that someone could die tomorrow because you took a break."
SIA can make a difference. Some of our interventions, in particular, 1-on-1 coaching on team issues, had a strong positive correlation with wellbeing. The data suggests that we can be effective in supporting our founders on this level.
Why is SIA pushing this topic? What is going to happen next?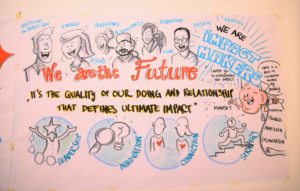 Drumming the beat of social entrepreneurship comes with a responsibility. If we send thousands of youth on this journey every year, we owe them a realistic picture of the challenges and the best tools to tackle them. Unfortunately, too many programs just focus on the rosy side of entrepreneurship creating unrealistic expectations.
We will continue testing and evaluating different interventions to see what helps. I have started further research to better understand the drivers of this phenomenon together with my university and Impact Hub Global.
Your personal rule of thumb to cherish wellbeing?
Coping mechanisms such as exercising, getting professional help or maintaining social support circles (aka meeting your friends) resonate with me. 
But the responsibility should not be put mainly on social entrepreneurs. It's systemic. We have to make sure there is proper education, funding, legal and taxation structures, and recognition for this work. Entrepreneurship is stressful enough. Social entrepreneurs should not need to face extra barriers for trying to solve social issues. The answer is not yoga classes, we need sound institutional frameworks.
——
We are not the only ones trying to provide Social Impact Award participants with the tools and skills to fight the compassion fatigue and achieve personal wellbeing. SIA Russia 2018 winner "You Talk" is leading by example!
Anna Krymskaya, the co-founder of YouTalk, shared with us their success stories regarding their online psychological chat support and how they are supporting SIA Russia in burnout prevention.
About Peter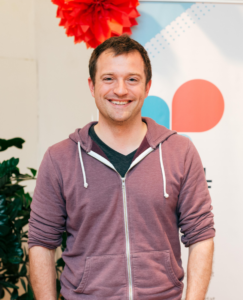 Peter Vandor is a senior researcher and co-founder of the Social Entrepreneurship Center at WU, the Vienna University of Economics and Business. In his position, he has been leading 60+ collaboration projects with organizations such as ERSTE Foundation, CERN, UNDP, and the Roland Berger Foundation. His research focuses on social entrepreneurship, migrant entrepreneurship and innovation and has been published in the Journal of Business Venturing and Harvard Business Review. Peter is the founder and academic director of Social Impact Award, a capacity building program for young social entrepreneurs in 15+ countries and initiated the first academic and award-winning course on social entrepreneurship in Austria. Peter was nominated as Global Shaper by the World Economic Forum in 2012 and as SCANCOR Visiting Scholar to Stanford University in 2017.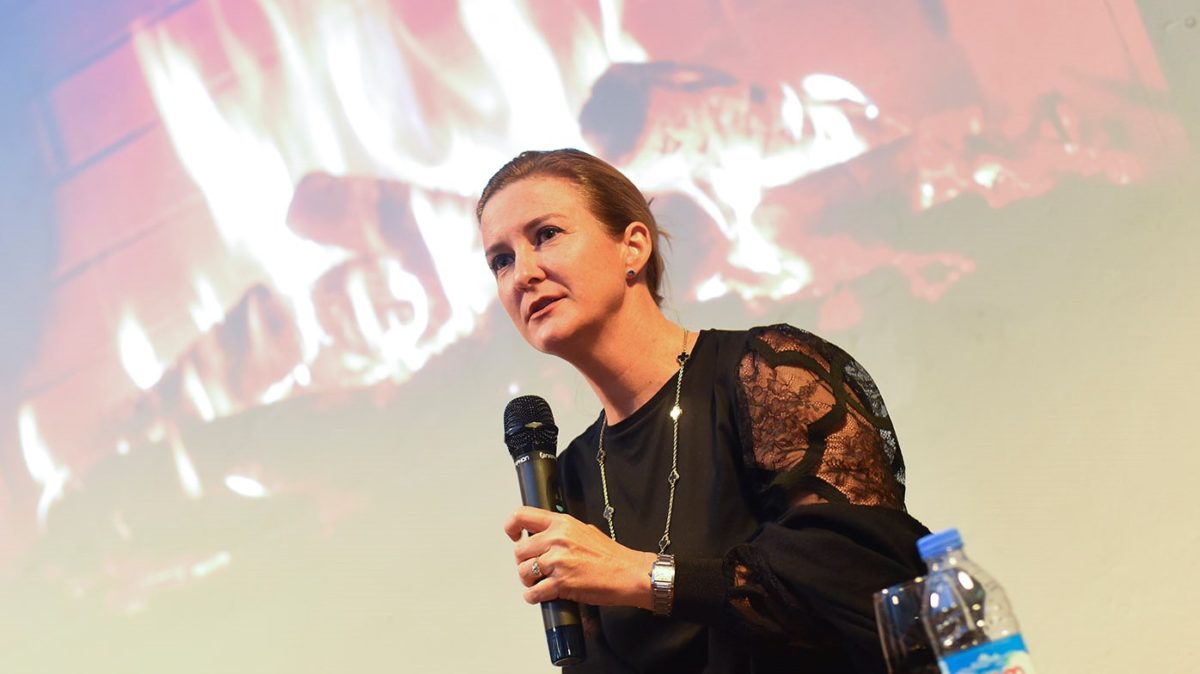 By Katherine Milligan, Head of the Schwab Foundation and Member of Social Impact Award's Global Advisory Board
In spring 2018, Katherine has joined SIA's Global Advisory Board. In her work with the Schwab Foundation Katherine gets in touch with many social innovators, capacity-builders and funders from around the world. We asked her to share three key trends which she is currently observing in the development of social entrepreneurship globally, especially with regards to the early-stage support of social enterprises.
#1: There's a difference between market-based and financially profitable.
In the early days of social entrepreneurship, most of the trail-blazing organizations that pioneered important innovations were non-profits. For many young people today, however, social entrepreneurship is about a commercially viable enterprise. I think the discourse has swung too far into that direction and needs to come back to somewhere in the middle. Yes, social enterprises should strive for financial viability wherever possible, leverage market forces, and embrace business practices and principles. At the same time, there is a reason why these problems persist: because the market or the government failure is just so extreme.
Designing a business model to solve these problems does not mean you're going to turn a profit – not in year one or two, but maybe not even in year five. Otherwise, conventional businesses would have stepped in already.
So, there are a lot of myths, hypes, and misconceptions around the sector that are not necessarily helpful, and I believe young entrepreneurs creating start-ups need a more realistic view about what the journey ahead of them holds.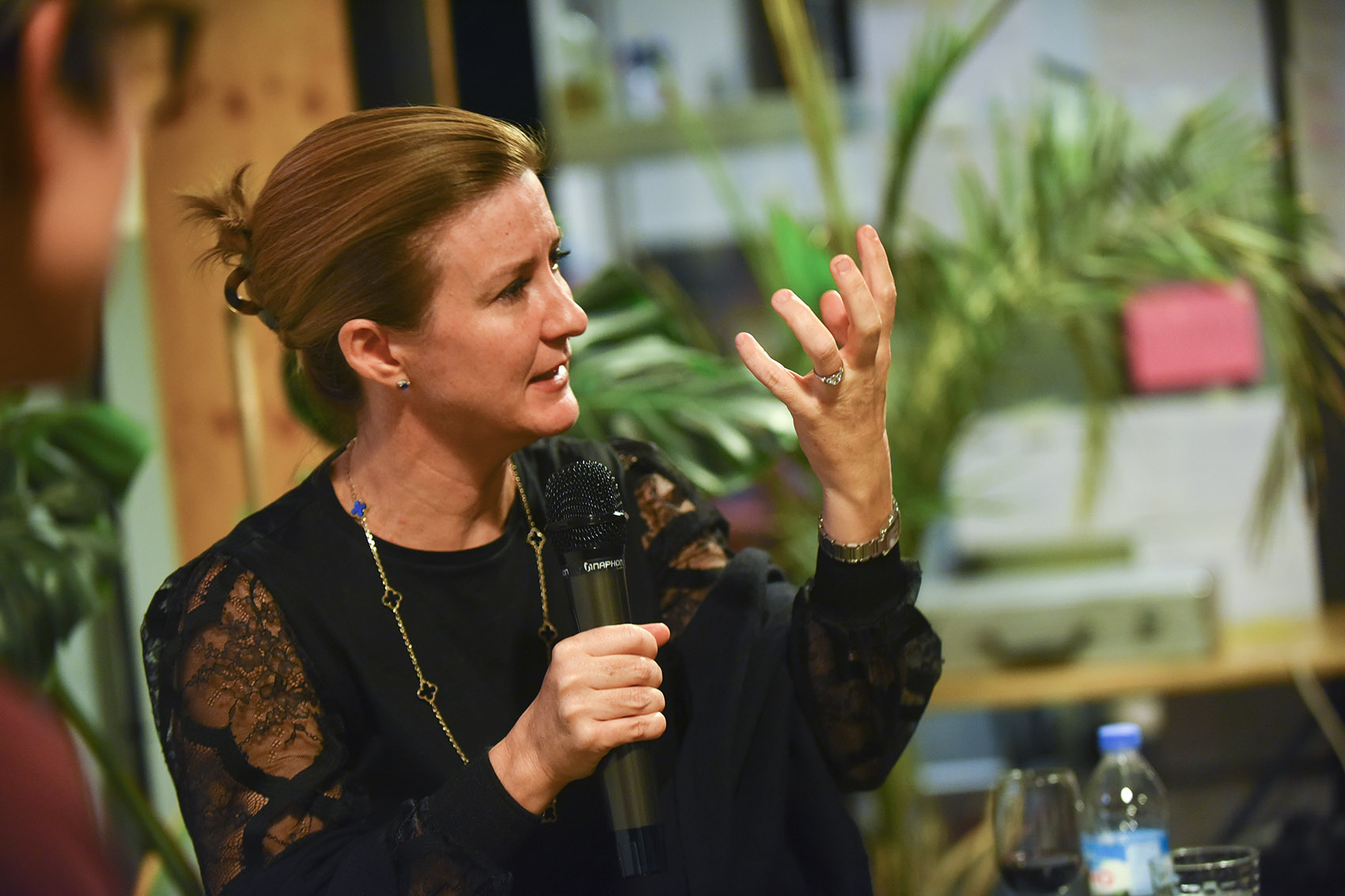 #2: Public institutions are our partners, not the opposition.
Another trend is the relationship of the social entrepreneurship sector with governments and related institutions. A few decades ago, the social entrepreneurship movement was born out of frustration with the inability of governments to solve social problems at scale. This resulted in the image of a social entrepreneur striking out in opposition to the traditional public services such as education, health care, waste, sanitation, water, etc.
Now, many social entrepreneurs aren't asking anymore whether they should work with government, but rather how. If you think of solving a problem on a national level, you cannot avoid or escape public institutions as key partners.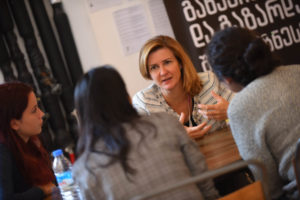 First, as a social entrepreneur, you must build up your own credibility and prove that you can build something more cost effectively than other providers or consistently produce better outcomes. But once you have done that, you can use this credibility and engage with government. Such collaboration can come in various forms: procurement, meaning the  government agency outsources a particular service and provides the social enterprise a fee for services rendered; government adoption, where a social enterprise's methodology or model gets embedded into a public system like the healthcare system; or technical assistance, meaning the social entrepreneur advises government on a policy reform, a new law, or  a planning process.
#3: The myth of the 'hero entrepreneur' is dead.
The third and last trend that I would like to mention sends a message that shall speak directly to young social agents and entrepreneurs who are now starting their career.
The myth of the 'hero entrepreneur' is dead. It is a very unhelpful and destructive myth. It put enormous burden on the entrepreneur's shoulders. More and more people are recognizing that social entrepreneurship is a team sport and that this is not about me, my idea, my solution, my organization.
It really is about solving the problem and doing whatever it takes in working with other stakeholders and actors in a particular system or problem area. It is about putting your wellbeing at the center of your work, being very clear about your motivation for doing this work, having a 'managed ego' in doing this work. If this is all about you and your ego and your agenda, people sense this and realize that this is not authentic and ultimately it will undermine your ability to create trust-based relationships and partnerships. Being a managed ego leader and prioritizing your and your collaborators' wellbeing are huge trends and will be on top of the global conversation in 2019.
You can read the rest of our interview with Katherine on page 24 of our Global Impact Report 2018.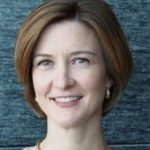 Katherine Milligan is the Director and Head of the Schwab Foundation for Social Entrepreneurship. She received her B.A. from Dartmouth College and her Master's in Public Policy from the Kennedy School of Government, where she was the recipient of the Pforzheimer Scholarship for Excellence in Nonprofit Management.  Katherine's previous work experience includes a Sheldon Knox Research Fellowship at Harvard University (2004-2005); a Global Leadership Fellow of the World Economic Forum (2005-2009). Before that, she was a Peace Corps volunteer in West Africa and a strategy consultant for several non-profits. Her work has been published in the International Institute of Economics, Stanford Social Innovation Review, MIT journal Innovations, and the Harvard Business School.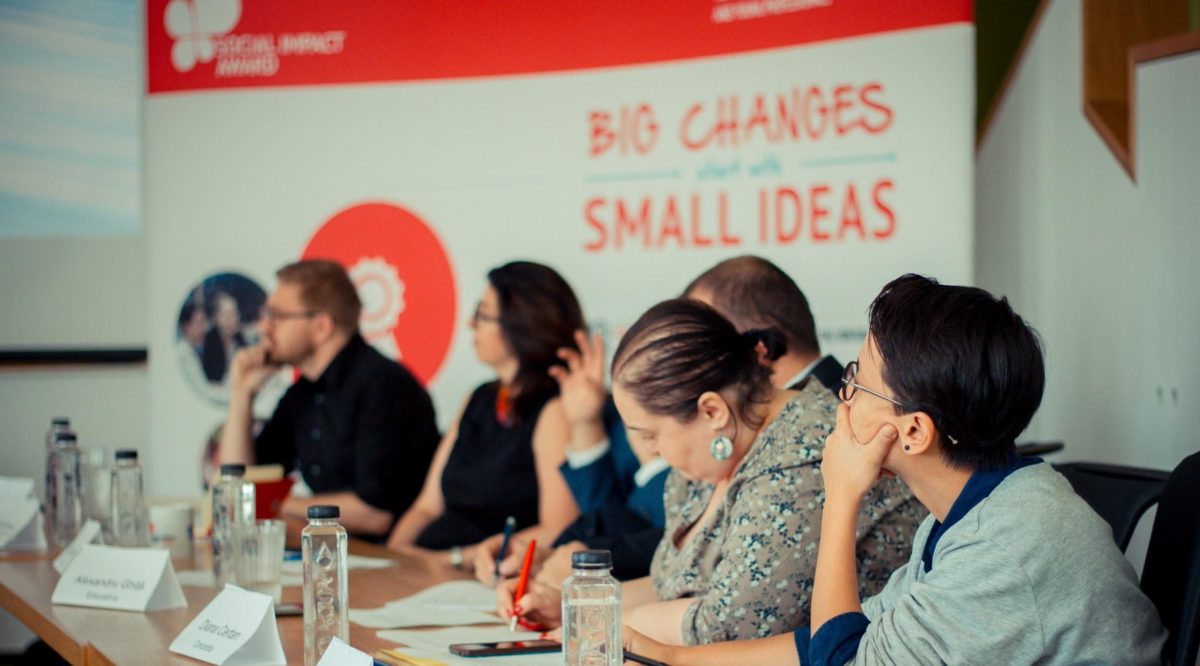 Because 2017 is coming to an end, it's time to look back at what the 6th edition of Social Impact Award in Romania meant this year: bold ideas, young people willing to make a personal contribution to the society, dozens of experts and partners who actively contributed to promoting social entrepreneurship in Romania and a great deal of potential for the development of this segment among young Romanian people.
The Social Entrepreneurship Ecosystem in Romania
According to the Youth Speak study conducted by AIESEC Romania on a sample of about 4,000 young people, one of the main motivations of the Millennials is to have a greater goal in life. 21% of these young people want to be paid to work in their ideal jobs. 19% want to work in a startup, and 6% of them want to work in a social business.
At European level, statistics are similar. According to a study conducted by the Trendence Institute, more than 60% of business students feel more motivated about making a positive contribution to society, rather than only earning money through their businesses. And more and more young people want to create their own jobs.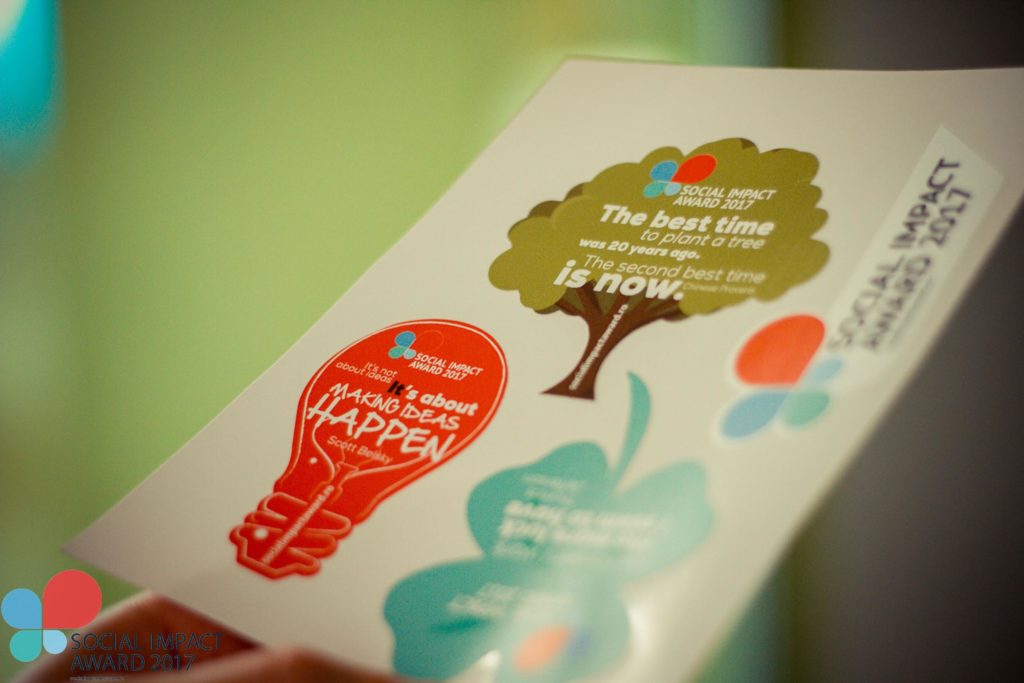 When we put together the desire of young people to have an impact and their need to become entrepreneurs, we come to the essential motivation of a social entrepreneur. Given that the problems facing Romania are increasingly complex, we need a generation of young people who dare to build innovative, long-term solutions that combine social impact and financial prosperity.
This is the main reason why we invest year after year in developing the educational program and the Social Impact Award competition in Romania: for more young people to be aware that they have this opportunity and to be inspired by the examples that already exist in Romania and abroad. And because we want to encourage as much as possible a collaborative spirit among those who are already part of the larger community of social innovators in Romania.
Raising Awareness and Inspiring Future Social Entrepreneurs
After six editions of the Social Impact Award, we realized that we still have a lot to build so that more young people in Romania can understand what social entrepreneurship is and how they can embrace this opportunity for professional development.
Between February and May this year we organized 16 workshops on social entrepreneurship in 8 cities in Romania. Over 350 high schoolers, students and young professionals took part in these experiences, generating ideas and solutions or turning ideas into social business models. In each city we invited examples of local social entrepreneurs, in order to provide an inspirational and pragmatic perspective for our participants.
At the end of this period, 82% of respondents to our Impact Assessment Questionnaire said they had improved their understanding of social entrepreneurship, and 75% found their motivation to become social entrepreneurs. For the 2018 edition we are preparing to add another 4 cities to our educational program, so that we bring the Social Impact Award know-how and inspiration to areas in Romania where there are fewer opportunities.
Building a Community of Young Social Entrepreneurs
Beyond the educational program, this year we also focused on developing an active community of young people who want to become social entrepreneurs. Of the 56 teams enrolled in the competition, the Social Impact Award jury selected 17 for the incubation program that took place between June and September.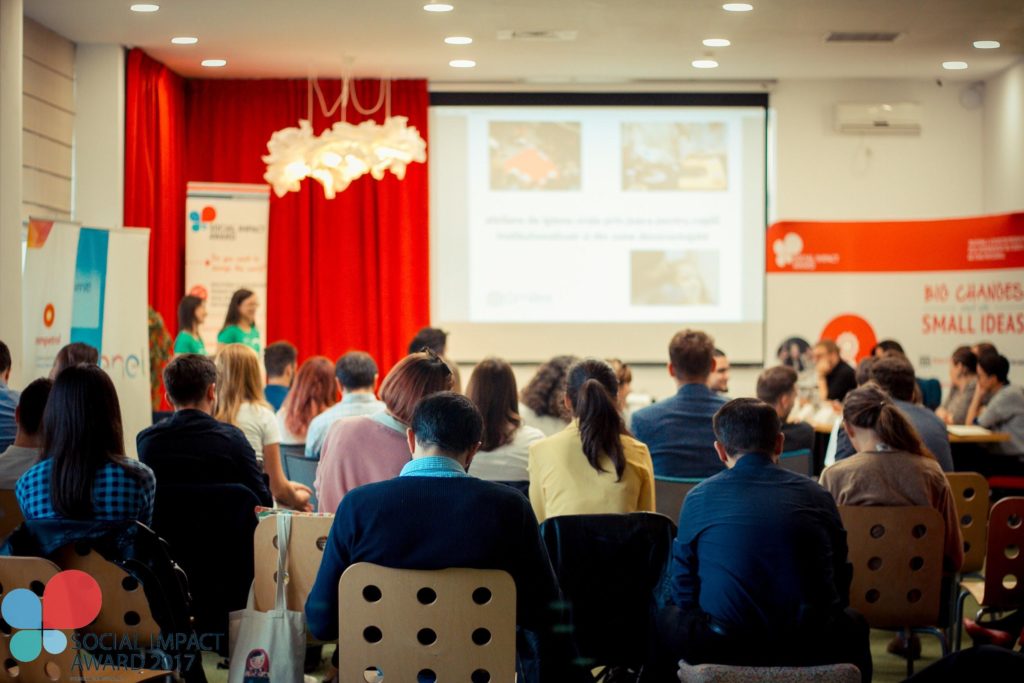 Together with the 17 initiatives we have learned how to build a collaborative learning community. Through all the interactions with mentors, experts and social entrepreneurs, the incubation program helped the finalists to improve their knowledge and skills. Also, we focused on creating a sense of belonging, in order to strengthen long-term relationships between our finalists.
Two of the elements we have monitored during the incubation period were the motivation of our finalists and their ability to carry on with their projects after the end of this SIA edition. After completing the program, 75% of finalists claim to be more motivated to work in a social business, and 83% feel they have a better prepared team to continue implementing their idea with.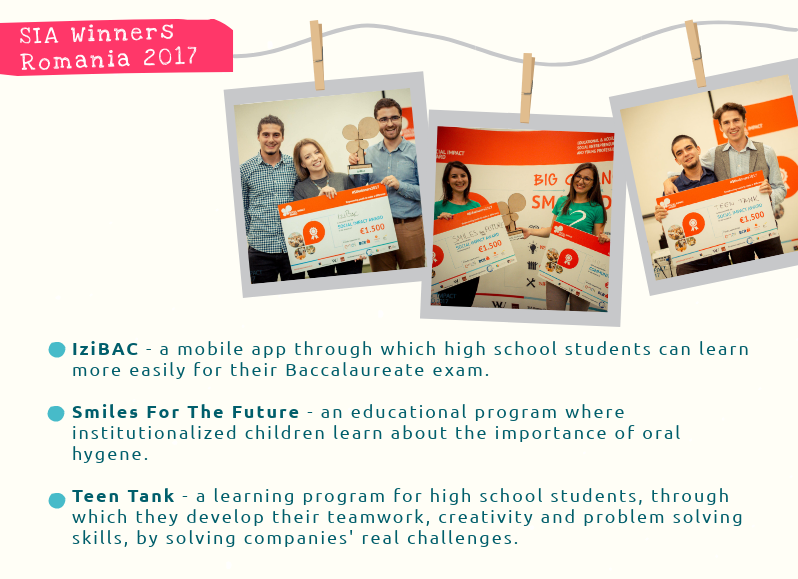 SIA Romania's Super-Power: Collaboration
It is said that "It takes a village to raise a child". After this Social Impact Award edition, we can also say that "It takes a village to raise a social entrepreneur". Our efforts to form a generation of young social entrepreneurs in Romania would have been far from attained if we had not had a whole ecosystem of people and organizations near us.
Collaboration can start from many angles. For us, it was about meeting with people who think equally strong about the purpose of Social Impact Award, and about all the people who contributed to building this year's experience. They are the main partners of SIA Romania – Enel, BCR, Rompetrol, Ernst & Young and Redbull Amaphiko -, the 9 members of the jury, the experts and mentors involved in the incubation program, the local partners with whom we implemented the workshops in the 8 cities, the social entrepreneurs who joined us at different stages of the program, the volunteers and, last but not least, the SIA 2017 team. The full list of SIA 2017 partners and supporters can be found here.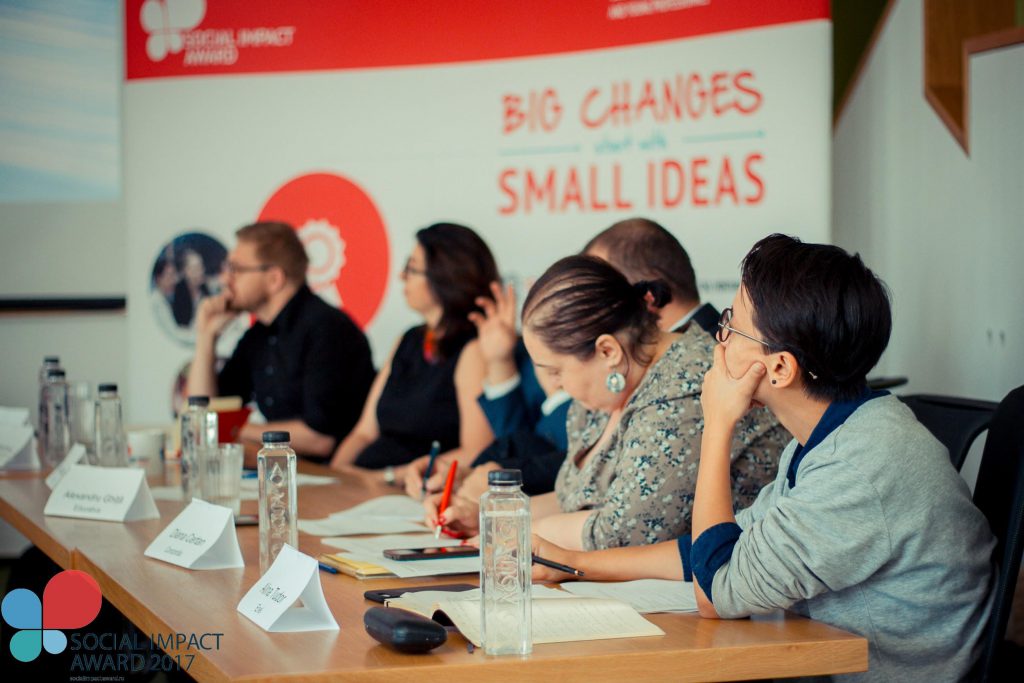 We are all needed in the quest to develop the next generation of young social entrepreneurs in Romania. Through consistent and authentic collaboration, we want to actively maintain the ecosystem created around SIA Romania and to take this spirit further for another great SIA edition in 2018.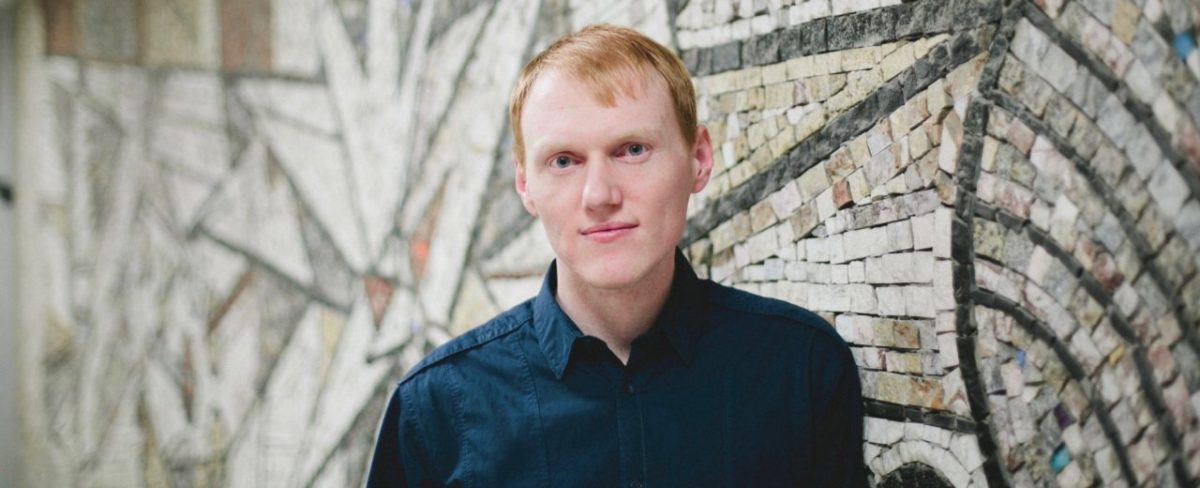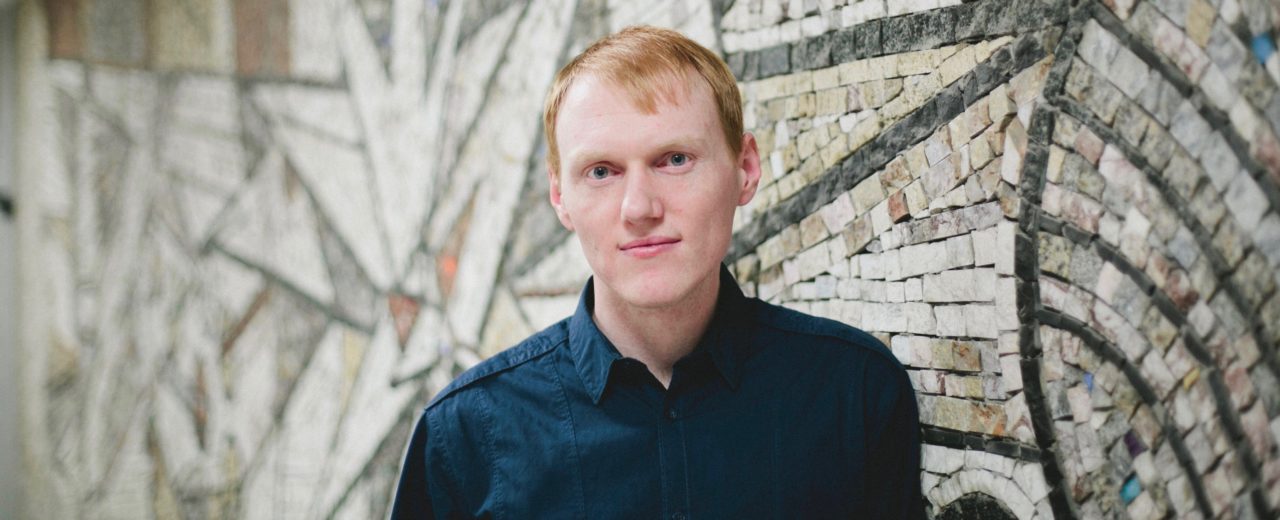 Andrej Fogelton is 29 years old PhD student at the Slovak Technical University and the winner of Social Impact Award Slovakia 2013.On his website blinkingmatters.com he writes that he has suffered with the dry eye syndrome since the beginning of his studies at the university. And that led him to an idea.
As Andrej explains, a healthy human blinks 10-15 times per minute. When working with a computer, it is often half as much, because the screen is shining and the person is focused on work. Thus, the tear film is insufficiently restored to the eyes and the eyes dry, which can cause dryness, burning, itching, feeling of a foreign body or red eyes.
"Because I was struggling with my eye problems, and I researched a lot about it, I was looking for a solution especially for myself. The idea of product commercialization came naturally with attending various startup events after Bratislava, such as the Social Impact Award," says Andrej.
The Eyeblink kernel is an algorithm for detecting blinking. Technological development of the software was part of Andrej's dissertation work, and other students at the Faculty of Informatics and Information Technology of STU contributed to it, including Tomáš Drutarovský, whose algorithm was the basis of the existing version.
As a look into the fire…
How does it work? Besides the part, the software, in a simple way, reminds people to blink when working with computers, it does so much more. "An important feature is measuring, informing you about health and giving you the option of auto-dimming the screen, which is very useful especially for external monitors where you do not have the keyboard shortcut to adjust the brightness as it is on your laptop," says Fogelton.
According to him, one of the reasons why we blink too little is that the screen is too bright, people say "pulls our eyes". "It is similar to fire, try to observe the person who is buried in the fire. We are exposed to screens for too many hours. "says Fogelton.
As he adds, his software is currently being used mainly by customers from Slovakia, the EU countries, the USA, but also India, Vietnam and Russia.
They buy it when they have a problem…
The price for its noncommercial use is 12 and for commercial 20 euros per year. He has so far sold about 100 licenses to use the software. "It's a little, but I believe that with increased efforts in marketing will the sales grow too. So far I found out that people are unwilling to pay for prevention. My customers are just people who know they have a problem and they deal with it." he said.
For more comfortable use of your computer, there are a few recommendations. "But I warn that I am not a doctor, these recommendations are based on my personal experience. Maybe I can help you."
Healthy recommendations…
Find out more about dry eye syndrome, do not settle with drops of artificial eye sore.

Remove the eye drops or use as little as possible. Rather wash your eyes regularly with cold water.

Play PC games less. They are the worst, as we are very focused on what is happening on the playing field.

Properly adjust the workstation. The window should not be behind the monitor, but from the side and at the right height. Adjust also the height of your monitor as it effects how dry your eyes are.

Make breaks. Water breaks, tea, or just look out the window, focus for a longer distance.

Lower the brightness of your monitor and not to look too closely at the monitor because you do not see anything.
Why does entrepreneurship have a potential to improve the economic development in Albania? Why is SIA a good opportunity for the young generation? All the answers in the following lines.
Despite economic improvements in recent years,  Albania is faced with many social challenges and large disparities. Poverty and unemployment remain very high leaving marginalized groups, especially youth people and women severely disadvantaged. In Albania, where more 1/3 of population are younger than 30 years old, youth unemployment remains a significant challenge. Private sector remains still fragile in Albania, while public reforms have not yet been able to cope with the increasing unemployment situation. As a result, especially the young generation continues to seek opportunities abroad, mostly through illegal emigration, instead of aspiring towards entrepreneurship. Entrepreneurship has a potential to drive employment and economic development in Albania.
What keeps social entrepreneurs in developing countries from growing their ventures? Around the world social entrepreneurs are creating innovative businesses that reduce poverty and improve the lives of their customers. These pioneers often encounter many hurdles along the way that make growing a social business a significant challenge.
In the last decade the world has made great progress in helping people move out of poverty. However, the current economic system has also created inequality and caused tremendous harm to our planet. It is time to re-think the status quo and our economic model. We need to redefine the system so it works the other way around — solving social problems and creating a more fair society for all humans. Whenever we want to solve the problem of poverty, we have to address the root cause. 
That is where the concept of social business comes in. A social business is a problem solving business. Social business allows people to focus their creativity on solving human problems with business means rather than maximizing profits. In charity, money goes out and never comes back. In social business, the money goes out, does its good work and comes back. One time use versus unlimited use of money; that's the whole idea of social business. That way social business is a powerful tool to get people out of poverty and close the wealth-gap.  
Albania is a small country in Balkan area, post-communist, with major economic and social changes. In the communist system the creation of a private business was not conceived  and even the  property was public. All administered by the public administration. After the 90s, the whole situation changed and the free trade created an experiment for the private business. Every year has brought changes by creating stable businesses as a developing country with positive opportunities to move forward.
Why is SIA a good opportunity for the young generation?
Business ideas coming from the passions of young people.

Business ideas supported by SIA solve problems in society. It is about identifying needs in society, and not just to sell products and generate revenues.

Access to a social impact differentiates businesses from others by bringing a European example with the highest standards.

Advanced business models intertwined with innovative social ideas make you competitive in the market.
So, what are you waiting for? Join SIA! Be unique, be modern, be social!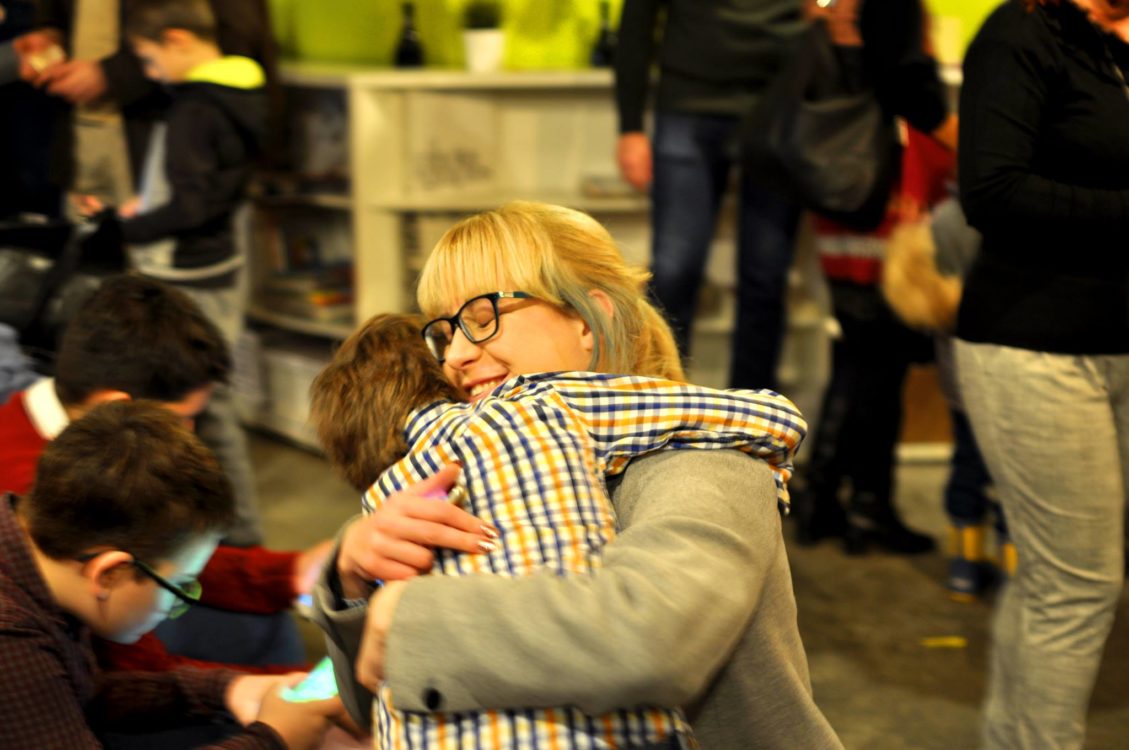 You want to get inspired? Stay with me!
Tanya and Borche are a husband and wife team, leading a successful business with social responsibility, in Macedonia. Their business model is a blend of creative studio and café, which Tanya and Borche, both artists themselves, decided to open after a long phase of experimentation. Since then, Kerakamika is a paint your own ceramics studio where, in a relaxed atmosphere, one can have a drink while making a special gift for themselves or a dear person. As a matter of fact, initially, they named the studio Keramika Café, later they renamed it to Kerakamika.
In case you are wondering why Kerakamika instead of Keramika, read along!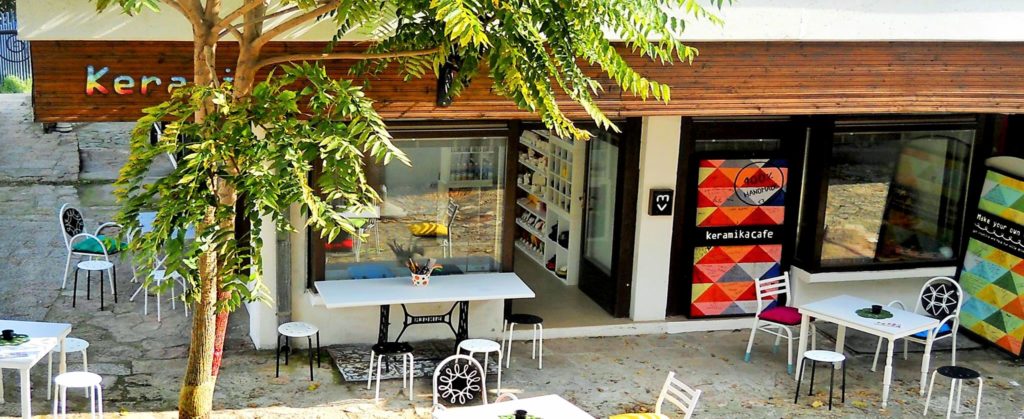 Actually, the name of the brand was deliberately invented by a little human; a very sweet one even. In the words of Tanya and Borche, the name came into being as their toddler was constantly saying Kerakamika instead of the initial title, Keramika Café. Their toddler's version of the name sounded sweet and playful, but still akin to the original. Hence, Tanya and Borche decided to rename it Kerakamika, as a combination of Keramika and Café.
Everyone has potential to become an entrepreneur by simply using their education and work experience as a starting point.
Why is this studio special?
For being an innovation. For being unique. For being multifaceted. Kerakamika is the only studio of its kind in Macedonia. On top of that, the surrounding area where this studio is located, the Skopje Old Bazaar, inspires creativity and imagination on its own, offering a magnificent atmosphere for giving life to one's ideas. What's more, visitors can create inside the studio or outdoors, while savoring a sip of coffee, lemonade, or Turkish tea, a specialty of the bazaar. The package is made whole with creative workshops, which are offered to art enthusiasts, who wish to learn skills and techniques offered by Kerakamika artists.
More about the workshops.
In this studio, they offer more than 10 different workshops, which people can choose from. In the first place are ceramic workshops, in which people learn various ceramic forming techniques and methods of decorating ceramic pieces. Part of their workshops tackle the subject of recycling and upcycling, even so, they still give advice on multi-purpose usage of every-day items in every workshop, with the mantra:
"If we can make or reuse it, let's not buy it"!
So far, Kerakamika has organized over 100 creative workshops for different groups, such as children, adults, children without parents and children with special needs. What's more impressive, these workshops are attended by people who apply the newly gained knowledge and skills to advance their career, their business, or hobby, thus becoming financially more independent.  It's no wonder, the interest to participate in these workshops is huge.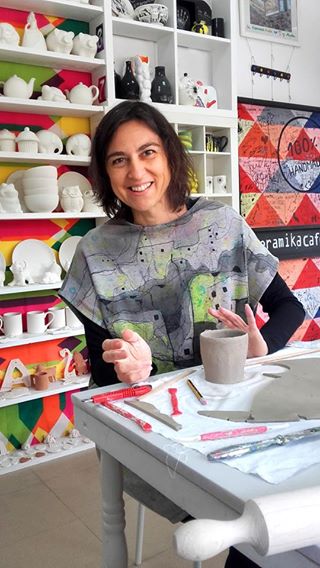 Social Impact.
Social impact is achieved by offering people knowledge within a hand's reach, without pressure, at leisure. In these workshops, they challenge themselves, gain useful skills, and gain a new perspective about the everyday items that surround them. Later they benefit from the skills (and the perspective). Kerakamika's aim is to share knowledge and happiness, and they are achieving it.
Eureka!
Beyond question, similar studios would be welcoming in other places too, for one, because this model is a perfect blend between art and business, but also because it is a balance between giving and receiving. It goes without saying that this is one of the most convenient paths for artists who are struggling to make a living, and for those who wish to serve their community while being rewarded for it. Ergo, the outcome of such an endeavor is financial as much as moral.
Feel-good elements.
In Tanya and Borche's words, there are many feel-good elements in this occupation. Such as, passing on knowledge, serving a social purpose, freedom of creating, meeting wonderful people, reciprocal inspiration, a smile on children's faces, beautiful drawings and letters from them, the thrill of completing a workshop, the excitement  of creating your own piece of art, the euphoria of seeing the results, feedback from satisfied clients… What is most morally satisfying and motivating is when participants in the workshops, apply the knowledge on their profession and hobby.
What is their advice for future entrepreneurs (you)?
Everyone has the potential to become an entrepreneur by simply using their education and work experience as a starting point. Tanya and Borche state that the most important prerequisite to thriving in this sector is self-confidence, persistence, and endurance. "You will see the outcome later, it becomes real after the impeccable dedication. And yes, work with love!"
Beyond doubt, people who visit Kerakamika leave accomplished, having acquired new skills and knowledge; delighted, having created a piece of art; animated, having gained new friends. Most importantly, they leave Kerakamika with a blissful smile on their face.
Did you get inspired by this article? Have you thought of founding your own business?

Social Impact Award offers support to young people who have an idea but simply don't know where to start. Start from here!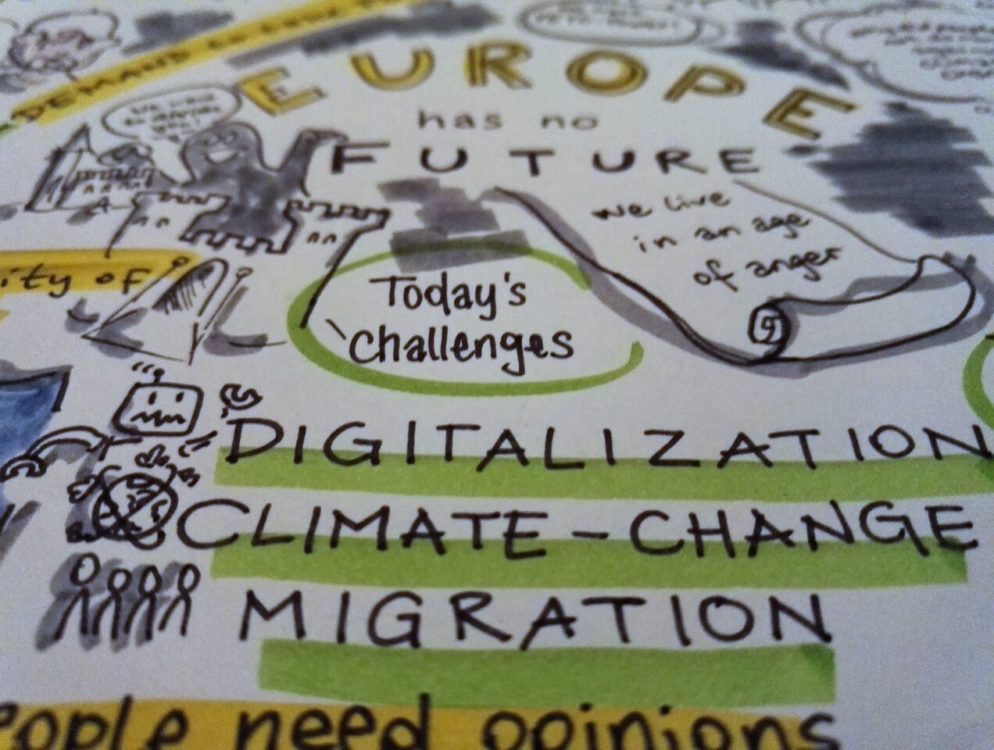 Who am I? My name is Markus Engelberger and I am the Country Coordinator of SIA Austria.
I also run my own business as a Graphic Recorder and Visual Facilitator.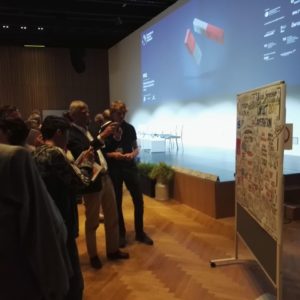 As a Graphic Recorder I basically listen to what people talk about at events and I capture the essence of it in real time through pictures and words.
I recently worked at the European Forum Alpbach, an event where Europes "Elite" comes together. There I represented Social Impact Award, but also wore the hat of a Graphic Recorder.
This is how it looks like, when I work: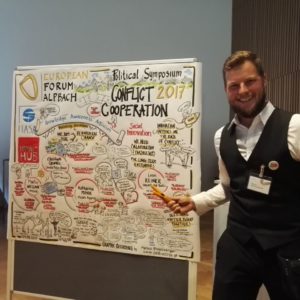 In this blogpost I am gonna share some insights I found quite interesting and of which I think that they can be very relevant for what you do!
You might wonder: "What or where the hack is Alpbach!?"
Don´t worry – For Non-Austrians, and even the majority of Austrians, it is unknown or at least mysterious, what actually happens at Alpbach, this tiny, picturesque village in the mountains of Tyrol.
Since this is important for all that follows, let me try to explain…
The European Forum Alpbach
Once a year, for three weeks in a row, the European elite in business, politics and technology comes together. A happening of the finest kind.
What is today considered the "Spring-Break of Austria´s future leaders", has a serious background.
Shortly after World War 2 leading thinkers and influencers of their times met in this village and agreed that such a terrible war must never ever happen again.
In order to realize that, they came up with the idea of bringing together the young elite of Europe once a year from now on until forever.
And that is the spirit that is deeply routed in Alpbach. That is also the reason why highly renowned domestic and international politicians, business-leaders, scientists and philantropists make their way to Alpbach every year.
They cherish the tradition and contribute to a peaceful and better tomorrow.
And well, where young people come together of course the one or the other party happens also.
But let´s concentrate on the 10 most important learnings I personally took from Alpbach, listening with the ears of a Social Entrepreneur.
The good message to start off: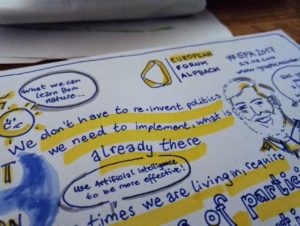 "We don´t have to re-invent things. They are already there!" (Franz Fischler – President of the European Forum Alpbach)
What he meant, is that a lot of solutions, networks, laws and so on already exist. The only problem is that people never knew about them or have forgotten.
So let´s challenge your local politicians – let them know you are interested and want to be informed!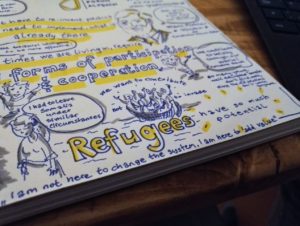 "We are not here to change the system or to invade your country – We are here to add value to your country and build a better life." (Conclusion of a group of different people that had to leave their countries for safety reasons.)
I know, many of you will say they already knew that. But even for me, a person who is constantly working together with Ventures supporting Refugees, it was an "Aha-Moment" and a kick-ass argument against all who claim Refugees are "invaders".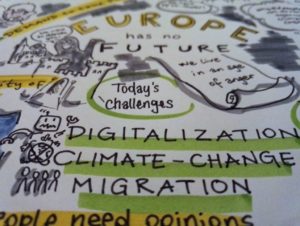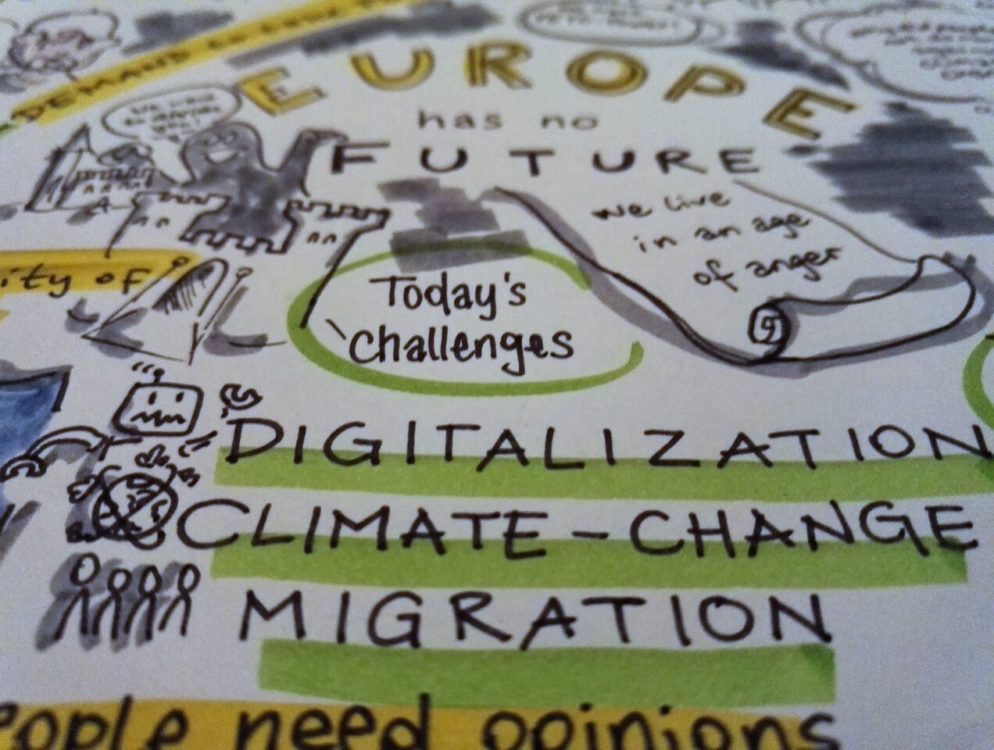 "Digitalization, Climate-Change, Migration" (Summary of a plenary session on today´s most pressing challenges).
When some of the most powerful political leaders in the world come together, these are the most pressing topics they agree upon. Maybe that´s a little hint for all of you, who wonder in which field to get active and solve problems in an entrepreneurial way. I am pretty sure these guys also have the money, if you come up with disruptive and scalable solutions.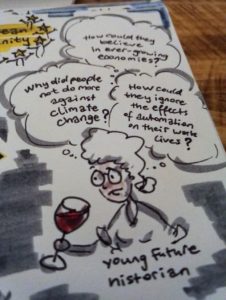 "Why did people not do more against climate change?", "How could people have ignored the effects of automation on their work lives?", "How could they have believed in ever growing economies?" system (Philipp Blom – Author, Lecturer & Broadcaster)
Three interesting questions a future young historian doing research about the days we live in might ask herself. I think there is nothing to add and I leave it open to you to explore this thought experiment.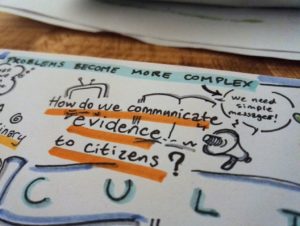 "How do we communicate evidence to citizens?"
A simple and "easy – to – get" communication is also a topic, that keeps a well-aged generation of politicians awake at night.
The same is true for:
"How do we engage citizens into transformative processes?"
What politicians lack at the moment, is the ability to come up with solutions that create and support transformation. They are willing to include people into open Innovation processes but at the moment simply seem not to be capable to pull this off.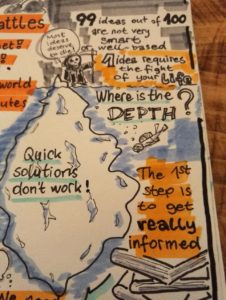 "Most ideas deserve to die!" "99 out of 100 ideas are not very smart or well based. But the 1 good idea deserves the fight of your life!" (Jeffrey D. Sachs, Director, The Earth Institute, Columbia University, New York)
"Most ideas deserve to die!" This is a harsh quote by a man who has fought for the good cause all of his life. But especially that fact makes his thought so interesting.
At the end of the day Mr. Sachs, one of the world´s leading experts in economic development and fighting poverty, is really interested in Start-Ups and Social Entrepreneurship in generel. But what he is missing in most of the projects he gets to know, is some more depth.
That means:
Do your homework fellas! Dig into research, talk to experts in the field, who for instance have been tackeling the issue of climate change for the past 30 years already, collect data, set your impact metrics and then fucking measure them.
We all know that this is not the fun part for most of the people.
But you´ll need the data to convince powerful gate-keepers like Mr. Sachs.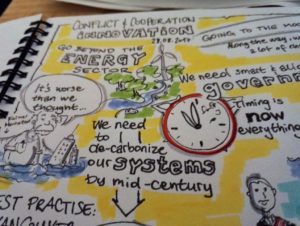 "We need to de-carbonize our system dramatically by mid-century" (Agreement in a panel discussion)
The frightening fact that our system already collapses in 15-20 years, if we as humanity continue doing, what we are doing at the moment, was starting point of a very diverse discussion between scientists and politicians.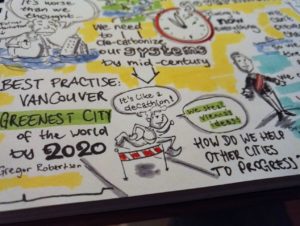 "Vancouver wants to be the greenest city in the world by 2020." (Gregor Robertson, mayor of Vancouver)
While many seem helpless or try to improve things by buying CO2 certificates (which is more about making statistics looking nicer in many cases and not about actually reducing CO2), Vancouver makes nails with heads. Vancouvers mayor, Gregor Robertson, also stated, they as a city have a clear and simple 3 step – plan how to further reduce CO2: "1.: Walking 2.: Riding the bike 3.: Green public transport instead of individual cars"
An interesting point of view from an Austrian´s perspective was, that Vancouver is looking to what  Vienna does in order to get inspiration and steal good ideas from them.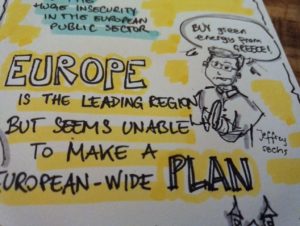 At the end of the panel discussion Jeffrey D. Sachs concluded that Europe is actually the leading region when it comes to sustainability and solutions that help us create a better future.
The only thing lacking in Europe is an agreed upon concept or plan.
He ended his speech with "Let´s make a plan!" And that I also see as a strong invitation for our community of super talented and motivated Social Entrepreneurs.
Get out of your god-damn boxes and connect to each other! Try to create synergies and learn from each other! Support each other and stand together! Then we have the chance to realize impact that truly matters!
By the way: The best opportunity to do so is the SIA Summit in Belgrade this year!
I wish you all the best, hope you found some inspiration in this Blog Post and come back to me if you have any new ideas or further questions.
Despite the road we have travelled to turn social entrepreneurship from a vague topic into a trend in the Western Balkans, as societies we still often face challenges when we are explaining the difference between social entrepreneurship and humanitarian or charity work. We therefore take it upon ourselves to break it down for all those struggling with explanations that could prove clear and easily understandable.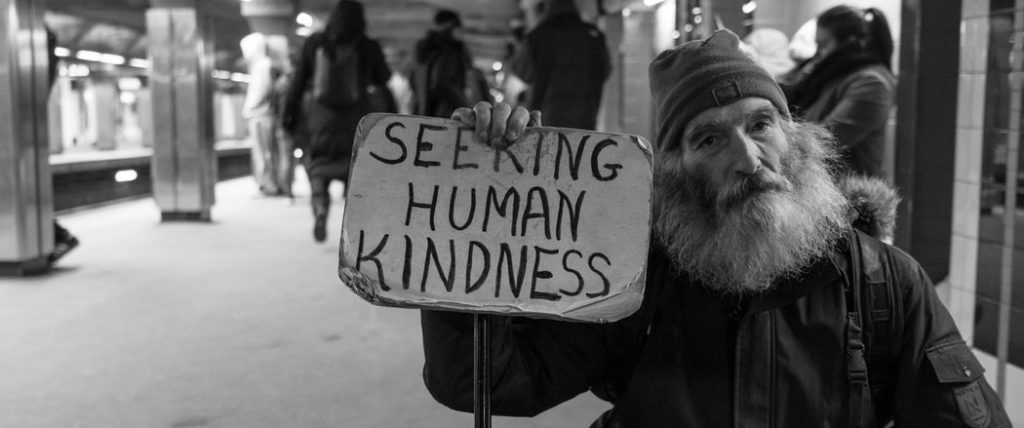 First, there were definitions.
a) A social enterprise is an organization that applies commercial strategies to maximize improvements in human and environmental well-being—this may include maximizing social impact alongside profits for external shareholders. Social enterprises can be structured as a for-profit or non-profit, and may take the form (depending in which country the entity exists and the legal forms available) of a co-operative, mutual organization, a social business, a benefit corporation, etc. What differentiates social enterprises is that their social mission is as core to their success as any potential profit, but income and profit are involved in the mix. Social entrepreneurs seek long-term solutions.
b) A charitable organization is a type of non-profit organization, which centers on philanthropic goals as well as social well-being, which gathers no profit.
Secondly, there were beneficiaries. Both social entrepreneurship and charity strive to change the world for the better by using tools and knowledge to create long-term solutions to complex problems. In those strivings, charities have a smaller scope of work – they focus on vulnerable groups in societies and ways of improving their lives (through access to food, water, education, etc). Social entrepreneurs on the other hand find creative and self-sustainable solutions, which deal with the wider group of modern day challenges. Although they often directly target vulnerable groups in societies or on the global scale, they also tackle wider issues relevant to quality of life concerning all humans – environment protection, access to healthy food and clean water, employment, immigration, energy, education and learning, democracy and corruption, etc.
You need colourful examples? Lets take a quick look at Robin Hood. What we know – he was fighting hunger and poverty by stealing from rich and giving to the poor. His work was dependent on (unwilling) contribution of others, and those he was helping needed his continuous help. Andrew Carnegie, steel magnate from US, who built about 2500 libraries in US, Canada and Europe and developed a system of maintaining those libraries know as Carnegie formula, which ensures that libraries will need no other funding while remaining accessible to public, i.e. everyone, for free. Access to information to all was provided long-term through a sustainable solution.
This leads us to third differentiation – duration of the effects as one of the core differences. Effects of charity work are mostly short-term and need repetition, while social entrepreneurs seek long-term solutions.  In other words charity moves assets from those who have to those who don't. Social entrepreneurs cause long-term changes trough innovation and mutually benefit exchanges.
For example, if we look at access to fresh food and water as a challenge, a charity would simply provide those in need with fresh food and water, while a social entrepreneur would sell the seeds and tools for growing food and teach them how to grow it and how to produce seeds. In that way target group i.e. those in need are provided with fresh food in long-run and after first contact are no longer dependent on their help.
What differentiates social enterprises is that their social mission is as core to their success as any potential profit, but income and profit are involved in the mix.
Fourthly, different approach is employed. Both charities and social enterprises have a goal to better the state of well-being of others, but they focus on different things. Charities deal with current situation, with the status quo, while social entrepreneurs look at undermining causes and try to change them in order to prevent the consequences, in other words charities deal with the consequences while social entrepreneurs deal with the root cause of the problem.
And finally, funding and sustainability come in play, as an essential differentiating characteristic inherent to these two models of change making. Charities rely on donations, they are driven by compassion and are not independent in their funding or work. On the other hand social enterprises rely on their own work through creating different business models which make their work sustainable.
In the time of scarce resources and severe challenges we are facing as the human kind, we are in dire need of sustainable models who use existing resources wisely and who create new value and impact. If you want to invest, social enterprises are the way to go. They are scalable and generate lasting solutions.
IF SOMEONE ASKS, TELL THEM- THIS IS WHAT SOCIAL ENTREPRENEURS DO…

We at Social Impact Award support you in building social enterprises that find solutions to the most challenging issues of our time. We play, we experiment, we dream big, we work hard. We are 100% human and radically collaborative. We do so by hosting events and organizing workshops to raise awareness for social entrepreneurship, teaching the necessary skills to navigate from vague intentions to promising ventures, providing access to networks and promoting the best teams with the Social Impact Award.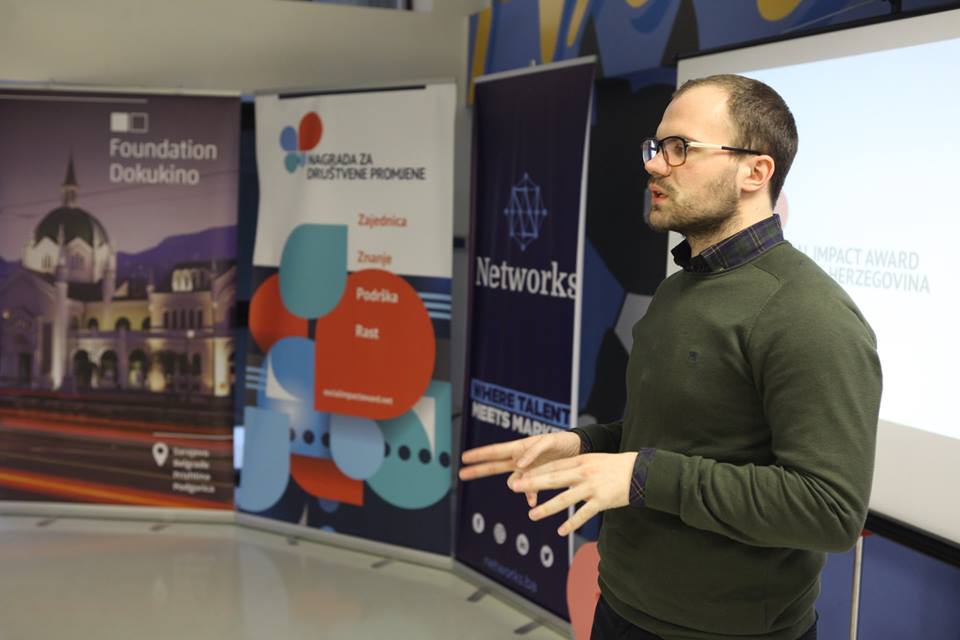 Dear social entrepreneur, or friend, colleague and supporter or a social entrepreneur, this post is for you.
You're at the very beginning, you are confused, you have to learn legal procedures about starting your business without being imprisoned by tax police and people from SIA are encouraging you to think about promotion. You want to survive without getting grey hair and wrinkles and learn how to promote your business at the moment of usual startup money shortage? Look no further.
Let's be clear – you have to promote your business/product/service simply because you cannot get any income if no one knows about you. Your idea can be extremely important, a great solution, with amazing products of services, but if there are no people who are willing to pay for it at a decent price, the effort is futile. You do have to promote yourself and your business.
Create key messages, define channels that are available free and add some creativity.
Things to think about when deciding when and how to do it:
Timing
Don't wait for the first costumer and first money earned to start promotion – do it now. It is good to start promotion even before you start your business, even if you do not have a product ready or you are still not able to offer your services. You have to create a need.
Creating a need
People do have to eat, drink and they do have some other basic needs. Nevertheless, do you really need a vacuum cleaner when there are brooms? We now don't pose the question on what to use, but the very first vacuum cleaners and producers had to convince people that they need their products. Therefore, you have to convince people that they really need you, that your product is needed.
Strategy
You cannot convince people that they need your product if you yourself are not certain of it. What helps with this is strategy. Strategic marketing or strategic communications are professional services you might not have money for as a startup, although their work and results could prove you right to your customers. However, what you do have is common sense. Think as a costumer, test your ideas among your friends (even better acquaintances) and then just write it all down. Create key messages, define channels that are available free and add some creativity. In addition, yes, you should have a simple timeline. To take that first step is hard, but remember there is not much that you can spoil at this stage 😉
Channels
Think about available channels for free promotion, and find out which of the possibilities (which are almost endless) are best for you. Social media is a must and it's free or a good bargain if you decide to use ads. Don't forget traditional media too. You don't have to be an expert, it's enough to sit in front of the TV and watch carefully. You'll notice that there are many live TV shows with many guests in it, usually in the morning or in the afternoon. You need to be there, but hey – they also need you. Television employees are sometimes in desperate need for guests for their long TV shows. Find them, contact them by email or phone and suggest them that your story is more then a business, and they will be ready to host you. It's almost the same with newspapers, they need to fill all that pages with some interesting texts and there is for sure enough place to place the story about you. When we come to online news platforms and lifestyle media, they differ slightly. Think about click-bait headlines (but true to the text and story behind them). This style might be boring for you, but it sells products, so think how can you be attractive to the general public and to your target users. These all might not come with your first initial steps, but create the connection with media, foster it, and right about when you are ready for the market – they will have slots for you in their channels.
Luck
If you did everything well, you'll also need a bit of luck. You'll have to catch a TV show editor at the right moment, your common sense should be similar to those of your target customer and things will take a turn to better.
You can always fundraise to pay communication experts. Sometimes, it might not be a bad option. But try going through these steps first – test yourself and the business.
Author: Zeljko Veljkovic, SIA Communications Officer for BIH, MNE & KOS
Editor: Vladica Jovanovic, SIA Regional Coordinator for BIH, MNE & KOS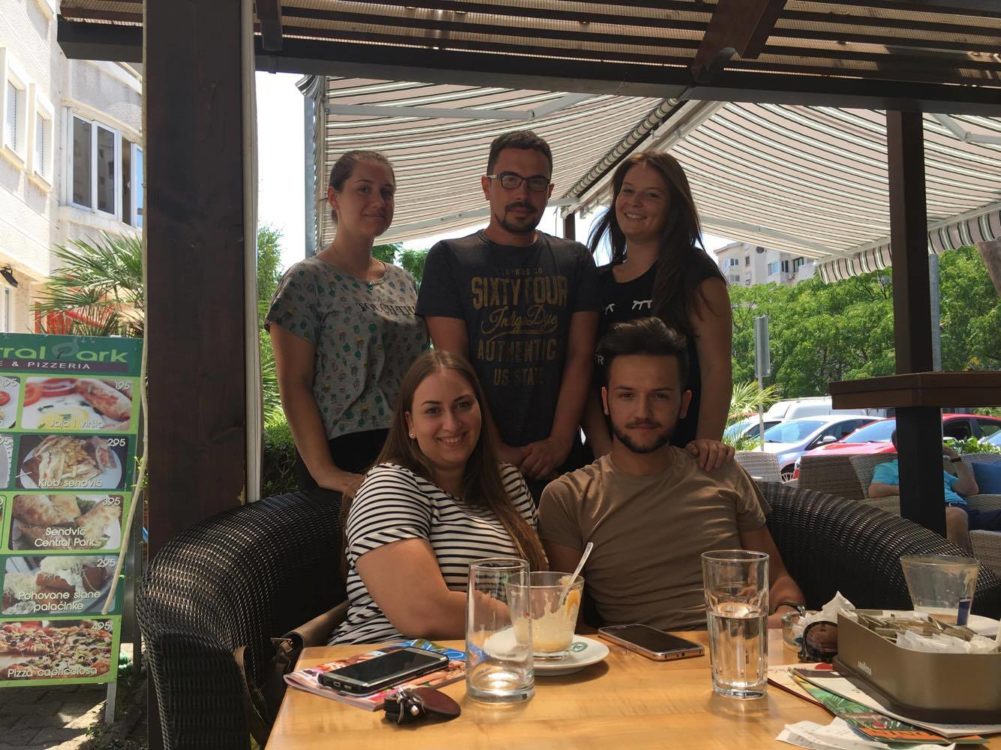 Social entrepreneurship is young and in its beginnings in Montenegro. With Social Impact Award, in 2016 we market the start of focused efforts in enabling and supporting youth to choose social entrepreneurship as a path to impact social change and employment.
Among our winners, we had a team of three dedicated young women from Bar, who started the Different corner. This is a story of their challenges, struggles and how they pushed (and are still pushing) through. While challenges are common among new social entrepreneurs, we offer this story to empower and inspire others to start creating despite the uncertainties that lie ahead.
 "A year before today, we believed in our idea. We still do, but we are aware that the idea itself is not enough." – Jovana's words marked our summer chat. Jovana is one of the three-person team behind the Different corner. Jovana, Violeta and Ajla always go together, they can rarely been seen without each other, and in the moment of uttering this sentence, we could see Violeta and Ajla nodding in approval.
Initially, they come together with an idea to open a café that will bring more spirit and culture to slow winter days in the biggest coastal town in Montenegro. A regular café that will enrich the town of Bar with poetry evenings, classical or jazz music, and discussions about books or some wider cultural topics. They planned to earn money from café business and to invest it in culture. Noble, but is it possible?
"Of course it's not impossible. We do have a business plan that proves it. However, in real life, business plan sometimes is just not enough. Nevertheless, we are not only persistent, we are stubborn as well. We will do it!" says Ajla.
Full of determination and spiced with a bit of anger, these words clearly show that those three girls are still challenged by obstacles in setting up the business. The biggest one is the space. They needed more than six months to find premises good and cheap enough. Then, they needed a good architect and additional fundraising for refurbishment.
"The award money from SIA has been a great initial capital, but even more it has been an important motivation boost for us. When we won, we realized that if the SIA jury believes in us, maybe we can fundraise some money locally, where people know we are persistent and ready to work."
Although the new date for opening will not come prior to September of October, the girls are hopeful. Their story is a story of success. Sooner, or later.
Author: Zeljko Veljkovic, SIA Communications Officer for BIH, MNE & KOS
Editor: Vladica Jovanovic, SIA Regional Coordinator for BIH, MNE & KOS 
Almost there
You need to register in order to submit your bulletin & vote.
We care about your privacy.
Read Privacy Policy .
× close